Covid-19
Lee Hsien Loong




Masagos Zulkifli




People's Action Party




Yaacob Ibrahim




Joy Balakrishnan





Lee Hsien Loong




Member of Parliament




K. Shanmugam




Vivian Balakrishnan




Natalie Balakrishnan






Holland-Bukit Timah GRC




National Junior College (1980), National University of Singapore, Anglo-Chinese School




K Shanmugam, Tharman Shanmugaratnam, Teo Chee Hean, Tan Chuan‑Jin, Ng Eng Hen





Facebook
Vivian Balakrishnan (born 25 January 1961), FRCS, is the Singapore Minister for Foreign Affairs and a member of the governing People's Action Party (PAP). He is also the Minister-in-charge of the Smart Nation Programme Office. He has previously held appointments in the Singapore Cabinet as Minister for Environment and Water Resources and Minister for Community Development, Youth and Sports, as well as the Second Minister for Information, Communications and the Arts, and Trade and Industry. In 2002, Balakrishnan was appointed a Minister of State at the Ministry of National Development, and the Chairman of the Remaking Singapore Committee. He was also the Chairman of the Young PAP from 2004 to 2008. He is a Member of Parliament (MP) representing the Holland-Bukit Timah Group Representation Constituency.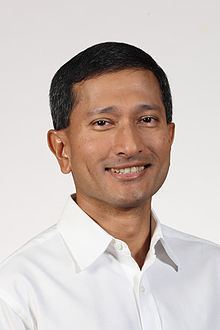 Balakrishnan studied medicine at the National University of Singapore on a President's Scholarship. He later pursued postgraduate education in ophthalmology and was admitted as a fellow of the Royal College of Surgeons of Edinburgh. He was appointed as an associate professor at the National University of Singapore and became the medical director of Singapore National Eye Centre. He was also the chief executive of Singapore General Hospital. Prior to the commencement of his political career, he served as the commanding officer of second Combat Support Hospital of the Singapore Armed Forces.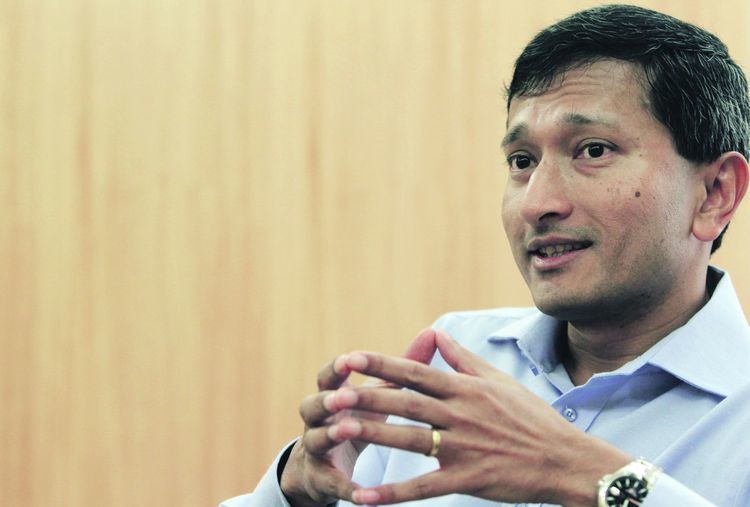 His team was elected uncontested during his first and second candidacy for the Parliament at Holland-Bukit Panjang GRC and Holland-Bukit Timah GRC respectively. In the 2015 general election, Balakrishnan's team, including Liang Eng Hwa, Christopher de Souza and Sim Ann, defeated the opposing team from Singapore Democratic Party with 66.62% of the votes. He joined the cabinet on 12 August 2004.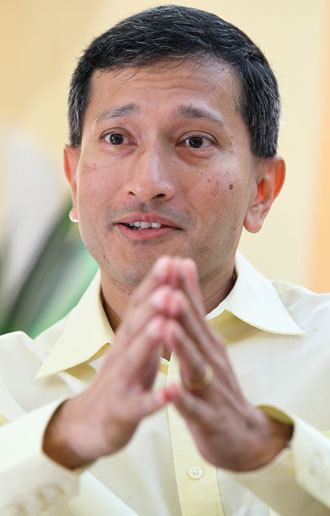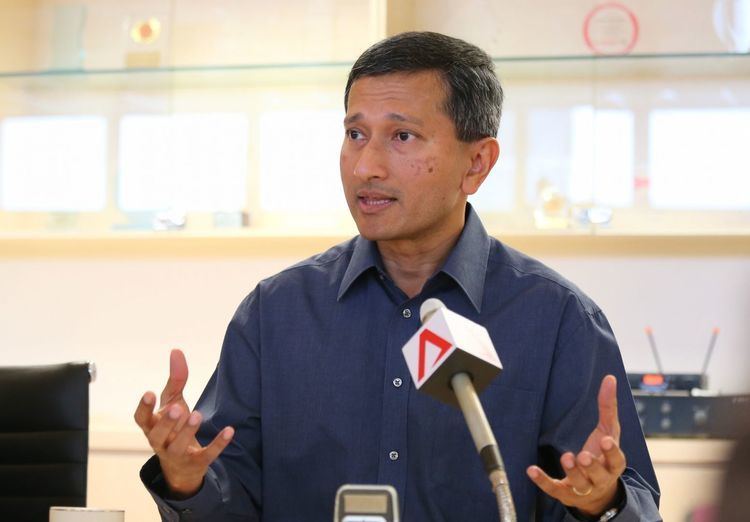 Vivian Balakrishnan was born in 1961 to a Tamil father and a Chinese mother with ancestry from Fuqing, Fujian. He had his primary and secondary education at Anglo-Chinese School, before going on to National Junior College. After graduating from junior college in 1980, he was awarded a President's Scholarship to study medicine at the National University of Singapore (NUS). He served two terms as the president of the NUS Student Union, and later served as chairman of the union council. While serving as NUSSU president, he was noted as being against the Graduate Mothers' Scheme, which favoured the children of mothers with a university degree in primary school placement and registration process over the lesser-educated. He chose a postgraduate specialisation in ophthalmology and became a Fellow of the Royal College of Surgeons of Edinburgh in 1991.
From 1993 to 1995, Balakrishnan worked at Moorfields Eye Hospital in London as a specialist senior registrar, where he subspecialised in paediatric ophthalmology. He later returned to Singapore, where he was appointed as a consultant ophthalmologist at the Singapore National Eye Centre and National University Hospital, and an associate professor of ophthalmology at the National University of Singapore in 1998. In 1999, he was appointed the Medical Director of the Singapore National Eye Centre, and later became chief executive officer of the Singapore General Hospital in 2000. Balakrishnan was also the Commanding Officer of the 2nd Combat Support Hospital of the Singapore Armed Forces from 1999 to 2002. In the 1990s, he hosted the series Health Matters on Singapore television.
Competition Act
Community Care Endowment Fund Act
Mental Capacity Act
International Child Abduction Act
Energy Conservation Act
Transboundary Haze Pollution Act
Children Development Co-Savings Act
Children and Young Persons Act
Women's Charter
Charities Act
Hindu Endowments Board (HEB)
Postal Services
Animals and Birds Act
Agri-Food and Veterinary Authority
Sale of Food Act
Public Utilities Act
Sewerage and Drainage Act
Environmental Public Health Act
Radiation Protection Act
implemented the Comcare Social Assistance framework
implemented the Enabling Masterplan for persons with disabilities
established the Central Youth Guidance Office
created a formal accreditation process for social workers
upgraded the Childcare sector by doubling subsidies for parents, elevating teaching standards and increasing the number of childcare centres
built *SCAPE, a focal point for youth in Singapore
redeveloped the National Stadium into the Singapore Sports Hub
In 2010, Balakrishnam, then Minister for Community Development, Youth and Sports, received criticism for his failure to keep to the Youth Olympics budget and letting it tripled from the initial estimates of $107 million to $387 million. He admitted his team underestimated the requirement and costs for the event. When asked if he would have pushed for hosting the Games if he knew it would exceed the forecast budget, Balakrishnam responded that Singapore would still benefit from the global exposure which will make the investment worthwhile. In the run-up to the 2011 election campaign, Balakrishnam affirmed his belief that the event was a success.
Balakrishnam established the Comcare Endowment Fund. During the National Day Rally 2011 held on 14 August 2011 at the National University of Singapore University Cultural Centre, Prime Minister Lee Hsien Loong noted that 200,000 Singaporeans have been helped since the inception of Comcare. National Day Rally 2011
Balakrishnan also appointed the following government organisations:
National Family Council,
Charities Council
Community Foundation
National Steering Committee on Racial & Religious Harmony
National Integration Council
Centre for 3rd Age
National Council against Problem Gambling.
He supervised the design and deployment of the Next Generation National Broadband Network.
Whilst at MTI from 2003 to 2006, he oversaw tourism, energy and science & technology portfolios. He coordinated the Project team that facilitated the development of the two Integrated Resorts.
Appointed an expert panel on 11 June 2011 to conduct an in-depth review of all flood protection measures that will be implemented in Singapore over the next decade. PUB, Singapore's national water agency, accepted the recommendations of the expert panel on 30 January 2012.
Handed over four waterworks (Tebrau, Gunong Pulai, Skudai and Pontian) to the state of Johor on 31 August 2011, upon the expiry of the 1961 Water Agreement with Malaysia.
Announced the building of 10 new hawker centres on 8 October 2011, 26 years after the last hawker centre was built in Singapore in 1985. The first hawker centre in Bukit Panjang is scheduled for completion in 2015 and the rest are scheduled to be completed by 2017.
Appointed a hawker centre public consultation panel to provide ideas for the management models, design, as well as how to achieve vibrancy and nurture social graciousness for the new hawker centres in November 2011, and accepted its recommendations on 10 May 2012.
Overhauled hawker centre rental policies to stabilise rentals for stallholders. From 1 April 2012, full day subletting and stall assignments for new tenancies, as well as the setting of reserve rents when tendering out vacant stalls, were discontinued. Joint tenancies were also allowed to ease the burden of operating a stall.
Set up the Department of Public Cleanliness on 1 April 2012 to integrate the cleaning of public areas and improve service standards and responsiveness to public feedback on cleanliness.
Installed surveillance cameras at locations with persistent high-rise littering issues from September 2012.
Reduced the number of public waste collection sectors from nine to six and aggregated waste collection fees, to be progressively implemented over several years from 2012.
Adopted higher 2020 air quality targets for six major pollutants based on the World Health Organisation's Air Quality Guidelines.
Relaunched the tray return programme for all hawker centres on 11 November 2012.
Extended the smoking ban to the common areas of residential premises, sheltered walkways/linkways, overhead bridges, outdoor hospital compounds, and a five-metre radius around bus shelters, from 15 January 2013.
Commenced the development of Phase 2 of the Deep Tunnel Sewerage System, which is targeted for completion by 2022, on 12 March 2013.
Announced the development of Phase 2 of the Semakau Landfill, which is scheduled for completion by the second quarter of 2015 and the building of a waste-to-energy incineration plant, on 12 March 2013.
Launched the Centre for Climate Research Singapore, the world's first centre for tropical climate and weather research, on 26 March 2013.
Made energy management practices and reporting mandatory for large energy users in the industry and transport sectors from 22 April 2013 under the Energy Conservation Act.
Stepped up efforts to deal with the dengue epidemic which started in 2013, including beefing up the number of dengue control officers, boosting the indoor application of insecticides, and distributing insect repellents to all households, on 11 June 2013.
Launched a scheme to empower community volunteers to educate and encourage litterbugs against the act, which started in July 2013.
Spearheaded the setting up of a haze monitoring system by ASEAN, with digitised land use maps and concession maps of fire-prone areas that cause transboundary haze, to be shared on a Government-to-Government basis. This was approved by the ASEAN leaders at the 23rd ASEAN Summit on 9 October 2013.
Accelerated drainage improvement plans on 7 November 2013. PUB will be working on about 200 drainage improvement projects in 2014.
Announced the implementation of a mandatory licensing scheme in 2014 for the cleaning industry to uplift the industry to deliver better service standards while ensuring better employment conditions for cleaners.
Implemented an integrated air quality reporting index from 1 April 2014, with PM2.5 incorporated into the Pollutant Standards Index (PSI) as its sixth pollutant parameter.
He is married to Joy Balakrishnan, and they have a daughter and three sons.
Vivian Balakrishnan Wikipedia