Preceded by

Goh Chok Tong


Preceded by

Goh Chok Tong



Name

Lee Loong




Height

1.83 m







President

Sellapan RamanathanTony Tan




Deputy

Tony TanShunmugam JayakumarWong Kan SengTeo Chee HeanTharman Shanmugaratnam




Deputy

Wong Kan SengTeo Chee HeanTharman Shanmugaratnam




Leader

Lim Boon HengKhaw Boon Wan




Role

Prime Minister of Singapore


Parents

Lee Kuan Yew, Kwa Geok Choo




Spouse

Ho Ching (m. 1985), Wong Ming Yang (m. 1978–1982)


Siblings

Lee Hsien Yang, Lee Wei Ling




Children

Li Hongyi, Li Yipeng, Lee Haoyi, Li Xiuqi




Similar People

Lee Kuan Yew, Ho Ching, Goh Chok Tong, Tony Tan, Lee Hsien Yang


Profiles




Facebook

Twitter

Instagram
Arrival of prime minister lee hsien loong singapore 11 18 2015
Lee Hsien Loong (Chinese: 李显龙; Tamil: லீ சியன் லூங்; born 10 February 1952) is a Singaporean politician and the current Prime Minister of Singapore. In 2004, Lee became the nation's third prime minister after taking over the leadership of the People's Action Party (PAP) when former prime minister Goh Chok Tong stepped down from the position. Lee subsequently led his party to victory in the 2006, 2011 and 2015 general elections. He began his current term on 15 January 2016 (following the opening of Singapore's 13th Parliament). Lee is the eldest son of Singapore's first Prime Minister, Lee Kuan Yew.
Contents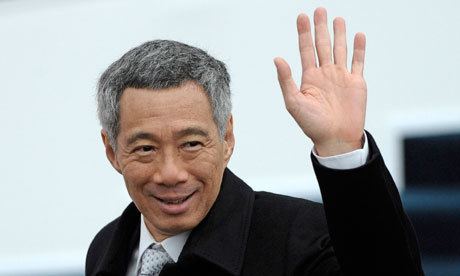 Lee graduated from Trinity College, Cambridge University, as Senior Wrangler in 1974 (gaining a Diploma in Computer Science with distinction as well) and later earned a Master of Public Administration at Harvard's Kennedy School of Government. From 1971 to 1984, he served in the Singapore Armed Forces where he rose to the rank of brigadier general. He won his first election for Member of Parliament in 1984, contesting as a member of the People's Action Party. Under Singapore's second prime minister, Goh Chok Tong, Lee served as the Minister for Trade and Industry, Minister for Finance and Deputy Prime Minister.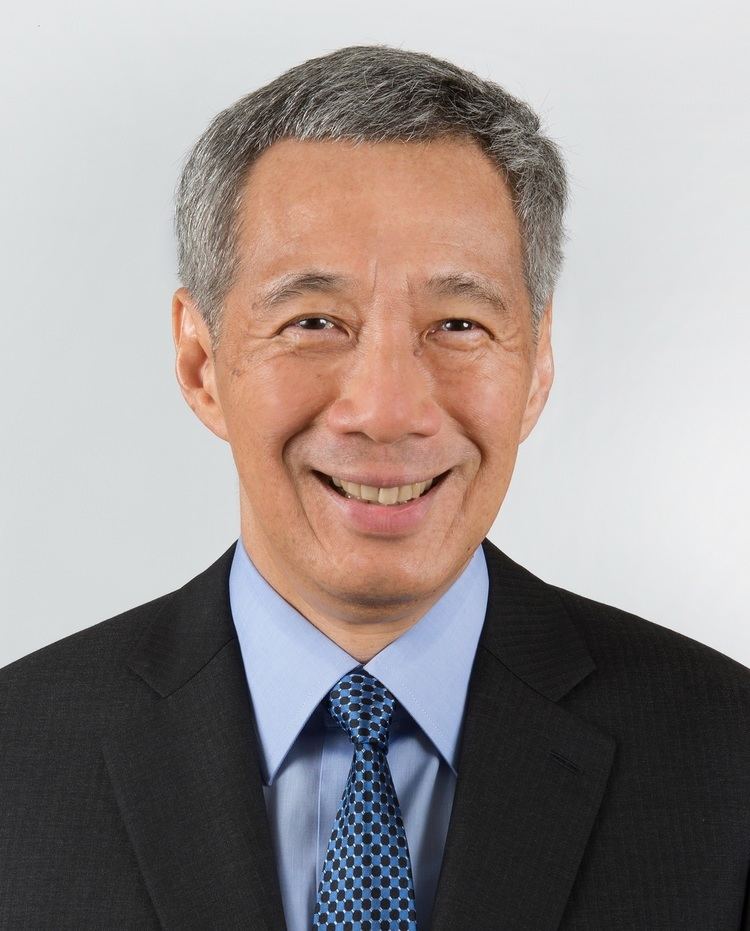 Courtesy call by singapore prime minister lee hsien loong 11 18 2014
Background
The eldest child of Singapore's first prime minister Lee Kuan Yew and his wife Kwa Geok Choo, Lee Hsien Loong was born in Singapore on 10 February 1952. His paternal grandmother, Chua Jim Neo, was a Hokkien Nyonya, and his mother has ancestry from Tong'an District, Xiamen, Fujian, China. According to Lee Kuan Yew's biography, the younger Lee had learnt the Jawi script from the age of five, and has always been interested in the affairs of Singapore, often following his father to the rally grounds since 1963.
Education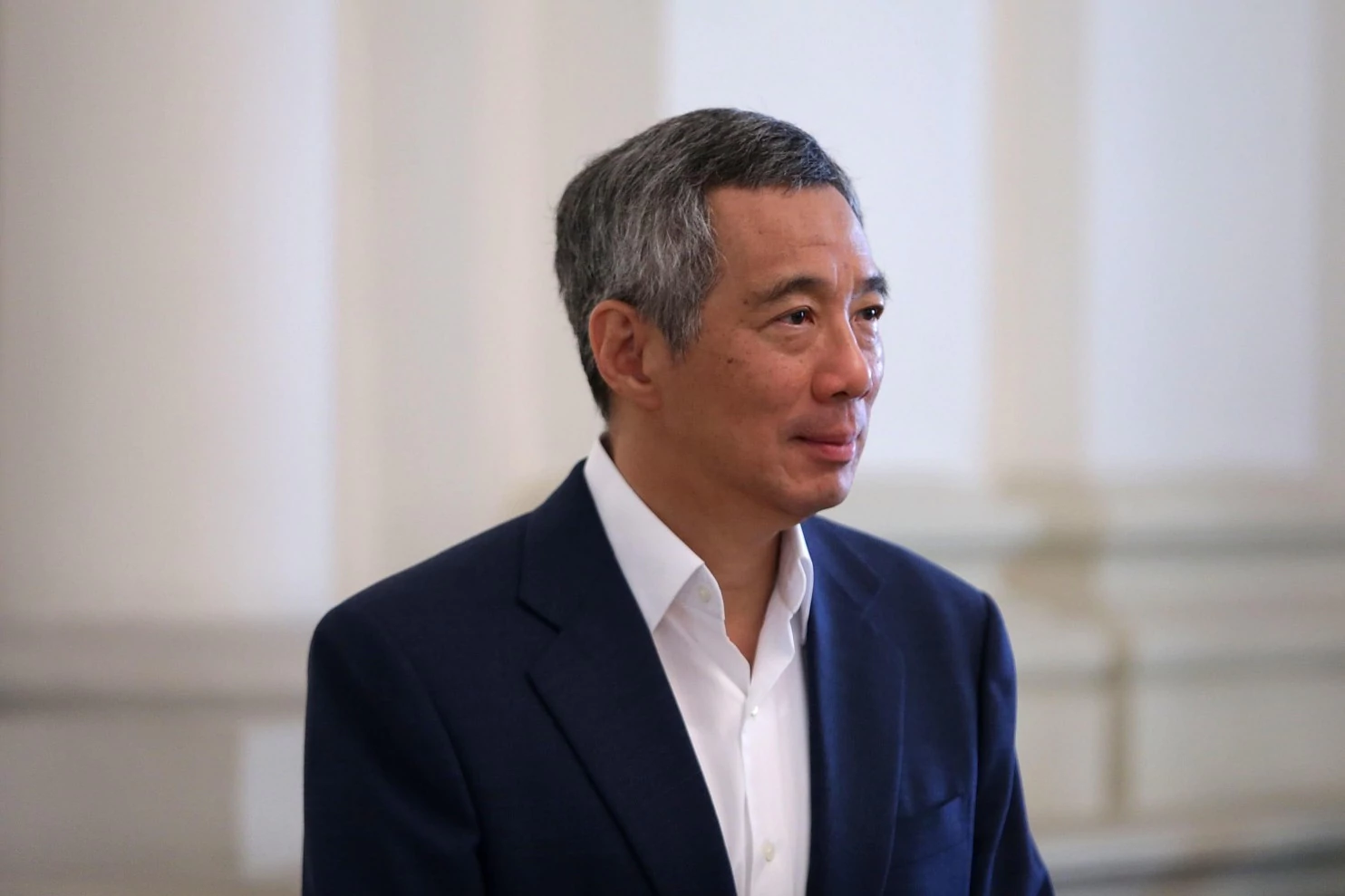 Lee studied at Nanyang Primary School and received his secondary education at Catholic High School, before going on to National Junior College (where he learned the clarinet under the tutelage of Adjunct Associate Professor Ho Hwee Long). In 1971, he was awarded a President's Scholarship and Singapore Armed Forces Overseas Scholarship by the Public Service Commission to study mathematics at Trinity College, University of Cambridge. He was senior wrangler in 1973, and graduated in 1974 with first-class honours on a Bachelor of Arts in Mathematics and a Diploma in Computer Science (equivalent to an Msc in Computer Science) with distinction. In 1980, he completed a Master of Public Administration at the John F. Kennedy School of Government, Harvard University.
Military career
Lee joined the Singapore Armed Forces (SAF) in 1971, and served as an officer from 1974 to 1984. In 1978, he attended the United States Army Command and General Staff College at Fort Leavenworth, and held various staff and command posts, including the Director of the Joint Operations and Plans Directorate (Director, JOPD), and Chief of Staff of the General Staff (COS, GS). Lee rose quickly through the ranks in the Singapore Army, becoming the youngest brigadier-general in Singaporean history after his promotion in July 1983. Notably, he was put in command of the rescue operations following the Sentosa Cable Car Disaster. Lee left the SAF in 1984 to pursue civilian politics.
Early political career
In the 1980s, Lee was regarded as the core member of the next batch of new leaders in the People's Action Party (PAP) leadership transition that was taking place in the mid-1980s, as Lee Kuan Yew had declared that he would step down as prime minister in 1984. Following the 1984 general election, all of the old Central Executive Committee members resigned on 1 January 1985, except for Lee Kuan Yew himself.
Lee was first elected Member of Parliament (MP) for the Teck Ghee Single Member Constituency in 1984, at the age of thirty-two. Following his first election, he was appointed as a Minister of State in the Ministry of Trade and Industry and the Ministry of Defence by his father Lee Kwan Yew who was the prime minister at that time.
In 1985, Lee chaired the government's economic committee, which recommended changes to established government policies to reduce business costs, foster longer-term growth and revive the Singapore economy, which was experiencing a recession at the time. The committee's recommendations included reductions in corporate and personal taxes and the introduction of a consumption tax.
In 1986, Lee was appointed the acting minister for Trade and Industry. In 1987, he became a full member of the Cabinet as the minister for trade and Industry and second minister for defence.
Lee was the chairman of the PAP Youth Committee, the predecessor to the Young PAP, when it was established in 1986. Lee said that the youth wing would be a channel to communicate dissent, in which otherwise they might be "tempted" to vote for the opposition political parties and bring the PAP government down.
Deputy Prime Minister
On 28 November 1990, Goh Chok Tong took over from Lee Kuan Yew as Singapore's Prime Minister, and Lee Hsien Loong was made one of two Deputy Prime Ministers (along with Ong Teng Cheong). He also continued to serve as the Minister for Trade and Industry until 1992.
In 1992, Lee was diagnosed with lymphoma and underwent a three-month period of chemotherapy. When his treatment began, he relinquished his position as the Minister for Trade and Industry, though he continued to be a Deputy Prime Minister. His chemotherapy was successful, and his cancer has since gone into remission.
Lee was appointed Chairman of the Monetary Authority of Singapore (MAS) in 1998, and in 2001 he was made the Minister for Finance.
To ease the growing budget deficit due to falling tax revenues from cuts in corporate and personal income taxes and other factors such as the Iraq War and SARS outbreak, Lee proposed on 29 August 2003 to raise the GST from three percent to five percent, a change which took place in January 2004.
Lee initiated several amendments to render requirements for Singapore citizenship less restrictive; notably for foreign-born children of Singaporean women. The changes were made after repeated pleas from MPs and the Remaking Singapore Committee.
Ascension
On 12 August 2004, Lee succeeded Goh Chok Tong as Prime Minister and relinquished his chairmanship of the Monetary Authority of Singapore to Goh Chok Tong. Lee was sworn in by Chief Justice Yong Pung How at the Istana.
Socio-economic policies
In his maiden National Day Rally on 12 August 2004, Lee initiated the policy of the "Five-day work week", a plan that would remove a half-working day on Saturday. The plan took effect on 1 January 2005.
Lee proposed a two-month paid maternity leave for mothers of newborn children and financial incentives to mothers who give birth to a fourth child. These policies were initiated in response to the declining birth rate that Singapore has experienced in recent years.
In November 2004, Lee sparked a national debate when he revealed a proposal to build two Integrated Resorts (IRs) which are holiday resorts with casinos. In April 2005, despite some opposition expressed by the public, Lee announced the decision to approve the proposal. The two IRs were built in Marina Bay and Sentosa. To limit the negative social impact of casino gambling, Lee suggested that safeguards be implemented, such as prohibiting minors from entering the casinos and charging a S$100 entrance fee for Singaporeans and permanent residents or S$2000 for a year-long entrance fee.
Effective 1 June 2011, Lee was named chairman of the Government of Singapore Investment Corporation (GIC) which manages more than S$100 billion of assets. He succeeded his father, Lee Kuan Yew, who remained as senior advisor to the fund until his death.
Political reforms
In May 2010, Lee instituted electoral reforms to the current electoral system by reducing the number of group representation constituencies (GRC), increased the number of Non-constituency Members of Parliament (NCMPs) to a maximum of nine (inclusive of the number of elected opposition members of Parliament), and the number of Nominated Members of Parliament (NMPs) permanent also to nine. Also part of the reforms was the legalization of internet campaigning and mandating a "cooling-off" day where campaigning is prohibited except for party political broadcasts.
11th Cabinet
Three months prior to the general election held on 6 May 2006, Lee announced a S$2.6 billion Progress Package. to distribute budget surpluses in the form of cash, top-ups to the CPF, rental and utilities rebates, and educational funds. The cash bonuses were distributed in early May 2006. Critics, especially members of the opposition, labelled the Progress Package as a "vote-buying exercise".
In that election, the PAP won 82 of the 84 seats, including 37 walkovers. The Ang Mo Kio Group Representation Constituency (GRC) was contested for the first time in 15 years. The Workers' Party (WP) claimed that they wanted to give Ang Mo Kio residents a chance to exercise their vote. Lee and his six-member GRC team won 60.42% of the votes against WP's inexperienced team.
12th Cabinet
In the general election of 7 May 2011, the PAP saw a 6.46% swing downwards to 60.14%, its lowest since independence. While the PAP swept into power winning 81 out of 87 seats, it lost Aljunied Group Representation Constituency to the Workers' Party (WP), a historic win by an opposition party. Foreign Minister George Yeo and Minister in the Prime Minister's Office Lim Hwee Hua of the GRC were defeated.
Following the election, Minister Mentor Lee Kuan Yew and Senior Minister Goh Chok Tong resigned as part of a rejuvenation process in the government. Lee and Goh were appointed as senior advisers to the Government of Singapore Investment Corporation (GIC) and the Monetary Authority of Singapore (MAS) respectively.
Lee was sworn-in into a second term on 21 May 2011. His new cabinet included three newly appointed ministers: S. Iswaran as Minister in the Prime Minister's Office, and Second Minister for Home Affairs and for Trade and Industry; Heng Swee Keat as Minister for Education; and Chan Chun Sing as Acting Minister for Community Development, Youth and Sports and Minister of State for the Ministry of Information, Communications and the Arts. Heng became the first newly elected MP to be directly appointed as a full minister since 1984.
13th Cabinet
In the Singaporean general election, 2015 of 11 September 2015 the PAP won 83 out of 89 seats in Parliament. Lee has since been re-elected seven times; most recently as an MP for the Ang Mo Kio Group Representation Constituency in 2015.
When the new cabinet line-up was formed on 1 October 2015 it was announced that it would have 3 coordinating ministers who are Deputy Prime Ministers Teo Chee Hean (National Security) and Tharman Shanmugaratnam (Economics and Social Policies), together with newly elected Transport Minister Khaw Boon Wan (Infrastructure) and 2 ministries MOE and MTI with 2 ministers each. MOE was henceforth led by 2 newcomer ministers Mr Ong Ye Kung and Mr Ng Chee Meng who are respectively in charge of Higher Learning/Skills and Schools. The MTI was separated for ministers S Iswaran (Industry) and Lim Hng Kiang (Trade) who both co-anchor West Coast GRC.
The Community Culture and Youth Ministry has Ms Grace Fu, who was the first woman in Singapore to serve the full ministerial portfolio. She is currently the first female leader of the house in Parliament.
China
During his meeting with vice-premier Wu Yi in September 2005, Lee proposed the establishment of a China-ASEAN Free Trade Zone, which would achieve the goal of realizing US$50 billion in trade volume before 2010.
United States
On 12 July 2005, Lee signed the Strategic Framework Agreement with then President George W. Bush in his inaugural visit to the United States as Singapore's Prime Minister to foster a closer cooperation in defence and security, and to address common threats such as terrorism and the proliferation of weapons of mass destruction.
In 2016, Lee made his first official visit to the White House upon invitation of then President Barack Obama to commemorate 50 years of diplomatic ties with the United States.
Lee was one of the early drafters and a strong advocate of the Trans-Pacific Partnership, and had on many occasions urged the US Congress to ratify the trade deal as soon as possible. He added that not doing so would "affect US standing and credibility" in the world. The plan ultimately fell through after Donald Trump assumed the presidency in 2017 and pulled the country out of the pact.
Taiwan
On 10 July 2004, Lee visited Taiwan to the displeasure of China. On 28 August 2004 in his first National Day Rally speech, Lee criticized the Taiwanese leadership and populace over their pro-independence stance. He reiterated his support for the One-China policy and clarified that his visit was to gather enough intelligence before taking over as Prime Minister. In September 2004, Foreign Minister George Yeo cautioned the United Nations General Assembly that actions by Taiwan's independence groups could lead to war with China. An enraged Taiwanese Foreign Minister, Mark Chen, called Singapore a "nose-shit" country for interfering. Chen later made a formal apology.
Allegation of nepotism
As the eldest son of Singapore's first Prime Minister Lee Kuan Yew, Lee's career has been shadowed by allegations of nepotism. He was widely tipped to be Lee Kuan Yew's successor as Prime Minister with several critics viewing Goh Chok Tong as a seat-warmer. Responding to the issue of nepotism Lee challenged his critics to prove it or put the matter to rest.
Legal action had been taken in the Singapore courts for defamation against the Financial Times (2007) and the New York Times Company. In a 2008 report, the International Bar Association Human Rights Institute cast doubts over the independence of the judiciary in cases involving PAP litigants or interests.
New York Times
In 2010, Lee, together with the two former prime ministers who preceded him, Lee Kuan Yew and Goh Chok Tong, threatened legal action against The New York Times Company which owns the International Herald Tribune regarding an Op-Ed piece titled 'All in the Family' of 15 February 2010 by Philip Bowring, a freelance columnist and former editor of the Far Eastern Economic Review. The International Herald Tribune apologized in March that readers of the article may 'infer that the younger Lee did not achieve his position through merit'. The New York Times Company and Bowring agreed to pay SG$60,000 to Lee, SG$50,000 to Lee Kuan Yew and SG$50,000 to Goh (total amounted to about US$114,000 at the time), in addition to legal costs. The case stemmed from a 1994 settlement between the three Singaporean leaders and the paper about an article also by Bowring that referred to 'dynastic politics' in East Asian countries, including Singapore. In that settlement, Bowring agreed not to say or imply that the younger Lee had attained his position through nepotism by his father Lee Kuan Yew. In response, media rights watchdog Reporters Without Borders wrote an open letter to urge Lee and other top officials of the Singapore government to stop taking 'libel actions' against journalists.
Salary
From 2008 to 2012, Lee earned an annual salary of S$3,870,000 (to 4sf) (US$2,856,930), an increase of 25% from the previous S$3,091,200 (US$2,037,168). On January 2012, in response to public unhappiness at the high salary, Lee took a 28% paycut reducing his salary to S$2.2 million (US$1.7 million). He remains the highest-paid head of government in the world.
CPF
On 15 May 2014, Singaporean activist and blogger Roy Ngerng, who had organised public protests over CPF policy issues wrote an article in his blog, featuring a chart which drew parallels between the scandal involving the round-tripping of City Harvest Church funds and the movement of CPF funds. Iin his defamation lawsuit, Lee Hsien Loong says the comparison implies that he, as the Prime Minister and Chairman of GIC, was guilty of "criminal misappropriation of monies paid by Singaporeans to the CPF". Ngerng was subsequently found guilty by the High Court for defaming the Prime Minister. On December 17, he was ordered to pay S$150,000 in damages, S$112,000 of which was paid through crowd-funding efforts by Ngerng.
Lee Kuan Yew's house and the alleged abuse of powers
In June 2017, Lee became embroiled in a dispute with his brother Lee Hsien Yang and sister Lee Wei Ling, over the fate of their father's house at 38 Oxley Road. The late Lee Kuan Yew, Singapore's founding prime minister, was averse to a cult of personality. As a result, he had inserted in his final Will a demolition clause. The first part of the clause stated that he wanted his house to be torn down when his daughter decides to move out. The second part of the clause stated that should demolition be impossible, his house should not be open to the public.
Lee Hsien Loong's siblings alleged that he was abusing his powers, using "organs of the state" as prime minister to preserve the house against their father's wishes. Lee and the cabinet denied all their allegations as the row played out, largely on Facebook. Owing to the gravity of the allegations, a special sitting of Parliament was also called to debate the matter thoroughly. In his closing speech, Lee stated: "After two days of debate, nobody has stood behind these (his siblings) allegations or offered any evidence, not even opposition MPs … It shows that the Government and I have acted properly and with due process." He left open options to convene a select committee or Commission of Inquiry should substantive evidence be presented. The siblings later agreed to discuss the dispute in private the following day.
Personal life
Lee's first wife, a Malaysian-born doctor named Wong Ming Yang, died at the age of 31 on 28 October 1982 of a heart attack, three weeks after giving birth to Lee's first son, Li Yipeng. In 1985, when he was 33, Lee married Ho Ching, a fast-rising civil servant who subsequently became the executive director and chief executive officer of Temasek Holdings.
Lee has a daughter – Xiuqi – and three sons – Yipeng, Hongyi and Haoyi (including the daughter and eldest son from Lee's first marriage). Ho Ching's eldest son, Li Hongyi, was an officer in the Singapore Armed Forces (SAF), and is currently the deputy director in the Government Technology Agency of Singapore, under the Prime Minister's Office.
Lee was initially diagnosed with lymphoma for which he underwent chemotherapy in the early 1990s then subsequently also underwent a successful robot-assisted keyhole prostatectomy on 15 February 2015 after being diagnosed with prostate cancer.
Lee is interested in computer programming and has written a Sudoku solver in C++ in his spare time.
Honours
Orden El Sol del Perú en el grado de Gran Cruz con Brillantes (Order of the Sun of Peru), bestowed 22 November 2008.
Olympic Order (Gold), conferred 13 August 2010.
References
Lee Hsien Loong Wikipedia
(Text) CC BY-SA