China




1.175 million (2000)




Fujian






Fuqing (Chinese: 福清; pinyin: Fúqīng; Wade–Giles: Fu2-ch'ing1; Pe̍h-ōe-jī: Hok-chhiaⁿ; Foochow Romanized: Hók-chiăng; also romanized as Hokchia) is a county-level city of Fuzhou Prefecture in Fujian Province, People's Republic of China.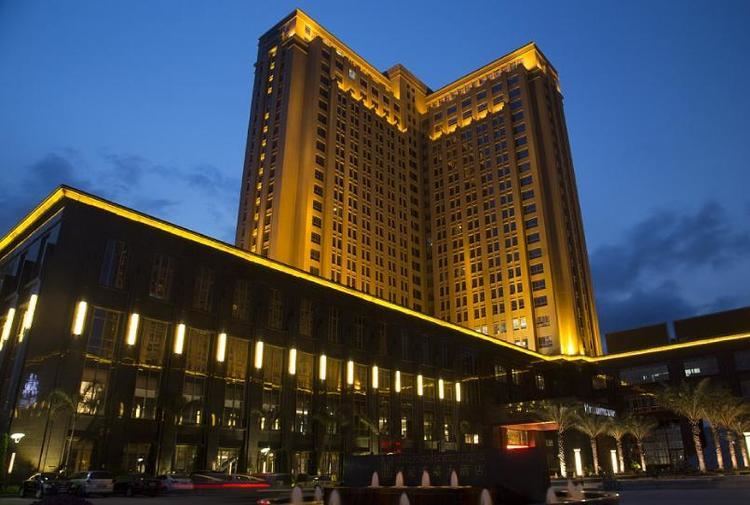 Fuqing is located in the north-central part of Fujian's sea coast, south of Fuzhou and north of Putian. It has a long indented coast line on the Taiwan Strait, to the south of Fuzhou.
The northern part of the county-level city, including the city's central urban area, is in the valley of the Longjiang River. The southern part includes a number of peninsulas with highly indented coast.
Subdistricts:
Towns:
Fuqing is situated 45 kilometres (28 mi) to the south from Changle International Airport. This city nowadays grows as an industrial area, supported by a good infrastructure of Fuzhou–Quanzhou Highway, Fuzhou–Xiamen Railway (Fuqing Railway Station), and a port (Fuqing Port, 福清港) on the Taiwan Strait.
Fuqing Nuclear Power Plant is under construction near Sanshan Town, on the southern coast of the county.
Fuqing, as well as most of other Fujian, is known for its large number of emigrants, or huaqiao. The first wave of emigration started in 1940s; most common destinations during that time were Indonesia, Singapore, and East Malaysia. Despite their humble beginnings, some of them managed to be the richest men in Southeast Asia, e.g. Sudono Salim (Salim Group), Mochtar Riady (Lippo Group), Hendra Rahardja, Rachman Halim (Gudang Garam), and Robert Kuok.
Association: International Association of Fuqing, Perkumpulan Fuqing (Indonesia), and Singapore Futsing Association.
Fuqing has its own dialect which is closely related to the Fuzhou dialect, although the two are mutually intelligible to quite a high extent. Since it is a hilly area where mountains used to isolate each village, there are many variations in the local dialects. Most of its people can also speak Mandarin, which is used in schools, businesses, and to communicate with people from different parts of the province. Songs sung in Fuqing dialect are available online.
Guangbing (光饼): Guangbing is a bread product that is baked and shaped like a sesame-seeded burger bun top. In the year of 1562, the Japanese invaded Fujian province. General Qi Jiguang was charged to drive the invaders out of Fujian. In order not to let the meal time slow down their marching speed, General Qi invented a kind of bread which was shaped into a ring at that time, so his soldiers could wear a string of those breads around their neck. After the victory, the recipe of this bread product was spread throughout the province and named Guangbing after General Qi. Nowadays, there is no longer a hole in the center of a Guangbing.
Oyster Patties (海蛎饼) Fish Ball (鱼丸) Sweet Potato Ball (番薯丸) Seaweed Cake (紫菜饼)
Sudono Salim/Liem Sioe Liong (1916-2012), Indonesian businessman, billionaire. Founder of Salim Group
Sutanto Djuhar/ Liem Oen Kian (1928-), Indonesian and Chinese businessman, billionaire. President of RongQiao Group
Cho Tak Wong (1946-), Chinese businessman, billionaire. President of Fuyao Group, winner of Ernst & Young World Entrepreneur of the Year 2009
Chen Zhangliang (1961-), Former President of China Agricultural University, vice-governor of Guangxi Province
Tjoa Ing Hwie (1925-1985), Indonesian businessman, billionaire. Founder of Gudang Garam tbk.
Goi Seng Hui (1949-), Singapore Businessman, billionaire. Founder of Tee Yih Jia Group.
Xue Guoqiang (1951-), Lieutenant General for People's Liberation Army of the People's Republic of China
Oei Wie Gwan Indonesian Businessman, Founder of Djarum Clove Cigarette
Wang Qingming (1948-), president of All-China Federation of Industry and Commerce
Han Guolong (1955-), Chinese Businessman, billionaire. Founder of GuanCheng Group.
Chen Longji (1956-), Chinese Businessman, billionaire. Investor.
Lin Dingqiang (1965-), Chinese Businessman, billionaire. Owner of Jinhuichina.
Kiki Barki (1956-), Indonesian Businessman, billionaire. Owner of Harum Energy.
Liem Hariyanto Wijaya Sarwono (1929-), Indonesian Businessman, billionaire. Owner of Bumitama Agri.
Ye Xianggao (1559-1627), Premier of Min Dynasty in 1607-1614、1621-1624.
Ingen Ryūki (1592—1673), founder of the Ōbaku school of Zen Buddhism in Japan.
Chu Zhengyong (born in 1961, 褚正勇), a canoeist, 1984 Los Angeles Olympian, the first competitor in Olympic Games from Fuqing.
Fuqing Wikipedia