League

NBA




Name

Vince Carter




Nationality

American




Role

Basketball player





Listed height

6 ft 6 in (1.98 m)




Height

1.98 m




Listed weight

220 lb (100 kg)




Salary

3.912 million USD (2015)






Position

Shooting guard / Small forward




Born

January 26, 1977 (age 38) Daytona Beach, Florida (

1977-01-26

)


High school

Mainland (Daytona Beach, Florida)




Spouse

Ellen Rucker (m. 2004–2006)




Current team

Memphis Grizzlies (#15 / Shooting guard, Small forward)




School

University of North Carolina at Chapel Hill




Similar People

Tracy McGrady, Allen Iverson, Jason Kidd, Kevin Garnett, Kobe Bryant




Profiles




Twitter
Vince Carter Ranks His Top 10 Career NBA Dunks!
Vincent Lamar Carter (born January 26, 1977) is an American professional basketball player for the Sacramento Kings of the National Basketball Association (NBA). He is 6 feet 6 inches (1.98 m) tall and plays both shooting guard and small forward.
Contents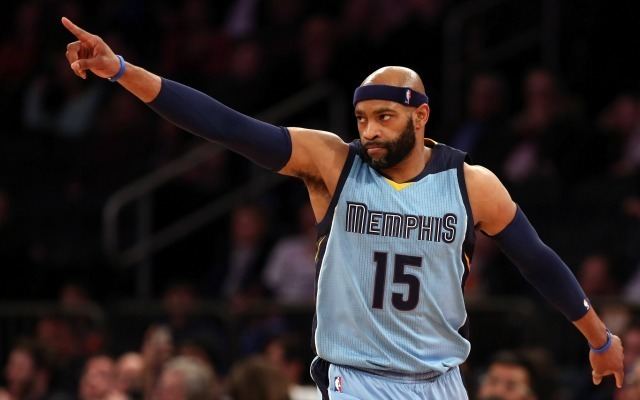 A high school McDonald's All-American, Carter played three years at the University of North Carolina. While there, he twice reached the Final Four of the NCAA Tournament before being selected as the fifth overall pick in the 1998 NBA draft by the Golden State Warriors, who traded him to the Toronto Raptors. He won the 1999 NBA Rookie of the Year Award and won the Slam Dunk Contest at the 2000 NBA All-Star Weekend. That summer, he represented the United States in the Summer Olympics, winning a gold medal.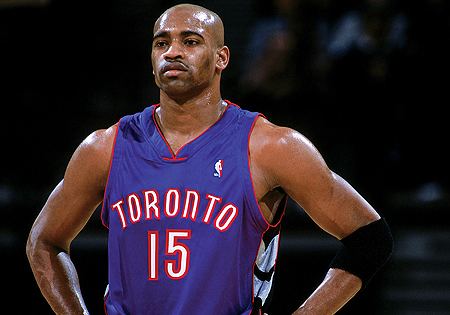 He quickly emerged as a league star, entertaining crowds with his leaping ability and slam dunks, earning him nicknames such as "Vinsanity", "Air Canada", and "Half-Man, Half-Amazing". He led the Raptors to their first three playoff appearances. In 2004, he was traded to the New Jersey Nets, and he helped lead them to three playoff berths. In July 2009, Carter was traded to the Orlando Magic, and helped them advance to the Eastern Conference Finals before being traded to the Phoenix Suns in December 2010. He joined the Mavericks in 2011 and the Grizzlies in 2014. In 2017, he signed with the Kings.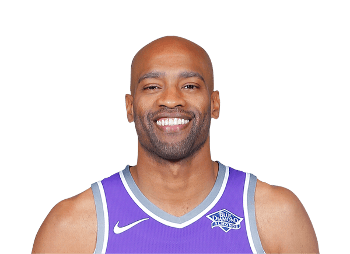 An eight-time NBA All-Star, Carter is one of only five players, along with Kobe Bryant, LeBron James and Hall of Famers Julius Erving and Michael Jordan, to lead the NBA All-Star Game fan voting more than three times. Carter scored his 20,000th career point in 2011, becoming the 37th player in league history to do so. Carter is also one of six players in NBA history to average at least 20 points, 4 rebounds and 3 assists per game in 10 straight seasons and was the fifth player in NBA history to record at least 2,000 career three-pointers.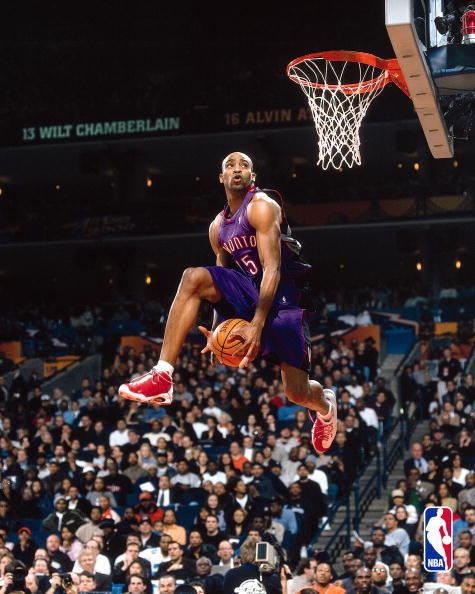 Off the court, Carter established his Embassy of Hope Foundation, assisting children and their families in Florida, New Jersey and Toronto. He was recognized in 2000 as Child Advocate of the Year by the Children's Home Society, and received the Florida Governor's Points of Light award in 2007 for his philanthropy in his home state.
Vince carter tribute november 19 2014
High school career and college career
Born in Daytona Beach, Florida, Carter was a 1995 McDonald's All-American at Mainland High School in Daytona Beach, leading Mainland to its first Class 6A state title in 56 years before spending three seasons playing college basketball at North Carolina under Dean Smith and later, Bill Guthridge. During the 1997–1998 season, he was a member of new coach Guthridge's "Six Starters" system that featured Antawn Jamison, Shammond Williams, Ed Cota, Ademola Okulaja, and Makhtar N'Diaye. During his sophomore and junior seasons, Carter helped North Carolina to consecutive ACC Men's Basketball Tournament titles and Final Four appearances. He finished the 1997–98 season with a 15.6 points per game average and was named second-team All-American, First-Team All-ACC, and to the fan's guide third-annual Coaches ACC All-Defensive Team. In May 1998, Carter declared for the 1998 NBA draft, following his classmate Jamison, who had declared earlier that spring. During his NBA career, Carter continued his coursework at North Carolina, and in August 2000, he graduated with a degree in African-American studies.
On January 31, 2012, Carter was honored as one of the 35 greatest McDonald's All-Americans, and on February 23, 2012, President Obama, an avid NCAA and NBA basketball fan, gave praise to Carter at a fundraiser event, referring to Carter's game as a "huge treat for me ever since he's been playing for the Tar Heels."
Toronto Raptors (1998–2004)
The Raptors struggled in their early years as did their expansion cousins, the Vancouver Grizzlies. After the acquisition of Carter through a draft day trade in 1998 however, the team set league attendance records in 2000, 2001, and 2002 and the value of the Raptors franchise doubled during Carter's tenure as a Raptor. Carter was instrumental in leading the Raptors to the playoffs in 2000 for the first time in franchise history. He also led them to a then-franchise high of 47 wins and their first ever playoff series win in 2001, advancing to the Eastern Conference Semifinals.
Carter was initially drafted by the NBA's Golden State Warriors with the fifth overall pick, and then traded to the Toronto Raptors for the fourth overall pick, Antawn Jamison, his college teammate and good friend. Carter's rookie season was the shortened 50-game 1999 season, after the NBA locked out its players in 1998–99. Carter started almost every game for coach Butch Carter, averaged 18.3 points per game (ppg), and eventually won the NBA Rookie of the Year Award. The next year, Carter was selected to an All-Star Team for the first time, averaged 25.7 ppg, made the Third Team All-NBA, and showcased his athleticism and dunking abilities in the 2000 NBA Slam Dunk Contest. He won the contest by performing an array of dunks including a 360° windmill, a between the legs bounce dunk, and an "elbow in the rim" dunk (also known as a "cookie jar" dunk or the "honey dip"). ESPN referred to the 2000 Slam Dunk Contest as, "one of the most memorable contests in the entire run." Kobe Bryant, who was invited along with Carter, Michael Jordan, Dominique Wilkins, and Julius Erving as judges for the 2007 Slam Dunk Contest, said that among the judges in their prime, Carter would win in a dunk contest.
In Carter's first two seasons, he and his distant cousin Tracy McGrady formed a formidable one-two punch as Raptor teammates. The two led the Raptors to their first playoff berth in the 2000 NBA Playoffs, but they were swept in the first round by the New York Knicks, in three games. Upon McGrady's departure to the Orlando Magic as a free agent in a sign and trade deal, Carter became the Raptors' franchise player. Kobe Bryant, whose team won several championships in the decade to follow, believed they could've competed for several championships if they had stayed together.
In 2000–01, his third season, Carter averaged a career-high 27.6 ppg, made the Second Team All-NBA, and was voted in as a starter in the 2001 NBA All-Star Game. The Raptors also finished the regular season with a then franchise-record 47 wins. In the playoffs, the Raptors beat the New York Knicks 3–2 in the first round, and advanced to the 2001 Eastern Conference Semifinals to face off against the Philadelphia 76ers. Carter and Allen Iverson played in a seven-game series that see-sawed back and forth. Carter scored 50 points in game three and set an NBA playoff record for most three-point field goals made in one game. On the morning of Game Seven, Carter attended his graduation at the University of North Carolina at Chapel Hill. He had completed the requirements for his degree in African-American Studies the previous summer and said he felt receiving his diploma was personally significant. Television ratings for game seven soared as one of the highest watched in NBC's history for a non-finals game. As the Sixers and Raptors increased their double team pressures on Carter and Iverson respectively, the game winning shot came down to Carter who missed with 2.0 seconds remaining. "It was incredible. (Carter) had great games at home and I had some great games at home, but both of us were just trying to put our teams on our back and win basketball games. It is great just having those memories and being a part of something like that."
In the summer of 2001, Carter signed a $94 million, six-year extension with the Raptors. In addition, Carter announced that he would be hosting a charity basketball game featuring fellow NBA stars that would be played at the Air Canada Centre in Toronto on August 3, 2001. The success of the first game being sold out encouraged Carter to make the charity game an annual summer event.
The next season was an injury-riddled one for Carter. He started in 60 games and he averaged 24.7 ppg. He was voted into the 2002 NBA All-Star Game, but he could not participate due to injury. The Raptors did not fare well without their All-Star player. The team lost 17 of 18 games to drop to 30–38, then won 12 of their last 14 to finish at 42–40. On December 12, 2001, in a win against the Denver Nuggets, Carter recorded 42 points, 15 rebounds, 6 assists and 5 steals to become only the second player in NBA history to record at least 40 points, 15 rebounds, 5 assists and 5 steals since the NBA started recording steals. Carter was injured during the 2002 NBA Playoffs, and his team was defeated in the first round by the Detroit Pistons, in five games. During the 2003 NBA All-Star Game, Carter gave up his starting All-Star spot to the Washington Wizards' Michael Jordan to allow Jordan to make his final start as an All-Star. During his Raptors tenure, news came out that Carter had developed Sinding-Larsen-Johansson disease also known as "jumper's knee", which drew criticism and questions from local media outlets and fans about Carter's long term durability as a NBA scorer.
Fifty games into the 2003–04 season, Toronto was 25–25 and in a position to make the playoffs, but injuries to Jalen Rose, Alvin Williams, and Carter sent the Raptors plummeting down the standings, and the Raptors fell three games short of making the playoffs. Carter's individual season performance was 22.5 ppg, with teammate Alvin Williams's knee injury turning out to be career ending.
Trade to the Nets
During the 2004 off-season, G.M. Glen Grunwald and the entire coaching staff were fired after falling three games short of the eighth and final playoff spot in the previous season. Carter became frustrated with the Raptors' upper management. In particular, Carter was unhappy with Maple Leaf Sports & Entertainment (MLSE) and Raptors president Richard Peddie. In a private meeting, Peddie reassured Carter that MLSE was serious in building a contender in Toronto and that he would pursue established players like point guard Steve Nash and center Jamaal Magloire. Carter was also given the impression that Peddie would consider Julius Erving as a serious candidate for G.M., thinking he could attract star players to Toronto. Though Julius Erving flew into Toronto for an interview, interim G.M. Jack McCloskey publicly disclosed a week prior that Erving was not really in the mix. Peddie instead hired Rob Babcock as G.M. whose first priority in rebuilding the Raptors said was to "establish our philosophy", stating "we are not really worried about how many wins we get right away, or whether we make the playoffs within the first year or two." After hiring Sam Mitchell as new head coach, Babcock's first move was to select Rafael Araujo with the eighth overall pick in the 2004 NBA draft to fill in the center position, while passing on future all star swingman Andre Iguodala. Babcock later signed guard Rafer Alston to a five-year deal.
Consequently, much speculation arose whether Carter wanted to be traded. The Toronto Sun reported that Carter felt misled and felt the Raptors would never be an elite team under the current MLSE structure with Peddie as Raptors president. Some NBA fans raised money to fly a "Keep Vince, Trade Peddie" banner over the Air Canada Centre just before Carter's annual charity game. When Rob Babcock was questioned about the trade speculations, he denied Carter asked for a trade but indiscreetly revealed Carter's agent had approached him for a trade request. During the 2004–05 season, new head coach Sam Mitchell often benched Carter in the 4th quarter to emphasize the new team philosophy he and Babcock wanted players to adapt to, spurring rumors of fights between Carter and Mitchell and new point guard Rafer Alston. On Dec. 18, 2004, the Raptors dealt Carter to the Nets for Alonzo Mourning, Eric Williams, Aaron Williams and a pair of first-round draft picks. Mourning did not report to Toronto.
In his first game back in Toronto, on April 15, 2005, Carter was heavily booed and jeered by Raptors fans; some fans were found burning Vince Carter jerseys, while many donned No. 15 baby bibs, 'FUVC' T-shirts, and other merchandise that labelled Carter as "Wince" or as "immature", alluding to Carter's knee and ankle injuries and his dissent. Much like former Raptors teammate Tracy McGrady, Carter has been booed each time he has returned to Toronto. In early January 2005, when asked by TNT's John Thompson, "Do you think Vince Carter has pushed himself as hard as he should have pushed himself?", Carter replied, "In years past, no. I was just fortunate enough to have the talent. You know, you get spoiled when you're able to do a lot of things and you see that, and you really don't have to work at it. But now, I think with all the injuries and the things that have gone on, I have to work a little harder and I'm a little hungrier." Though Carter's comments were perceived by Raptors fans as his confession of quitting on the Raptors, Thompson said the comments were misinterpreted, saying, "That boy never said to me, 'Coach, I just laid down and quit.' ...I was embarrassed and felt awful about it for his sake, because I knew what he was communicating to me... he was more expressing a desire of wanting to do better, as we all do." Despite Thompson's defense of Carter, the Toronto Star's Dave Feschuk in 2007 wrote that Carter "cheated on (the Raptors). He quit on the floor." Carter later stated his comments were misconstrued. On the eve of the Raptors–Nets playoff series in 2007, Carter told New York's WFAN radio station, "One day, maybe the fans will understand how it all went down. That's all I can say."
In November 2011, nearly seven years since the trade to the Nets, Carter, along with his cousin Tracy McGrady and Charles Oakley addressed the Toronto audience in an interview on Off the Record with Michael Landsberg. When asked about being booed in Toronto, Carter said, "They watched myself and Tracy grow up. And when we left they still got to see (us) flourish and become (who we are). For me, I looked at it as, a young child growing up into a grown man and moving on. And I get it. Leaving, hurt a lot of people. It hurt me because I tell you what... I accomplished a lot, I learned a lot, I became the person and player of who I am today because of that experience, through the coaches, players, and everything else. I get it... but regardless I still love the city. I have friends there and my heart is still there because that's where it all started." Later in the interview, when asked about any words to the Toronto fans, Carter said, "I appreciate the fans and whether you cheer for me, boo me, or hate me, I still love you. Toronto's one of the best kept secrets.. puts one of the best products on the floor and one of the top places to play in."
On November 6, 2012, in an interview with TSN Radio 1050, Carter reiterated his love for the city and his appreciation for the Toronto Raptors organization. The next day, Sam Mitchell and Rob Babcock revealed on Sportsnet 590, The Fan that the night before Carter was traded to New Jersey, Carter phoned Mitchell to express his desire to stay in Toronto and commit to their vision for the team. However, Babcock said it was too late and the trade had already been verbally agreed upon. Looking back on it Mitchell feels he should have personally contacted the MLSE chairman, Larry Tanenbaum, but was reluctant because he did not want to break the chain of command.
Raptors' 20th anniversary
On November 19, 2014, nearly a decade after the trade, as a part of the Raptors' 20th anniversary celebration, the team paid tribute to Carter with a video montage during the first quarter of the Raptors-Grizzlies games. Leading up to the game, questions were raised about how Raptor fans would receive the planned video tribute. As the sellout crowd watched the video tribute featuring highlights of Carter's high-flying Raptors days, what began as the usual booing turned into an overwhelmingly positive standing ovation. An emotional Carter used his warm-up shirt to wipe tears running down his face as he pointed to his heart and waved to the fans in appreciation. He later stated, "It was a great feeling, I couldn't write it any better." Toronto's current players were among those standing for Carter as Kyle Lowry, DeMar DeRozan and Terrence Ross all paid tribute to him. Raptors GM Masai Ujiri referred to Carter in April 2014 as "one of the symbols of the Toronto Raptors." To this day, Carter remains the Toronto Raptors' all-time leader in points per game with 23.4, amassing 9,420 points during his  6 1⁄2-year run in Toronto. As a five-time All-Star in Toronto, Carter was also named to two All-NBA teams.
New Jersey Nets (2004–2009)
As a Net, Carter produced some of his highest numbers. He scored more than 23.5 ppg and attained career high averages in rebounds per game (5.8) and assists per game (4.7) while missing just 11 games in his four full seasons as a Net. Carter helped lead the New Jersey Nets to three playoff runs and is currently in the top 10 of nineteen different all-time Nets statistical categories, including points, points per game (1st all-time of NBA Nets), defensive rebounds, assists, turnover rate, 3-point field goals, offensive rating, player efficiency rating, and win shares.
The 2004–05 season looked gloomy at first for the Nets. Their star Kidd was recovering from his own microfracture surgery and the team got off to a 2–11 start, and even with Jason Kidd returning from injury, the outlook was bleak with Jefferson requiring season ending surgery. However, after the trade, Carter rallied the Nets from more than 10 games out of the playoffs to gain the final seed in the Eastern Conference.
In the 2005–06 NBA season, the Carter-Kidd duo co-lead the Nets to 49 wins, an Atlantic Division title, and the number three seed in the playoffs, while averaging 24.2 points, 5.8 rebounds, and 4.3 assists per game. He led the Nets to the second round of the playoffs before losing to the eventual NBA champions Miami Heat in five games. Carter averaged 29.6 points, 7.0 rebounds and 5.3 assists in 11 playoff games. Carter was also named to the All-Star Team in 2006. On November 7, 2005, Carter threw down a very memorable dunk against the Miami Heat, over defensive stalwart, Alonzo Mourning. On December 23, 2005, Carter set an NBA record for the most free throws made in a quarter (4th quarter) with 16 against the Miami Heat. He tied his career high of 51 points in the same game.
In the 2006–07 NBA season Carter was named, along with teammate Jason Kidd, as a reserve to the 2007 NBA All-Star Game, after losing out on a starting spot to Gilbert Arenas by 3,010 votes. Both Carter and Kidd made their eighth All-Star game appearance.
In a 120–114 overtime win over the Washington Wizards, April 7, 2007, Carter and Jason Kidd became the first teammates in over 18 years to record triple-doubles in the same game since the Chicago Bulls' Michael Jordan and Scottie Pippen achieved this feat against the Los Angeles Clippers in 1989. Carter finished with 46 points, a career-high 16 rebounds, and 10 assists. Kidd finished with 10 points, tied a career-high with 16 rebounds, and tied a season-high with 18 assists.
Carter finished the 2006–07 NBA season playing all 82 games, scoring over 24 points with a 21 PER.
After the Nets eliminated the Raptors, the Nets were eliminated from the playoffs by LeBron James and the Cleveland Cavaliers (lost series 4–2). During the season, the New York Knicks and Nets had discussed a trade in February around Carter, which was ended with the trading deadline. Shaquille O'Neal when asked which player he would want to play after playing with Kobe and Wade replied, "I'm gonna have to go with Vince Carter. I think he needs a player like me that can get him to the next level. And I can get him to the next level." In the off-season, the two teams again revisited the subject but on July 1, 2007 Carter signed a 4-year, $61.8 million contract with the Nets.
For the 2007–08 season, Jason Kidd was traded mid season and Magic Johnson claimed that Carter's game was on the decline due to his bad knees. In a 2008 ESPN special later that year, Carter was named behind Dominique Wilkins, Julius Erving, and Michael Jordan as being one of the 'greatest dunkers of all time.' In it, Reggie Miller noted "Carter is probably the greatest dunker in the NBA I have ever seen." ESPN's Chris Broussard did a follow up piece in 2011 and called Vince Carter as the greatest in-game dunker of all time in the NBA.
Carter ended up finishing strong in 2008 with a season average of at least 21 points, 6 rebounds and 5 assists a game, a season accomplishment unique to him, Kobe Bryant, and LeBron James He also led the Nets in freethrow percentage, assists and steals per game (81.6%, 5.1, 1.2). Rod Thorn credited Carter for becoming a leader since the All-Star break.
For the 2008–09 season, the Nets decided to rebuild and Carter was voted team captain to help mentor the young players. Coach Lawrence Frank commented that Carter had "served the term 'captain' very honorably. Coming with a team that has veterans from other teams, some young guys coming straight from school, a couple of 20-year-olds and one 21-year-old. Showing them how you handle every day and the professionalism you approach your job [with], his disposition, his character. Plus, he's played at a very high level. He's accepted different roles on the team, at different times, to let other guys thrive and play at a high level, and yet has shown that he still is one of the elite players in the league." Two such players Carter helped mentor were Devin Harris and Brook Lopez. Brook Lopez finished 3rd in Rookie of the Year and Devin Harris made his 1st All-Star team and finished 2nd for the NBA Most Improved Player award. In a game against the Toronto Raptors on November 21, 2008, Carter scored 12 points in 44 seconds, including a game-tying 3-pointer to force overtime and a game winning two-handed reverse alley-oop dunk to lead the Nets from an 18-point deficit to defeat the Raptors 129–127. Carter finished the game with 39 points, 9 rebounds and 6 assists.
Orlando Magic (2009–2010)
On June 25, 2009, the day of the NBA Draft, Carter was traded to his hometown-team, the Orlando Magic with Ryan Anderson for Rafer Alston, Tony Battie and future teammate Courtney Lee; the Magic were searching for a go-to scorer who could take pressure off Dwight Howard. The Nets without Carter ended the season with a record of 12–70.
Carter made his season debut with the Magic on October 28, 2009 against the Philadelphia 76ers at home, recording 15 points and 2 assists to help the Magic defeat the Sixers. On February 8, 2010, Carter scored a season-high 48 points in a 123–117 win against the New Orleans Hornets, including 34 points in the second half to help rally the Magic back from a 17-point deficit. The Orlando Magic finished 59–23, the second best record in the Eastern Conference, and won the Southeast Division.
Carter helped lead the Magic to the 2010 NBA Playoffs, sweeping the Charlotte Bobcats and the Atlanta Hawks in the first two rounds, before falling to the Boston Celtics in Eastern Conference Finals in 6 games. This marked the first time Carter made it to the Conference Finals. During the 2010–2011 season with the Magic, he averaged 15.1 ppg, 4.1 rpg, and 2.9 apg in 30.2 mpg. He played 22 games with the Magic that season.
Phoenix Suns (2010–2011)
On December 18, 2010, Carter was traded to the Phoenix Suns along with Marcin Gortat, Mickaël Piétrus, a 2011 first-round draft pick, and $3 million, for Hedo Türkoğlu, Jason Richardson, and Earl Clark. When asked how he felt about being traded from Orlando, Carter replied, "They gave me an opportunity to play at home and they felt it was time to go in a different direction. You can't be mad about that. They've given me an opportunity to play somewhere else and still chase that dream. He changed his jersey number to 25 from 15 because his teammate Robin Lopez was using 15.
On January 16, 2011, Carter scored his 20,000th point, becoming only the 37th NBA player to reach that plateau. Although the back-court pairing of Carter and Steve Nash was successful together, the Suns ultimately missed the playoffs as they were in midst of a rebuilding phase.
Prior to the 2011–12 season, the Suns declined their option on the final year of his contract, making him a free agent.
Dallas Mavericks (2011–2014)
On December 12, 2011, Carter agreed to sign a three-year deal with the defending-champion Dallas Mavericks, with one year guaranteed. This move reunited Carter with former New Jersey Nets (now Brooklyn Nets) teammate Jason Kidd. He continued to wear number 25 in Dallas as his original number 15 was already retired for Brad Davis. On April 20, 2012, In a game against the Golden State Warriors, Carter became the eighteenth player in NBA history with 1,500 3-pointers.
The Mavericks exercised their option for a second year on July 1, 2012. On February 13, 2013, Carter surpassed Larry Bird on the NBA's career scoring list after scoring his 6th three-pointer of the night. Carter scored 17 of his 26 points in the 3rd quarter with 5 out of 7 three-pointers made. Carter also became the 11th player in NBA history with at least 1,600 3 pointers made. On February 22, 2013, Carter surpassed Gary Payton on the NBA's career scoring list after hitting a game winning three against the New Orleans Hornets. On April 15, 2013, Carter surpassed Clyde Drexler on the NBA's career scoring list. He only needed 4 points to pass Drexler as he went on to score 22 points in a losing effort against the Memphis Grizzlies. Carter finished the season tying his career high of 162 three-pointers made in a season which he first did in the 2000–01 season.
On December 23, 2013, in a win against the Houston Rockets, Carter became the 10th player in NBA history to make 1700 career 3-pointers. On January 10, 2014, in a win against the New Orleans Pelicans, Carter surpassed Dale Ellis on career 3-pointers made. On March 2, 2014, in a loss against the San Antonio Spurs, Carter surpassed Peja Stojaković on career 3-pointers made. On March 16, 2014, Carter became the 27th player in NBA history to score 23,000 points after making a 3-pointer in the 3rd quarter against the Oklahoma City Thunder. On March 19, 2014, Carter passed Rashard Lewis to reach 7th place all time on the NBA's career 3-pointers made. On April 7, 2014, Carter surpassed Elgin Baylor on the NBA's career scoring list. On April 12, 2014, Carter surpassed Adrian Dantley on the NBA's career scoring list.
On April 26, 2014, Carter hit the game-winning three pointer as time expired to give Dallas a 109-108 win in game 3 of their round 1 playoff match up against the San Antonio Spurs. The Mavericks took the lead in the series 2-1. The Mavericks went on to lose the series in 7 games to the eventual 2014 champion Spurs.
Memphis Grizzlies (2014–2017)
On July 12, 2014, Carter signed a multi-year deal with the Memphis Grizzlies. On November 13, 2014, he made a game winning alley-oop assist from the sideline to teammate Courtney Lee at the buzzer to win the game 111–110 over the Sacramento Kings. On December 13, in a game against the Philadelphia 76ers, Carter connected on two three-pointers to pass Chauncey Billups for sixth place on the NBA's all-time list of three-pointers made (1,831). Four days later, he scored a season-high 18 points in a 117–116 triple overtime win over the San Antonio Spurs, passing Robert Parish in the process for 25th all-time on the NBA scoring list.
Carter appeared in just one of the Grizzlies' first 12 games of the 2015–16 season before scoring six points on consecutive three-pointers in 17 minutes of action against the Houston Rockets on November 20. In his fourth game of the season on November 24, Carter moved to 31st place on the NBA's all-time games played list, passing Steve Nash. On November 27, he scored 14 points in 22 minutes of action, including a 65-foot three-pointer from beyond midcourt to end the first quarter, in a loss to the Atlanta Hawks. On February 19, 2016, he scored 15 points in 26 minutes of action, including a 73-foot heave as the third quarter closed, in a 109–104 win over the Minnesota Timberwolves. On February 24, with nine points scored against the Los Angeles Lakers, Carter passed Charles Barkley (23,757) for 24th in career points scored. Two days later, he scored a season-high 19 points in a 112–95 win over the Lakers. Towards the end of the regular season, injuries to Marc Gasol, Mike Conley, Zach Randolph, Tony Allen and other reserves increased Carter's playing time from 14 to 20 minutes per game. A depleted roster led to Carter starting in the final three games of the season, having previously not made a start all season long. The Grizzlies subsequently lost 10 of their final 11 games to stumble into the playoffs as the seventh seed with a 42–40 record. In the first round of the playoffs, the Grizzlies faced the second-seeded San Antonio Spurs, and in a Game 1 loss on April 17, Carter scored a team-high 16 points in 19 minutes as a starter. The Grizzlies went on to lose the series in four games; Carter started all four contests. After finishing second behind Tim Duncan in the 2014–15 season, Carter was awarded with the Twyman–Stokes Teammate of the Year Award for the 2015–16 season.
On October 30, 2016, Carter scored 18 points on 5-of-6 three-pointers in a 112–103 overtime win over the Washington Wizards. On November 1, Carter played in his 1,278th NBA game, tying him with A. C. Green for 25th on the NBA's career list. He also became the 24th player in NBA history to surpass 24,000 career points. On November 8, he scored 20 points against the Denver Nuggets and became the oldest player in the NBA to post a 20-point game since Michael Jordan scored 25 for the Washington Wizards in April 2003, at age 40. It was also Carter's first 20-point game since April 30, 2014. On November 12, Carter made seven field goals against the Milwaukee Bucks to pass Gary Payton (8,708) for 21st in NBA history. Carter also passed Charles Oakley for 24th on the NBA's career games played list with 1,283. On November 14, in a win over the Utah Jazz, Carter had his second 20-point game of the season, joining Michael Jordan and Patrick Ewing as the only players in NBA history to put up 20 points and 5+ rebounds off the bench at the age of 39, with Carter being the oldest at 39 years and 287 days. Carter missed seven games in early December with a right hip flexor strain. On January 11, 2017, Carter hit his 1,989th career three-pointer to move ahead of Jason Kidd and into fifth on the all-time list. On February 1, 2017, in a game against the Denver Nuggets, Carter hit his 2000th career three-pointer, making him only the fifth player to ever reach that mark. On February 6, 2017 against San Antonio, Carter joined Karl Malone, Dikembe Mutombo, Kareem Abdul-Jabbar and Robert Parish as the only 40-year old players to record at least four blocks in a game. On February 15, in a game against the New Orleans Pelicans, Carter passed Allen Iverson for 23rd on the NBA all-time scoring list. On March 13, 2017, Carter made his first start of the season and made all eight of his shots, including six from beyond the arc, to score a season-high 24 points and lead the Grizzlies past the Milwaukee Bucks 113–93. He became the first 40-year-old in NBA history to hit six triples in one game. At 40 years, 46 days old, Carter also became the oldest player to start an NBA game since Juwan Howard in April 2013. On March 29, 2017 against Indiana, Carter passed Ray Allen for 22nd on the NBA all-time scoring list. In the Grizzlies' regular-season finale on April 12 against Dallas, Carter played in his 1,347th game and passed Kobe Bryant for 13th in regular-season games played. On April 22, 2017, Carter became the first 40-year old to hit at least three 3-pointers in a playoff game during Game 4 of their first-round series against the San Antonio Spurs. He finished the game with 13 points.
Sacramento Kings (2017–present)
On July 10, 2017, Carter signed a one-year, $8 million contract with the Sacramento Kings. On August 18, 2017, during the Players Voice Awards, Carter was named by the NBA Players Association as the Most Influential Veteran.
National team career
During the 2000 Summer Olympics in Sydney, Carter performed a memorable dunk when he jumped over 7-foot-2-inch (2.18 m) French center Frédéric Weis. Teammate Jason Kidd said it was "One of the best plays I've ever seen." The French media later dubbed it "le dunk de la mort" ("the Dunk of Death"). The U.S. team went on to win the gold medal that year and Carter led the team with 14.8 points per game. Carter admitted he channeled his frustrations in his personal life and Tracy McGrady leaving the Raptors before the Olympics.
Carter replaced Kobe Bryant on the USA roster for the 2003 FIBA Americas Tournament while Bryant was undergoing surgeries on his knee and shoulder. He wore Bryant's jersey number 8. Carter's selection was only for the 2003 FIBA Americas Tournament. However, Bryant later on withdrew due to a legal case he was going through at that time. Carter did not take over the Olympic spot as he felt he needed to take some time off during the summer to rest and heal and he was also getting married at that time.
Awards and achievements
8× NBA All-Star selection: 2000–07 (did not play in 2002 due to injury)
Olympic gold medal: 2000
2× All-NBA:
Second Team: 2001
Third Team: 2000
NBA Slam Dunk Champion: 2000
NBA All-Rookie First Team: 1999
NBA Rookie of the Year Award: 1999
The Sporting News NBA Rookie of the Year: 1999
Twyman–Stokes Teammate of the Year Award: 2016
NBA playoff records
Most three-point field goals made in one half: 8 (May 11, 2001 vs. Philadelphia 76ers, Eastern Conference Semifinals)
Most consecutive three-point field goals made in one game: 8 (same game as above)
Most consecutive three-point field goals made in one half: 8 (same game as above)
First 40-year old player to hit at least three 3-pointers in a playoff game: 3 (April 22, 2017 vs. San Antonio Spurs, Western Conference 1st round)
New Jersey Nets franchise records
Most three-point field goals made in one game: 9 (December 11, 2006 vs. Memphis Grizzlies)
Most points scored in one season: 2,070 (2006–07)
Most consecutive 20 or more point games: 23 (2005–06)
He is the first Net to score at least 2,000 points in a single season. (2006–07)
Career highs
Points: 51 (2 times)
Field goals made: 20 vs. Milwaukee 01/14/2000
Field goals attempted: 36 at Philadelphia 01/21/2001
Three point field goals made: 9 vs. Memphis 12/11/2006
Three point field goals attempted: 20 vs. Memphis 12/11/2006
Free throws made: 23 at Miami 12/23/2005
Free throws attempted: 27 at Phoenix 12/30/2000
Offensive rebounds: 8 vs. Chicago 11/05/2005
Defensive rebounds: 13 (2 times)
Total rebounds: 16 vs. Washington 04/07/2007
Assists: 14 at Milwaukee 01/09/2009
Steals: 6 (3 times)
Blocks: 6 vs. Chicago 03/28/1999
Minutes played: 63 vs. Sacramento 02/23/01
Video game, TV and film appearances
Appeared on the cover of NBA Live 2004.
Appeared on the cover of NBA Inside Drive 2002.
Appeared in the 2002 film Like Mike, where the fictional Los Angeles Knights had to beat Carter and the Toronto Raptors in order to gain the 8th seed in the playoffs.
Appeared in Fabolous' 2002 music video for "This Is My Party", and Glenn Lewis' 2003 music video for "Back for More".
Appeared in the TV Series Moesha as himself in the episode Mis-Directed Study in 1999.
A 60-minute Vince Carter documentary entitled The Carter Effect by Sean Menard will play in the 2017 Toronto International Film Festival about Carter's impact in the Canadian basketball scene.
Personal life
Carter has donated to his high school, Mainland, as well as the foundation he established upon being drafted into the NBA in 1998, The Embassy of Hope. On February 3, 2007, a statue of Carter was unveiled at Mainland.
Carter visited with the Duquesne University basketball team in Pittsburgh as a show of support after its shooting incident in September 2006.
He is a member of the Omega Psi Phi fraternity.
Carter married Ellen Rucker, a chiropractor, in July 2004; the couple divorced in 2006. They have one daughter, Kai Michelle Carter. born on June 1, 2005.
While with the Nets, Carter lived in Saddle River, New Jersey on the same street as Jason Kidd, and the two played ping pong and went bowling together.
In January 2010, he opened a restaurant, Vince Carter's, in Daytona, Florida, which closed in 2016.
Throughout his career, Carter has been known for not only his dunks and scoring acumen, but for his celebrations and emotion. He celebrated explosive dunks with his patented "Crank it up" celebration, which is expressed by rolling his wrists as if revving the engine of a motorcycle. As his dunks became more scarce later in his career, the move has served as a tongue in cheek rallying cry, as he and other infrequently dunking players "crank it up" after routine dunks.
References
Vince Carter Wikipedia
(Text) CC BY-SA