Other names

Verka Serduchka




Website

www.serduchka.com




Occupation

Comedian, singer




Name

Verka Serduchka





Years active

1998–present




Role

Comedian




Awards




Siblings

Galina Grishko






Full Name

Andriy Mykhailovych Danylko




Born

2 October 1973 (age 43) (

1973-10-02

)

Poltava, Ukrainian SSR, Soviet Union




Albums

Neizdannoe, The Best, Tralli-Valli, Trali-vali, Pirozhok, Dancin Europe, Do Re Mi, Luchshee, Ha-ra-sho, Chita Drita




Movies

Za dvumya zaytsami, The Crazy Day or The Marriage of Figaro




Parents

Svetlana Ivanovna Volkova, Mykhail Semenovich Danylko




Similar People

Iryna Bilyk, Semyon Gorov, Pavel Kashin




Profiles




Facebook
Andriy Mykhailovych Danylko (Ukrainian: Андрі́й Миха́йлович Дани́лко; Russian: Андрей Миха́йлович Дани́лко, Andrey Mikhaylovich Danilko; born 2 October 1973), better known for his drag stage persona Verka Serduchka (Ukrainian: Вєрка Сердючка; Russian: Верка Сердючка), is a Ukrainian comedian and pop and dance singer. Danylko represented Ukraine in the Eurovision Song Contest 2007 as Verka Serduchka and finished in second place. Serduchka has sold over 600,000 records during its career in Ukraine.
Contents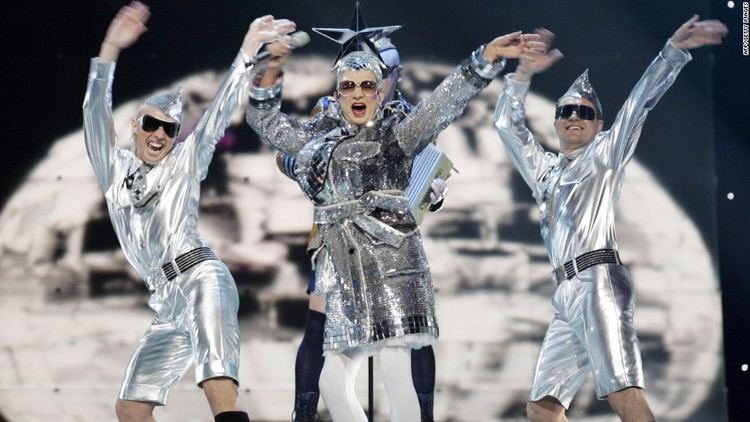 As a character actor, Danylko has also appeared in over a dozen television films and is also known for appearing as Serduchka in the comedy film Spy starring Melissa McCarthy, Rose Byrne, and Miranda Hart.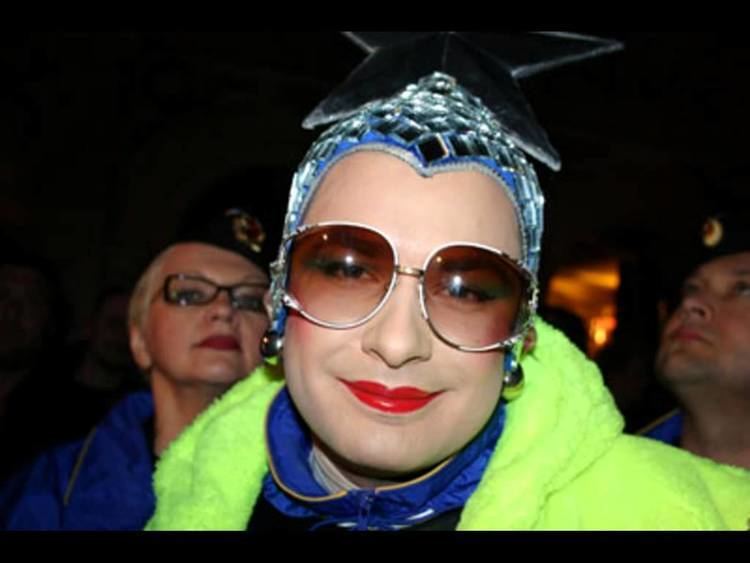 Ukraine verka serduchka eurovision 2007
Early life and education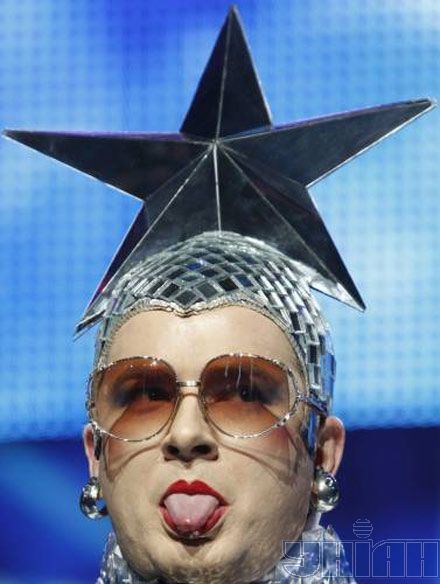 Andriy Danylko was born to a working-class family in Poltava. In 1980, at seven, he lost his father to lung cancer. An avid amateur performer since childhood, he graduated from the Kiev State College of Circus and Variety Arts.
Danylko Theater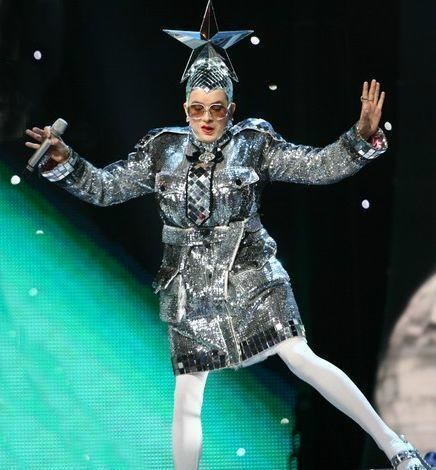 In 1990, Andriy Danylko began to create the character of Verka Serduchka, a flamboyant middle-aged woman from a rural family, working as a railroad sleeping car attendant. Danylko presented Serduchka publicly for the first time in a Poltava comedy competition on January 4, 1991. He invented the character's name by combining the randomly picked first name Verka and the last name of a former school classmate, Anya Serduk.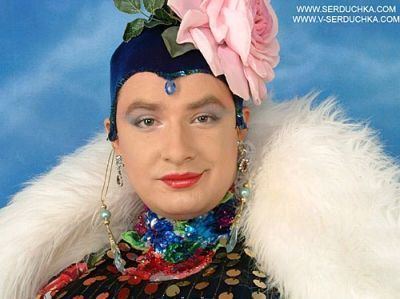 Danylko later gave his Serduchka character a "mother," played by actress Inna Bilokon, who had been Danylko's close friend since school.
After Verka Serduchka, Danylko created other characters, such as a police officer, a soldier and a female ballet dancer. He established the troupe "Danylko Theater" to tour the cities of Russia and Ukraine. In 2002, Danylko, along with his group, toured in the CIS and Baltic countries with the program "I am a Revolution" for the whole year. The following year he was awarded the title of Honored Artist of Ukraine soon after the Danylko Theater concert tour "I Was Born for Love".
Television and TV-movie appearances
In the late 1990s and early 2000s, Danylko hosted a talk show called "SV-show" ("SV" is an abbreviation for Ukrainian: Спальний Вагон, "Spalnyy Vagon", which means sleeping car) on various Ukrainian television channels.
In 2001, Danylko made his first appearance in one of several musicals produced for television, mostly in female comic portrayals based on the Serduchka character (see Filmography). Several of these productions were shown in the New Year's Eve broadcasts of Russia-1 television.
Pianist and composer
Apart from pop and dance performances as Serduchka, Danylko has also performed ambient musical compositions under his real name, including the 2005 album После тебя (Posle tebya: After you).
Eurovision Song Contest 2007
Verka Serduchka was chosen to represent Ukraine at the Eurovision Song Contest 2007 in Helsinki, Finland, with the song "Dancing Lasha Tumbai". One of Ukraine's nationwide FM radio stations organized a protest action in February 2007 to express their disapproval of the selection. Some Ukrainians and even members of the Ukrainian Parliament also expressed their disapproval, viewing the character of Serduchka as "grotesque and vulgar".
Serduchka's song "Dancing Lasha Tumbai" was sung in four languages: German, English, Ukrainian, and Russian. The invented words "lasha tumbai" caused some controversy after the performance, as many people noted the phrase's similarity to "Russian goodbye". In early publicity appearances, Serduchka explained that "lasha tumbai" was a Mongolian expression for "whipped cream." His statement was denied by several Mongols who gave the correct phrase on a talk show broadcast by Channel One (Russia) just before the Eurovision Song Contest 2007. The Mongolian embassy in Moscow also said that "lasha tumbai" was total gibberish.
The "Dancing Lasha Tumbai" single reached #6 in the French charts and went on to be #28 on The Official UK Singles Chart on 20 May 2007. This was the first time a non-UK non-winning Eurovision entry had made UK charts since 1974.
Danylko later made a brief phone-in appearance on the BBC's The Graham Norton Show, in which his comments made no sense whatsoever. Another call was made, but with a translator in the audience. In this instance, Danylko appeared to tell guest Andrew Lloyd Webber he was "rubbish". However, in an interview with Andrew Williams in the 60 Seconds column of metro.co.uk (30 July 2007), Danylko clarified his meaning:
AW: Why did you call Andrew Lloyd Webber 'rubbish' on The Graham Norton Show?
AD: Someone interpreted Serduchka wrongly. I meant I watched "Cats: the Musical" on TV. It was boring. You should watch a musical on the stage. Don't watch "Cats" on TV.
In the same interview, he stated that "lasha tumbai" was a somewhat made-up phrase that sounds like the Mongolian phrase for "milkshake" and that many Russians nevertheless managed to interpret it as saying "Russia goodbye!".
In 2011, a writer from British newspaper The Guardian described "Dancing Lasha Tumbai" as the "best song never to win Eurovision" before going on to describe Serduchka as "an oven-ready Christopher Biggins".
Political life
Danylko announced in 2007 that he would front a new political party, "For Ours!", to run in that year's Ukrainian parliamentary election, but he later abandoned the idea. A public opinion poll in July 2007 placed 'For Ours! Verka Serduchka' at 2% overall support.
Eurovision 2011
Serduchka had planned to participate in the Ukrainian national selection for the Eurovision Song Contest 2011. He automatically qualified for the final, but withdrew his nomination in October 2010.
Appearance in Spy
Danylko appeared as the character Verka Serduchka in a cameo role in the 2015 American action comedy movie Spy, which premiered May 22, 2015 in New York City and June 4, 2015 in Ukraine. In the scene, set in Paris, Serduchka's open-air performance of "Dancing Lasha Tumbai" is interrupted by CIA agents Susan Cooper (Melissa McCarthy) and Rick Ford (Jason Statham).
Eurovision 2016
In the 2016 telecast of the Eurovision Song Contest, Serduchka announced the results from the Ukrainian jury. Bilokon, portraying Serduchka's mother, accompanied Danylko.
Eurovision 2017
For the 2017 Eurovision Song Contest hosted in Ukraine, a series of short video clips, titled "Verkavision", were produced that chronicled the fictional back story of the character of Verka Serduchka and her journey as a Eurovision "star". Verka also appeared on stage during the final, and opened the televote.
Awards
In 2003, Danylko was honored with the title People's Artist of Ukraine.
Personal life
In 2013, Danylko bought a Rolls-Royce that once belonged to Freddie Mercury, with plans to donate it to a museum devoted to the group Queen.
Danylko has said in interviews that he does not engage in transvestitism outside of his public performances, with a distinction between his stage persona and his personal life. He is reluctant to discuss his private affairs beyond this, though he has stated in interviews that he had a difficult relationship with a woman with whom he lived with for 8 years. In January 2015, photos of Danylko intimately kissing Inna Bilokon were posted online by a friend.
Albums
Я рождена для любви (Ya rozhdena dlya lyubvi, I was born for love) (1998)
Гоп-гоп (Hop-hop) (2002)
Чита дрита (Chita drita) (2003)
Ха-ра-шо (Kha-ra-sho - Good) (2003)
Жениха хотела (Zhenikha khotela - I wanted a husband) (2004)
После тебя (Posle tebya - After you) (2005) (released under the name Danylko: instrumental music)
Новые песни Верки Сердючки (Novye pesni Verki Serdyuchki - The new songs of Verka Serduchka) (2006)
Tralli-Valli (2006)
Dancing Europe (2007)
DoReMi DoReDo (2008)
Alles Gut Mamba (2011)
Singles
Контролер (Kontroler, 'Ticket collector') (1999)
Гоп гоп (Hop hop, 'Jump jump') (2002)
Я не поняла (Ya ne ponyala, 'I didn't understand') (2003)
Всё будет хорошо (Vsyo budet khorosho, 'Everything will be fine') (2003)
Пирожок (Pyrozhok, 'Pie') (2003)
Горилка (Horilka) (2003)
Чита Дрита (Chyta-dryta) (2004)
Попала на любовь (Ya popala na lyubov, 'I Fell in Love') (2004)
Тук тук тук (Tuk tuk tuk, 'Knock Knock Knock') (2004)
Хорошо красавицам (Khorosho krasavitsam, '

'

Tis swell to be a belle') (2006)
Tralli-valli (2006)
А я смеюсь (A ya smeyus, 'And I'm laughing') (2006)
Dancing Lasha Tumbai (2007)
Kiss please (2007)
I am Eurovision Queen (2008)
До-ре-ми (Do Re Mi) (2008)
Essen (2008)
Dolce & Gabbana (2010)
Other songs
Переполох (Perepolokh) with Philip Kirkorov (2007)
Горбачев (Gorbachev) (2008)
Kafeshka (Café) with Philip Kirkorov
Kerubino (As Andriy Danylko)
Новогодняя (Novogodnyaya, (happy) new year). As Andriy Danylko, with Alla Pugacheva and various artists
Danylko Tango (As Verka Serduchka & Andriy Danylko)
Dolce & Gabbana (2009)
I Love You (2010)
Spy Party (2015)
As performer
(2001): Vechera na khutore bliz Dikanki, a musical remake of the 1961 movie of the same name: Danylko portrayed "Serduchka, the Village Moonshiner" and performed Horilka.
(2003): Zolushka (Cinderella): the wicked stepsister Brunhilda. Songs included Ya ne ponyala ("I don't understand"), performed together with the pop trio VIA Gra.
(2003) The Crazy Day or The Marriage of Figaro, a musical remake of the Beaumarchais play: Cherubino (a male character).
(2004): The Fair at Sorochyntsi (Sorochinskaya yarmarka), an adaptation of Gogol's story. Songs included "Ti napivsya yak svinya" ("You're drunk as a pig") and "Ne kupish lyubov" ("You can't buy love").
(2004): Za dvumya zaytsami ("Chasing two hares"), a musical remake of a 1961 comedy: a double role as "Svetlana Markovna" and "Anton the Maniac".
(2005): "Три мушкетера" ("The Three Musketeers").
(2006): "The Adventures of Verka Serduchka".
(2007): "Очень новогоднее кино, или Ночь в музее" ("New Year's Movie; or Night at the Museum").
(2010): "Морозко" ("Jack Frost").
(2011): "The New Adventures of Aladdin", starring Oscar Kucera and Ani Lorak: "the Genie".
(2012): "Красная шапочка" ("Little Red Riding Hood"): the title role.
(2013): "Три богатыря" ("Three Warriors").
(2015): Spy (2015 film): a cameo appearance as Verka Serduchka.
As composer
(2009): Весельчаки (Veselchaki): a comedy about performers at a drag club.
DVD
The Best. Clips of various years (2009).
References
Verka Serduchka Wikipedia
(Text) CC BY-SA