The film drew a domestic box office gross of $52 million against its estimated $16 million budget despite mixed critical reviews.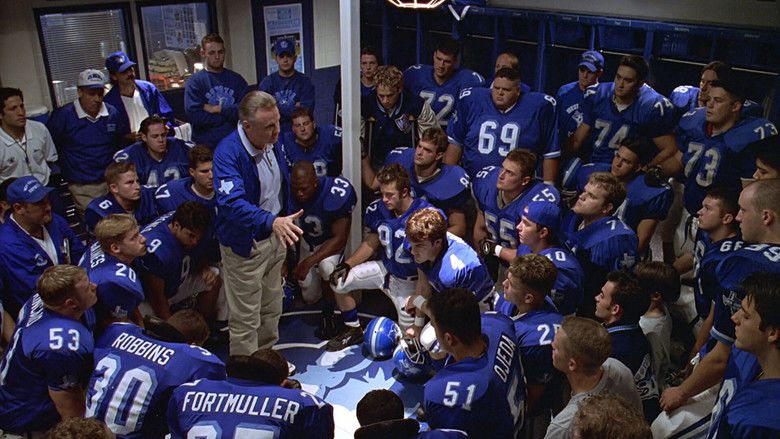 Jonathan "Mox" Moxon (James Van Der Beek) is an intelligent and academically gifted backup quarterback for the West Canaan High School football team. Despite his relative popularity at school, easy friendships with other players and smart and sassy girlfriend Jules Harbor (Amy Smart), he is dissatisfied with his life. He wants to leave Texas to go to school at Brown University. He is constantly at odds with his football-obsessed father, Sam (Thomas F. Duffy), and dreads playing it under legendary coach Bud Kilmer (Jon Voight); a verbally abusive, controlling authoritarian who believes in winning at all costs. He has a strong track record as coach; in thirty years of coaching at West Canaan, he has won two state titles and 22 district championships, and only cares about winning his 23rd. His philosophy finally takes its toll on all-state starting quarterback, Lance Harbor (Paul Walker), Mox's best friend and Jules's brother, who has earned a football scholarship to play for Florida State. He is manipulated by Kilmer into taking anesthetic shots on an injured knee that finally succumbs to failure and results in even greater injury after getting sacked during a game. He is rushed to the hospital, where doctors are appalled at the massive amount of scar tissue found under his knee and determine that the effects of the injury are permanent and will prevent him from being able to play football again, costing him his FSU scholarship.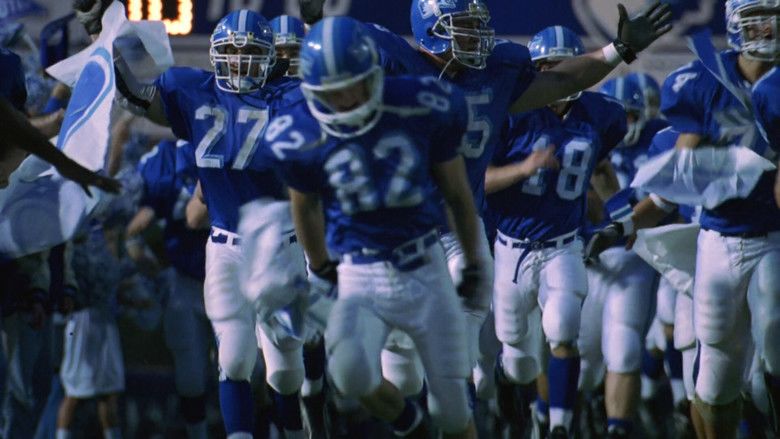 Mox, who has accompanied Lance to the hospital, is shocked when Kilmer feigns ignorance to Lance's doctors about his knee problems, when in fact Kilmer ordered the trainer to inject the shots. In need of a new quarterback, he reluctantly names Mox to replace Lance as captain and starting quarterback. The move brings unexpected dividends for him, one of them being Darcy Sears (Ali Larter), Lance's cheerleader girlfriend, who is interested in marrying a football player in order to escape small-town life. She even goes so far as to attempt to seduce Mox, sporting a "bikini" made of whipped cream over her otherwise naked body, but he rebuffs her as politely as he can and helps to cheer her up by telling her that she can get out of West Canaan on her own without anyone's help.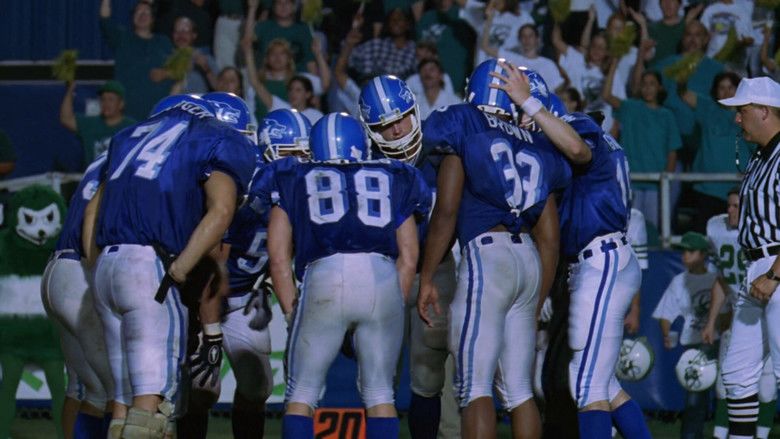 Disgusted with Kilmer and not feeling a strong need to win, Mox starts calling his own plays on the field without Kilmer's approval and takes his group of friends and teammates, including Lance, out to a strip club on the night before a game, which they subsequently lose due to poor play from still being hungover. He also chides his father, Sam, screaming at him, "I don't want your life!" Sam had been a football player at West Canaan under Kilmer and although Kilmer dismissed him as having no talent nor courage, he still respected and obeyed him. When Kilmer becomes aware that Mox has earned an academic scholarship to Brown, he threatens him that if he continues to disobey and disrespect him, he will alter his transcripts in order to reverse the decision on his scholarship.
Kilmer's lack of concern for his players continues, resulting in an emotional breakdown of offensive guard, Billy Bob (Ron Lester), who had suffered a head injury weeks earlier (Billy Bob had missed a block when he passed out on the field as a result of this injury after Kilmer pressured him out onto the field, which allowed the hit on Lance that crippled his knee, in which Kilmer blames him for). When starting tailback Wendell Brown (Eliel Swinton), another friend of Mox's, is injured on the field during the final game of the season, Kilmer pressures him during halftime into taking a shot of cortisone, as he had done with Lance, to deaden the pain from his injury and allow him to continue at the risk of permanent injury. Desperate to be recruited by a good college, Wendell agrees. Mox intervenes and threatens Kilmer that he'll quit the team if the needle enters Wendell's knee. Undaunted, Kilmer reminds him about altering his transcripts and orders Charlie Tweeder (Scott Caan), starting wide receiver and friend of Mox, Lance and Wendell, to replace Mox, but he also quits. Billy Bob also steps in to defend his teammates. Mox tells Kilmer that the only way they will return to the field for the second half is without him. Realizing that he will be forced to forfeit the game, he loses control and physically assaults Mox. The other players intercede and then refuse to take to the field. Knowing his loss of control has cost him his credibility, Kilmer tries in vain to rally support and spark the team's spirit into trusting him, but none of the players follow him out of the locker room. He continues down the hall, and upon seeing that no one following him, turns the other direction and into his office. After an inspiring speech from Mox to rally the team, they take the field under the leadership of Lance, who takes over coaching duties for the second half, and manage to win the game.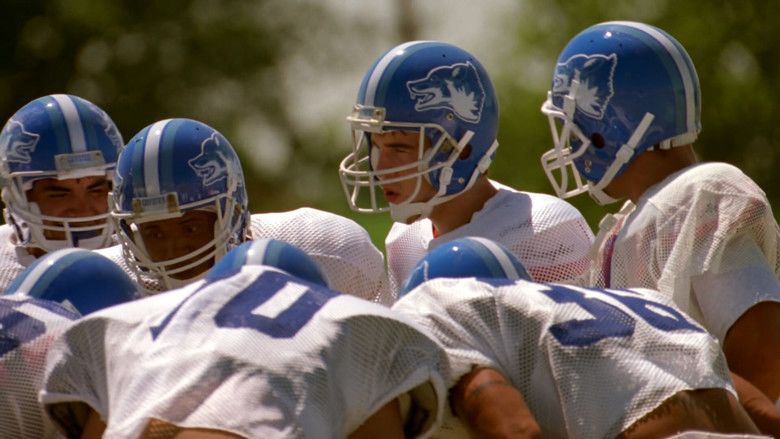 In a voice-over epilogue, Mox recounts several characters' aftermaths, including the fact that Kilmer left town and never coached again despite his statue still standing (only because it was too heavy to move). Lance became a successful coach, Wendell earned a football scholarship to Grambling, and Mox took his scholarship and graduated from Brown University.
James Van Der Beek as Jonathon "Mox" Moxon, an academically successful, yet rebellious backup quarterback with a heart of gold.
Jon Voight as Bud Kilmer, the Coyotes 30-year head coach and who is the main antagonist of the movie.
Paul Walker as Lance Harbor, the original captain and starting quarterback of the Coyotes. He is Jules brother and Mox best friend.
Amy Smart as Jules Harbor, Mox's girlfriend and Lance's younger sister.
Ron Lester as Billy Bob, an overweight but powerful offensive guard and Mox friend.
Scott Caan as Charlie Tweeder, a wild, cocky and hard partying wide receiver for the Coyotes and one of Mox's friends.
Eliel Swinton as Wendell Brown, the running back and the only African American player on the team and Mox's friend.
Ali Larter as Darcy Sears, Lance's girlfriend and the cheerleader captain. She is very intelligent with straight A's and with a heart of gold.
Richard Lineback as Joe Harbor, Lance's and Jules's father.
Thomas F. Duffy as Sam Moxon, Mox's football obsessed father.
Joe Pichler as Kyle Moxon, Mox's younger brother who is into religions rather than football.
Tonie Perensky as Miss Davis, a good teacher at West Canaan High School who moonlights as a stripper at the local strip club The Landing Strip.
The film opened at #1 at the North American box office making $17.5 million USD in its opening weekend. Though it had a 39.6% decline in earnings, it was still enough to keep it at the top spot for another week.
Critical reception was mixed; the film has a 40% ("Rotten") approval rating from 52 reviews on Rotten Tomatoes, with the consensus "This is a predictable football movie that lacks intensity." Roger Ebert noted in his Chicago Sun-Times review that "Scenes work, but they don't pile up and build momentum." ReelViews online film critic James Berardinelli's summary was that although it "takes a worthwhile detour or two, it ultimately finds its way back to the well-worn track of its genre."
The film was later parodied in the 2001 movie, Not Another Teen Movie, in which Ron Lester reprises his role of Billy Bob by playing a nearly identical character named Reggie Ray. Ali Larter's whipped cream bikini was also parodied. It was also quoted in the 2004 teen comedy film Mean Girls as being Regina George's favorite movie.
In early 1999, Paramount Pictures was sued by the University of Toronto for trademark infringement, as Varsity Blues is the registered trademark and name of the University's intercollegiate athletic teams. The University alleged that the movie conveyed a poor depiction and negative stereotypes of collegiate sports, and asserted that the University did not wish to be associated with such a production. Bruce Kidd, Dean of the Faculty of Physical and Health Education, further noted that the movie demonstrated an abusive approach to sports in an educational setting. An out-of-court settlement was reached between the two parties, which involved Paramount providing the University with a significant but undisclosed sum; as a consequence, funding was made available for eight scholarships, intended for those University athletes in need of financial assistance. Additionally, a video disclaimer was inserted in every DVD, and a written disclaimer in every book, noting that the movie was not associated with the athletic programs of the University of Toronto. As Kidd remarked, "We hope the disclaimer will make it clear the University has no formal association with the film."
The soundtrack album was published by Hollywood Records.
"Walkin' the Line" by Shawn Camp
"My Girlfriend Is a Waitress" by The Iguanas
"Nice Guys Finish Last" by Green Day
"Problems" by The Flamin' Hellcats
"Unnoticed" by Athenaeum
"Love-a-Rama" by Southern Culture on the Skids
"Texas Flood" by Stevie Ray Vaughan
"One Foot in Front of the Other" by Lee Roy Parnell
"Disappear" by Saffron Henderson
"Are You Ready for the Fallout" by Fastball
"The Wayward Wind" by Tex Ritter
"Pride of San Jacinto" by The Reverend Horton Heat
"Run" by Collective Soul
"You Blew Me Off" by Bare Jr.
"Valley of the Pharaohs" by Hellecasters
"Lonesome Ain't the Word" by Shawn Camp
"Same Old Feeling" by Tim Buppert
"If Your Girl Only Knew" by Aaliyah
"Boom Boom Boom" by The Iguanas
"Horror Show" by Third Eye Blind
"Hot for Teacher" by Van Halen
"Thunderstruck" by AC/DC
"Voices Inside My Head" by Ambersunshower
"My Hero" by Foo Fighters
"Every Little Thing Counts" by Janus Stark
"Fly" by Loudmouth
"Nitro (Youth Energy)" by The Offspring
"Varsity Blue" by Caroline's Spine
"Two Faces" by Days of the New
1999 Teen Choice Awards
Choice Movie: Breakout Star — James Van Der Beek (won)
Choice Movie: Drama (nominated)
Choice Movie: Soundtrack
1999 MTV Movie Awards
Best Breakout Male Performance: James Van Der Beek (won)
Best Movie Song: Nice Guys Finish Last by Green Day (nominated)
2000 Blockbuster Entertainment Awards
Best Male Newcomer: James Van Der Beek (nominated)
On August 16, 2016, CMT is developing a TV series inspired by the movie.