Country

United States




Founded

1918




Branch

United States Army




Nickname(s)

The Jayhawk Corps






Active

1918–19 1921–46 1950–92




Engagements

World War II, World War I, Gulf War




Notable commanders

Robert C. Richardson Jr., J. Lawton Collins, John Galvin, Frederick M. Franks, Jr.




Similar

V Corps, VIII Corps, IV Corps, III Corps, XXII Corps
The VII Corps of the United States Army was one of the two principal corps of the United States Army Europe during the Cold War. Activated in 1918 for World War I, it was reactivated for World War II and again during the Cold War. During both World War II and the Cold War it was subordinate to the Seventh Army, or USAREUR and was headquartered at Kelley Barracks in Stuttgart, West Germany, from 1951 until it was redeployed to the US and inactivated in 1992.
Contents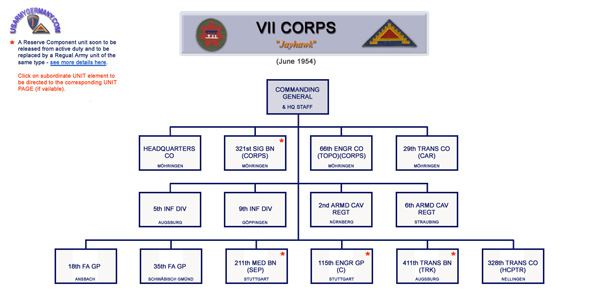 World War I

VII Corps was organized at the end of World War I on 19 August 1918, at Remiremont, France and was inactivated in 1919.
World War II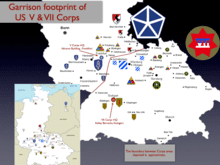 VII Corps was reactivated at Fort McClellan, Alabama 25 November 1940 and participated in the Louisiana Maneuvers staged as the US Army prepared for World War II. In late December 1941, VII Corps HQ was moved to San Jose, California as part of the Western Defense Command and as it continued to train and prepare for deployment.
Its first return to continental Europe took place on D-Day in June 1944, as one of the two assault corps for the U.S. First Army during Operation Overlord, targeting Utah Beach via amphibious assault. For Overlord, the 82nd and 101st Airborne Divisions were attached to VII Corps. After the Battle of Normandy the airborne units were assigned to the newly created XVIII Airborne Corps. Subsequently, VII Corps participated in many battles during the advance across France and then invaded Germany until the surrender of the Third Reich in May 1945. The corps was inactivated in 1946.
Battle of Normandy
For the Normandy Operation, VII Corps was part of 21st Army Group under the command of General Bernard Montgomery and the U.S. First Army commanded by Lieutenant General Courtney Hodges. The Corps was commanded by Major General J. Lawton Collins.
VII Corps led the initial assault of Operation Cobra, the First Army-led offensive as part of the breakout of the Normandy area. Its success is credited with changing the war in France from high-intensity infantry combat to rapid maneuver warfare.
Assigned Units and Commanders
4th Infantry Division, Maj.Gen. Raymond O. Barton
9th Infantry Division, Maj.Gen. Manton S. Eddy
79th Infantry Division, Maj.Gen. Ira T. Wyche
82nd Airborne Division, Maj.Gen. Matthew B. Ridgway
90th Infantry Division, Brig.Gen. Jay W. MacKelvie
101st Airborne Division, Maj.Gen. Maxwell D. Taylor
4th Cavalry Group (Mechanized), Col. Joseph M. Tully
6th Armored Group, Col. Francis F. Fainter
Battle casualties, 6 June – 1 July 1944
Source: VII Corps, G-1 Reports, June 1944
Cold War
From reactivation in 1950 and throughout the Cold War, the corps guarded part of NATO's front with the Warsaw Pact. Headquartered in Stuttgart at Kelley Barracks it was one of the two main US combat formations in Germany along with V Corps, which was headquartered in Frankfurt am Main at Abrams Building. At the end of the Cold War, VII Corps would have commanded the following units in case of war:
VII Corps, Stuttgart
1st Armored Division, Ansbach
1st Infantry Division (Mechanized), Fort Riley, Kansas, OPERATION REFORGER unit. POMCUS Set 1 depots at Mannheim
1st Canadian Infantry Division (Mechanized), Kingston, Ontario
3rd Infantry Division (Mechanized), Würzburg
2nd Armored Cavalry Regiment, Nürnberg
VII Corps Artillery, Stuttgart
17th Field Artillery Brigade, Augsburg
72nd Field Artillery Brigade, Wertheim
210th Field Artillery Brigade, Herzogenaurach
11th Combat Aviation Brigade, Illesheim
7th Engineer Brigade, Kornwestheim
14th Military Police Brigade, Ludwigsburg
2nd Support Command, Nellingen
207th Military Intelligence Brigade, Ludwigsburg
38th Infantry Division (National Guard), Indianapolis, Indiana
602nd Air Support Operations Group, USAF Stuttgart
Gulf War
After Saddam Hussein's troops invaded Kuwait in 1990, the corps was deployed to Saudi Arabia as part of the second major wave of deployments of American forces. Its presence took US forces in theatre from a force capable of defending Saudi Arabia to a force capable of ejecting Iraqi troops from Kuwait.
In the Gulf War, VII Corps was probably the most powerful formation of its type ever to take to the battlefield. Normally, a corps commands three divisions when at full strength, along with other units such as artillery of various types, corps-level engineers and support units. However, VII Corps had far more firepower under its command.
Its principal full strength fighting formations were U.S. 1st Armored Division, U.S. 3rd Armored Division and U.S. 1st Infantry Division. 2nd Armored Division (Forward) would be assigned to the 1st Infantry division as its third maneuver brigade. Its Task Force 1-41 Infantry would be the spearhead of VII Corps. It would perform the breach of initial Iraqi defensive positions. In addition, the corps had U.S. 2nd Cavalry Regiment to act as a scouting force, and two further heavy divisions; US 1st Cavalry Division and British 1st Armoured Division, as well as the 11th Aviation Group. Although both 1st Cavalry Division and 1st Armoured Division had only two maneuver brigades, they were still immensely powerful formations in their own right.
VII corps was originally deployed to provide an offensive option if needed. In the 100-hour war they were given a force mission: To wipe out the Iraqi Republican Guard's Heavy Divisions. That meant that the 1st Infantry Division had to make a forced entry to make room for the British attack on the right wing and to secure the main forces advance on the left. That attack force was led by the 2nd Armored Cavalry Regiment and Task Force 1-41 Infantry followed by the other two brigades of the 1st Infantry Division. The 1st Armored Division would head north to engage the Iraqi Republican Guard in the Battle of Medina Ridge. The 3rd Armored Division would protect the flank of the 1st Infantry Division. That gave VII Corps commander General Frederick M. Franks, Jr. a three division strike force to confront several Iraqi Armored Divisions. After the corps had turned 90 degrees east according to FRAGPLAN 7 and after the Cavalry Regiment had fought the single sided Battle of 73 Easting the three Divisions (plus the British on the right wing) fought one of the most one sided battles in the history of the US Army.
VII Corps cut a swath through Iraqi forces. It advanced with U.S. XVIII Airborne Corps on its left wing and Arab forces on its right wing. It pulverized all Iraqi forces that tried to stand and fight and destroyed a good proportion of the Iraqi Republican Guard divisions. This confrontation was known as the Battle of Norfolk. VII Corps' attack cost about 341 US and British soldiers' lives. But it destroyed several divisions including the Medina and the Tawalkna Republican Guards division along with support units. It also destroyed most of the VII Corps (Iraq) that had guarded the frontline as well as other units. The Battle of 73 Easting was studied as a textbook armored battle within the US armored units. 'Virtually every manoeuvre battalion in the 1st and 3rd Armored Divisions, 1st Inf Div (M), and 2 ACR received the Valorous Unit Award. In addition, 'six of the ten VII Corps manoeuvre brigade headquarters that saw substantial combat against the Republican Guard received the VUA in contravention of the spirit, if not the letter, of AR672-5-1's guidance that '[o]nly on rare occasions will a unit larger than a battalion qualify for award of the VUA.'
Redeployment and inactivation
After the fighting was over, most VII Corps units were redeployed directly to the United States for reassignment or inactivation. VII Corps HQ returned to Germany and was disbanded as part of the post-Cold War American defense spending cuts. Some VII Corps units remained in Germany and were reassigned to V Corps or USAREUR. A farewell ceremony was held in downtown Stuttgart at Schlossplatz, where the VII Corps colors were retired on March 18, 1992. The official inactivation was held at Fort McPherson, Ga., in April 1992.
Commanders during the Cold War and Gulf War
Maj. Gen. Withers A. Burress - June 1951 - December 1952
Maj. Gen. James M. Gavin - December 1952 - March 1954
Lt. Gen. Henry I. Hodes - March 1954 - February 1955
Lt. Gen. George H. Decker - February 1955 - May 1956
Maj. Gen. Halley G. Maddox - June - July 1956
Lt. Gen. John F. Uncles - August 1956 - August 1958
Lt. Gen. Gordon B. Rogers - September 1958 - October 1959
Lt. Gen. Guy S. Meloy, Jr. - October 1959 - January 1961
Lt. Gen. John C. Oakes - January 1961 - April 1962
Lt. Gen. C. H. Bonesteel III - April 1962 - August 1963
Lt. Gen. Louis W. Truman - September 1963 - July 1965
Lt. Gen. Frank T. Mildren - July 1965 - May 1968
Lt. Gen. Donald V. Bennett - June 1968 - September 1969
Lt. Gen. George G. O'Connor - October 1969 - February 1971
Lt. Gen. Fillmore K. Mearns - February 1971- March 1973
Lt. Gen. George S. Blanchard - March 1973 - June 1975
Lt. Gen. Frederick J. Kroesen - July 1975 - October 1976
Lt. Gen. David E. Ott - October 1976 - October 1978
Lt. Gen. Julius W. Becton, Jr. - October 1978 - June 1981
Lt. Gen. William J. Livsey - June 1981 - July 1983
Lt. Gen. John R. Galvin - July 1983 - February 1985
Lt. Gen. Andrew P. Chambers - February 1985 - July 1987
Lt. Gen. Ronald L. Watts - July 1987 - August 1989
Lt. Gen. Frederick M. Franks Jr. - August 1989 - June 1991
Lt. Gen. Michael Spiglemire - August 1991 - 1992 (Inactivation)
References
VII Corps (United States) Wikipedia
(Text) CC BY-SA