Country of origin

Mexico




Network

Univision





Original language(s)

Spanish




No. of seasons

1






Starring

Jorge Ortiz de Pinedo, Eduardo Manzano, Zully Keith, Andrea Torre, Mariana Botas, Jessica Segura, Daniela Lujan, Ricardo Margaleff, Maria Fernanda Garcia, Moises Ivan Mora




Episodes

8 Condiciones Season 1 - Aug 4 - 2012, 8 Condiciones, 7 LimosnaSeason 1 - Aug 4 - 2012, 7 Limosna, 5 La Hija de mi JefeSeason 1 - Jul 28 - 2012, 5 La Hija de mi Jefe, 5 Episode 5Season 1 - Jul 28 - 2012, 5 Episode 5, 4 Mala SuerteSeason 1 - Jul 14 - 2012, 4 Mala Suerte, 3 LimitadosSeason 1 - Jul 14 - 2012, 3 Limitados, 2 VotacionSeason 1 - Jul 7 - 2012, 2 Votacion, 1 La Nueva DuenaSeason 1 - Jul 7 - 2012, 1 La Nueva Duena




Similar

La familia P Luche, Vecinos, Free for All, United States of Tara, Dr Candido Perez




Opening theme

"Una familia de diez"




No. of episodes

24 (list of episodes)




Final episode date

September 13, 2007




Executive producers

Jorge Ortiz de Pinedo




First episode date

March 22, 2007



¡Regresa la familia más querida! | Una familia de diez +2 | Distrito Comedia
Una familia de diez (A family of ten) is a Mexican family television sitcom that centers on the López household; a middle class Mexican family that constantly endures hilarious situations. They live in an apartment which barely holds living space for them. The series premiered on March 22, 2007 on the channel Canal de las Estrellas. The sitcom was a success, running concurrently in 2007 with other comedy programs such as La familia P. Luche, La parodia, and Vecinos.
Contents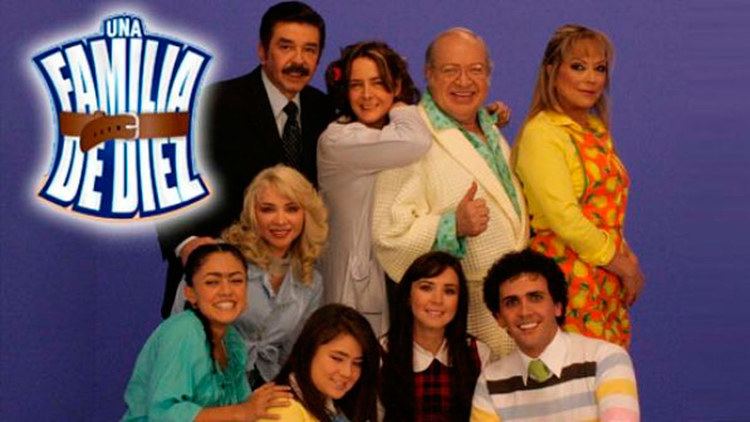 It was nominated for a TVyNovelas Award for "Best Comedy Program" in 2008, but lost to La familia P. Luche. Due to broadcasting issues, the pending second season hasn't been released yet, though Una familia de diez is planned to be renewed for 26 episodes.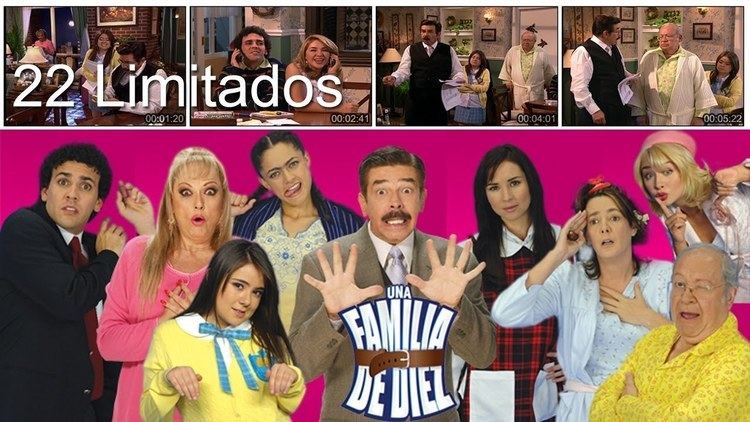 Una Familia De Diez De Mayo Capitulo Completo
Plot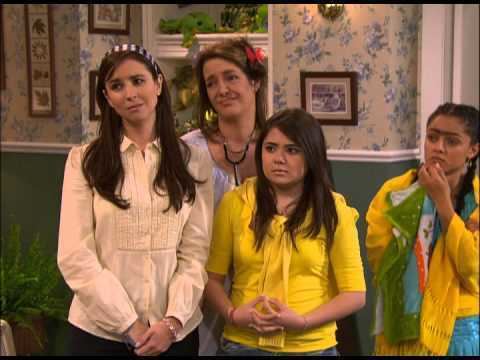 Placido Lopez is a middle-class accountant who is tiring of being the sole provider for his extended family. His dependents include his wife Renata, their son Plutarco, their daughter Martina, his father Don Arnoldo, his sister-in-law Licha, and Licha's daughter La Nena. Then Plutarco's new wife Gaby and Don Arnoldo's goddaughter Tecla move in and Gaby announces her pregnancy. This adds up to ten people--"a family of ten." In later episodes, La Nena's boyfriend Aldolfo also moves in. Plácido constantly complains about different mishaps and about each family member's lack of interest in helping with the expenses.
Characters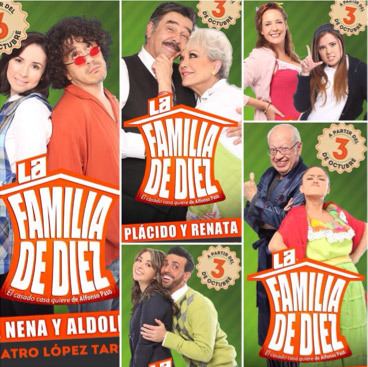 Plácido López (Jorge Ortiz de Pinedo) is the family patriarch, who was abandoned by his own father at age five. Plácido works as an accountant for Don Justo del Valle. He is married to Renata and is the father of Plutarco and Martina. When someone asks how his day was, he says "Bad, very bad, it always bad for me."
Renata González de López (Zully Keith): Plácido's wife, and mother of Plutarco and Martina. She always reminds Plácido of their adventures when they were young, though usually she confuses him with other past love interests. She usually says "Ay que distraida, te confundi" (My mistake, I confused you!)
Don Arnoldo López (Eduardo Manzano): Plácido's father, grandfather of Plutarco and Martina. He abandoned Placido on his fifth birthday, and returned some 40 years later to live with his son and his family. He is a glutton, favoring tamales and other Mexican dishes. He recommended Placido to let his goddaughter Tecla stay and work for food. Tecla always brings up that Don Arnoldo had a secret liaison with her mother in their rural town of "Apaseo el Grande". He claims he worked in many motion pictures of the Golden Age of Mexican Cinema and knows many important Mexican actors, but he actually only knows actress Silvia Pinal; they met in Acapulco where he worked as a boater.
Plutarco López González (Ricardo Margaleff): Plácido and Renata's dimwitted son and Martina's brother, who marries Gaby del Valle, the daughter of Placido's boss. He is always tumbling, tripping, or hitting himself against objects or persons. Every time he does something stupid or foolish the family says he did a "plutarcada". His catchphrase is "You think?" ("¿Tu crees?")
Martina López González (Mariana Botas): the fresa daughter of Placido and Renata and sister of Plutarco. She has an arrogant personality and constantly complains of her family not being rich and important like her schoolfriends' families. She does not get along with La Nena, but has a good relationship with her grandfather Don Arnoldo (after having called him a "naco" at first sight).
Licha González (María Fernanda García): Renata's sister; Plácido's sister-in-law. Plutarco and Martina's aunt. She is a hypocondriac who denies being "dramatic" in a loud, very dramatic scream. She is La Nena's mother and despises the idea of her having a boyfriend and eventually leave her "alone and very ill" and because she doesn´t trust men after her husband leaves his family for "a very young fashion male designer".
La Nena (Andrea Torre): Licha's daughter. Cousin of Plutarco and Martina. Niece of Placido and Renata. She is a kindergarten teacher, the only one besides Plácido to have a job. She gets a boyfriend, Aldolfo, during the first season and expects their child.
Gaby del Valle de López (Daniela Luján): Plutarco's wife, the mother of their expected "A-jo-lo-ti-to" (the nickname of their unborn child). She is dim-witted like Plutarco and also says "You think?", but in the formal way ("¿Usted cree?"). Her father, Don Justo del Valle, is Plácido's boss.
Tecla (Jessica Segura): the Otomi maid from "Apaseo el Grande" and goddaughter of Don Arnoldo. She was recommended by her godfather to cook and clean in the house. She sometimes mentions her godfather's liaisons with her mother; that and her manners make the family think she might be Placido´s half-sister. She wants to become an actress and is picked on and hit frequently, mainly by Plutarco and Martina. She is nicknamed "The Salma Hayek of Apaseo el Grande", "The daughter of Dolores del Río", "India María", and "Daughter of Frida Kahlo".
Aldolfo (Moisés Iván Mora): La Nena's communist boyfriend, repelled by Licha. He was born Aldolfo Mao Emiliano Lenin Fidel Castro Cienfuegos in the Estadio Azteca in 1977 during a Pumas soccer game. His Marxist-Leninist beliefs often get the family in trouble, such as when he organizes a strike at Nena's workplace that gets her fired. He lives with the family, and is always rebuked by either Plácido or Licha.
Syndication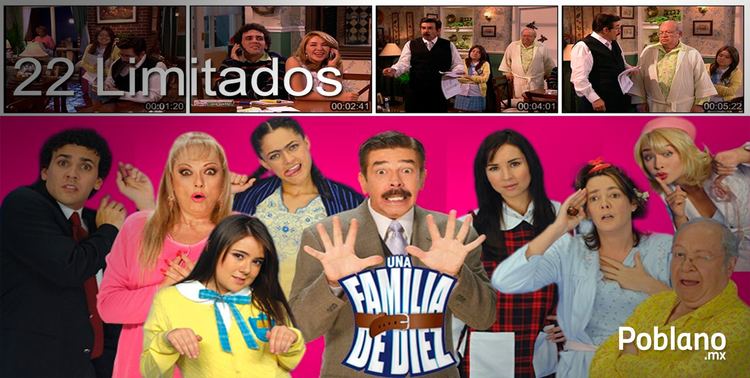 Una familia de diez has received various positive reviews and has constantly been appraised by Televisa, and its ratings are very high. The show has been re-transmitted several times in Galavisión. It has replaced the show ¡Qué madre, tan padre! which did not respond as favorably as the series. That series was also a Jorge Ortiz de Pinedo production; he is among the handful of Televisa producers who have had one series end one week and another series premiere the next week in the same time slot.
DVD release
In 2008, Televisa Home Entertainment released a DVD 3-disc set of the series' first season.
References
Una familia de diez Wikipedia
(Text) CC BY-SA