7.4

/

10

Alchetron

7.4

Rate This




Genre

Sitcom


Opening theme

"Vecinos"




Original language(s)

Spanish




Program creator

Eugenio Derbez


Executive producer

Eugenio Derbez




Created by

Eugenio Derbez




Country of origin

Mexico




First episode date

10 July 2005




Cast

Mayrín Villanueva




Starring

Eduardo EspañaCésar BonoMacariaMayrín VillanuevaAna Bertha EspínDanny PereaOctavio Ocaña




Networks

Televisa, Univision, Las Estrellas


Similar

La familia P Luche, Una familia de diez, Mujer - Casos de la Vida R, El Chapulín Colorado, Como dice el dicho
Vecinos 11 mejor no celebremos mexico 1
Vecinos (English: Neighbors) is a Mexican TV series adapted in 2005 by actor Eugenio Derbez from Spanish TV series Aquí no hay quien viva. The series portrays the life of everyday people in Mexican barrios, where anything can be found — the jealous housewife, the spinster, the strange family, etc. Each episode features the interactions between these peculiar neighbors, where they deal with problems both real and imagined, such as ghosts, treasures, ripoffs, fights, etc.
Contents
History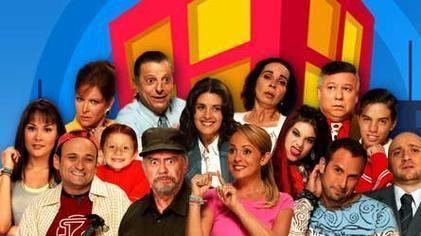 When Eugenio Derbez traveled to Spain in 2005, he saw a TV series named Aquí no hay quien viva, which features the same kind of problems that people have in the barrios. He thought a Mexican remake would be a good idea, so he created Vecinos.
Third Season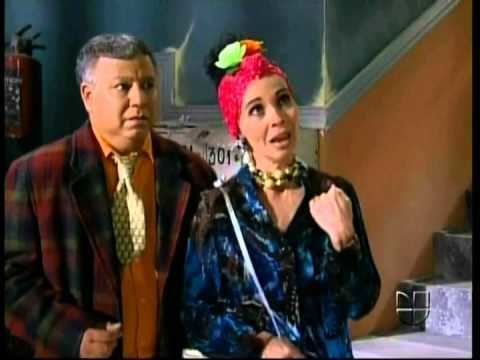 The third season premiered on January 20 on Televisa, presenting the conclusion of the cliffhanger of the second season aired on September 12, 2007.
The Doorkeeper
Germán Martínez
The building's doorman. He is lazy, but he tries to pretend the opposite in front of the neighbors. He almost always wears a backwards baseball cap, sagging jeans, and a too-small, too-tight, belly-exposing T-shirt.
German is portrayed by Eduardo España.
The Balboas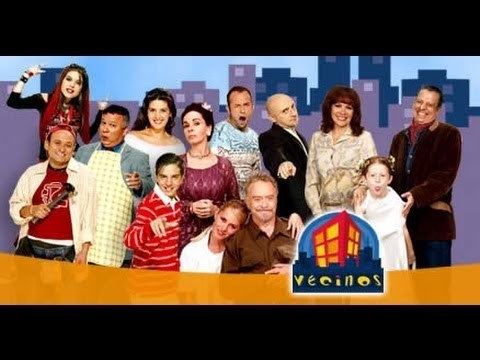 Don Roque Balboa
An elderly retired soldier. His neurotic character makes him intolerant and he lives in eternal disagreement with his neighbors. He has a teddy bear named Rambo.
Don Roque is portrayed by Polo Ortín.
Vanessa Balboa
She is a veterinarian and a hardcore pet lover. She lives with her grandfather, Don Roque Balboa.
Vanessa is portrayed by Roxana Castellanos.
Doña Cata "Catita" Balboa
A heavily religious nurse hired by Don Roque's son to take care of him after Vanessa moves out. At first she's somewhat antagonistic towards Don Roque because she's always trying to take away his sweets (Which his doctor forbade him from eating) and talk him out of doing foolish things, but they eventually develop a romantic relationship over their surprisingly similar tastes and hobbies and get married.
Doña Cata is portrayed by Maria Prado.
The Olvera
Silvia Olvera
Desperate woman dealing with internal conflicts of not yet having found her soul mate. She teaches ethics in high school and is going through a mid-thirties crisis.
Silvia is portrayed by Mayrín Villanueva.
The Rivers/Rios
Frankie Rivers (Rios)
A failed actor who lives in the past, reinventing every moment of that distant time when he appeared in the film "La Toalla del Mojado". Attempting to return to the world of acting, he often writes movie scripts—but always winds up plagiarizing an existing one.
Frankie is portrayed by César Bono.
Lorena Rivers (Rios)
Frankie's wife, a vicious gossip from a wealthy family.
Lorena is portrayed by Ana Bertha Espín.
Benito Rivers (Rios)
Lorena and Frankie's son, an innocent, focused, studious boy who wants to be a doctor. He also enjoys fighting games and frequently meets with Germán and Pedro to play or watch them on television. He feels embarrassed every time his mother forces him to wear costumes for his several (involuntary) auditions—which always fail.
Benito is portrayed by Octavio Ocaña.
Patricia "Pato" Alcantara
A mischievous little girl who replaces Benito when he finds a way to run away from home by exploiting a student exchange program. Unlike Benito, Pato isn't forced to go on auditions and instead spends most of her spare time playing pranks on her neighbors, her favorite target being German, whom she often frames as culprit of her worst misdeeds.
Pato is portrayed by Carla Zuckerman.
The Lopez
Arturo López
A mature man who tries to get ahead and earn the respect of his family and their neighbors, but it is no secret that his wife dominates him. He often tries to use slang to relate to his children, but only sounds and looks foolish.
Arturo is portrayed by Moisés Suárez.
Magdalena Pérez Lopez
Arturo's wife, a presumptuous woman obsessed with what others may think of her; she will seem to have what she hasn't and be what she isn't. She hates living in the building and categorizes everyone as "nacos." She thinks she deserves to live somewhere else more appropriate to her class, although she did not even finish middle school.
Magdalena is portrayed by Macaria.
Alejandra López
Arturo and Magdalena's 16-year-old daughter: rebellious, lazy, and messy. She backtalks every time her parents lecture her, which causes Magadalena to berate Arturo. She finds her brother a decerebrated "Fresa" and lives in constant friction with him. She loves hard rock and grunge.
Alejandra is portrayed by Danny Perea.
Marco López
Magdalena and Arturo's son, Alejandra's older brother. At 17 he's barely scraping by in his junior year of High School after having had to repeat several school terms because of his laziness. In trying to give him everything, his mother has made him a parasite. He's ashamed of both parents and their social status.
Marco is portrayed by Vadhir Derbez.
Yesenia "La Yeyis" Treviño
The daughter of one of Magdalena's old classmates. Yeyis is a naive but sweet girl who grew in a wealthy household and holds no prejudices. She's invited to live with the Lopez when Marco leaves to study abroad and her parents decide to take an extended vacation. While Alejandra considers her a moron and a nuisance, Yeyis believes them to be best friends. She befriends and eventually starts a relationship with Alejandra's friend and bandmate Piloto, much to Alejandra's annoyance.
La Yeyis is portrayed by Ahrid Hannaley.
The Friends
Luis San Román
Neurotic and apprehensive; everything goes wrong for him. He's looking for a woman, but whenever he likes one, she ends up preferring his friend Pedro.
Luis is portrayed by Darío Ripoll.
Pedro Medina
The careless and irresponsible but good-natured type of guy but who takes life lightly. Like Luis, he sells all kinds of goods in a trading company. Despite not being very smart, his charm and luck always make him succeed. He takes advantage of situations but isn't ill-intentioned. Often wins business and sales to Luis. He likes soccer and can spend the day lying on his couch watching TV and eating junk food.
Pedro is portrayed by Pablo Valentín.
Luis "Luisito" San Roman II
A toddler that Luis and Pedro raise together after his mother, Luis' ex-girlfriend, abandons him with them, claiming he's Luis' son. It's eventually discovered that Luisito is in reality the son of his mother's ex-boyfriend Ro and he's taken away from his adoptive father.
Luisito is portrayed by Ian Rubio de la Cerda.
Other Characters
Doña Socorro "Doña Soco"
The owner of the building. Doña Soco is a ruthless business woman with no qualms about tossing the neighbors out if it benefits her.
Doña Soco is portrayed by Maria Rubio.
Jorjais
A homeless, but nonetheless clever, man. Jorjais uses pathos to manipulate others into giving him food, money, jobs, etc. His skill, or rather, willingness, to work often overshadows German, leading to conflict between both characters.
Jorjais is portrayed by Manuel 'Flaco' Ibáñez.
Don Serafio
The local handyman who charges reasonable prices and always does a good job. Don Serafio is often frustrated by the neighbors' willingness to listen to German when he claims he could do the same job quicker and for a lower price, and almost always ends up coming back to fix everything when German fails miserably.
Don Serafio is portrayed by Pedro Romo.
Piloto
Alejandra's friend and bandmate, vocalist for her rock band. Piloto is a dimwitted boy who dresses in punk fashion but is anything but. He befriends Yeyis in a plot to squeeze money out of her but eventually falls for her, going as far as being willing to give up his friendship with Alejandra to remain with Yeyis.
Piloto is portrayed by Luis Gerardo Mendez.
Gudelia
Gudelia is German's on-and-off girlfriend who works as a maid in a neighboring building.
Gudelia is portrayed by Claudia Bollat.
Neto
The handsome and muscular owner of the convenience store next to the building. Neto often flirts with Silvia, who flirts right back.
Neto is portrayed by Benjamín Rivero.
Episodes
1st Season
Season 1, Episode 1: Aquí Si Hay Quién Viva Original Air Date: 10 July 2005
Season 1, Episode 2: La pintura del edificio Original Air Date: 17 July 2005
Season 1, Episode 3: Vecinas desesperadas Original Air Date: 24 July 2005
Season 1, Episode 4: Sin H2O Original Air Date: 31 July 2005
Season 1, Episode 5: Luces, cámara, acción... Original Air Date: 7 August 2005
Season 1, Episode 6: El bueno, el malo y el enmascarado Original Air Date: 14 August 2005
Season 1, Episode 7: La chacha más deseada Original Air Date: 21 August 2005
Season 1, Episode 8: De millonario a mendigo Original Air Date: 28 August 2005
Season 1, Episode 9: ¿Y dónde esta el basurero? Original Air Date: 31 August 2005
Season 1, Episode 10: En el tiempo de los mariposos Original Air Date: 7 September 2005
Season 1, Episode 11: Mejor no celebremos México Original Air Date: 14 September 2005
Season 1, Episode 12: No nos dejen colgados Original Air Date: 21 September 2005
Season 1, Episode 13: America vs Chivas Original Air Date: 28 September 2005
Season 1, Episode 14: Furia de cuatro ruedas Original Air Date: 5 October 2005
Season 1, Episode 15: El ataque de las cucarachas Original Air Date: 12 October 2005
Season 1, Episode 16: Con zapatos de tacón Original Air Date: 19 October 2005
Season 1, Episode 17: Venta de garage Original Air Date: 26 October 2005
Season 1, Episode 18: Noche de Halloween Original Air Date: 2 November 2005
Season 1, Episode 19: Con el portón cerrado Original Air Date: 16 November 2005
Season 1, Episode 20: El dilemma del jacuzzi Original Air Date: 23 November 2005
Season 1, Episode 21: Como vender un departamento Original Air Date: 30 November 2005
Season 1, Episode 22: El nuevo administrador Original Air Date: 7 December 2005
Season 1, Episode 23: El nacimiento viviente Original Air Date: 14 December 2005
2nd Season
Season 2, Episode 1: Aguas turbias Original Air Date: 18 January 2006
Season 2, Episode 2: Fuga de gas Original Air Date: 24 January 2006
Season 2, Episode 3: Mercado sobre ruedas Original Air Date: 31 January 2006
Season 2, Episode 4: American Party Original Air Date: 7 February 2006
Season 2, Episode 5: Día de San Valentín Original Air Date: 14 February 2006
Season 2, Episode 6: Rento mi departamento Original Air Date: 21 February 2006
Season 2, Episode 7: Con el apagón Original Air Date: 28 February 2006
Season 2, Episode 8: La toalla del mojado II Original Air Date: 7 March 2006
Season 2, Episode 9: Primer amor... Benito a mil por hora Original Air Date: 14 March 2006
Season 2, Episode 10: Batidora, computadora y secadora Original Air Date: 21 March 2006
Season 2, Episode 11: Ascendiendo an Arturo Original Air Date: 28 March 2006
Season 2, Episode 12: ¿Quién es el padre? Original Air Date: 4 April 2006
Season 2, Episode 13: Martes vecinal Original Air Date: 22 April 2006
Season 2, Episode 14: Mis pobres diablillos Original Air Date: 29 April 2006
Season 2, Episode 15: Competencia de Hot Dogs Original Air Date: 6 May 2006
Season 2, Episode 16: Viaje a Canada: Parte 1 Original Air Date: 20 May 2006
Season 2, Episode 17: Viaje a Canada: Parte 2 Original Air Date: 27 May 2006
Season 2, Episode 18: Cursos sin superación Original Air Date: 3 June 2006
Season 2, Episode 19: Los López en Canada Original Air Date: 10 June 2006
Season 2, Episode 20: La verdad de Luis & Pedro Original Air Date: 17 June 2006
Season 2, Episode 21: Embargo a los pobres ricos Original Air Date: 24 June 2006
Season 2, Episode 22: Silvia en Canada Original Air Date: 1 July 2006
3rd Season
Season 3, Episode 1: Aviso de desalojo Original Air Date: 22 July 2006
Season 3, Episode 2: La jaula de las vecinas Original Air Date: 29 July 2006
Season 3, Episode 3: Un tatuaje para Alejandra Original Air Date: 5 August 2006
Season 3, Episode 4: Tesoro no perdido Original Air Date: 12 August 2006
Season 3, Episode 5: Cartas que asustan Original Air Date: 19 August 2006
Season 3, Episode 6: Sin ton ni Silvia Original Air Date: 26 August 2006
Season 3, Episode 7: Truco o trato Original Air Date: 2 September 2006
Season 3, Episode 8: Otro Robo Original Air Date: 9 September 2006
Season 3, Episode 9: Buscando al portero Original Air Date: 16 September 2006
Season 3, Episode 10: Un intruso en la familia Original Air Date: 23 September 2006
Season 3, Episode 11: El nuevo conserje Original Air Date: 7 October 2006
Season 3, Episode 12: Volver al futuro Original Air Date: 14 October 2006
Season 3, Episode 13: Intercambio escolar Original Air Date: 21 October 2006
Season 3, Episode 14: Fantasmas del más acá Original Air Date: 28 October 2006
Season 3, Episode 15: Video descompuesta Original Air Date: 4 November 2006
Season 3, Episode 16: Un nuevo casting Original Air Date: 11 November 2006
Season 3, Episode 17: Sesiones espiritistas Original Air Date: 18 November 2006
Season 3, Episode 18: Reta de Ping Pong Original Air Date: 25 November 2006
Season 3, Episode 19: Maratón del Barrio Original Air Date: 10 December 2006
References
Vecinos Wikipedia
(Text) CC BY-SA