Name

West Virginia




Ordered

5 December 1916




Sponsored by

Alice Wright Mann




Construction started

12 April 1920




Length

190 m




Builder

Newport News Shipbuilding




Namesake

State of West Virginia




Laid down

12 April 1920




Commissioned

1 December 1923




Launched

17 November 1921




Beam

27 m





What is the uss west virginia bb 48
USS West Virginia (BB-48), a Colorado-class battleship, was the second United States Navy ship named in honor of the country's 35th state. She was laid down on 12 April 1920 at Newport News, Virginia, launched on 19 November 1921 and commissioned on 1 December 1923. Her first captain was Thomas J. Senn. After her shakedown and crew training were finished, she was overhauled at Hampton Roads and later ran aground in Lynnhaven Channel.
Contents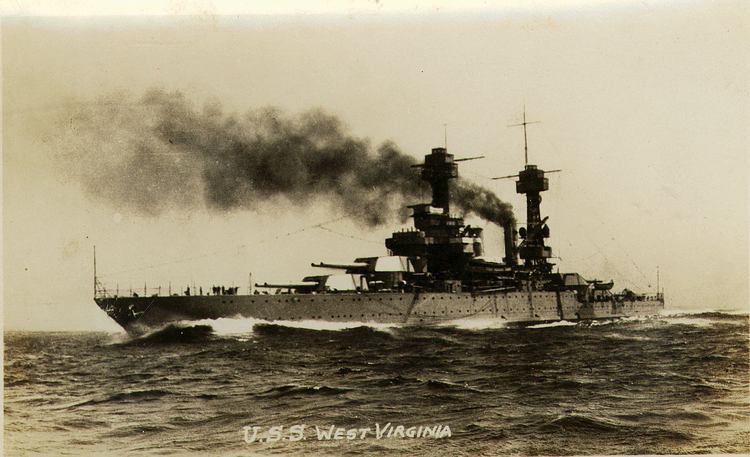 After her repairs she participated in exercises and engineering and gunnery courses, winning four medals in the latter. She participated in other fleet tactical development operations until 1939. In 1940 she was transferred to Pearl Harbor to guard against potential Japanese attack, and was sunk by six torpedoes and two bombs during the attack on Pearl Harbor. On 17 May 1942, she was salvaged from the seabed by draining the water from her hull.

After repairs in Pearl Harbor, she sailed to the Puget Sound Navy Yard. There she received an extensive refit, including the replacement of her 5-inch (127 mm)/25 caliber anti-aircraft guns and single-purpose 5-inch (127 mm)/51 caliber guns with 5-inch (127 mm)/38 caliber anti-aircraft guns. She left Puget Sound in July 1944 for Leyte Gulf.
She bombarded Leyte in November 1944, becoming part of a successful American plan to destroy the portion of the Japanese fleet trying to sail through the Surigao Strait, and later attacked Iwo Jima and Okinawa. At the end of the Pacific War she entered Tokyo Bay for the Japanese surrender and became part of Operation Magic Carpet, making three runs to Hawaii to transport veterans home. She was deactivated on 9 January 1947 and laid up at Bremerton, Washington, until sold for scrap on 24 August 1959.
Ww2 uss west virginia bb 48 salvage 06 14 1942 full
Description
West Virginia was 624 feet (190 m) long overall, had a beam of 97.3 ft (29.7 m) (114 ft (35 m) after her rebuild) and a draft of 30.5 ft (9.3 m). She displaced 32,100 long tons (32,600 t) as designed, and up to 33,060 long tons (33,590 t) at full load. The ship was powered by a four-shaft turbo-electric drive rated at 28,900 shaft horsepower (21,600 kW) and eight Babcock & Wilcox boilers, generating a top speed of 21 knots (39 km/h; 24 mph). She had a range of 8,000 nautical miles (9,200 mi) at 10 knots (19 km/h; 12 mph) and a crew of 1,407 officers and enlisted men when commissioned.
She was armed with a main battery of eight 16-inch (406 mm)/45 caliber Mark 1 guns in four twin gun turrets on the centerline, two forward and two aft. The secondary battery consisted of sixteen 5-inch (127 mm)/51 caliber guns. The anti-aircraft defense consisted of four 3-inch (76 mm)/23 caliber guns, which were soon replaced with four 5-inch/25 caliber guns. The secondary battery of 5-inch/51 caliber guns and the anti-aircraft battery of 5-inch/25 caliber guns were replaced with 5-inch/38 caliber guns. Standard for capital ships of the period, she carried two 21-inch (530 mm) torpedo tubes in deck-mounted torpedo launchers which were removed in a later overhaul. A CXAM-1 Radar was installed in 1940.
West Virginia's main armored belt was 13.5 inches (343 mm) thick over the magazines and the machinery spaces, and 8 inches (203 mm) elsewhere. The main-battery gun turrets had 18-inch-thick (460 mm) faces, and the supporting barbettes had 13 inches (330 mm) of armor plating on their exposed sides. Armor 3.5 inches (89 mm) thick protected the decks, and the conning tower had 11.5-inch-thick (290 mm) sides.
Construction and commission
West Virginia's keel was laid down at Newport News, Virginia on 12 April 1920 by the Newport News Shipbuilding and Drydock Company. She was launched on 19 November 1921 and commissioned on 1 December 1923. Her first captain was Thomas J. Senn, while her construction was sponsored by Alice Wright Mann, daughter of Isaac T. Mann, a noted West Virginian.
As she was one of the newest American super-dreadnoughts, she incorporated the latest features in naval design. Several different features from American battleships planned before the Battle of Jutland included a watertight, compartmentalized hull and the thickness of her armor.
Interwar period
After her trials, shakedown and post-commission repairs, she departed Newport News for New York harbor for work purposes. After a brief amount of work at the New York Navy Yard, she departed the harbor for Hampton Roads for repairs. Along the way, she experienced steering gear troubles. When her overhaul was completed, she departed Hampton on the morning of 16 June 1924.
At 10:10 am, while she was sailing down the center of Lynnhaven Channel, the quartermaster reported that the rudder indicator and emergency bell to the steering engine room were unresponsive. Captain Senn quickly ordered all engines stopped, but the engine-room telegraph would not respond to messages; there was no power to the engine-room or steering telegraphs.
Using the voice tube from the bridge to main control, Senn ordered full power on the port engine and stopped the starboard. The crew tried to steer the ship with her engines and keep her in the channel and, when this failed, to keep her away from the edge of the channel. Their efforts were fruitless; the ship lost headway due to engine failure, and she ran aground on the soft mud bottom. In its investigation of the grounding, the court of inquiry found that "inaccurate and misleading navigational data" had been supplied to the ship; the chart legend indicated greater channel width than actually existed, and Senn and the navigator were exonerated. After she was repaired, West Virginia became the battle-fleet flagship on 30 October 1924. The ship won the American Defense Society's American Defense Cup and the Spokane Cup, presented by the city's Chamber of Commerce in recognition of her excellence in short-range firing, in addition to Battle Efficiency Pennants in 1925, 1927, 1932 and 1935.
During this period she underwent a cycle of training, maintenance and readiness exercises, participating in engineering and gunnery competitions and the annual fleet problems. In the latter, the fleet would be divided into opposing sides; a strategic or tactical situation would be implemented, with the lessons learned becoming part of a doctrine later tested in combat. As part of Fleet Problem V in 1925, she participated in an "attack" on the Hawaiian Islands to test its coastal defenses. The year after, she participated with the Battle fleet in a voyage to Australia and New Zealand. In later exercises, she sailed from Hawaii to first the Caribbean and then the Atlantic. She also made a voyage from Alaska to Panama. In Fleet Problem XI, she and the battleship Tennessee accidentally fired several rounds at the aircraft carrier Saratoga, mistaking her for Lexington.
She received performance-enhancing modifications, including the replacement of her original 3-inch (76 mm)/23 caliber anti-aircraft battery with 5-inch (130 mm)/25 calibler guns in 1927–28; the addition of platforms for half-inch (12.7 mm) machine guns at the foremast and maintop, and the addition of catapults to her quarterdeck, aft and number-three (high) turret. West Virginia was one of 14 ships to receive early RCA CXAM-1 radar. During the late 1930s it became evident that it was only a matter of time before the United States became involved in another large-scale war, and the fleet was dispatched to the Pacific in the spring of 1939 and stationed in Hawaii in 1940 after Fleet Problem XXI as a Japanese deterrent.
During 1941 West Virginia carried out intensive training from Pearl Harbor as part of a number of task forces and groups around Hawaii, with an unusually tense period beginning in late November and continuing into December. Training was usually followed by in-port upkeep along southeastern Ford Island.
Pearl Harbor
On Sunday, 7 December 1941, West Virginia was moored outboard from Tennessee at berth F-6 with 40 ft (12 m) of water beneath her keel. Shortly before 8:00 am, Japanese planes from a six-carrier task force began an attack on Pearl Harbor. Seven Japanese Type 91 aerial torpedoes struck the port side of West Virginia. One hit the steering gear, dislodging the rudder. At least three struck below the armor belt, with one or more striking the belt itself (requiring the replacement of seven armor plates). One or two torpedoes exploded on the armored second deck after entering the listing ship through holes made by previous torpedoes. One torpedo failed to detonate, and was recovered and disarmed by shipyard explosive technicians. The torpedo attack made two large holes, extending from frames 43 to 52 and 62 to 97.
West Virginia was also damaged by two Type 99 No. 80 Mk 5 bombs made from 16 in (410 mm) armor-piercing naval shells fitted with aerial fins. The first was found, unexploded, in debris on the second deck after passing through the searchlight platform, signal bridge and main deck deck near frame 70. The second bomb penetrated the 4-inch (100 mm) roof of turret three and broke apart destroying one of the turret's two guns, but did not detonate. It destroyed the Vought OS2U Kingfisher floatplane on the turret catapult. The impact knocked a second floatplane upside down to the main deck below, spilling gasoline (which ignited) from its fuel tanks. Burning aircraft fuel injured turret personnel and damaged the remaining gun. West Virginia was eventually engulfed by an oil-fed conflagration, begun by the burning Arizona and sustained for 30 hours by fuel leaking from both ships.
Port-side torpedo damage caused rapid compartment flooding; prompt counter-flooding by four damage-control parties under the command of Lt. Commander John S. Harper and early closure of all water-tight doors and hatches ordered by Harper's assistant, Archie P. Kelley, prevented the ship from capsizing. Water damage ruined much of the ship's communications gear, including its battle-phone batteries. An experimental sound-powered telephone circuit connecting the central station with the damage-control parties, tested during the previous summer's damage-control drills, remained operative but was unused. Captain Mervyn S. Bennion, unaware that Harper and Kelly had begun damage-control efforts, ordered Lieutenant C. V. Ricketts to begin counter-flooding the starboard compartments. Ricketts, delayed at his battle station and AA-gun batteries, arrived to find 30 to 40 starboard compartments already flooded. In his report, Ricketts wrote that he witnessed the flooding of one compartment. He then ordered all remaining starboard compartments flooded and returned to the bridge to help move the captain, mortally wounded by shrapnel. Harper's report on the counter-flooding of "all available voids", as directed, indicated that Ricketts' assistance had been unnecessary.
During the attack's first wave and the counter-flooding overseen by Harper, executive officer Roscoe H. Hillenkoetter abandoned ship by jumping off the starboard quarterdeck. Harper was then notified by an officer on the conning tower that the captain was dying, the executive officer had abandoned ship and Harper (as third in command) was now the commanding officer. After confirming that all starboard compartments were flooded, Harper went to the conning tower. Countermanding the captain's dying order for all hands to abandon ship, he ordered repair parties to fight fires fore and aft. Fire hoses from Tennessee were passed to West Virginia; crews fought fires near turret three and elsewhere on the ship until about 2:00 pm, when Harper ordered the remaining crew to abandon ship.
With a patch over the damaged area of her hull the battleship was pumped out, refloated on 17 May 1942 and docked in Drydock Number One on 9 June. This enabled a more detailed damage assessment, indicating six (not five) torpedo hits.
During repairs, workers found the bodies of 66 West Virginia sailors who were trapped below when the ship sank. Several were lying atop steam pipes, in the only remaining air bubble of flooded areas. Three were found in a storeroom compartment, where they had survived for a time on emergency rations and fresh water from a battle station; a calendar indicated that they were alive through 23 December. Although the remaining crew and shipyard workers were confronted with a monumental task because of the damage to her port side, West Virginia sailed from Pearl Harbor on 7 May 1943 to Bremerton, Washington and a complete rebuild at the Puget Sound Navy Yard.
Repairs and modernization
The hyperboloid cage masts supporting the three-tier fire-control tops, the two funnels, the open-mount 5-inch (127 mm)/25 caliber guns and the casemates with the single-purpose 5-inch/51 caliber guns were replaced by a single funnel and dual-purpose 5-inch/38 caliber guns. On the decks, 40 mm Bofors and 20 mm Oerlikon batteries were added. Although the two-ocean naval policy dictated a beam limit of 108 feet (33 m) for U.S. battleships to traverse the Panama Canal, when Tennessee, California and West Virginia were rebuilt their beams were widened to 114 feet (35 m) feet, effectively limiting their service to the Pacific theater. After her rebuild her appearance differed from her sister ship, Maryland, while resembling that of Tennessee and California except for her twin-gun main battery turrets.
By early July 1944, West Virginia had been fully modernized, she sailed to Port Townsend, Washington, finishing trials on 12 July. She returned to Puget Sound for final repairs, before heading for her post-modernization shakedown at San Pedro, California.
She completed her shakedown and departed for Pearl Harbor on 14 September. She was escorted by two destroyers and arrived there on 23 September. She then sailed for Manus Island, being joined by the fleet carrier Hancock. Twelve days later, when she arrived in Seeadler Harbor she became part of Battleship Division 4. Another two days later, she became the flagship of Battleship Division 4 after Admiral Theodore Ruddock moved his flag from Maryland to West Virginia.
Leyte landings
Participating in the invasion of the Philippines, West Virginia sailed as part of Task Group 77.2 (TG 77.2) under Rear Admiral Jesse B. Oldendorf. On 18 October the battle line entered Leyte Gulf, with West Virginia behind California. At 4:45 pm, California launched a naval mine with her paravane; West Virginia avoided it, and it was destroyed a few moments later by gunfire from a destroyer in the screen.
The next day West Virginia steamed to her assigned station in San Pedro Bay at 7:00 am to stand by and bombard shore targets in Tacloban, Leyte's capital. Retiring to sea that evening, the battleship and her consorts returned the next morning to attack Japanese installations in the Tacloban area. Her gunners fired 278 16-inch (410 mm) and 1,586 5-inch (130 mm) shells, silencing the Japanese artillery and supporting the underwater demolition teams (UDTs) preparing the beaches for the 20 October assault. During the assault, Japanese planes flew over the landing area; West Virginia fired at those within range, but did not down any.
On 21 October, as she sailed to her support position for the landing troops, the battleship touched the seabottom and sustained slight damage to three of her four propellers. Vibration from the damaged blades limited sustained speeds to 16 kn (18 mph; 30 km/h), or 18 kn (21 mph; 33 km/h) in emergencies. For the next two days, she continued providing anti-aircraft fire for the invasion troops. She was situated close to the beachhead during the day and retreating seaward at night.
Battle of Leyte Gulf
Part of the Japanese fleet, four carriers and two hybrid battleship-carriers (Ise and Hyūga), sailed toward the Philippine Sea. A small surface force under Admiral Kiyohide Shima headed for the Sulu Sea; two striking forces consisting of battleships, cruisers and destroyers left Lingga Roads, Sumatra, before separating north of Borneo. The larger group, commanded by Admiral Takeo Kurita, passed north of the island of Palawan to cross the Sibuyan Sea.
The smaller force, under Admiral Shoji Nishimura, turned south of Palawan and crossed the Sulu Sea to pass between the islands of Mindanao and Leyte. Shima's force followed Nishimura's, heading for Leyte Gulf as the southern jaw of a pincer against the amphibious ships and transports unloading off the Leyte beachhead. When Nishimura advanced down the Surigao Strait, American PT boats sortied against his fleet.
West Virginia, meanwhile, was leading a battle line of Maryland, Mississippi, Tennessee, California, and Pennsylvania. Since 12:21 am on 25 October, the battleship had received reports on the PT-boat and destroyer attacks; at 3:16 am, West Virginia's radar picked up Nishimura's force at a range of 42,000 yd (38,000 m) and reached a firing solution at 30,000 yd (27,000 m). After tracking the force, at 3:52 am West Virginia fired her eight 16-inch (406 mm) main-battery guns at a range of 22,800 yd (20,800 m) and struck the leading Japanese battleship with her first salvo. Five of her first six salvos struck Nishimura's ships; she fired a total of 16 salvos as Oldendorf crossed the T of the Japanese fleet, effectively destroying it. At 4:13 am, she ceased fire as the Japanese remnants fled back down the strait. Several burning Japanese ships blocked the strait, with West Virginia contributing to Yamashiro's sinking. On 29 October, she left the Philippines for Ulithi with Tennessee and Maryland. After Admiral Ruddock moved his flag from West Virginia back to Maryland, she headed for Espiritu Santo in the New Hebrides for repairs.
Philippine operations
West Virginia returned to the Philippines on 26 November, resuming her patrols in Leyte Gulf as part of the antiaircraft screen for transports and amphibious ships. At 11:39 am on 27 November her antiaircraft guns shot down a kamikaze, and she assisted in downing others the next day.
Rear Admiral Ruddock returned on 30 November and continued her operations off Leyte until 2 December, when the battleship headed for Palau. Flagship of a new task force, she proceeded toward the Sulu Sea to cover the landings on Mindoro. Entering Leyte Gulf late in the evening of 12 December, she entered the Surigao Strait the next day and steamed into the Sulu Sea with a carrier force to provide cover for the transports. The battleship covered the retirement of the transports on 16 December, refueling in Leyte Gulf before returning to Kossol Roads (where she spent Christmas) at midday on 19 December.
After Christmas, West Virginia returned to the Philippines. On 1 January, Rear Admiral Ingram C. Sowell relieved Ruddock as commander of the battleship division and she sailed for Leyte Gulf as part of TG 77.2. Entering the gulf in the predawn hours of 3 January, West Virginia proceeded into the Sulu Sea. Japanese air opposition, which intensified since the early Philippine campaign, was deadlier. A kamikaze crashed into the escort carrier Ommaney Bay at 5:12 pm on 4 January; her crew abandoned ship because of multiple fires, and were picked up by other ships in the screen. The destroyer Burns scuttled the sinking escort carrier with several torpedoes.
Taking Ommaney Bay survivors from the destroyer Twiggs, West Virginia entered the South China Sea the next morning and defended the carriers from Japanese air attacks. The battleship moved inshore (with the carriers outside) to bombard San Fernando Point, hitting Japanese shore installations with her 16-inch (410 mm) guns. Kamikazes kept up their attacks despite heavy anti-aircraft fire and U.S. fighter planes, damaging HMAS Australia and the battleships California and New Mexico on 5 December.
West Virginia took another group of survivors on board: the crew of the high-speed minesweeper Hovey, sunk by a Japanese torpedo on 6 January. Her 16-inch (410 mm) guns again bombarded Japanese shore positions at San Fabian on 8–9 January, as troops landed on 9 January. On the night of 9 January, the battleship finally transferred her passengers.
After providing fire support all day on 10 January, West Virginia patrolled off Lingayen Gulf for the next week before replenishing her ammunition. During her shore-bombardment tours off San Fabian, she covered Underwater Demolition Team operations, destroyed mortar positions, entrenchments and gun emplacements and leveled San Fabian, destroying ammunition dumps, railway and road junctions, machine-gun positions and warehouses. During that time, the ship fired 395 16-inch (410 mm) shells and over 2,800 5-inch (130 mm) projectiles. Under way again at 7:07 am on 21 January, West Virginia began fire-support duties at 8:15 in readiness for cooperation with United States Army units ashore in the vicinity of Rosario and Santo Tomas. After several more days of readiness for fire support, West Virginia anchored in Lingayen Gulf on 1 February.
As part of TG 77.2, West Virginia protected shipping at the Lingayen beachheads and was ready to provide army fire support. She left Lingayen Gulf, her duty completed there, on 10 February for Leyte Gulf. Before her departure she received 79 bags of United States mail, the first she received since Christmas Eve.
After a stop at San Pedro Bay, Leyte, West Virginia arrived at Ulithi on 16 February for duty with the Fifth Fleet. The battleship quickly provisioned and refueled for another operation, loading about 300 tons (270 tonnes) of stores by 4:00 am on 17 February. At 7:30, she left for Iwo Jima with the destroyers Izard and McCall.
Battle of Iwo Jima
West Virginia's crew sighted the island of Iwo Jima at a range of 82 miles (132 km) on the morning of 19 February. When the distance closed, she could see the first landings on the island, with ships surrounding the island, shelling the island from all sides. Later on the morning, she received orders from a dispatch boat and within a half-hour she reached her post.
By midday, she began bombarding the island with 16-inch rounds. Her 16-inch shells caused collapsed caves and destroyed artillery batteries, tanks, vehicles, anti-aircraft emplacements, and blockhouses. One salvo struck an ammunition storage area, with its explosions lasting about two hours. Leaving on 20 February for ammunition. On the next day, she returned and continued her duties. That day the United States Marine Corps took Mount Suribachi, a prominent landmark on one end of the island. From their position offshore, West Virginia's crew could see the flag flying from the top.
For the rest of the month, she continued her fire support and anti-aircraft cover for the troops ashore. Japanese positions were heavily bombarded by the fleet with most structures and troop concentrations being destroyed. On 27 February, during her daily fire support duties, her crew spotted a coastal artillery battery firing at the destroyer Bryant. She approached towards shore and opened fire with her 5-inch (130 mm)/38 guns at a range of 600 yd (550 m), destroying the gun battery.
The next day, she departed for ammunition. By the afternoon, she was back in action. Over the following days, she continued her fire support duties, destroying outposts and pillboxes with her secondary battery firing air bursts, mainly off the northeastern shore. On 4 March, she departed the island for the Caroline Islands, reaching Ulithi two days later.
Battle of Okinawa
Joining TF 64 for the Battle of Okinawa, West Virginia departed on 21 March and reached her objective four days later. She spent the following days softening up Okinawa for the American landings, scheduled to begin on 1 April. In her first salvos of the operation, West Virginia shot 28 rounds of 16-inch (410 mm) gunfire against the Japanese batteries. Over the next few days kamikaze attacked the islands, and naval mines started to have an effect; one sank the minesweeper Skylark, 3,000 yd (2,700 m) off West Virginia's bow, at 9:30 am on 28 March.
After restocking ammunition at Kerema Retto, she bombarded Okinawa on 1 April in support of the troops advancing rapidly inland. That day a kamikaze flew over her port side before looping over and crash-diving into a superstructure deck, killing four men and wounding 23. The plane's bomb broke loose and penetrated to the second deck; it was confirmed a dud by technicians. Although portions of the ship were severely damaged, she reported the damage as "fixable" and carried on.
In early April, the Japanese attempted to strike at the invasion fleet in a suicide mission with the super-battleship Yamato. On the night of 7–8 April West Virginia sailed in the waters west of Okinawa, ready to intercept and engage the Japanese surface force headed her way. The next morning, the task force commander reported that Yamato had been sunk by U.S. aircraft.
After Yamato's sinking, West Virginia continued providing illumination and counter-battery fire with her main and secondary batteries; Zellars, Tennessee, Salt Lake City, Stanly and others were damaged or sunk by kamikaze. Her shelling support shifted from the Marines to the Army, continuing until 20 April. She then sailed to Ulithi, turning back after the battleship Colorado was damaged by a powder explosion at Kerema Retto. At the Hagushi beach, West Virginia provided cover fire for the XXIVth Army Corps and sailed to Ulithi with San Francisco and Hobson
Returning to Okinawa after brief repairs, she supported the Army and Marines until the end of June. On 1 June, she sent a spotting plane to locate an enemy blockhouse; several shots missed, but the next day she had four hits and seven misses on the blockhouse.
Off Okinawa's southeastern coast, she broke up Japanese troop concentrations, destroyed caves and disrupted Japanese road traffic. On 16 June, while she was supporting the 1st Marine Division, her spotter plane crashed in Japanese-held territory. When rescue attempts failed, she borrowed a Vought OS2U Kingfisher from Tennessee. At the end of June she passed San Pedro Bay, Leyte, reaching the Philippines on 1 July escorted by Connolly. On the morning of 5 July, she received her first replacement troops since 1944. After loading ammunition, she trained in the Philippines until the end of the month.
Japanese surrender
Sailing on 3 August for Okinawa, West Virginia reached Buckner Bay on 6 August—the day Little Boy, the first atomic bomb, was dropped on the city of Hiroshima. At 9:15 pm on 10 August, West Virginia picked up a radio report that the Japanese government agreed to surrender under the terms of the Potsdam Declaration if its people could keep the Emperor of Japan as their ruler. Although the ships in the bay soon began celebrating, on 12 August Pennsylvania was torpedoed; West Virginia sent a whaleboat the next day with pumps for the damaged ship.
West Virginia sailed for Tokyo Bay on 24 August as part of TG 35.90. Reaching the bay a week later, she was present for the formal surrender on 2 September 1945 and five musicians from her band were temporarily transferred to Missouri to play at the ceremonies.
After the war
West Virginia remained in Tokyo Bay into September, and on 14 September she received 270 passengers for transport to the U.S. West Coast. She got under way at midnight on 20 September, bound for Okinawa as part of TG 30.4. Moving to Buckner Bay on 23 September, the battleship sailed for Pearl Harbor soon afterwards and reached her destination on 4 October. She was painted, and the only passengers remaining were bound for San Diego, California. Leaving for California on 9 October, West Virginia moored at the Navy Pier at San Diego at 1:28 pm on the 22nd. Two days later, Rear Admiral I. C. Sowell lowered his flag as Commander, Battleship Division 4.
On Navy Day, 25,554 visitors boarded the ship. Three days later, on 30 October, she sailed for Hawaii as part of Operation Magic Carpet. After three runs between Pearl Harbor the West Coast, she reached San Pedro, California on 17 December and spent Christmas debarking her third load of passengers. She left San Pedro on 4 January 1946 for Bremerton, Washington, reaching her destination on the 12th and beginning inactivation. Four days later she moved to Seattle, Washington, where she was moored alongside her sister ship Colorado.
Entering her final stages of inactivation in late February 1946, she was decommissioned on 9 January 1947 and became part of the Pacific Reserve Fleet. She remained inactive until she was struck from the Naval Vessel Registry on 1 March 1959. On 24 August she was sold for scrapping to the Union Minerals and Alloys Corporation of New York City, then towed from Bremerton to the Vigor Shipyards and broken up.
Awards
American Defense Service Medal with "Fleet" clasp
Asiatic-Pacific Campaign Medal with five battle stars
World War II Victory Medal
Navy Occupation Medal with "Asia" clasp
Remains
An anti-aircraft gun is at City Park in Parkersburg, West Virginia and the ship's wheel and binnacle are on display at the Hampton Roads Naval Museum. To honor the sailors who died, the flagstaff that was sunk at Pearl Harbor is in Clarksburg, West Virginia, displayed in front of the Harrison County Courthouse. The mainmast of the ship sits in front of Oglebay Hall at West Virginia University, while the secondary con wheel was sent to Salem International University, Salem, West Virginia, where it is on display at the schools library.
Legacy
In 2000, governor Cecil Underwood issued a proclamation on the 59th anniversary of the Pearl Harbor attack naming Interstate 470 in West Virginia the USS West Virginia Memorial Highway.
References
USS West Virginia (BB-48) Wikipedia
(Text) CC BY-SA