8.1

/

10

Alchetron

7.2

Rate This




Director

James Cameron


Budget

100 million USD




Duration




Language

English






Genre

action, Comedy, Thriller


Film series

True Lies Film Series




Country

United States





Release date

July 15, 1994 (1994-07-15)




Based on

La Totale! by Claude ZidiSimon MichaelDidier Kaminka




Writer

Claude Zidi (screenplay), Simon Michael (screenplay), Didier Kaminka (screenplay), James Cameron (screenplay)


Cast

Arnold Schwarzenegger (Harry Tasker), Jamie Lee Curtis (Helen Tasker), Tom Arnold (Albert Gibson), Bill Paxton (Simon), Tia Carrere (Juno Skinner), Art Malik (Salim Abu Aziz)


Similar movies

Kingsman: The Secret Service

,

Mission: Impossible

,

Spy

,

Mission: Impossible II

,

Bridge of Spies

,

Mission: Impossible III




Tagline

When he said I do, he never said what he did.
True lies 1994 final fight scene
True Lies is a 1994 American action comedy film written, co-produced and directed by James Cameron, starring Arnold Schwarzenegger, Jamie Lee Curtis, Tom Arnold, Art Malik, Tia Carrere, Bill Paxton, Eliza Dushku, Grant Heslov and Charlton Heston. It is a loose remake of the 1991 French comedy film La Totale! The film follows U.S. government agent Harry Tasker (Schwarzenegger), who balances his life as a spy with his familial duties.
Contents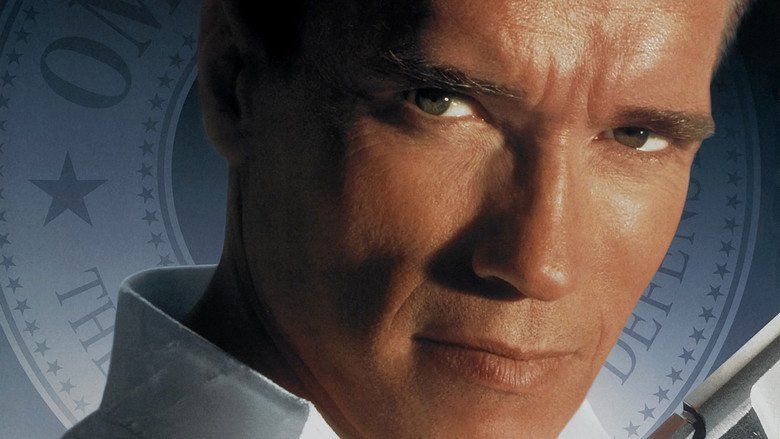 True Lies was the first Lightstorm Entertainment project to be distributed under Cameron's multimillion-dollar production deal with 20th Century Fox, as well as the first major production for the visual effects company Digital Domain, which was co-founded by Cameron.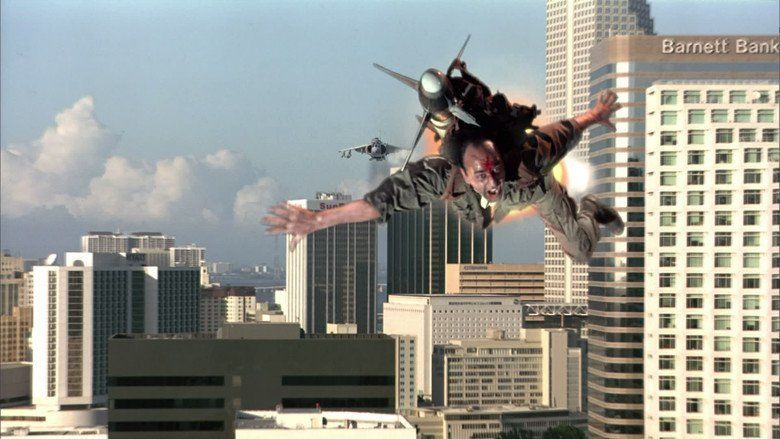 For her performance, Curtis won the Golden Globe Award for Best Actress – Motion Picture Musical or Comedy and the Saturn Award for Best Actress, while Cameron won the Saturn Award for Best Director. The film ultimately grossed $378 million worldwide at the box-office and was also nominated at the Academy Awards and BAFTAs in the Best Visual Effect category, and also for seven Saturn Awards.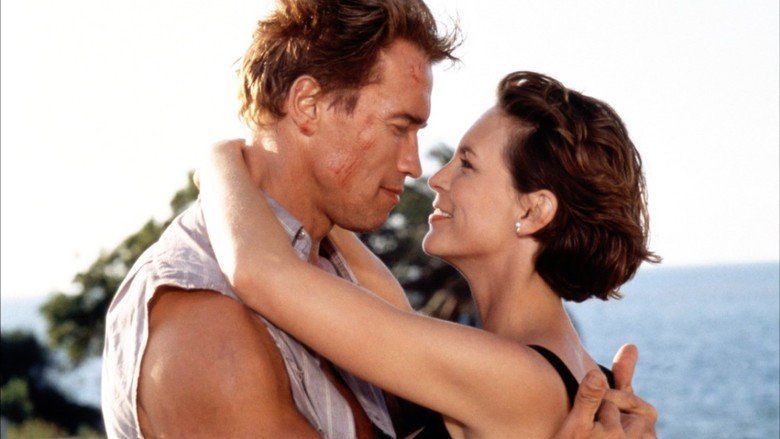 Plot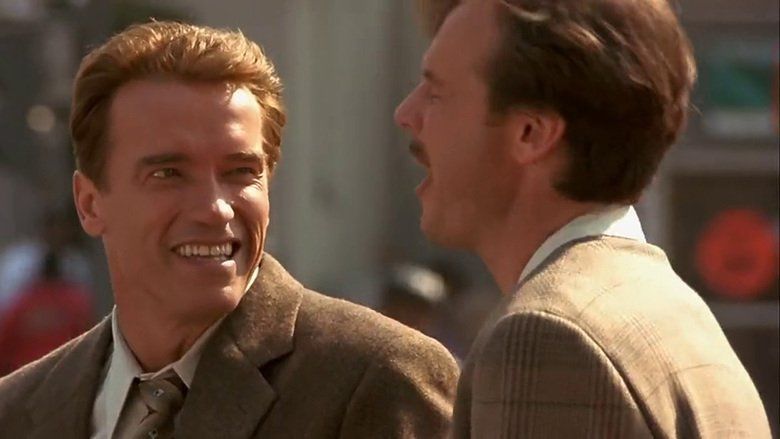 Harry Tasker leads a double life. While his wife Helen and daughter Dana believe him to be a run-of-the-mill computer salesman, he is actually a black operative for a covert counter-terrorism task force known as Omega Sector. Harry and his partners Albert "Gib" Gibson and Faisal infiltrate a private function in Switzerland, where they learn of the existence of a Palestinian terrorist group known as the Crimson Jihad, led by Salim Abu Aziz. Harry suspects that antiques dealer Juno Skinner has ties to Aziz, and visits her undercover as a corporate art consultant. Though the initial investigation proves fruitless, Aziz correctly identifies Harry as a spy and tries to kill him. Harry kills two of Aziz's men and pursues the leader through the streets of Washington, D.C., but loses him on a rooftop. As a result, Harry misses the birthday party that Helen and Dana had arranged for him.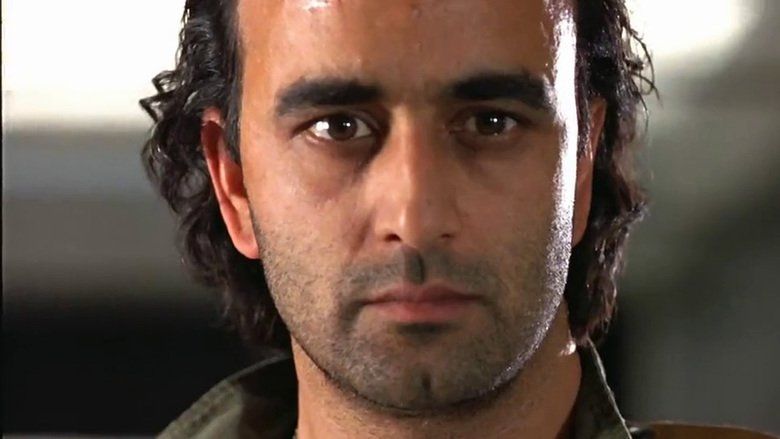 Harry heads to Helen's office the next day to surprise her for lunch, but overhears her talking on the phone to a man named Simon. Fearful that his wife is having an extramarital affair, he uses Omega Sector resources to learn that Simon is a used car salesman, pretending to be a secret agent as a means to seduce Helen. Harry's preoccupation with his personal matters causes him to neglect his investigation with the Crimson Jihad in the process. While masked, Harry and a team of agents kidnap Helen while she is at Simon's trailer and frighten and humiliate the latter into staying away from her. Using a voice masking device, Harry interrogates Helen and learns that, due to his constant absence, she is desperately seeking adventure. Harry thus arranges for Helen to participate in a staged spy mission, where she is to seduce a mysterious figure in his hotel room and plant a bug on his phone. The figure turns out to be Harry, who hopes to surprise Helen. However, things take a turn for the worse when Aziz's men burst in, kidnap the couple, and take them to an island in the Florida Keys. In the process, they expose Harry's secrets to Helen.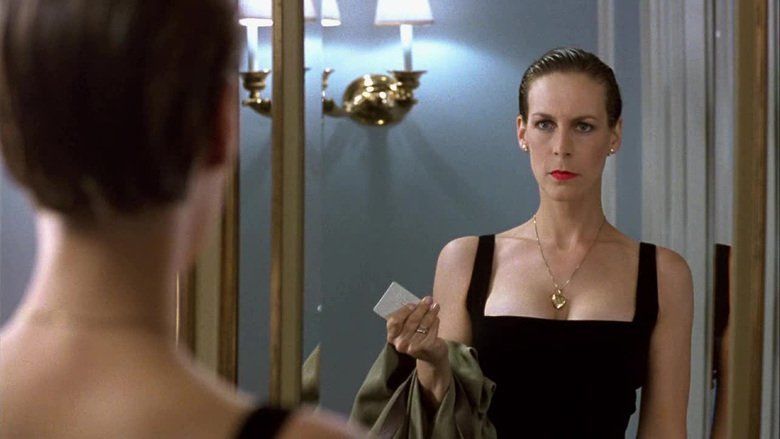 Aziz reveals he has smuggled stolen nuclear warheads into the country via antique statues shipped by Juno, and threatens to detonate them in major U.S. cities unless the U.S. military withdraws from the Persian Gulf. He then orders the couple to be tortured; Harry (under a truth serum) reveals details of his double life to Helen; she is outraged by his dishonesty even before their marriage but also fascinated by her husband's career. The couple stage an escape, Harry fighting off Aziz's men with an improvised flamethrower. Aziz preps one of the warheads to detonate in ninety minutes, and loads the rest onto trucks to be taken elsewhere. During the ensuing chaos, Helen is captured by Juno and taken with the convoy on the Overseas Highway. Having tracked Harry via Helen's tracker, he is rescued by agents led by Gib and together they begin pursuit of the convoy, sending two Harrier Jump Jets. The jets destroy part of the bridge to cut off the trucks' escape route, and Harry rescues Helen from Juno's limo before it careens into the ocean below.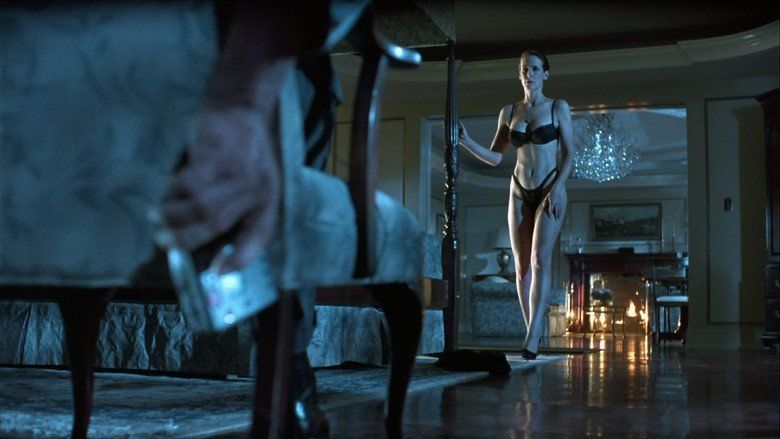 Upon safely returning to the mainland, they learn that Aziz and his men have taken control of a Miami skyscraper via helicopter and have kidnapped Dana, threatening to detonate the remaining bomb. Harry commandeers one of the jets to rescue his daughter. Faisal poses as part of a news team requested by Aziz, providing enough distraction for Dana to steal the ignition key and flee the room. Aziz chases Dana onto a tower crane when Harry arrives. Harry is able to rescue Dana while he and Aziz struggle in the cockpit. Aziz becomes ensnared on the end of one of the plane's missiles, which Harry fires at the passing terrorist helicopter — destroying it and the remaining bomb on board as well as killing Aziz and his remaining men in the process. Harry, Helen, and Dana are then safely reunited.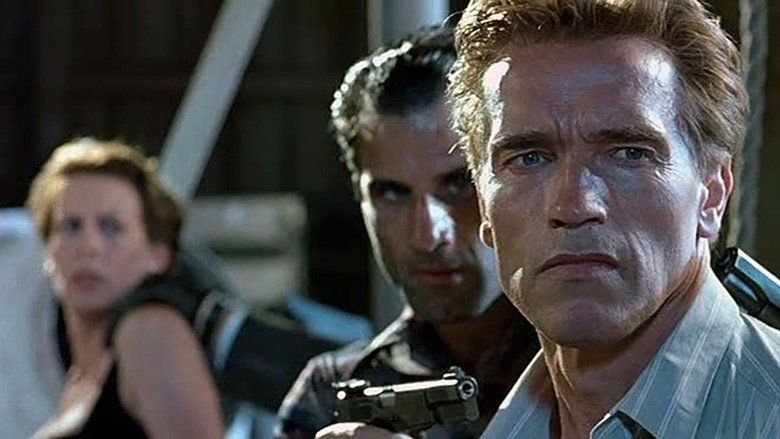 A year later, the Tasker's family integrity has been restored, and it is revealed that Helen has become another Omega Sector agent. Harry and Helen are called to embark on a new mission together at a formal party, where they encounter Simon attempting to seduce one of the female guests. Helen and Harry intimidate Simon into fleeing, and the film ends with the couple dancing the tango (as Harry and Juno did at the beginning of the film) in celebration while Gib complains about always being stuck in the surveillance van.
Cast
Arnold Schwarzenegger as Harry Tasker
Jamie Lee Curtis as Helen Tasker
Tom Arnold as Albert 'Gib' Gibson
Art Malik as Salim Abu Aziz
Bill Paxton as Simon
Tia Carrere as Juno Skinner
Eliza Dushku as Dana Tasker
Grant Heslov as Faisal
Charlton Heston as Director Spencer Trilby
Marshall Manesh as Jamal Khaled
James Allen as Colonel
Ofer Samra as Yusef
Production
Schwarzenegger stated that while filming a scene with a horse, a camera boom hit the horse and "it went crazy, spinning and rearing" near a drop of 90 feet. Schwarzenegger quickly slid off the horse and stuntman Billy D. Lucas (who was one of Arnold's main doubles and closest friends) caught him; he concluded, "[this is] why I will always love stunt people". Costing $100–120 million to produce, True Lies was the first film with a production budget of over $100 million. It was filmed over a seven-month schedule.
Of the many locations that were used in the film, the Rosecliff Mansion was used for the ballroom tango scenes in the beginning of the film and the exterior of the Swiss chalet that Harry Tasker infiltrates is Ochre Court. The ballroom dancing scene that closes the film, as well as the scenes in the lobby of the fictional Hotel Marquis in Washington, take place in the Crystal Ballroom of the Millennium Biltmore Hotel in downtown Los Angeles.
Critical reception
Upon its release in 1994, the film garnered mostly positive reviews. Based on 47 reviews collected by Rotten Tomatoes, True Lies has a 72% approval rating and a weighted average of 6.5/10; the consensus states, "If it doesn't reach the heights of director James Cameron's and star Arnold Schwarzenegger's previous collaborations, True Lies still packs enough action and humor into its sometimes absurd plot to entertain". Website Metacritic, which assigns a weighted mean to various reviews, gave the film a 63 out of 100, indicating "generally favorable reviews".
Despite the positive reviews, the film was criticized by the National Review as sexist, cruel, or even misogynistic, for its treatment of female characters, such as the hero (Schwarzenegger) using his agency's resources to stalk and frighten his wife. Members of the Muslim community perceived it as conveying a strong anti-Arab or anti-Muslim prejudice.
In a negative review, Kenneth Turan of the New York Times wrote:
Box office
Opening in 2,368 theaters in the United States, True Lies ranked #1 in its opening weekend, earning $25,869,770. True Lies was a box-office success, earning $146,282,411 in the United States and $232,600,000 in the rest of world, totaling $378,882,411 worldwide, making it third best-grossing movie of 1994.
Accolades
For her performance, Jamie Lee Curtis received a 1994 Golden Globe for Best Actress in a Musical/Comedy.
Cancelled sequel
Cameron originally planned to make a sequel sometime in 2002, but he put his plans on hold once the September 11, 2001 attacks occurred in New York City, saying terrorism was no longer something to be taken lightly. In a later interview, James Cameron stated there are no plans for a True Lies sequel, but he and Schwarzenegger had spoken about possibly working on a new project together once Schwarzenegger left office as Governor of California, which he did in 2011.
In the film The Kid & I, Tom Arnold plays a fictional character based on himself. In that film, the character had starred in True Lies and is pursued by a fan and teams up with Henry Winkler and Linda Hamilton to make a sequel; Schwarzenegger and Curtis cameo as themselves.
Television
In September 2010, multiple websites reported Cameron developing True Lies as a possible television series with Dark Angel producer René Echevarria acting as showrunner and producer.
Soundtrack
Songs appearing in the film not included on the soundtrack album:
"I Never Thought I'd See the Day" – Sade
"Por una Cabeza" – Argentinean tango, performed by The Tango Project
References
True Lies Wikipedia
(Text) CC BY-SA
True Lies IMDb
True Lies themoviedb.org