Occupation

Actor, director

Years active

1975–present







Born

May 17, 1955 (age 60) (

1955-05-17

)

Fort Worth, Texas, U.S.

Spouse

Louise Newbury (m. 1987), Kelly Rowan (m. 1979–1980)

Children

James Paxton, Lydia Paxton

Movies and TV shows

Titanic, Aliens, Edge of Tomorrow, The Terminator, Big Love




Similar People

Bill Pullman, Frances Fisher, Michael Biehn, Louise Newbury, Kathy Bates
Bill paxton names his favorite fort worth spots
William Paxton (May 17, 1955 – February 25, 2017) was an American actor and film director.
Contents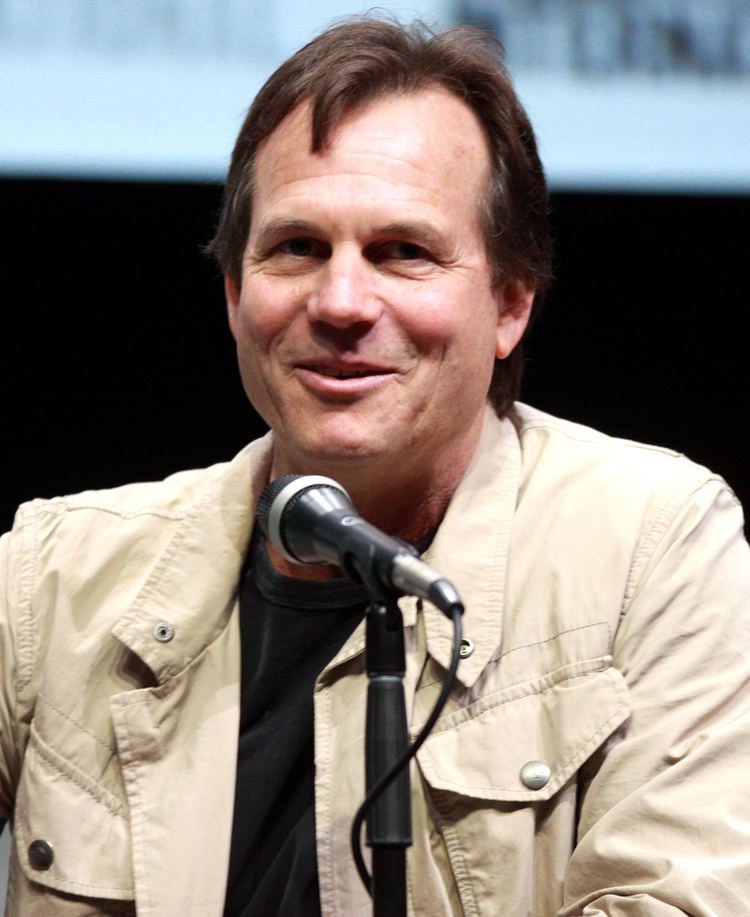 The films in which he appeared include The Terminator (1984), Weird Science (1985), Aliens (1986), Predator 2 (1990), Tombstone (1993), True Lies (1994), Apollo 13 (1995), Twister (1996), Titanic (1997), U-571 (2000), Edge of Tomorrow (2014) and Nightcrawler (2014). Paxton also starred in the HBO drama series Big Love (2006–11), earning three Golden Globe Award nominations during the show's run. He was nominated for a Primetime Emmy Award and a Screen Actors Guild Award for portraying Randolph "Randall" McCoy in the History miniseries Hatfields & McCoys (2012). Paxton's final film appearance was in The Circle (2017), released two months after his death.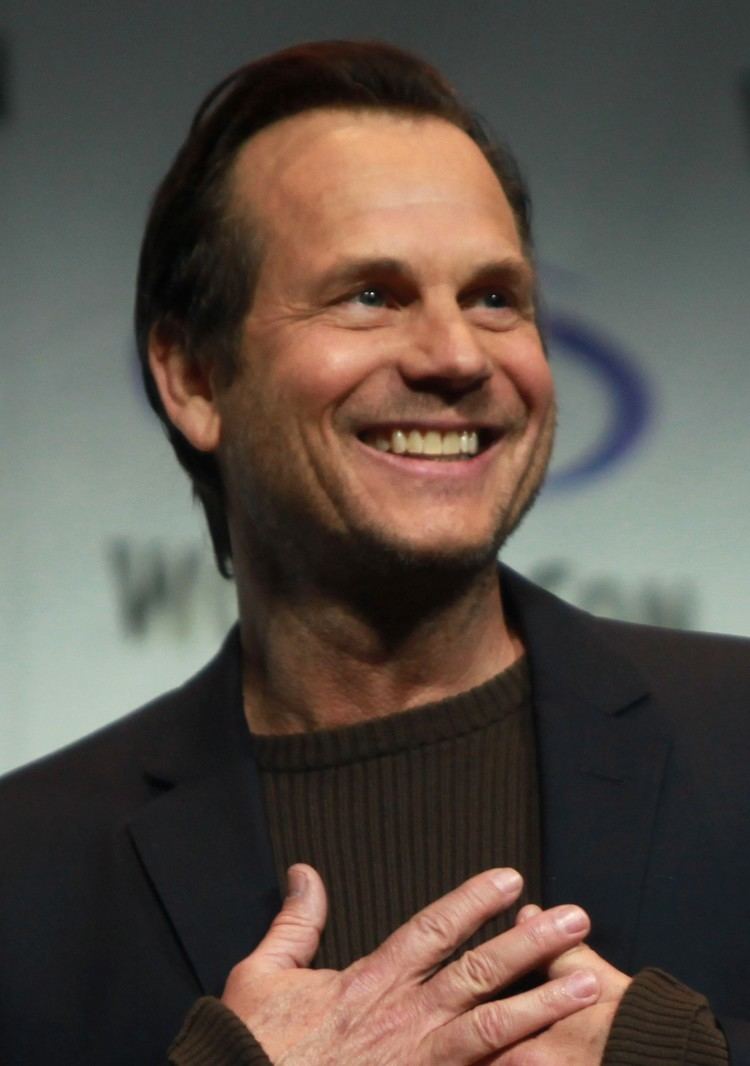 Actor bill paxton dead at 61 following complications from surgery today
Early life
Paxton was born and raised in Fort Worth, Texas, the son of Mary Lou (née Gray) and John Lane Paxton. His father was a businessman, lumber wholesaler, museum executive, and occasional actor, most notably appearing in Sam Raimi's Spider-Man films. His mother was Roman Catholic, and he and his siblings were raised in her faith. Paxton was in the crowd when President John F. Kennedy emerged from the Hotel Texas on the morning of his assassination on November 22, 1963. Photographs of an 8-year-old Paxton being lifted above the crowd are on display at the Sixth Floor Museum in Dallas, Texas. On the Marc Maron podcast, Paxton revealed that at the age of 13 he contracted rheumatic fever which had damaged his heart. During his teens, Paxton worked as a paper delivery boy with Mike Muir.
Career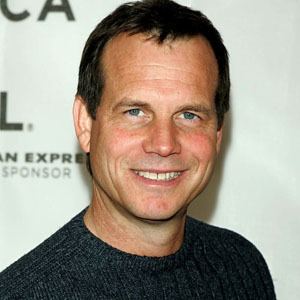 Among Paxton's earliest roles were a minor role as a punk thug in The Terminator (1984), a supporting role as the lead protagonist's bullying older brother Chet in John Hughes' Weird Science (1985), and the melodramatic Private Hudson in Aliens (1986).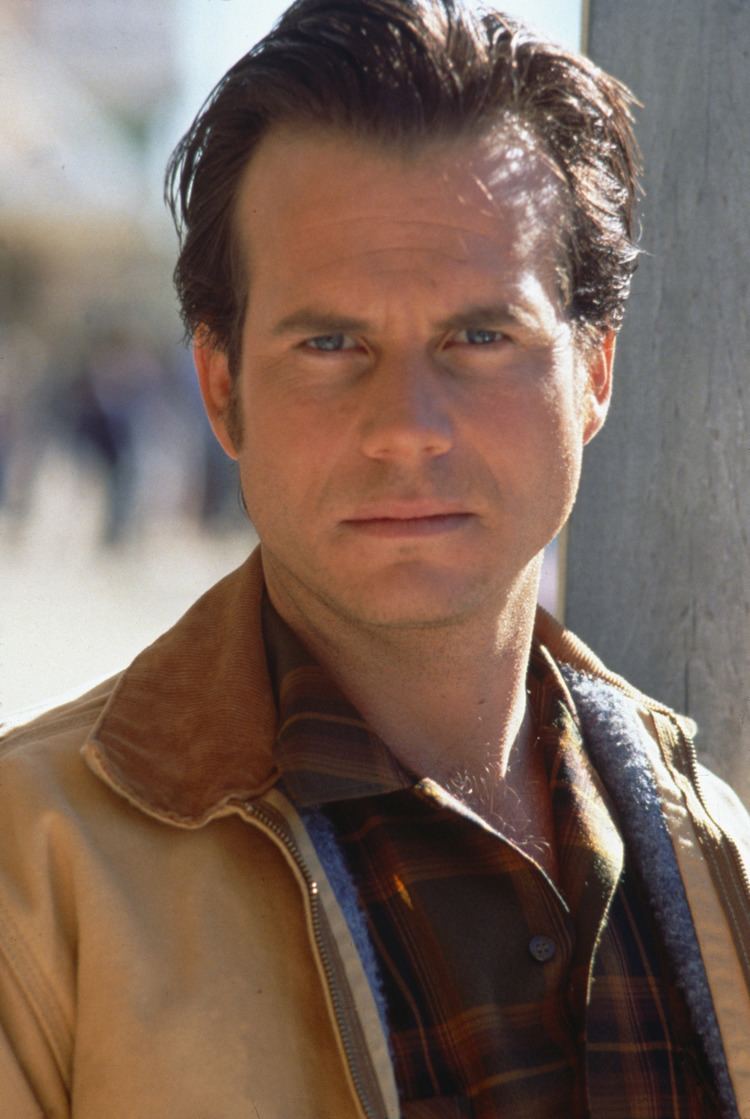 He directed several short films, including the music video for Barnes & Barnes' novelty song "Fish Heads", which aired during Saturday Night Live's low-rated 1980–81 season. He was cast in a music video for the 1982 Pat Benatar song "Shadows of the Night", in which he appeared as a Nazi radio officer.
Music career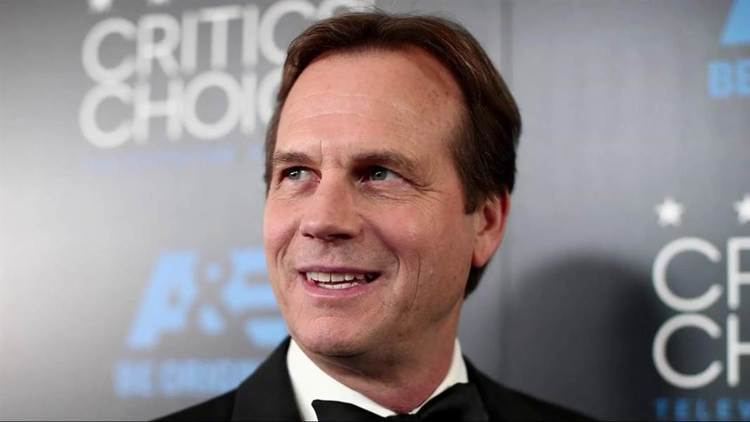 In 1982, Paxton and his friend Andrew Todd Rosenthal formed a new wave musical band called Martini Ranch. The band released its only full-length album, Holy Cow, in 1988, on Sire Records. The album was produced by Devo member Bob Casale and featured guest appearances by two other members of that band. The music video for the band's single "Reach" was directed by James Cameron.
1980s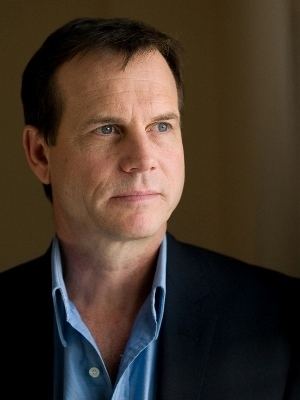 During the 1980s Bill worked once again with director James Cameron on Aliens (1986) starring as Private William Hudson. His portrayal of Private Hudson won him 'Best Supporting Actor' Saturn Awards (1987).
1990s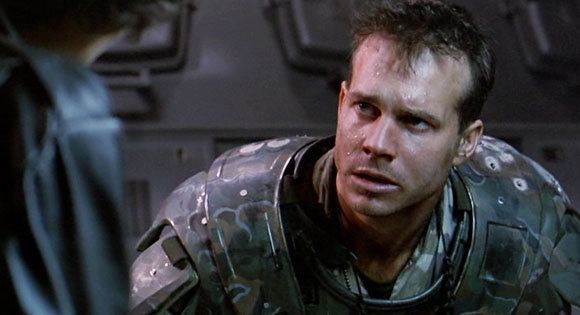 Paxton worked again with director James Cameron on True Lies (1994) and Titanic (1997), the latter of which was the highest-grossing film of all time at its release. In his other roles, Paxton played Morgan Earp in Tombstone (1993), Fred Haise in Apollo 13 (1995), the lead in Twister (1996), and lead roles in dark dramas such as One False Move (1992) and A Simple Plan (1998).
2000s–2010s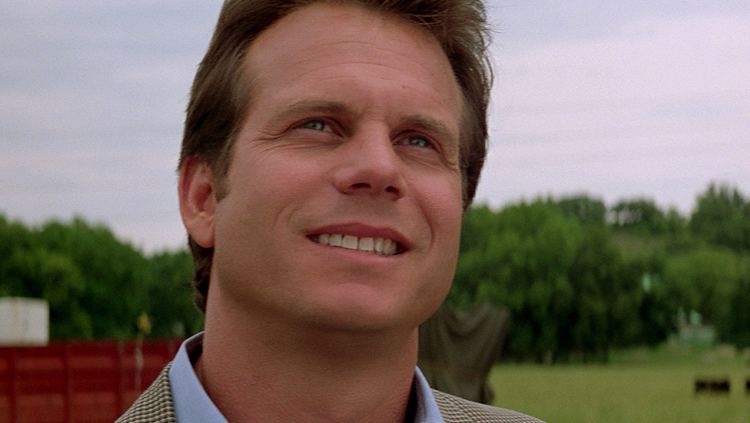 Paxton directed the feature films Frailty (2001), in which he starred, and The Greatest Game Ever Played (2005). Four years after appearing in Titanic, he joined Cameron on an expedition to the actual Titanic. A film about this trip, Ghosts of the Abyss, was released in 2003. He also appeared in the music video for Limp Bizkit's 2003 song "Eat You Alive" as a sheriff.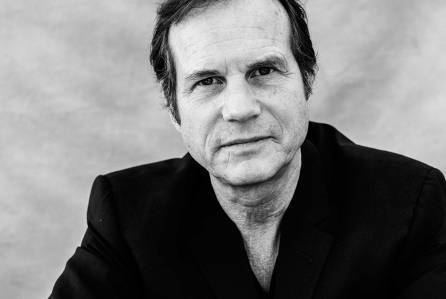 His highest profile television performances received much positive attention, including his lead role in HBO's Big Love (2006–2011), for which Paxton received three Golden Globe Award nominations. Paxton also received good reviews for his performance in the History Channel's miniseries Hatfields & McCoys (2012), for which he was nominated for an Emmy Award, alongside co-star Kevin Costner.
In 2014, he played the role of the villainous John Garrett in Agents of S.H.I.E.L.D., and a supporting role in Edge of Tomorrow (2014). He starred alongside Jon Bernthal, Rose McGowan, and John Malkovich as a playable character in the 2014 video game Call of Duty: Advanced Warfare (downloadable "Exo Zombies" mode). In February 2016, Paxton was cast as Detective Frank Roarke for Training Day, a crime-thriller television series set 15 years after the events of the eponymous 2001 movie; it premiered a year later.
Personal life
Paxton was married from 1979 to 1980 to Kelly Rowan. In 1987, he married Louise Newbury; together, they had two children, James and Lydia.
In February 2017, a few weeks prior to having cardiac surgery, and ultimately his death, Paxton stated in an interview with Marc Maron that he had a damaged heart valve, the result of suffering from rheumatic fever in his youth.
Death
On February 25, 2017, Paxton died at the age of 61 from complications following heart surgery. A representative for the family released the following statement to the press on February 26:
It is with heavy hearts we share the news that Bill Paxton has passed away due to complications from surgery. A loving husband and father, Bill began his career in Hollywood working on films in the art department and went on to have an illustrious career spanning four decades as a beloved and prolific actor and filmmaker. Bill's passion for the arts was felt by all who knew him, and his warmth and tireless energy were undeniable. We ask to please respect the family's wish for privacy as they mourn the loss of their adored husband and father.
Paxton's cause of death was a stroke resulting from complications from his heart and aorta surgery that he underwent on February 14, 2017.
He is interred in the Forest Lawn Memorial Park.
Upon learning of his death, a number of storm chasers paid tribute to his Twister role by spelling his initials across Kansas and Oklahoma via the Spotter Network.
Filmography
Actor
2019
Taking Tiger Mountain: Revisited
as
Billy Hampton
2017
Training Day (TV Series)
as
Det. Frank Rourke
- Elegy: Part 2 (2017) - Det. Frank Rourke
- Elegy (2017) - Det. Frank Rourke
- Tunnel Vision (2017) - Det. Frank Rourke
- Sunset (2017) - Det. Frank Rourke
- Bad Day at Aqua Mesa (2017) - Det. Frank Rourke
- Blurred Lines (2017) - Det. Frank Rourke
- Quid Pro Quo (2017) - Det. Frank Rourke
- Faultlines (2017) - Det. Frank Rourke
- Wages of Sin (2017) - Det. Frank Rourke
- Code of Honor (2017) - Det. Frank Rourke
- Trigger Time (2017) - Det. Frank Rourke
- Tehrangeles (2017) - Det. Frank Rourke
- Apocalypse Now (2017) - Det. Frank Rourke
2016
Mean Dreams
as
Wayne Caraway
2015
Call of Duty: Advanced Warfare - Exo Zombies (Video Game)
as
Kahn (voice)
2015
The Gamechangers (TV Movie)
as
Jack Thompson
2015
Texas Rising (TV Mini Series)
as
Sam Houston
- The Rise of the Republic (2015) - Sam Houston
- Vengeance Is Mine (2015) - Sam Houston
- Blood for Blood (2015) - Sam Houston
- Fate and Fury (2015) - Sam Houston
- From the Ashes (2015) - Sam Houston
2015
Pixies
as
Eddie Beck (voice)
2014
Nightcrawler
as
Joe Loder
2014
Edge of Tomorrow
as
Master Sergeant Farell
2014
Agents of S.H.I.E.L.D. (TV Series)
as
John Garrett
- Beginning of the End (2014) - John Garrett
- Ragtag (2014) - John Garrett
- Providence (2014) - John Garrett
- Turn, Turn, Turn (2014) - John Garrett
- End of the Beginning (2014) - John Garrett
- T.A.H.I.T.I. (2014) - John Garrett
2014
Million Dollar Arm
as
Tom House
2013
Head Smash: The Prequel (Short)
as
Maurice (voice)
2012
Titanic: Deleted Scenes (Video short)
as
Brock Lovett
2012
Hatfields & McCoys (TV Mini Series)
as
Randall McCoy
- Episode #1.3 (2012) - Randall McCoy
- Episode #1.2 (2012) - Randall McCoy
- Episode #1.1 (2012) - Randall McCoy
2012
Sky Soldier (TV Movie)
as
Narrator
2012
Shanghai Calling
as
Donald
2006
Big Love (TV Series)
as
Bill Henrickson
- Where Men and Mountains Meet (2011) - Bill Henrickson
- Exorcism (2011) - Bill Henrickson
- The Noose Tightens (2011) - Bill Henrickson
- Til Death Do Us Part (2011) - Bill Henrickson
- D.I.V.O.R.C.E. (2011) - Bill Henrickson
- The Special Relationship (2011) - Bill Henrickson
- The Oath (2011) - Bill Henrickson
- Certain Poor Shepherds (2011) - Bill Henrickson
- A Seat at the Table (2011) - Bill Henrickson
- Winter (2011) - Bill Henrickson
- End of Days (2010) - Bill Henrickson
- Next Ticket Out (2010) - Bill Henrickson
- Blood Atonement (2010) - Bill Henrickson
- Under One Roof (2010) - Bill Henrickson
- Sins of the Father (2010) - Bill Henrickson
- The Mighty and Strong (2010) - Bill Henrickson
- Strange Bedfellows (2010) - Bill Henrickson
- The Greater Good (2010) - Bill Henrickson
- Free at Last (2010) - Bill Henrickson
- Sacrament (2009) - Bill Henrickson
- Outer Darkness (2009) - Bill Henrickson
- Rough Edges (2009) - Bill Henrickson
- Fight or Flight (2009) - Bill Henrickson
- Come, Ye Saints (2009) - Bill Henrickson
- For Better or for Worse (2009) - Bill Henrickson
- On Trial (2009) - Bill Henrickson
- Prom Queen (2009) - Bill Henrickson
- Empire (2009) - Bill Henrickson
- Block Party (2009) - Bill Henrickson
- Oh, Pioneers (2007) - Bill Henrickson
- Take Me as I Am (2007) - Bill Henrickson
- The Happiest Girl (2007) - Bill Henrickson
- Circle the Wagons (2007) - Bill Henrickson
- Kingdom Come (2007) - Bill Henrickson
- Good Guys and Bad Guys (2007) - Bill Henrickson
- Dating Game (2007) - Bill Henrickson
- Vision Thing (2007) - Bill Henrickson
- Rock and a Hard Place (2007) - Bill Henrickson
- Reunion (2007) - Bill Henrickson
- The Writing on the Wall (2007) - Bill Henrickson
- Damage Control (2007) - Bill Henrickson
- The Ceremony (2006) - Bill Henrickson
- Where There's a Will (2006) - Bill Henrickson
- The Baptism (2006) - Bill Henrickson
- A Barbecue for Betty (2006) - Bill Henrickson
- Easter (2006) - Bill Henrickson
- Eviction (2006) - Bill Henrickson
- Roberta's Funeral (2006) - Bill Henrickson
- Affair (2006) - Bill Henrickson
- Eclipse (2006) - Bill Henrickson
- Home Invasion (2006) - Bill Henrickson
- Viagra Blue (2006) - Bill Henrickson
- Pilot (2006) - Bill Henrickson
2007
Big Love: In the Beginning (TV Series)
as
Bill Henrickson
- Moving Day (2007) - Bill Henrickson
- Meet the Babysitter (2007) - Bill Henrickson
2005
Magnificent Desolation: Walking on the Moon (Documentary short)
as
Ed Mitchell (voice)
2004
Thunderbirds
as
Jeff Tracy
2004
Club Dread
as
Coconut Pete
2003
Limp Bizkit: Eat You Alive (Music Video)
as
Man
2003
Spy Kids 3: Game Over
as
Dinky Winks
2003
Frasier (TV Series)
as
Ernie
- Analyzed Kiss (2003) - Ernie (voice)
2003
Resistance
as
Maj. Theodore 'Ted' Brice
2002
Spy Kids 2: Island of Lost Dreams
as
Dinky Winks
2000
Vertical Limit
as
Elliot Vaughn
2000
WWE Smackdown! (TV Series)
as
Bill Paxton
- Episode #1.38 (2000) - Bill Paxton
1998
Mighty Joe Young
as
Gregg O'Hara
1998
A Bright Shining Lie (TV Movie)
as
John Paul Vann
1998
Twister: Ride It Out (Video short)
as
Bill Paxton
1996
The Evening Star
as
Jerry Bruckner
1995
The Last Supper
as
Zachary Cody
1994
Frank & Jesse
as
Frank James
1993
Tales from the Crypt (TV Series)
as
Billy DeLuca
- People Who Live in Brass Hearses (1993) - Billy DeLuca
1993
Indian Summer
as
Jack Belston
1993
Boxing Helena
as
Ray O'Malley
1992
The Vagrant
as
Graham Krakowski
1992
One False Move
as
Dale 'Hurricane' Dixon
1990
Predator 2
as
Jerry Lambert
1990
The Last of the Finest
as
Howard 'Hojo' Jones
1989
The Roommate (Short)
as
Vince
1988
Martini Ranch: How Can the Laboring Man Find Time for Self-Culture (Music Video)
as
Bill Paxton (uncredited)
1988
Martini Ranch: Reach (Music Video)
as
The Outlaw
1987
Pass the Ammo
as
Jesse Wilkes
1987
The Hitchhiker (TV Series)
as
Trout
- Made for Each Other (1987) - Trout
1986
Fresno (TV Mini Series)
as
Billy Joe Bobb
- Episode #1.6 (1986) - Billy Joe Bobb
- Episode #1.5 (1986) - Billy Joe Bobb
- Episode #1.4 (1986) - Billy Joe Bobb
- Episode #1.3 (1986) - Billy Joe Bobb
- The Raisin Basket of the World (1986) - Billy Joe Bobb
1986
Miami Vice (TV Series)
as
Vic Romano
- Streetwise (1986) - Vic Romano
1985
An Early Frost (TV Movie)
as
Bob Maracek
1985
Commando
as
Intercept Officer
1985
The Atlanta Child Murders (TV Mini Series)
as
Campbell
- Episode #1.2 (1985) - Campbell
- Episode #1.1 (1985) - Campbell
1984
Pat Benatar: Hit Videos (Video short)
as
Radio Operator (segment "Shadows of the Night")
1984
The Terminator
as
Punk Leader
1984
Barnes & Barnes: Ah A (Music Video)
as
Joan Crawford
1983
Taking Tiger Mountain
as
Billy Hampton
1983
Great Day (TV Movie)
as
Rudy
1983
Barnes & Barnes: Soak It Up (Music Video)
as
Bill Paxton
1983
Deadly Lessons (TV Movie)
as
Eddie Fox
1983
The Lords of Discipline
as
Gilbreath (as 'Wild' Bill Paxton)
1982
Pat Benatar: Shadows of the Night (Music Video)
as
Radio Operator
1982
McClain's Law (TV Series)
as
Michael
- To Save the Queen (1982) - Michael (as William Paxton)
1981
Barnes & Barnes: Love Tap (Music Video)
as
The Man (uncredited)
1981
Butcher, Baker, Nightmare Maker
as
Eddie (as William Paxton)
1980
Barnes & Barnes: Fish Heads (Music Video)
as
Main Character (uncredited)
1977
The Egyptian Princess, an Unfolding Fantasy (Short)
as
The Man
1975
Crazy Mama
as
John (uncredited)
Producer
2007
The Good Life (executive producer)
1988
Martini Ranch: How Can the Laboring Man Find Time for Self-Culture (Music Video) (producer)
1988
Martini Ranch: Reach (Music Video) (producer)
1980
Barnes & Barnes: Fish Heads (Music Video) (executive producer - uncredited) / (producer)
1977
The Egyptian Princess, an Unfolding Fantasy (Short) (producer)
Writer
2011
Tattoo (Short) (story)
1988
Martini Ranch: How Can the Laboring Man Find Time for Self-Culture (Music Video) (conceived by)
1988
Martini Ranch: Reach (Music Video) (based on the screenplay by: "Lonesome Cowgirls: Amazons of the Wild West")
1981
Barnes & Barnes: Love Tap (Music Video) (co-writer)
1980
Barnes & Barnes: Fish Heads (Music Video) (head writer)
Director
2005
The Greatest Game Ever Played
1980
Barnes & Barnes: Fish Heads (Music Video)
1980
Saturday Night Live (TV Series) (1 episode)
- Ellen Burstyn/Aretha Franklin/Keith Sykes (1980) - (segment "Fish Heads")
Art Department
1983
Flicks (assistant set dresser)
1977
Death Game (assistant set decorator)
1974
Big Bad Mama (set dresser)
Soundtrack
2007
The Good Life (performer: "On the Atchison, Topeka and the Santa Fe")
2004
Club Dread (performer: "Pleasure Island", "Ponytails Cocktails", "Pina Coladaburg", "Naughty Cal")
1988
Martini Ranch: Reach (Music Video) (writer: "Reach")
Editor
1988
Martini Ranch: How Can the Laboring Man Find Time for Self-Culture (Music Video)
1980
Barnes & Barnes: Fish Heads (Music Video)
Production Designer
2019
Taking Tiger Mountain: Revisited
1983
Taking Tiger Mountain
Set Decorator
1981
Galaxy of Terror (uncredited)
Art Director
1975
Beach Blanket Bango (as Pete Lautrec)
Production Manager
Miscellaneous
1996
Lost Moon: The Triumph of Apollo 13 (Video documentary) (additional footage)
Thanks
2023
Drift (in loving memory of)
2022
Avatar: The Way of Water (dedicatee)
2022
Jurassic World Dominion (the filmmakers gratefully thank)
2021
The Cleaner (special thanks)
2021
12 Mighty Orphans (special thanks)
2019
The Fanatic (dedicated to)
2017
Vedro (TV Series) (in memory of - 1 episode)
- Fufay Presents: A Bucket of Blood (2017) - (in memory of)
2017
The Circle (dedicatee - as Bill)
2017
Agents of S.H.I.E.L.D. (TV Series) (in loving memory of - 1 episode)
- What If- (2017) - (in loving memory of)
2017
Call Me by Your Name (in loving memory of)
2009
Carried Away (special thanks)
1999
Hate* (*a comedy) (Short) (special thanks)
1998
Warner Bros. 75th Anniversary: No Guts, No Glory (TV Movie documentary) (special thanks)
1996
Lost Moon: The Triumph of Apollo 13 (Video documentary) (special thanks)
Self
2005
Last Call with Carson Daly (TV Series)
as
Self - Guest
- Bill Paxton/Bear Hands/Preacher Lawson (2017) - Self - Guest
- Episode dated 4 October 2005 (2005) - Self - Guest
2017
The 48th NAACP Image Awards (TV Special)
as
Self - Presenter
2017
WTF with Marc Maron (Podcast Series)
as
Self - Guest
- Bill Paxton/Dylan Brody (2017) - Self - Guest
2017
The Late Late Show with James Corden (TV Series)
as
Self - Guest
- Mindy Kaling/Bill Paxton (2017) - Self - Guest
2017
The Talk (TV Series)
as
Self - Guest
- Guest Co-Hosts Marcia Gay Harden & Thomas Lennon/Bill Paxton & Justin Cornwell/Lindsay Miller (2017) - Self - Guest
2017
The 43rd Annual People's Choice Awards (TV Special)
as
Self
2016
Tom Hanks: A League of His Own (Documentary)
as
Self
2016
Today (TV Series)
as
Self - Guest
- Episode dated 26 July 2016 (2016) - Self - Guest
2015
Good Morning, Texas (TV Series)
as
Self
- Peanuts and Malcolm McDowell (2015) - Self
2015
Texas Rising: Capturing the Revolution - Filming Texas Rising (Video short)
as
Self
2015
Texas Rising: General Santa Anna: Leading Mexico (Video short)
as
Self
2015
Texas Rising: Sam Houston - A Man of the Revolution (Video short)
as
Self
2015
The 5th Annual Critics' Choice Television Awards (TV Special)
as
Self
2015
Good Morning America (TV Series)
as
Self - Guest
- Episode dated 25 May 2015 (2015) - Self - Guest
2013
Larry King Now (TV Series)
as
Self - Guest
- Bill Paxton (2015) - Self - Guest
- Paula Patton & Bill Paxton (2013) - Self - Guest
2015
Who Do You Think You Are? (TV Series documentary)
as
Self
- Bill Paxton (2015) - Self
2008
Entertainment Tonight (TV Series)
as
Self
- Episode dated 10 April 2015 (2015) - Self
- Episode dated 19 June 2009 (2009) - Self
- Episode dated 17 April 2008 (2008) - Self
2014
A World on the 'Edge of Tomorrow' (Video short)
as
Self
2014
Edge of Tomorrow: Storming the Beach (Video short)
as
Self
2014
Edge of Tomorrow: Weapons of the Future (Video short)
as
Self
2014
The Queen Latifah Show (TV Series)
as
Self - Guest
- Actor Bill Paxton and "Devious Maids" Bombshell Roselyn Sanchez. Plus, Queen's Nationwide "Ultimate Mom Dance Off" Contest (2014) - Self - Guest
2013
2 Guns: Boston Premiere Documentary (Video documentary short)
as
Self
2013
JFK: The Final Hours (TV Movie documentary)
as
Narrator (voice)
2013
Nerdist Presents: A Conversation with... Bill Paxton (TV Special)
as
Self - Guest
2013
Made in Hollywood (TV Series)
as
Self
- Episode #8.37 (2013) - Self
2013
TCM Guest Programmer (TV Series)
as
Self
- Bill Paxton (2013) - Self
2012
Reflections on Titanic (Documentary)
as
Self
2007
Live with Kelly and Mark (TV Series)
as
Self - Guest
- Episode dated 25 May 2012 (2012) - Self - Guest
- Episode dated 11 June 2007 (2007) - Self - Guest
2009
Late Night with Jimmy Fallon (TV Series)
as
Self - Guest
- Episode dated 24 May 2012 (2012) - Self - Guest
- Episode dated 31 January 2011 (2011) - Self - Guest
- Episode dated 9 February 2010 (2010) - Self - Guest
- Episode #1.12 (2009) - Self - Guest
2012
Titanic: 100 Years On (Documentary)
as
Self
2011
America in Primetime (TV Series documentary)
as
Self / Bill Henrickson, Big Love
- The Crusader (2011) - Self
- Man of the House (2011) - Self / Bill Henrickson, Big Love
2011
Curiosity (TV Series documentary)
as
Self - Host / Narrator (US version)
- What Sank Titanic? (2011) - Self - Host / Narrator (US version)
2011
Overheard (TV Series)
as
Self
- Bill Paxton (2011) - Self
2011
Tornado Alley (Documentary short)
as
Self - Narrator
2010
5 Things I Learned Today (TV Series)
as
Self
2010
8th Annual Visual Effects Society Awards (TV Special)
as
Self
2010
Rachael Ray (TV Series)
as
Self - Guest
- Episode #4.111 (2010) - Self - Guest
2010
The Jay Leno Show (TV Series)
as
Self - Guest
- Episode #1.88 (2010) - Self - Guest
2010
The 67th Annual Golden Globe Awards (TV Special)
as
Self - Nominee
2009
Tavis Smiley (TV Series)
as
Self - Guest
- Episode dated 16 March 2009 (2009) - Self - Guest
2009
Séries express (TV Series)
as
Self
- Episode #2.25 (2009) - Self
2009
SAG Foundation Conversations (TV Series)
as
Self
- Bill Paxton (2009) - Self
2008
His Highness Hollywood (Video documentary)
as
Self
2008
Sexo en serie (TV Movie documentary)
as
Self
2008
E! True Hollywood Story (TV Series documentary)
as
Self
- Charlize Theron (2008) - Self
2008
Biography (TV Series documentary)
- Shia LaBeouf (2008)
2007
Do You Sleep in the Nude? (Documentary)
2007
Le grand journal de Canal+ (TV Series documentary)
as
Self
- Episode dated 20 June 2007 (2007) - Self
2007
Secret's Out (TV Series)
as
Self - Guest
- Stephanie Daley (2007) - Self - Guest
2007
The 64th Annual Golden Globe Awards (TV Special)
as
Self - Nominee
2006
The WIN Awards 2006 (TV Special)
as
Self
2006
Shootout (TV Series)
as
Self
- Episode #3.21 (2006) - Self
2006
The View (TV Series)
as
Self - Guest
- Episode dated 8 March 2006 (2006) - Self - Guest
2005
The Reichen Show (TV Series)
as
Self - Guest
- Episode dated 9 December 2005 (2005) - Self - Guest
1996
The Tonight Show with Jay Leno (TV Series)
as
Self - Guest
2005
The Predator Goes to Town (Video short)
as
Self
2003
No Strings Attached: The Making of Thunderbirds (TV Movie documentary)
as
Self
2003
Superior Firepower: The Making of 'Aliens' (Video documentary)
as
Self
2003
The University Greys: From Students to Soldiers (Documentary)
as
Narrator (voice)
2003
Modern Marvels (TV Series documentary)
as
Host
- Titanic Tech (2003) - Host
2003
Ghosts of the Abyss (Documentary)
as
Self
2002
Anatomy of a Scene (TV Series documentary)
as
Self
- Frailty (2002) - Self
2002
The Making of 'Frailty' (Video documentary)
as
Self
2002
Festival Pass with Chris Gore (TV Series documentary)
as
Self
2002
Living in Darkness (Video documentary)
as
Self
2002
The Making of 'Tombstone' (Video documentary short)
as
Self
2001
American Experience (TV Series documentary)
as
Self - Reader
- War Letters (2001) - Self - Reader (voice)
2001
Breaking the Silence: The Making of 'Hannibal' (Video documentary)
as
Self - L.A. Premiere (uncredited)
2001
The 2001 IFP/West Independent Spirit Awards (TV Special)
as
Self - Presenter
2001
The 58th Annual Golden Globe Awards 2001 (TV Special)
as
Self - Presenter
1996
HBO First Look (TV Series documentary short)
as
Self
- Surviving 'Vertical Limit' (2000) - Self
- Heart of the Ocean: The Making of 'Titanic' (1997) - Self
- The Making of 'Twister' (1996) - Self
2000
Anatomy of a 'Twister' (Video documentary short)
as
Self
2000
Larry King Live (TV Series)
as
Self - Guest
- Episode dated 25 April 2000 (2000) - Self - Guest
1999
The 56th Annual Golden Globe Awards (TV Special)
as
Self - Nominee & Presenter
1999
Saturday Night Live (TV Series)
as
Self - Host / Various / Ted Nugent
- Bill Paxton/Beck (1999) - Self - Host / Various / Ted Nugent
1998
Late Night with Conan O'Brien (TV Series)
as
Self - Guest
- Bill Paxton/Elijah Wood/Lewis Black (1998) - Self - Guest
1998
Charlie Rose (TV Series)
as
Self - Guest
- Episode dated 30 November 1998 (1998) - Self - Guest
1998
Warner Bros. 75th Anniversary: No Guts, No Glory (TV Movie documentary)
as
Self
1997
Directors: James Cameron (Video documentary)
as
Self
1997
Abducted: An MTV News Special Report (TV Movie documentary)
as
Self - Actor
1997
The Rosie O'Donnell Show (TV Series)
as
Self - Guest
- Episode #1.192 (1997) - Self - Guest
1996
Invasion of Independence Day (Video documentary short)
as
Self
1996
The Oprah Winfrey Show (TV Series)
as
Self - Guest
- Twister (1996) - Self - Guest
1996
Lost Moon: The Triumph of Apollo 13 (Video documentary)
as
Self
1996
The 22nd Annual People's Choice Awards (TV Special)
as
Self - Presenter
1995
Olhó Popular (TV Series)
as
Self
- Episode dated 22 October 1995 (1995) - Self
1995
The Annual 1995 ShoWest Awards (TV Special)
as
Self - Presenter
1995
Late Show with David Letterman (TV Series)
as
Self - Guest
- Episode dated 21 July 1995 (1995) - Self - Guest
1995
Showbiz Today (TV Series)
as
Self
- Episode dated 19 June 1995 (1995) - Self
1995
The 21st Annual People's Choice Awards (TV Special)
as
Self - Presenter
1994
Maury (TV Series)
as
Self - Guest
- Episode dated 16 November 1994 (1994) - Self - Guest
1994
100 Years of the Hollywood Western (TV Movie documentary)
as
Self
1994
The Making of 'True Lies' (TV Movie documentary)
as
Self
1994
The 9th Annual IFP/West Independent Spirit Awards (TV Special)
as
Self - Presenter
1992
The Making of 'Alien 3' (TV Movie documentary)
as
Self
1992
Trespass: Behind the Scenes (Video documentary short)
as
Self
1992
The Making of 'Trespass' (TV Movie documentary)
as
Vince
1991
The Howard Stern Show (TV Series)
as
Self - Guest
- California Casanova (1991) - Self - Guest
1990
The Predator 2: International (Video short)
as
Self
1986
The Tonight Show Starring Johnny Carson (TV Series)
as
Self - Guest
- Episode dated 18 September 1986 (1986) - Self - Guest
1984
The Making of 'Terminator' (TV Movie documentary)
as
Self
Archive Footage
2021
The Movies That Made Us (TV Series documentary)
as
Private Hudson
- Aliens (2021) - Private Hudson
2021
«Mir»: deeper cannot be (Documentary)
as
Self
2020
The Hollywood Moment at Home Edition (TV Series)
as
Self
- S1 E7 BJ Korros/Tracy Reiner (2020) - Self
2019
Minty Comedic Arts (TV Series)
as
Self
- 10 Things You Didn't Know About Twister (2019) - Self
- 10 Things You Didn't Know About Predator 2 (2019) - Self
2018
The EE British Academy Film Awards (TV Special)
as
Self - In Memoriam
2015
Entertainment Tonight (TV Series)
as
Self
- Episode #37.95 (2017) - Self
- Episode dated 23 May 2015 (2015) - Self
2017
The Year in Memoriam (TV Special)
as
Self - In Memoriam Subject
2017
The 69th Primetime Emmy Awards (TV Special)
as
Self - In Memoriam
2017
Extra (TV Series)
as
Self
- Episode #23.169 (2017) - Self
- Episode #23.156 (2017) - Self
- Episode #23.152 (2017) - Self
2016
Hollywood Today Live (TV Series)
as
Self
- Sheryl Lee Ralph/Heather & Dr. Terry Dubrow/Slay or Nay: Oscars Edition (2017) - Self
- Guest Co-Hosts Ali Landry & Dondre Whitfield/Karla Souza/Chris Sullivan (2016) - Self
2016
Aliens vs. Pinball (Video Game)
as
Private Hudson
2014
Agents of S.H.I.E.L.D. (TV Series)
as
John Garrett
- The Only Light in the Darkness (2014) - John Garrett (uncredited)
2013
Rumble on the Lot: Walter Hill's Streets of Fire Revisited (Video documentary)
as
Clyde the Bartender (uncredited)
2013
Cinemassacre's Monster Madness (TV Series documentary)
as
Private Hudson
- Aliens (2013) - Private Hudson
2013
Movie Guide (TV Series)
as
Earl
- Movie Guide 2: Part 2 (2013) - Earl
2013
19th Annual Screen Actors Guild Awards (TV Special)
as
Self - Nominee
2011
Nostalgia Critic (TV Series)
as
Private Hudson
- Return of the Nostalgic Commercials (2011) - Private Hudson
2009
Saturday Night Live: Just Shorts (TV Special)
as
Self (uncredited)
2008
Reinventando Hollywood (TV Movie documentary)
as
Bill Henrickson
2006
Boffo! Tinseltown's Bombs and Blockbusters (Documentary)
as
Fred Haise (uncredited)
2005
Limp Bizkit: Greatest Videoz (Video)
as
Bill Paxton
2005
Derailroaded (Documentary)
as
Self
2005
The Hunters and the Hunted: The Making of 'Predator 2' (Video documentary short)
as
Self
2003
Pat Benatar: Choice Cuts - The Complete Video Collection (Video)
as
Radio Operator (segment "Shadows of the Night") (uncredited)
2002
The 'Alien' Saga (TV Movie documentary)
as
Private Hudson
1999
Biography (TV Series documentary)
as
Fred Haise
- Ron Howard: Hollywood's Favorite Son (1999) - Fred Haise
1995
Joe Bob's Drive-In Theater (TV Series)
as
Morgan Earp
- Quadriplegia, Nymphomania, and HIV-Positive Night (1995)
- More Girls with Big Guns (1995) - Morgan Earp
1991
Dr. Demento 20th Anniversary Collection (Video)
as
Main Character (segment "Fish Heads")
1986
Pat Benatar: The Visual Music Collection (Video)
as
Radio Operator (segment "Shadows of the Night")
1980
Saturday Night Live (TV Series)
as
Man in 'Fish Heads'
- Ellen Burstyn/Aretha Franklin/Keith Sykes (1980) - Man in 'Fish Heads' (uncredited)
References
Bill Paxton Wikipedia
(Text) CC BY-SA