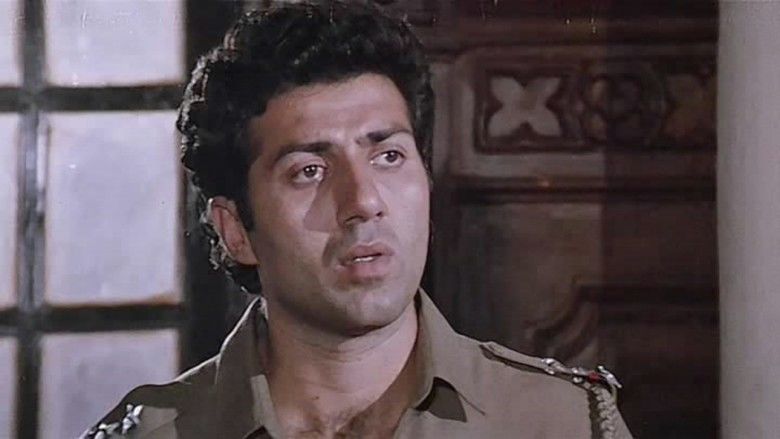 Bhujang (Amrish Puri) is powerful crime Boss who wants to rule India. After the Assassisnation of an honest politician the police department comes under huge pressure. Inspector Karan Saxena (Sunny Deol) manages to catch an arms dealer Ramesh Tejani who helps him arrest Don who supplies firearms for Bhujang. Karan is engaged to Divya Mathur (Madhuri Dixit) the daughter of Commissioner Mathur . Divya's brother Ravi (Jackie Shroff) is a street fighter who fights small criminals, and is hated by his father Commissioner Mathur for his violent nature. Karan's father is a respected judge.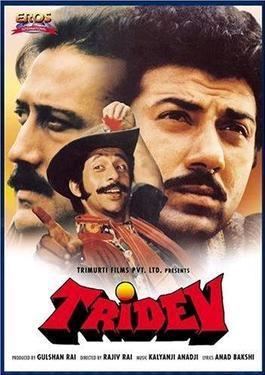 Later on Karan Saxena is framed by Bhujang and his brother with the help of Ramesh. But Ramesh due to his guilt consciousness tells judge, Karan's father everything. Ramesh and judge is killed by Bhujang and his sons and Karan's father death is made to look like suicide due to Karan's crime. Corrupt Inspector Suraj Singh works for Bhujang. Even though Commissioner is aware of Karan's honesty: but being under pressure from seniors he transfers Karan to a village. There he meets a crusader named Jai Singh (Naseeruddin Shah) who fights criminals and help poor. Jai Singh meets actress Renu (Sonam_(actress)) and they fall in love. Karan comes to know that Jai Singh is not a bad guy. In his childhood his father who was a freedom fighter, was murdered by Dacoit Bhairav Singh. The police headed by Mathur refused to listen to the statements of Jai.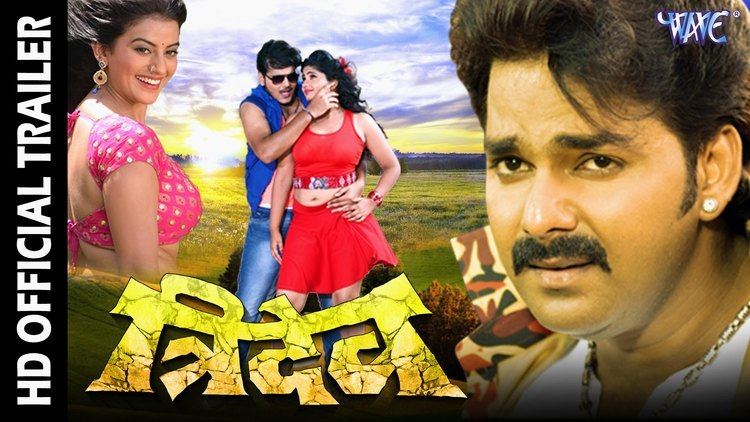 When the Mathur's daughter Divya is abducted in order to release Bhujang's brother, Ravi breaks the law and releases his sister. Being an outlaw he joins the criminals. There Ramesh's sister Natasha Tejani (Sangeeta Bijlani) who has joined them to avenge her brother's death and working with journalist Shrikant Verma is shocked to see Ravi as a new member of the gang. When the police decides to bring Karan back, Bhujang, Don and Bhujang's two sons decide to kill him. Before trying to kill Karan, they reveal that they killed his father. Karan is shocked to see Ravi and Suraj Singh working for his enemies. When they burn the entire house with petrol after tying him on his bed, Ravi without anyone's knowledge puts a knife just under Karan's hand. The whole house burned. Karan struggles to get the knife but whether he is successful remains unknown. Jai Singh is unable to save his friend as he mocks Commissioner Mathur that he is late once again. Jai Singh leaves the village in sorrow. But later on Karan rises from the remains and swears vengeance as he is presumed dead.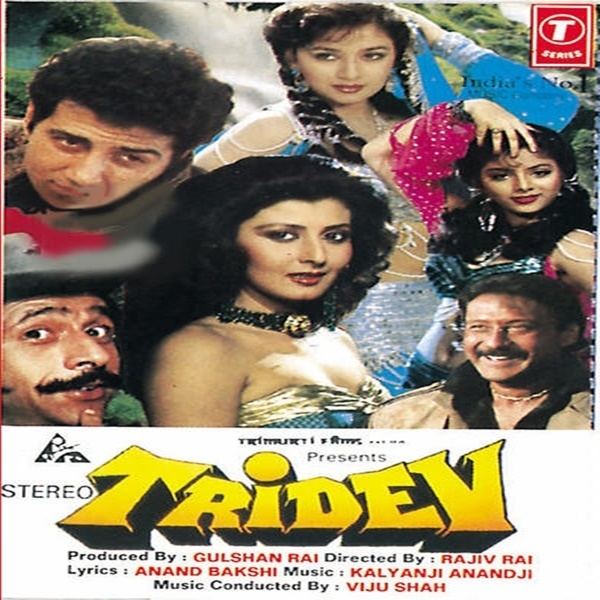 Meanwhile, Divya is shocked about Karan's death. Jai Singh meets Renu who is the daughter of a politician. He hires Jai as Renu's bodyguard. Karan continues to destroy Bhujang's arms and properties and they all get confused about their new enemy. Meanwhile, Karan and Ravi meet and decide to help each other. Before Jai and Renu could declare their love, her father engages her to Bhujang's son. In the party Jai recognizes Bhujang as Daku Bhairav Singh, the one who killed his father. Later on journalist Srikant is poisoned by Bhujang's son with the help of the corrupt inspector.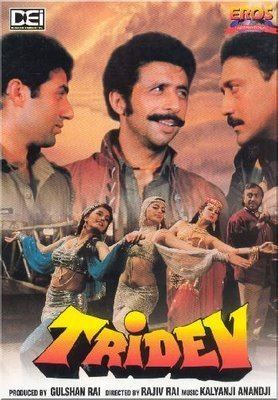 Natasha and Ravi understands each other and express their feelings for each, understanding the constant threat they live on. Unable to bear the loss due to Karan's works Bhujang decides to rob a bank. Ravi informs Karan . Jai Singh overhears the conversation between Renu's father and her fiancé. At first Renu refuses to believe him but in the bank she is shocked to see her fiancé as bank robber. There the corrupt inspector is forced to stop robbery by Karan and is killed. The entire group of criminals and Jai is shocked to see Karan alive. During the funeral of Bhujang's son who died in the shootout, Karan, Ravi and Jai exposes their identity and escape.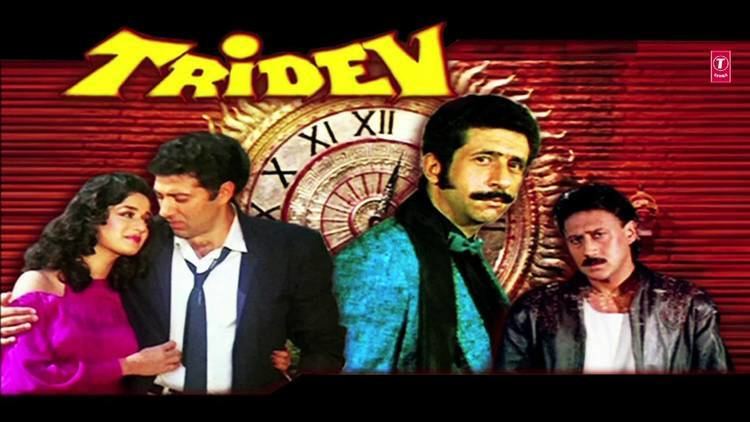 Bhujang captures a large group of policemen and Natasha, Renu, Divya along with Manriji (Renu's Father) : and demand the release of the three heroes whom they frame as dangerous criminals. At the end the three who calls themselves as Tridev attacks the hideout and destroy the enemy.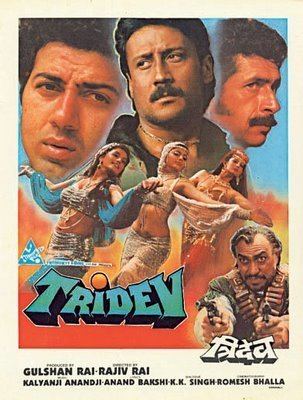 Naseeruddin Shah as Jay Singh
Sunny Deol as Inspector Karan Saxena
Jackie Shroff as Ravi Mathur
Madhuri Dixit as Divya Mathur
Sonam as Renu
Sangeeta Bijlani as Natasha Tejani
Anupam Kher as Commissioner Mathur
Amrish Puri as Bhujang/Bhairav Singh
Raza Murad as Mantriji
Dalip Tahil as Don
Sharat Saxena as Inspector Suraj Singh
Tej Sapru as Bhujang's Son Goga
Dan Dhanoa as Bhujang's Son Ranga
Rajesh Vivek as Raghav
Anjana Mumtaz as Sudha Saxena
Yunus Parvez as Film Director
Subiraj as Judge Saxena
Satyajeet as Inspector Tripathi
Shekhar Suman as Shrikant Verma
Vijayendra Ghatge as Ramesh Tejani
Ajit Vachhani as Don's Lawyer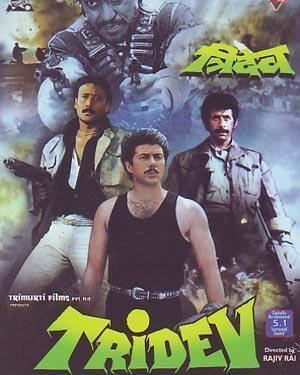 At the 35th Filmfare Awards, Tridev won two awards from six nominations.
The music was scored by Kalyanji Anandji and Lyrics by Anand Bakshi. The songs of this album like "Tirchi Topiwale", "Gali Gali Main Phirtahai", "Rat Bhar Jaam Se " and "Main Teri Mohabbat Main" were very popular
The initial part of Tirchi Topiwale was unofficially sampled from Gloria Estefan's Popular song Rhythm Is Gonna Get You.Tridev theme is copied note to note from One more Chance by Pet Shop Boys