7.2

/

10

Alchetron

7.2

Rate This




Director

Steve Buscemi


Initial DVD release

February 9, 1999




Duration




Language

English






Genre

Comedy, Drama




Music director

Hayden, Evan Lurie


Writer

Steve Buscemi





Release date

October 11, 1996 (1996-10-11)




Cast

Steve Buscemi

(Tommy), Chloë Sevigny (Debbie), Carol Kane (Connie), Mark Boone Junior (Mike),

Bronson Dudley

(Bill), Anthony LaPaglia (Rob)


Similar movies

Fish Tank

,

Factory Girl

,

The Heart is Deceitful Above All Things

,

Jupiter Ascending

,

At the Edge of the Abyss

,

Pitch Perfect 2



Trees lounge 1996 tommy buscemi paid not to drink
Trees Lounge is a 1996 feature film and the debut of Steve Buscemi as writer and director. It was produced by Brad Wyman and Chris Hanley and features a large ensemble cast of actors, including Buscemi, Anthony LaPaglia, Chloë Sevigny, and Samuel L. Jackson. The film's black humor, based on examination of characters' self-destructive behavior, has been cited as an influence by The Sopranos creator David Chase, who later hired Buscemi to direct "Pine Barrens" and three other episodes of the show, and to star as Tony Soprano's cousin Tony Blundetto during the show's fifth season.
Contents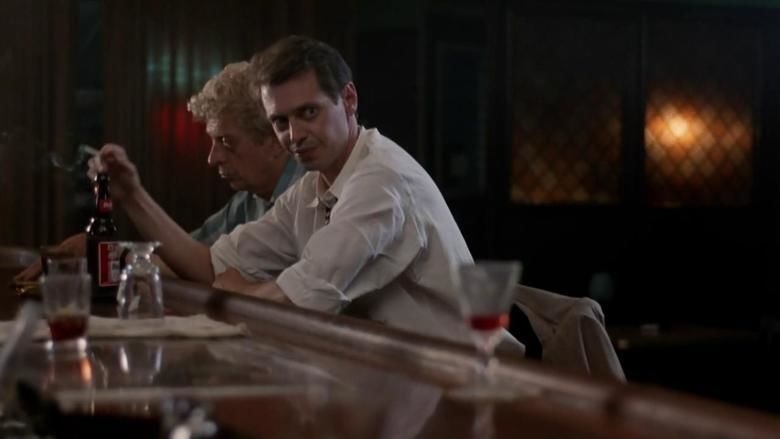 It was filmed in Glendale, Queens; Brooklyn; and Valley Stream, New York.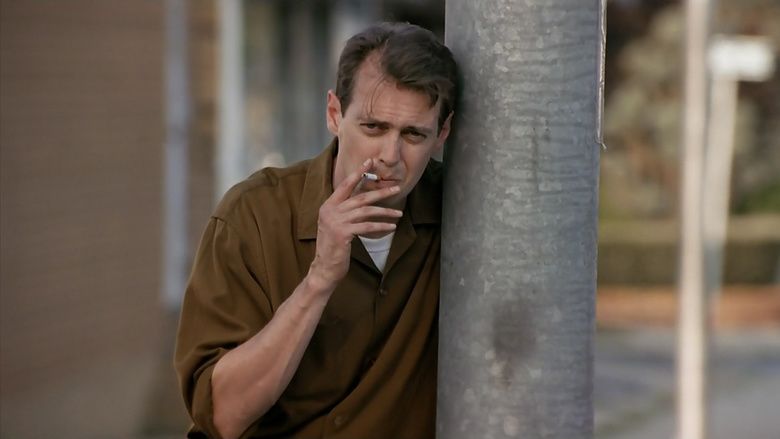 Steve buscemi trees lounge 1996
Plot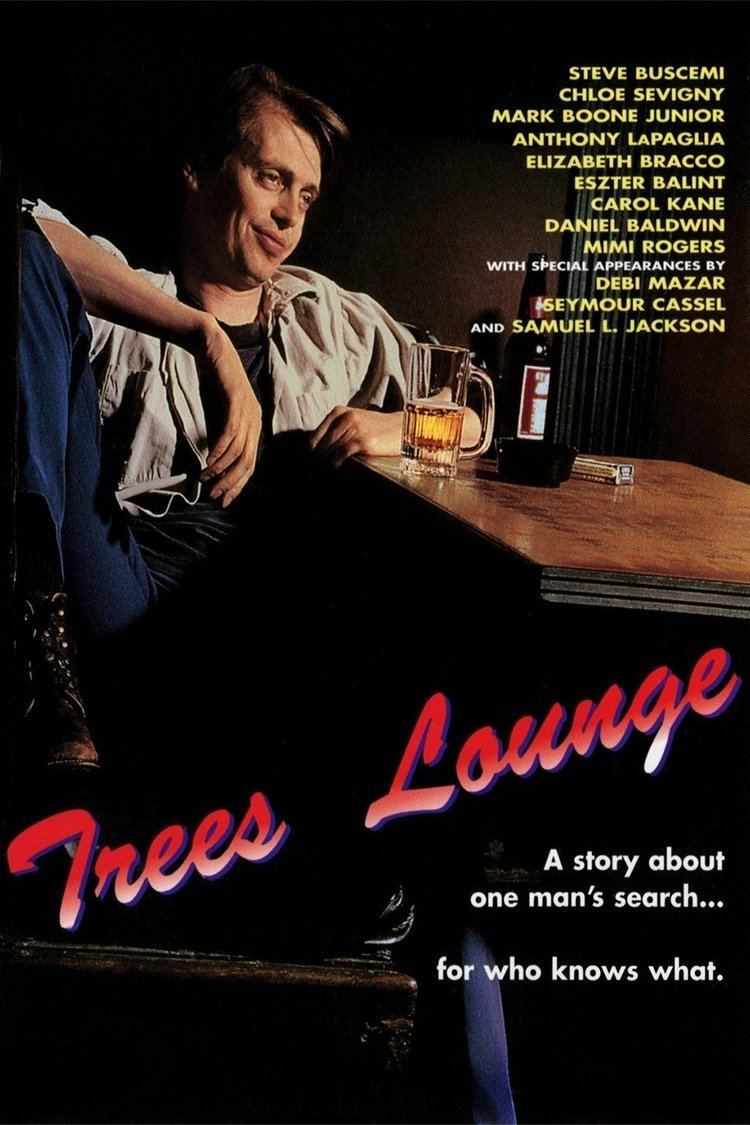 The film follows Tommy Basilio (Buscemi), an alcoholic and fixture at the local bar, Trees Lounge, who begins to float after losing his girlfriend of eight years Theresa (Elizabeth Bracco) and his job as a mechanic. His Uncle Al (Seymour Cassel) dies at the wheel of his ice-cream truck while out on his rounds and at the wake following his funeral he indulges in lines of cocaine with his brother and cousins. Tommy takes them to the Trees Lounge to carry on drinking, where a drunken brawl breaks out between his cousin and one of the regulars, Mike (Mark Boone Junior). In the next scene Mike and Tommy are driving away from a late night convenience store after buying more beer. They are discussing how Tommy stole money from Rob (Anthony LaPaglia), the owner of the garage where he lost his job. They discuss how Rob is seeing Tommy's ex-girlfriend who is pregnant and Tommy might be the father but she is telling Rob otherwise.
Two movers (one played by Samuel L. Jackson) from the moving company across from the Trees Lounge arrive for a drink and are surprised to see their boss, Mike, is there drinking, but soon settle down to have a drink with him. Tommy realizes his "drinking buddy" owns a fleet of vehicles and asks Mike for work but Mike says he has a mechanic and full crew of movers already.
Tommy takes on Uncle Al's ice-cream round, though initially the children do not want to buy from him. Theresa's sister's seventeen-year-old daughter, Debbie (Chloë Sevigny) starts to join him on his round. She is flirtatious and tells Tommy about a dream she had about him. Mike's wife and daughter have left him because he spends so much time out drinking. He meets up with them, where his wife tells him she wants to move herself and the daughter upstate.
Debbie and friend Kelly (Bianca Hunter) are at the Trees Lounge and Debbie cannot produce ID to prove she is over 21 years old to be served alcohol. She says her "boyfriend" Tommy Basilio will vouch for her. Mike, Tommy and the two girls are at Mike's house drinking when Mike's wife phones and he throws the other three out while he takes the phone call. He pleads with his wife to return home and says he will change his ways.
Tommy and Debbie go back to Tommy's apartment above the Trees Lounge and discuss why Tommy has not got any real friends. They end up spending the night together and shortly after dropping her off at home the next morning he runs into her Dad Jerry (Daniel Baldwin). He is driving around the neighbourhood looking for Debbie as he has found out she did not stay with Kelly last night and asks Tommy if he saw her in the Trees Lounge last night. Tommy says he was not there and has not seen her. Later, Jerry finds out Debbie was with Tommy and chases him around with a baseball bat, beats him up and wrecks the ice-cream truck.
Theresa has the baby and Tommy visits her in the hospital where he apologizes for the way he treated her when they were together and says he wants to give the relationship another try. Theresa says she is not interested and is with Rob now. Tommy returns to the Trees Lounge and hears that an elderly regular (Bill) collapsed from his bar-stool today and was taken to hospital gravely ill. The barmaid and other regulars are discussing how someone ought to visit the hospital and see how he is doing. They agree that someone should and one regular states he will go to the hospital "after he has finished this drink." The film ends as the regulars all carry on drinking and it looks like no one is going to stop drinking to go to the hospital. Tommy sits in Bill's regular seat and stares at the glass of beer, realizing what he has become.
Cast
Steve Buscemi – Tommy
Chloë Sevigny – Debbie
Mark Boone Junior – Mike
Anthony LaPaglia – Rob
Elizabeth Bracco – Theresa
Eszter Balint – Marie
Carol Kane – Connie
Daniel Baldwin – Jerry
Mimi Rogers – Patty
Debi Mazar – Crystal
Seymour Cassel – Uncle Al
Samuel L. Jackson – Wendell
Larry Gilliard, Jr. – James
Michael Imperioli – George
Charlie Newmark – Puck
Kevin Corrigan – Matthew
Michael Buscemi – Raymond
John Ventimiglia – Johnny
Bianca Hunter – Kelly
Awards
Trees Lounge earned Buscemi nominations for Best First Screenplay as well as Best First Feature (along with producers Brad Wyman and Chris Wyman) at the 1997 Independent Spirit Awards, though it didn't win.
Reception
Trees Lounge's critical consensus remains highly positive; it has garnered an 80% approval rating on Rotten Tomatoes based on 25 reviews (20 positive, 5 negative). Roger Ebert gave the film 3½ stars out of 4, stating "Steve Buscemi, who plays Tommy and also wrote and directed the film, knows about alcoholism from the inside out and backward, and his movie is the most accurate portrait of the daily saloon drinker I have ever seen."
References
Trees Lounge Wikipedia
(Text) CC BY-SA
Trees Lounge IMDb
Trees Lounge themoviedb.org