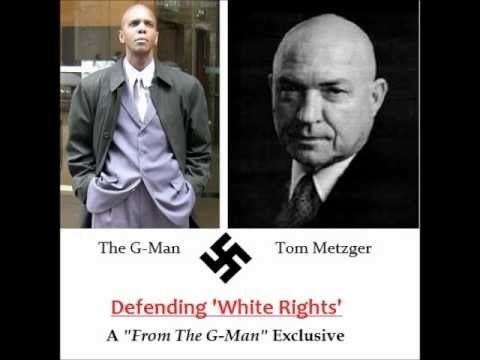 Metzger was born and raised in Indiana. He served in the U.S. Army from 1961 until 1964 when he moved to Southern California to work in the electronics industry. For a short time, he was a member of the right-wing group the John Birch Society, and attended anti-Communist luncheon meetings sponsored by the Douglas Aircraft Corporation.
By 1968 Metzger had moved to Fallbrook, California, and supported Democrat-turned-independent George C. Wallace for President. Metzger stopped paying taxes in the 1970s, and by 1972 his tax protest over the Vietnam War had destroyed his thriving television business but introduced him to other tax protesters who, he said, were atheist racists, Christian Identity racists, Nazis, all kinds of people.
During the 1970s he joined the Knights of the Ku Klux Klan, which was led by David Duke, eventually becoming the Grand Dragon for the State of California. In the summer of 1979, he organized a patrol, the Klan Border Watch, to capture illegal Mexican immigrants south of Fallbrook, California. Metzger's Klan organization also had a security force which was involved in confrontations with Communists and anti-Klan protesters.
Metzger's branch of the Klan split with Duke's organization in 1980 to form the California Knights of the Ku Klux Klan. Also in 1979, he took Greg Withrow of the White Student Union "under his wing", which later became the Aryan Youth Movement (AYM), for youth associated with White Aryan Resistance.
According to Steven Atkins, Metzger "differs from other white supremacists in rejecting the basic tenets of the Christian Identity movement because he considers himself the champion of the Third Position. The Third Position is racism oriented toward attracting the white working class and it is anti-capitalist in orientation. Metzger believes in racial separation within designated areas for different racial groups except for Asian Americans, who would be expelled from the United States." In 1988 Metzger, recorded this message on his "WAR HOTLINE":
You have reached WAR Hotline. White Aryan Resistance. You ask: What is WAR? We are an openly white-racist movement—Skinheads, we welcome you into our ranks. The federal government is the number one enemy of our race. When was the last time you heard a politician speaking out in favor of white people? [...] You say the government is too big; we can't organize. Well, by God, the SS did it in Germany, and if they did it in Germany in the thirties, we can do it right here in the streets of America. We need to cleanse this nation of all nonwhite mud-races for the survival of our own people and the generations of our children.
In 1982 he left the Klan to found a new group, the White American Political Association, a group dedicated to promoting "prowhite" candidates for office. After losing the 1982 California Senate Democratic primary, Metzger abandoned the electoral route and reorganized WAPA as White American Resistance in 1983 and then to White Aryan Resistance, to reflect a more "revolutionary" stance.
In 1985 Metzger was invited to speak at a rally of the Nation of Islam. Despite Metzger's open racism towards blacks, the two groups found common ground in their desire for racial separation and their hatred of Jewish people. Metzger donated $100 to the Nation of Islam.
Metzger made numerous television appearances in addition to hosting his own cable TV public-access television show, Race and Reason. In one of his first cable episodes, Metzger invited the gothic rock band Radio Werewolf onto the show, during which a confused Metzger was given an honorary membership in the band. In November 1988, his son appeared on an episode of the Geraldo show in which a brawl broke out and Geraldo Rivera's nose was broken.
The group was eventually bankrupted as the result of a civil lawsuit centered on its involvement in the 1988 murder of Mulugeta Seraw, an Ethiopian man who had moved to the United States to attend college. In 1988, white power skinheads affiliated with WAR were convicted of killing Seraw and sent to prison. Kenneth Mieske said he and the two others killed Seraw "because of his race". Metzger declared that they did a "civic duty" by killing Seraw. Morris Dees and the Southern Poverty Law Center filed a civil suit against him, arguing that WAR influenced Seraw's killers by encouraging their group East Side White Pride to commit violence.
Metzger's decision to represent himself at his trial became the source of considerable civic derision through the legal incompetence he displayed — never more so than when he accepted an option for a new trial judge during the initial stages of the trial in preference to the interim appointed judge whom he thought to be Jewish; only after he had made his decision did he discover that the new judge, Ancer L. Haggerty, was African American.
At the trial, WAR national vice president Dave Mazzella testified how the Metzgers instructed WAR members to commit violence against minorities. Tom and John Metzger were found civilly liable under the doctrine of vicarious liability, in which one can be liable for a tort committed by a subordinate or by another person who is taking instructions. The jury returned the largest civil verdict in Oregon history at the time—$12.5 million—against Metzger and WAR. The Metzgers' house was seized, and most of WAR's profits go to paying off the judgment.
After the trial, Metzger's home was transferred to Seraw's estate for $121,500, while Metzger was allowed to keep $45,000 under California's Homestead Act. The Southern Poverty Law Center and the Anti-Defamation League came up with the $45,000 needed to pay Metzger for the home. Metzger was warned that any damages left in the house would result in a lawsuit, and while he left it in "a mess" with cracked windows, there was no serious damage. As a result of the sale of his home, he was forced to move into an apartment.
In May 1991, Metzger had to agree to stop selling T-shirts of Bart Simpson in a Nazi uniform with the words "Pure Nazi Dude" and "Total Nazi Dude". He was convicted in 1991 of burning a cross in 1983, and sentenced to six months in prison and 300 hours community service working with minorities. He was released from prison 46 days into his sentence to be with his critically ill wife. In 1992, Metzger and his son violated a court order not to leave the country and entered Canada to speak to the Heritage Front. Soon afterwards, he was arrested for violating Canadian immigration laws by entering the country to "promote racial hatred".
Since the early 1990s, Metzger has advocated the "lone wolf" method of organization, of which there are many, for white nationalist groups, which states that a person should not outwardly display his/her racist ideology, but must act covertly.
In 2003, Metzger appeared in a documentary by Louis Theroux, titled "Louis and the Nazis". During this documentary, Theroux criticised Metzger for his use of racist language and also for his evidently hypocritical behaviour. On one hand, Metzger was portraying himself as a man totally devoted to his racist viewpoints, and purported to want nothing to do with members of other ethnic groups. However, on the other hand Metzger was filmed seemingly enjoying the fruits of multiculturalism as he was filmed singing in a largely non-white karaoke bar and also went on a day trip to Mexico during the documentary. During the karaoke bar visit, Theroux comments that " It had been a long, and in some ways, depressing day. I'd found Tom's attitudes exhausting and I was still more confused when the karaoke bar he took me to turned out to be largely non-white. I could only assume that, for Tom, karaoke sometimes took precedence over racism."
Metzger moved to Warsaw, Indiana. On June 2, 2009, agents of the Bureau of Alcohol, Tobacco and Firearms raided Metzger's home. No arrests were made and no information was released on what was found inside his house. Metzger was allowed to leave the premises during the search and stated that address books, compact discs, tapes and computers were seized in the raid.
Metzger resides near Warsaw, Indiana, and he is still mandated to make payments to Seraw's family. Metzger now hosts an Internet radio talk show.
Metzger has registered at various times as a Democrat. In 1980, Metzger won the Democratic Party nomination for the U.S. House of Representatives with over 40,000 votes in a San Diego-area district. The national Democratic Party chairman disavowed his candidacy, instead endorsing incumbent four-term Republican Clair Burgener. Metzger lost by over 200,000 votes in November 1980 to a several-term incumbent in a heavily Republican district.
In 1982 he sought the Democratic Party's senatorial nomination, running against then-Governor Jerry Brown and author Gore Vidal, winning almost 76,000 votes (and 2.8% of the vote) in the Democratic Party primary.
In 2010, Metzger took out an advertisement in the Warsaw Times-Union, in order to announce his intention to challenge, as an independent, U.S. Representative Mark Souder, a Republican from Indiana's 3rd congressional district. "I'd go to Washington and get into Congress, and have a fistfight every day," Metzger told local news station WANE-TV in Fort Wayne. Metzger did not make it into the ballot for the election, which was ultimately won by Republican Marlin Stutzman.