8.4

/

10

Alchetron

Rate This





Theme music composer

Henry Mancini




Original language(s)

English




Final episode date

30 March 1983






Directed by

Daryl Duke




Country of origin

United States




First episode date

27 March 1983






Written by

Carmen Culver Lee Stanley Colleen McCullough (novel)




Starring

Richard Chamberlain Rachel Ward Barbara Stanwyck Christopher Plummer Jean Simmons Bryan Brown Philip Anglim Richard Kiley




Awards

Golden Globe Award for Best Miniseries or Television Film




Cast

Richard Chamberlain, Rachel Ward, Bryan Brown, Barbara Stanwyck, Jean Simmons
The Thorn Birds is an American television miniseries broadcast on ABC from March 27 to 30, 1983. It starred Richard Chamberlain, Rachel Ward, Barbara Stanwyck, Christopher Plummer, Jean Simmons, Richard Kiley, Bryan Brown, Mare Winningham and Philip Anglim. It was directed by Daryl Duke and based on a novel by Colleen McCullough. The series was enormously successful and became the United States' second highest-rated miniseries of all time behind Roots; both series were produced by television veteran David L. Wolper.
Contents
Set primarily on Drogheda, a fictional sheep station in the Australian outback named after Drogheda, Ireland, the story focuses on three generations of the Cleary family and spans the years from December 1920 to December 1962.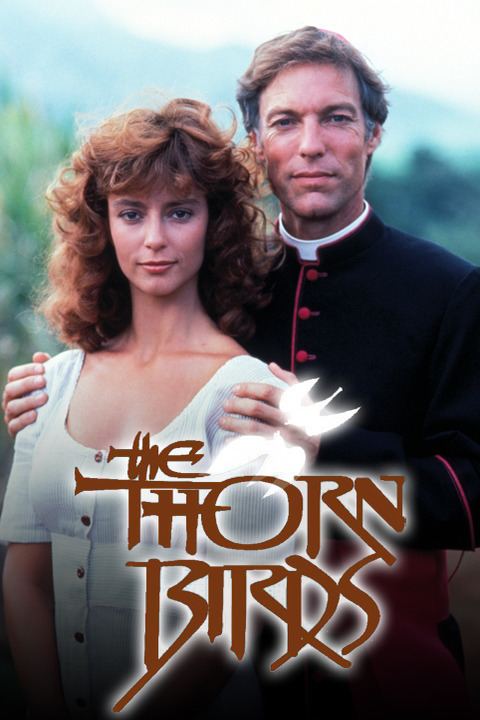 Deviations from the novel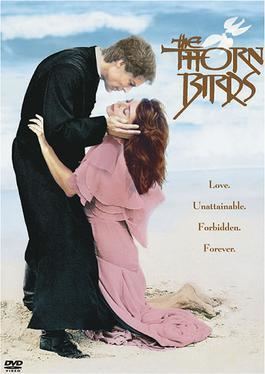 The novel begins in New Zealand on December 8, 1915, Meggie Cleary's fourth birthday. The miniseries begins in Australia five years later.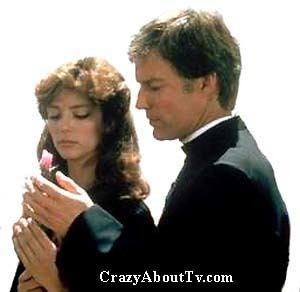 In the novel, Meggie Cleary's "titian" (red) hair is mentioned frequently, and used as a plot device. Rachel Ward, who played Meggie in the miniseries, had auburn hair which is a reddish brown. In the miniseries, Meggie and Stuart visit Frank in prison, where Frank eventually dies. In the novel, Ralph acts as a go-between and no one in the Cleary family sees Frank until he is released from prison after 30 years.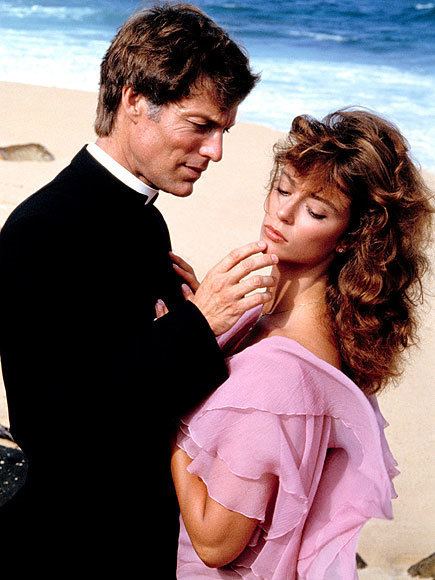 In the novel, Meggie is totally ignorant of sexual matters until her wedding and has her own childish idea of how babies are made, which is revealed in her dialogue with Ralph. In the corresponding dialogue in the film, she is at least aware that animals copulate. The scene in the novel where Meggie reveals to Ralph that she has begun menstruating has Ralph reacting with anger toward Fee (although he never confronts Fee about it), whereas in the miniseries, Ralph is amused.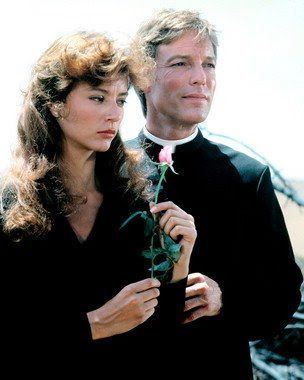 Meggie has 8 brothers in the novel. In the miniseries, only 5 appear (Frank, Bob, Jack, Stuey and Hal).
Justine visits Greece with Dane in the miniseries, while in the novel she stays in London.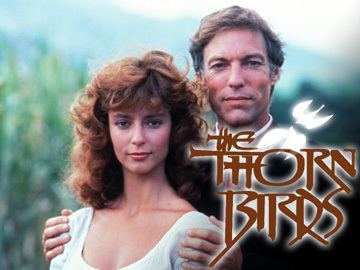 In the miniseries, Anne and Luddie Mueller attend Dane's funeral. In the novel, Luddie had died prior to Dane's funeral and Anne attended alone.
Ralph dies while sitting in a chair with Meggie's head in his lap, recalling the legend of the thorn bird, not in Meggie's arms as in the novel, and not immediately after Dane's funeral.
The miniseries ends with Ralph's death. The novel continues with Justine's and Rainer's story.
Development
The novel was originally developed as a feature film with Ed Lewis attached to produce. Ivan Moffat wrote an early draft of the script. Herbert Ross was the first director, and he saw Christopher Reeve about playing the lead. Then Peter Weir became attached to direct; Robert Redford was the favourite to play the lead. Eventually Weir dropped out Arthur Hiller was going to direct; Ryan O'Neal was mooted as a star. Eventually it was decided to turn it into a mini series.
Filming
Although the mini-series is set in Australia it was filmed in the United States. The outback scenes were filmed in southern California and the Queensland scenes were filmed on the Hawaiian island of Kauai. The Drogheda main house was a set built on the Big Sky Ranch in Simi Valley, California.
The mountainous terrain of the southern California "outback" filming location does not resemble western New South Wales, which is predominantly level to gently rolling.
The mini-series included "the most dangerous bus in Australia". Since filming took place in the US an American bus was used. In Australia, where there is right-hand drive, it would set down its passengers in the middle of the road.
In the miniseries, Drogheda, Mary Carson's sheep station, is said to have been named after the Irish town of Drogheda, by a former resident of that town. However, its name is mispronounced by all characters as "Drog-ee-da". In fact, the g should be silent and the e short. A former resident would pronounce it as Draw-hed-ah or Dro-hed-ah (with a soft o as in "drop"), or draw-da.
A followup was produced in 1996 by CBS, entitled The Thorn Birds: The Missing Years, which tells the story of the 19 years unaccounted for in the original miniseries.
New York Jets offensive tackle D'Brickashaw Ferguson was named after the character Ralph de Bricassart.
Rachel Ward, who was born in 1957, plays the mother of a daughter played by 1959-born actress Mare Winningham, and a son played by 1953-born actor Philip Anglim.
Rachel Ward met her husband Bryan Brown on the set while filming the series. Brown plays Luke O'Neill, who marries Ward's character, Meggie Cleary.
Actor Bryan Brown, was the only Australian-born cast member hired in a major role. This is not too unusual since although the series takes place in Australia, Luke O'Neill and Meggie's children were the only major characters who were Australian-born. Father Ralph, Mary Carson, and Paddy Cleary were all Irish-born. Fee and most of the Cleary children were born in New Zealand.
During casting, actress Jane Seymour was considered for the role of Meggie Cleary and the role of Mary Carson was originally offered to Audrey Hepburn.
The serial has had great success in France. The French title is "Les oiseaux se cachent pour mourir" (The birds hide to die). The series is still regularly repeated on TV channels.
The series was also very successful in Brazil, where it was broadcast by SBT. During its first broadcast, in 1985, the miniseries beat Globo TV network in the ratings, which had always been the leader in ratings in Brazil. The series last aired in Brazil from October 2 through October 13, 2006, at 9:40 PM (local time).
VHS and DVD releases and ratings
The Thorn Birds was released on VHS in 1991 in the US and Canada; it was re-released on DVD in the US and Canada on February 3, 2004. Both editions were given a "Not Rated" certification. It is rated PG in New Zealand for violence, sexual references, coarse language and nudity.
References
The Thorn Birds (miniseries) Wikipedia
(Text) CC BY-SA