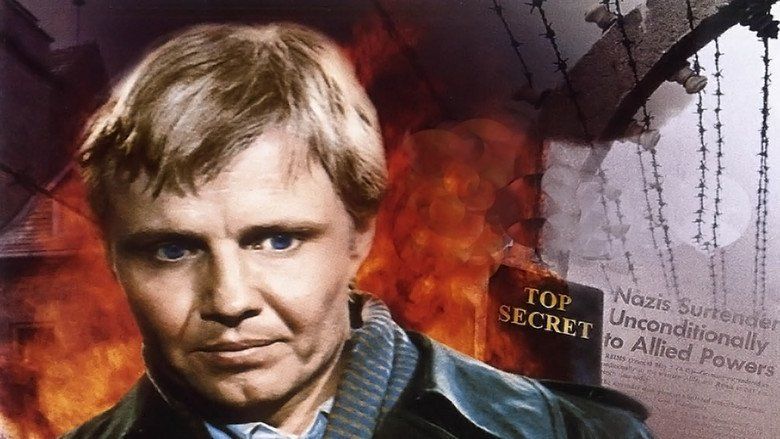 On 22 November 1963, the day that President John F. Kennedy is assassinated in Dallas, Peter Miller (Jon Voight), a young freelance reporter, pulls over to the curb to listen to a radio report of the event in a district in Hamburg, West Germany. As a result, he happens to be stopped at a traffic signal as an ambulance passes by on a highway.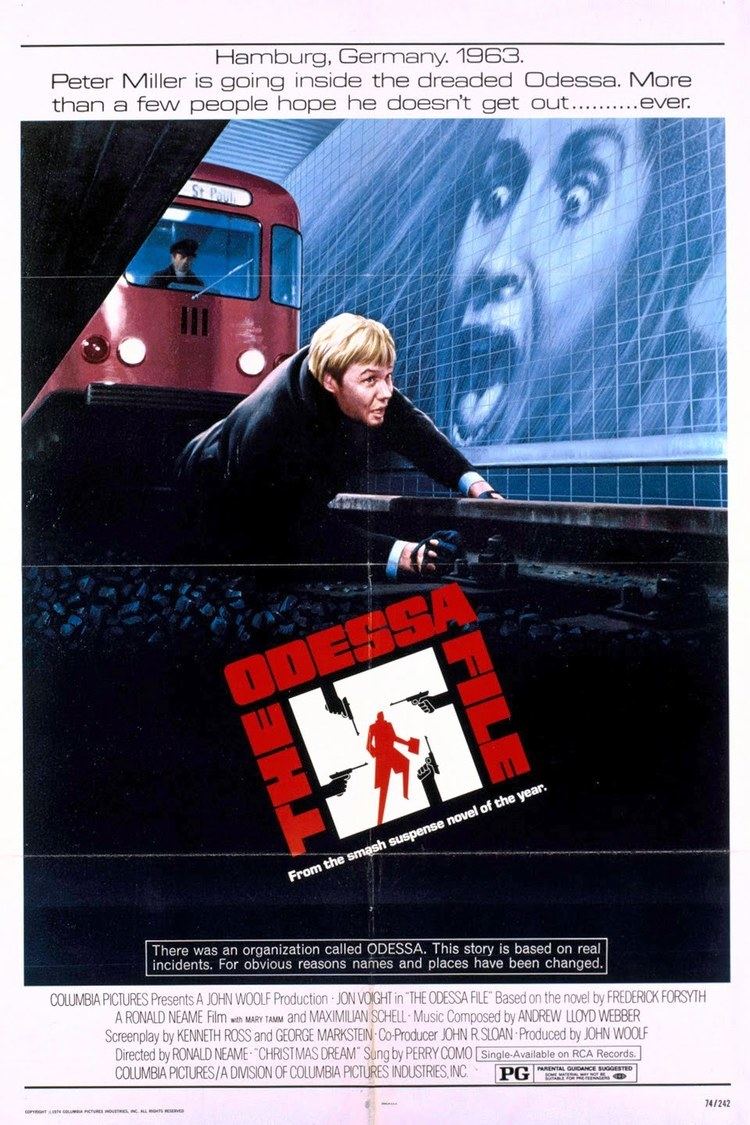 He follows the ambulance and discovers it is en route to pick up the body of an elderly Jewish Holocaust survivor who had committed suicide, leaving behind no family. The reporter obtains the diary of the man, which contains information on his life in the Second World War Riga Ghetto, and the name of the SS officer who ran the camp, Eduard Roschmann (Maximilian Schell).
Determined to hunt Roschmann down, Miller consults with Nazi-hunter Simon Wiesenthal (Shmuel Rodensky) who informs him about ODESSA, a secret organisation of SS veterans. With this information, Miller then dares to go undercover, using an assumed name and forged papers showing him as an SS veteran. He joins and infiltrates the ODESSA and finds Roschmann, who now runs a high-tech company which plans to send radio gyroscopes and biochemical warheads to Egypt to use against Israel. Miller eventually finds Roschmann and confronts him at gunpoint.
ODESSA is an acronym for the German phrase "Organisation der Ehemaligen SS-Angehörigen", which translates as "Organisation of Former Members of the SS".
The film's title song, "Christmas Dream", is sung by Perry Como and the London Boy Singers.
Jon Voight as Peter Miller
Maximilian Schell as Eduard Roschmann
Maria Schell as Frau Miller
Mary Tamm as Sigi
Derek Jacobi as Klaus Wenzer
Peter Jeffrey as David Porath
Klaus Löwitsch as Gustav Mackensen
Kurt Meisel as Alfred Oster
Günter Meisner as General Greifer
Hannes Messemer as General Richard Glücks
Garfield Morgan as Israeli Defence Force General
Shmuel Rodensky as Simon Wiesenthal
Ernst Schröder as Werner Deilman
Günter Strack as Kunik
Noel Willman as Franz Bayer
Martin Brandt as Marx
Filming was done on location in Hamburg, Germany; Salzburg, Austria; Heidelberg, Germany; Munich, Germany; at Pinewood Studios, England; and the Bavaria Filmstudios in Grünwald, Bavaria, Germany. It was filmed with Panavision equipment, produced with Eastmancolor technologies.
Nora Sayre of the New York Times said, "The film makes its points methodically, almost academically. It also drags because there are many unnecessary transitional passages, devoted to moving the characters from one situation to another. Almost every occurrence is predictable."
Groggy Dundee in Nothing is Written praised the actors, "Jon Voight does well, making Miller a credible and compelling protagonist. Maximilian Schell is excellent in what amounts to an extended cameo." However, he criticises the filmmakers for simplifying Forsyth's novel and dulling its anti-Nazi message.