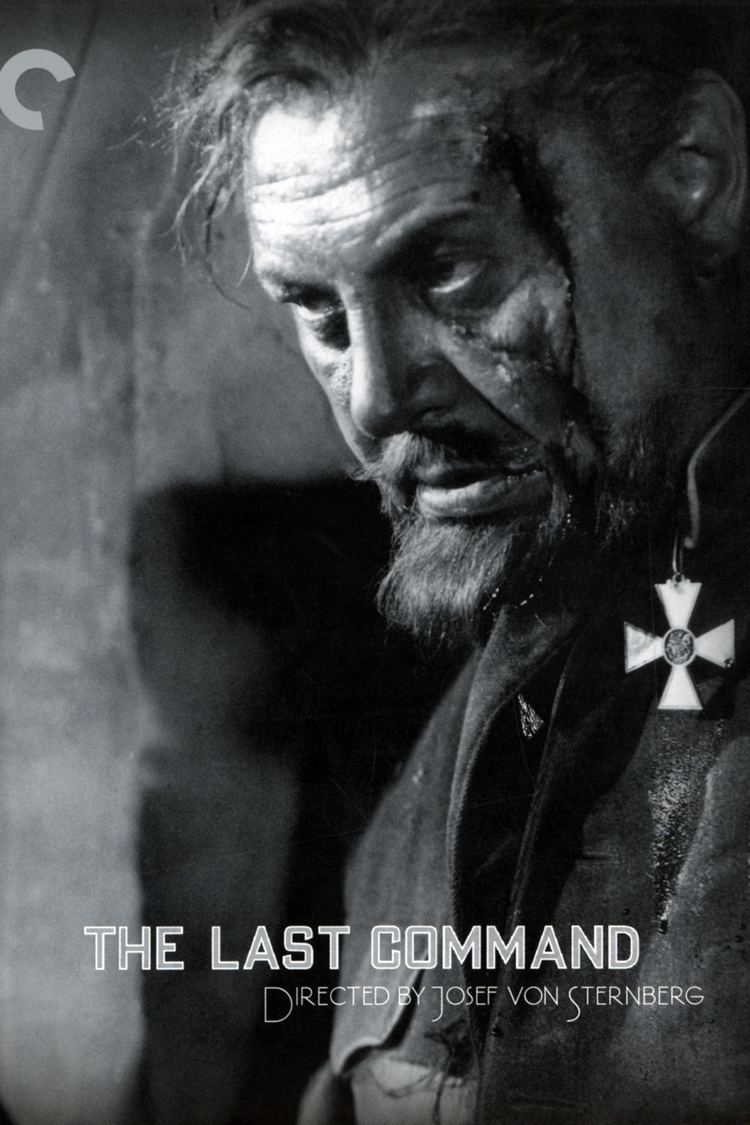 In 1928 Hollywood, director Leo Andreyev (William Powell) looks through photographs for actors for his next movie. When he comes to the picture of an aged Sergius Alexander (Emil Jannings), he pauses, then tells his assistant (Jack Raymond) to cast the man. Sergius shows up at the Eureka Studio with a horde of other extras and is issued a general's uniform. As he is dressing, another actor complains that his continual head twitching is distracting. Sergius apologizes and explains that it is the result of a great shock he once experienced.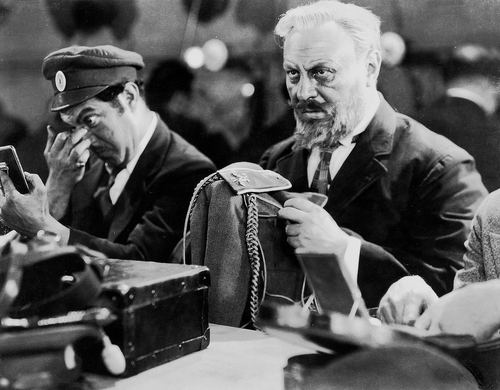 The film then flashes back ten years to Czarist Russia, which is in the midst of the Revolution. Grand Duke Sergius Alexander, the Czar's cousin and commander of all his armies, is informed by his adjutant that two actors entertaining the troops have been identified as dangerous "revolutionists" during a routine passport check. He decides to toy with them for his amusement. When one of them, Leo Andreyev, becomes insolent, Sergius whips him across the face and has him jailed.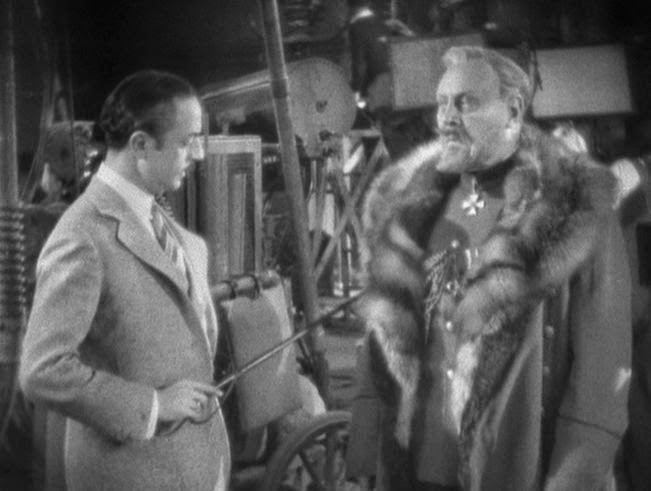 Leo's companion, the beautiful Natalie Dabrova (Evelyn Brent), is an entirely different matter. She intrigues Sergius. Despite the danger she poses, he takes her along with him. After a week, he gives her a pearl necklace as a token of his feelings for her. She comes to realize that he is at heart a man of great honor who loves Russia as deeply as she does. When she invites him to her room, he spots a partially hidden pistol, but deliberately turns his back to her. She draws the weapon, but cannot fire. Despite their political differences, she has fallen in love with him.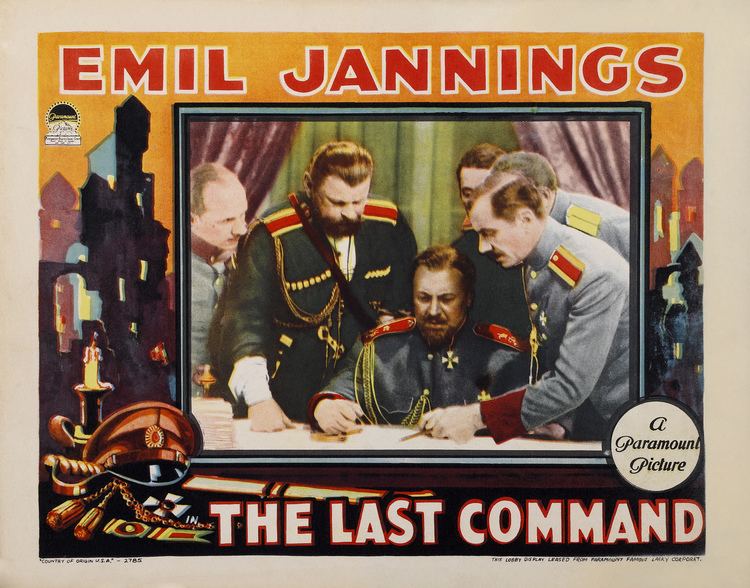 When the Bolsheviks capture the train on which they are traveling, she pretends to despise him. Instead of having him shot out of hand like his officers, she suggests they have him stoke coal into the locomotive all the way to Petrograd, where he will be publicly hanged. When everyone is drunk, however, she helps him escape, giving him back the pearl necklace to finance his way out of the country. Sergius jumps from the train, then watches in horror as it tumbles off a nearby bridge into the icy river below, taking Natalie with it. This moment is when Sergius develops his head twitch.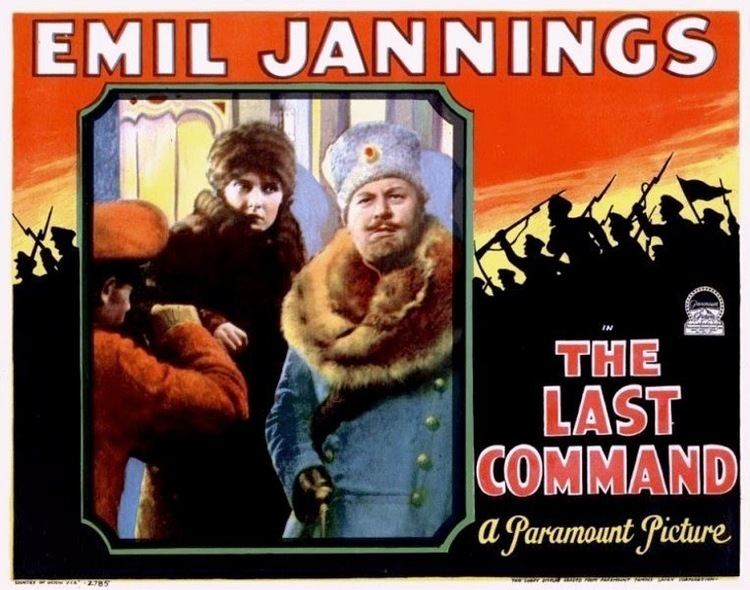 Ten years later, Sergius is reduced to poverty, eking out a living as a Hollywood extra. When he and the director finally meet, Sergius recognizes him. Leo, in an ironic act calculated to humiliate him, casts him as a Russian general in a battle scene. He is directed to give a speech to a group of actors playing his dispirited men. When one soldier tries to incite a mutiny, telling the general that "you've given your last command", he whips the man in the face as instructed, just as he had once struck Leo. Losing his grip on reality, he imagines himself genuinely on the battlefield, besieged by enemies, and passionately urges his men to fight for Russia. Overstraining himself, he dies, inquiring with his last words if they have won. Moved, Leo tells him they have. The assistant remarks, "That guy was a great actor." Leo replies, "He was more than a great actor - he was a great man."
Emil Jannings as Grand Duke Sergius Alexander
Evelyn Brent as Natalie Dabrova
William Powell as Leo Andreyev
Jack Raymond as the Assistant
Nicholas Soussanin as the Adjutant
Michael Visaroff as the Bodyguard
Fritz Feld as A revolutionist. He plays a screaming revolutionary who at one point sneers in Jannings' face.
Ernst Lubitsch told newspaper columnist Gilbert Swan that the story had a real-life inspiration: a general in the Imperial Russian Army named Theodore A. Lodigensky whom Lubitsch had met in Russia, and again in New York, where he had opened a Russian restaurant after fleeing the communist revolution. Lubitsch encountered the ex-general once more, when the latter appeared in full uniform looking for work as an extra at $7.50 a day, the same rate as Sergius. Lubitsch later told Lajos Bíró the anecdote. Under the name Theodore Lodi, Lodigensky went on to play a handful of roles between 1929 and 1935, including Grand Duke Michael, a Russian exile who is forced to work as a hotel doorman in the 1932 film Down to Earth.
In 2010, The Criterion Collection released a DVD set of three von Sternberg films: The Last Command, Underworld and The Docks of New York.