The film was produced through companies in Belgium, France and Italy. While The Kid with a Bike does not deviate from the naturalistic style of the Dardenne brothers' earlier works, a comparatively bright aesthetic was employed, as well as a screenplay inspired by fairy tales. Unusually for a film by the directors, it also uses music. It premiered at the 2011 Cannes Film Festival and was co-winner of the festival's Grand Prix.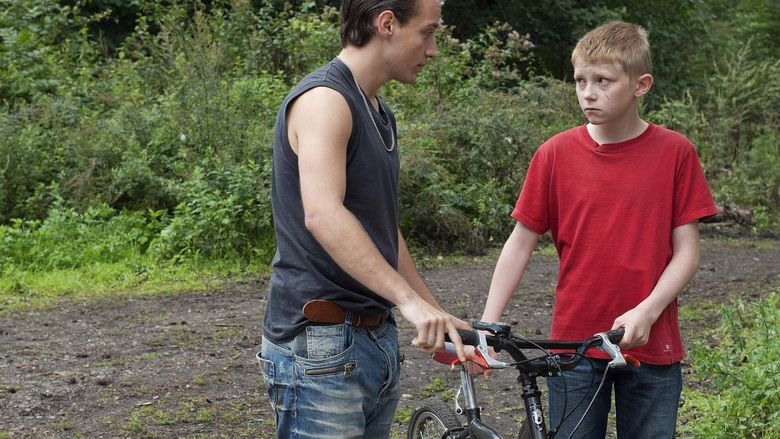 The story begins with Cyril, a 11-year-old boy in a children's home in the working class town of Seraing near Liege, attempting to reach his father by phone. His single father, no mother is ever mentioned, promised him that he would only live there for 30 days. The children's home staff tells him to hang up the phone since once again his father is not going to answer and go outside to play with the other children. Cyril refuses and when the phone is disconnected he bites a carer then runs from the director's office, attempting to abscond by climbing over a fence with two carers on his heels. He is pulled from the fence and restrained before being returned to the children's home, where he is later seen sleeping in a dormitory as forlorn music plays. Soon after Cyril absconds again successfully by lying to a carer that he needs the toilet one day after school, when he is supposed to be outside playing with the other kids. Instead he flees through a side door and takes a city bus alone in search of his father.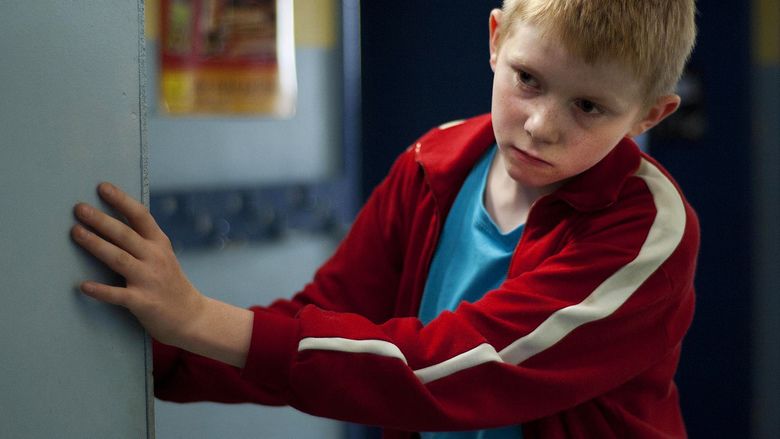 To get inside the building he uses the intercom to buzz the medical clinic and lies saying he fell off his bike. He goes directly to his father's apartment though and bangs on the door until a neighbor tells him to go away because no one is there. When the caretakers find him, Cyril flees to a doctor's office that buzzed him into the building, where he grabs onto a woman in the waiting room. She says she doesn't mind if he holds her, only don't squeeze so tight. Trying to alleviate the situation, the caretakers take Cyril to the empty apartment, confirming that his father has really abandoned him.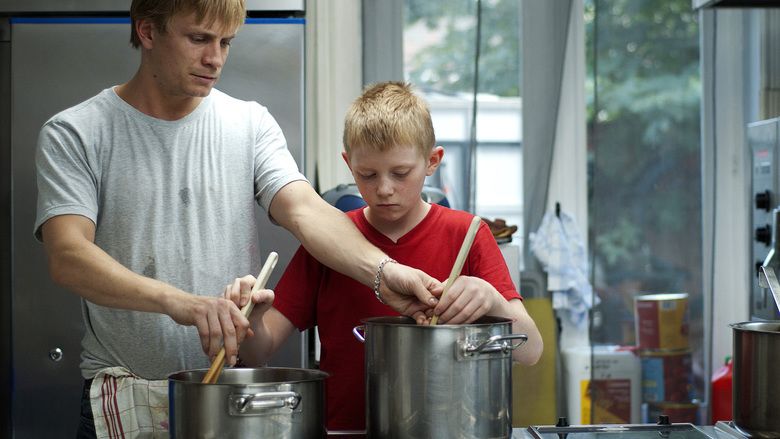 The next morning, the woman from the doctor's office, Samantha, shows up with Cyril's bike. She says she bought it from someone in the projects, but Cyril thinks it was stolen from his dad. He likes Samantha though, and asks if she would take him in on weekends. She agrees and Cyril begins to spend much time at home and in her beauty salon. Samantha and her partner Gilles are very good to Cyril providing for a carefree typical childhood experience. In the local neighborhood he enjoys playing with other children, running errands, and most of all riding his beloved bike for hours on end. Still his refusal to accept his father's abandonment continues to haunt him and prevent him from thriving in this healthy newfound environment even after discovering through an old personal ad that his father actually sold his bike. One night in Samantha's home, where Cyril has his own bedroom, he gets up and goes to Samantha's bedroom, only to run back to his own room when he sees Samantha and Gilles undressed in bed with implied sex. Samantha follows him back to his bedroom to find out what is his problem and he tells her that he is okay but just really wants his father. In response to this, without permission from neither the children's home director nor Cyril's psychologist, who has advised against doing so to protect his emotional stability, Samantha soon tracks down Cyril's father by contacting the police department and drives Cyril to see him in another town.
When Cyril's father does not come to meet with them at the agreed location and time, they go looking for him at Cyril's insistence. At his new address, they encounter a woman who is hostile and suspicious, but tells them Cyril's father is at her restaurant preparing for the day. At the restaurant, after much knocking and shouting, they finally come face to face with his father, who reluctantly invites Cyril inside while Samantha elects to remain outside to give them privacy. Inside the restaurant, Cyril follows his deliberately aloof father around the kitchen asking why he still has to stay at the children's home to which his father non-chalantly responds "What? They are not nice to you?" giving Cyril no indication of when he will live with him again. Finally, after giving him a snack and writing down his cellphone number to call later, he tells Cyril he has to leave and let him work. He walks Cyril to the door and asks him to wait outside while he speaks privately with Samantha inside. Cyril's father admits to Samantha that he has no intentions of ever raising Cyril alone now that his grandmother is dead, has started a new life which has no place for Cyril, and tells her Cyril is her problem now asking that she tell Cyril this. Back outside Samantha asks Cyril what his father said to him about future contact then marches him straight back to the restaurant door demanding that Cyril's father be honest with his son. His father tells him he must stay either at the children's home or with Samantha, because he doesn't care to see him again. On the way back home, Cyril has such a severe nervous breakdown that Samantha has to stop the car and hold him until he calms down.
Cyril, heartbroken by his father's rejection, turns to Samantha for comfort. But despite Samantha's care, Cyril is soon taken under the wing of Wesker, - an adopted pseudonym from the Resident Evil character - a local gang leader known as "The Dealer". When Cyril stays out late one evening and does not even bother to use his cellphone to call to check in, Samantha and her partner go looking for him and are none too pleased that he's keeping company with ne'er do wells when they happen upon him. Cyril's fresh mouth doesn't help matters and this leads to an argument between the couple with Gilles demanding that Cyril apologize and telling Samantha she must choose between the two of them. Samantha chooses Cyril and Gilles gets out of the car furious. Samantha crying and upset then gets into the driver's seat to drive them home. Cyril still fails to understand how much Samantha cares for him however as he has no concept of unconditional love and continues to run wild with Wesker almost ruining his chance at a good life completely soon after.
One night rather than go out to a movie with his new friend and the boy's parents as he has been invited to do, Cyril throws a temper tantrum and demands to be allowed to go off out to roam the streets alone instead. He doesn't tell Samantha that he's supposed to meet Wesker to commit a crime of assault and theft, but she figures out that something is going on, refuses him permission, and tries her hardest to keep him indoors by blocking the doors. In frustration and uncontrolled anger, Cyril screams he does not want to be with Samantha anymore to try to manipulate her, but she tells him to go right ahead and call the orphanage's director to come pick him up if that's what he wants, but he won't be leaving the house to run the streets like a hooligan regardless. His anger boils over and in a last ditch effort to get his way, Cyril stabs Samantha on the arm with a pair of scissors and bolts out the door while she's crying and in shock. At The Dealer's prompting, Cyril robs a newsstand owner and his son, knocking them down with a baseball bat. The Dealer, fearing Cyril had been identified, forces him to keep quiet and keep the money. Cyril tries giving it to his father only to be rejected and chased away as his father does not want to get caught by the law. Dejected, Cyril returns to Samantha and finally accepts her care for him. He apologizes for hurting her arm. The robbery is settled through mediation, where Cyril with Samantha by his side apologizes personally to the owner, who accepts, but his son does not and, in a chance encounter, tries to get his revenge. Shortly after the case is sorted out, the shop owner's son against his father's wishes confronts Cyril as he is riding on his bike to buy charcoal for a cookout. In the ensuing chase, Cyril climbs a tree and falls when struck by a rock the son throws. While he lies unconscious, the owner and son discuss what lies to tell the police and dispose of possible evidence that could be used against them, because they figure Cyril is either dead or dying. While they're talking however, Cyril regains consciousness and declines the suggestion that an ambulance be called although he has been knocked senseless. The shop owner and son watch aghast as Cyril picks up the charcoal, gets on his bike, and pedals away as if nothing happened clearly no longer the disturbed and violent child they first encountered.
Thomas Doret as Cyril Catoul
Cécile de France as Samantha, hair dresser and foster mother of Cyril
Jérémie Renier as Guy Catoul, father of Cyril
Fabrizio Rongione as Bookseller
Egon Di Mateo as Wesker
Olivier Gourmet as Café owner
Luc Dardenne said that he and his brother Jean-Pierre had for a long time had the idea of a film about "a woman who helps a boy emerge from the violence that holds him prisoner." Writing the screenplay took one year including a few breaks. In the earliest drafts, the character Samantha was a doctor and not a hairdresser. The script was structured with a fairytale in mind, where the boy would lose his illusions and Samantha would appear as a fairy-like figure. By not explaining much about the characters' past and psychology, the brothers aimed to avoid sentimentality. Throughout the writing process the brothers strove to maintain a strong clarity in the overall work and to avoid gloom, which is why the brothers, according to Jean-Pierre, decided to omit "any form of vulgarity in the teenagers' language, even though they're street criminals."
The film is a co-production with 46% investment from its directors' Belgian company Les Films du Fleuve, 44% from its French Archipel 35, and 10% from Italy's Lucky Red. It received further funding from the CNC, Eurimages, Wallimage, Radio Télévision Belge de la Communauté Française, and the Belgian French Community.
Cécile de France was offered the role of Samantha soon after the screenplay was finished, as the brothers believed she would be able to portray the kindness of the character with her body and face alone. For the casting of the boy, Cyril, the production team held around 100 auditions. Thomas Doret was the fifth applicant the brothers met, and according to Jean-Pierre, "it clicked right away." The team rehearsed for a month on the actual sets in full costume.
The 55-day shoot commenced in Belgium in August and ended 15 October 2010. It was the first time the Dardenne brothers made a film in the summer. The film was made under the production title Délivrez-moi! which means "Set me free!"
Unusually for a film by the Dardenne brothers, there is music in the film. According to Luc, they hesitated for a long time, but eventually decided that music would serve the film's structure: "In a fairytale there has to be a development, with emotions and new beginnings. It seemed to us that music, at certain points, could act like a calming caress for Cyril."
The film premiered in competition on 15 May at the 2011 Cannes Film Festival. Cinéart distributed it in Belgium and Diaphana Films in France. The premiere in both countries took place on 18 May. In Belgium, the film was launched on 27 screens and entered the box-office chart as number six, with a weekend gross of 70,768 euro. In France, it was launched in 172 venues and had an attendance of 107,763 the opening week, which also resulted in a sixth place on the domestic chart. One week later the number of screens had been increased to 215, and the total attendance reached 209,725. In Italy, the film was released on 18 May through Lucky Red. Sundance Selects acquired the distribution rights for the United States. The film will be distributed in the United Kingdom through Artificial Eye.
The film received near universal acclaim. It scored a 96% "Certified Fresh" approval rating on Rotten Tomatoes based on 119 reviews; the film review aggregate site described the critical consensus that the film "is a heart-wrenching, thematically and spiritually rich drama." At Metacritic, which assigns a normalized rating out of 100 to reviews from mainstream critics, the film received an average score of 87, based on 33 reviews, indicating "universal acclaim".
Jonathan Romney wrote in Screen Daily: "After the slightly sub-par Lorna's Silence (2008), the brothers are back on peerless form with this story of innocence betrayed and befriended, which must count as one of the best films about childhood since Kes – or for that matter Bicycle Thieves, to which it surely nods." Romney further commented: "Shooting as usual with cinematographer Alain Marcoen, and in their familiar stamping ground of Seraing, the brothers this time bring a somewhat different, airier look to their locations, more suburban than in the past. Marcoen's camerawork, also, is rather more free-wheeling than the tightly constrained (and often imitated) tightness of The Son." At the 2011 London Film Festival it was among Sight & Sound's 30 recommendations; according to them, "The Dardenne brothers may be the most consistently high-achieving filmmakers of our time – the kings, if you like, of poetic neorealism. Like all their films, Le Gamin au vélo (The Kid with a Bike) is near perfect." Upon its March 2012 UK release, Peter Bradshaw gave it (four stars out of 5) and said it "revive[s] the memory of De Sica's 1948 classic Bicycle Thieves"; it is a "heartfelt, boldly direct film composed in the social-realist key signature of C major, revisiting the film-makers' classic themes of parenthood, trust and love." Conversely, one critic called the film "trite" and its thinking "lazy", while another reviewer called it "formulaic" and "superficial".
The Kid with a Bike grossed $1,389,524 in North America, along with $3,786,899 in other countries, for a worldwide total of $5,176,423.
The film received the Grand Prix at the Cannes film Festival, which is the festival's second most prestigious award. The win was shared with the Turkish film Once Upon a Time in Anatolia. The film received a nomination at the 69th Golden Globe Awards for Best Foreign Language Film and at the Satellite Awards 2011 in the same category. It was also nominated at the Independent Spirit Awards for Best International Film. The St. Louis Gateway Film Critics Association nominated the film for Best Foreign-Language Film, but it lost to The Intouchables.
It received eight nominations at the 2nd Magritte Awards, including Best Film and Best Director for Jean-Pierre and Luc Dardenne. It went on to win Most Promising Actor for Thomas Doret. The film was named among the National Board of Review's Top 5 Foreign Language Films of 2012. It won the Best Foreign Language Film at the San Diego Film Critics Society Awards 2012.