Covid-19




Drama, History, Horror





Italy/France




Jean Delannoy


1 million USD


French



Victor Hugo,

Jacques Prevert

, Ben Hecht


December 19, 1956 (1956-12-19)


The Hunchback of Notre Dame by Victor Hugo


The Hunchback of Notre-Dame


Gina Lollobrigida (Esmeralda), Anthony Quinn (Quasimodo), Jean Danet (Phoebus de Chateaupers), Alain Cuny (Claude Frollo), Robert Hirsch (Pierre Gringoire),

Danielle Dumont

(Fleur de Lys)


Top Gun

,

Perfume: The Story of a Murderer

,

The Hunchback of Notre Dame

,

Everyone Says I Love You

,

Sissi: The Fateful Years of an Empress

,

The Apartment




The timeless tale of the seductive gypsy Esmeralda and the tortured hunchback Quasimodo.
The Hunchback of Notre Dame (in French Notre-Dame de Paris) is a 1956 French-Italian film version of Victor Hugo's novel of the same name, directed by Jean Delannoy and produced by Raymond Hakim and Robert Hakim. The film is the first version of the novel to be made in color.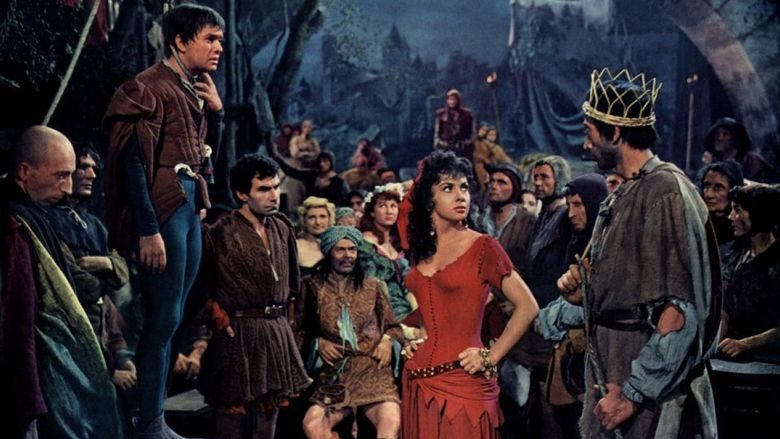 It stars US actor Anthony Quinn as Quasimodo and Italian actress Gina Lollobrigida as Esmeralda. In the tradition of many sword and sandal spectacles, Quinn and Lollobrigida are the only two actors in the film who actually speak in English; the rest of the cast is made up of French actors who have had their voices dubbed into English. Anthony Quinn's portrayal of the hunchback Quasimodo is more human and less horrific than most other portrayals. Instead of having a huge hump and a hideously deformed face, he only has a small curve in his spine and a slightly deformed face. The film is one of the few adaptations to use Victor Hugo's original ending; although Esmeralda is killed by a stray arrow rather than hanged. Esmeralda's last words were: "Life is wonderful" ("C'est beau, la vie"). A voiceover narration tells us at the end that several years afterward, an excavation group finds the skeletons of Quasimodo and Esmeralda intertwined in an embrace.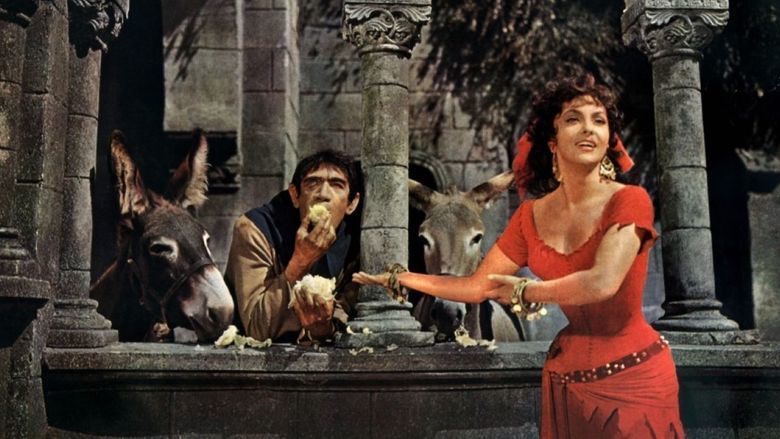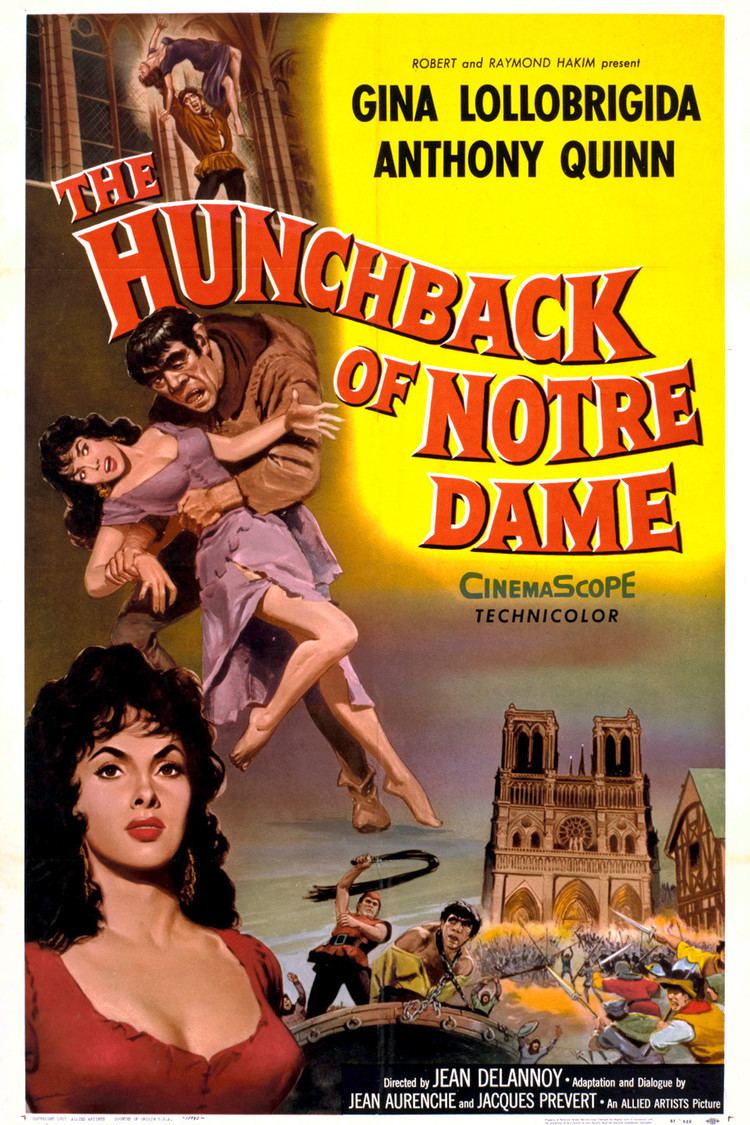 Gina Lollobrigida as Esmeralda
Anthony Quinn as Quasimodo
Jean Danet as Phoebus de Chateaupers
Alain Cuny as Claude Frollo
Robert Hirsch as Pierre Gringoire
Danielle Dumont as Fleur de Lys
Maurice Sarfati as Jehan Frollo
Jean Tissier as King Louis XI
Valentine Tessier as Aloyse de Gondelaurier
Jacques Hilling as Maitre Charmolue
Jacques Dufilho as Guillaume Rousseau
Roger Blin as Mathias Hungadi Spicali
Marianne Oswald as La Falourdel
Roland Bailly as The Hangman
Piéral as The Dwarf
Camille Guérini as The President
Damia as The Beggar
Robert Lombard as Jacques Coppenole
Albert Rémy as Jupiter
Hubert de Lapparent as Guillaume de Harancourt
Boris Vian as Cardinal Charles of Bourbon
Georges Douking as A Thief
Paul Bonifas as Master Lecornu
Madeleine Barbulée as Madame Outarde
Albert Michel as Night Watchman
Daniel Emilfork as Andry le Rouge
Dell Four Color #854 (July 1957)
The Hunchback of Notre Dame (1956 film) Wikipedia
(Text) CC BY-SA
The Hunchback of Notre Dame (1956 film) IMDb
The Hunchback of Notre Dame (1956 film) Rotten Tomatoes
The Hunchback of Notre Dame (1956 film) themoviedb.org