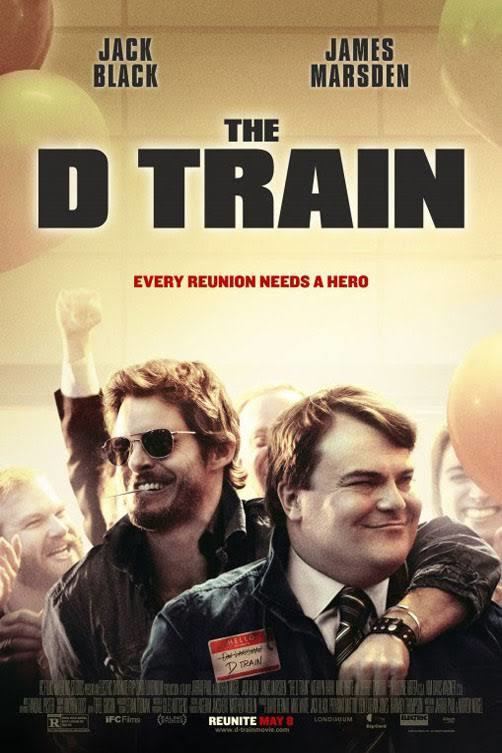 Dan Landsman (Jack Black) is the self-proclaimed chairman of his Pittsburgh high school's alumni committee. While planning the twenty-year reunion he has the idea of convincing Oliver Lawless (James Marsden), the most popular guy in his graduating class (and now a TV-commercial celebrity) to return, thinking that this will make people want to attend.
On February 10, 2014, it was announced that Jack Black and James Marsden would star in a comedy film, directing debut of Jarrad Paul and Andrew Mogel, which Black's Electric Dynamite produced with Mike White's RipCord Productions and Ben Latham-Jones and Barnaby Thompson of Ealing Studios.
According to a casting call, the shooting was set to begin on March 17, 2014, in Metairie, Louisiana. Later on March 19, Black was spotted during the filming of The D Train in New Orleans. Due to Black's schedule, the film was shot in just 21 days.
In October 2014, Andrew Dost was hired to compose the music for the film.
A Pittsburgh sports radio segment playing when Dan arrives at a sports bar includes an audio cameo by John-Paul "JP" Flaim, Eric "EB" Bickel, Johnny "Cakes" Auville and Jason "Lurch" Bishop - the titular hosts of The Sports Junkies in Washington - who portray Pittsburgh sports talk radio hosts. The Junkies also released audio of them reading their lines in studio.
The D Train was released theatrically in the United States on May 8, 2015, by IFC Films.
As of November 10, 2015, the film has grossed $771,317.
In its opening weekend, the film grossed $447,524 from 1,009 theaters ($444 per theater), which is the 15th worst opening for a wide release film of all-time. In its second weekend, the film was pulled from 847 screens, and its weekend-to-weekend gross fell 96.5%, as it only earned $15,714 ($97 per theater).
The film has received mixed reviews from critics. On Rotten Tomatoes the film has a rating of 49%, based on 117 reviews, with an average rating of 5.6/10. The site's consensus reads "The D Train offers Jack Black a too-rare opportunity to showcase his range, but its story and characters are too sloppily conceived to hold together as a film." On Metacritic the film has a score of 55 out of 100, based on 33 critics, indicating "mixed or average reviews".
The New York Post described the film as "cute, breezy fun".