Country

United States




Area

- land22.2 sq mi




Population

138,481 (Apr 1, 2010)







Map of Metairie, Louisiana
Metairie ( ; French: Métairie [metɛʁi]) is a census-designated place (CDP) in Jefferson Parish, Louisiana, United States and is a major part of the New Orleans Metropolitan Area. Metairie is the largest community in Jefferson Parish and the fifth-largest CDP in the United States. It is an unincorporated area that would be Louisiana's fourth-largest city if it were incorporated. The zip codes that serve the community are 70001-70006.
Contents
Métairie is the French term for a small tenant farm which paid the landlord with a share of the produce, also known as sharecropping. In the 1760s, many of the original French farmers were tenants; after the US Civil War, the majority of the community's inhabitants were sharecroppers until urbanization started in the 1910s.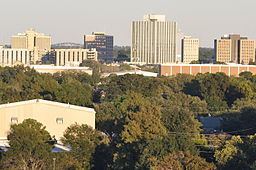 Parrans poboys & restaurant 3939 veterans blvd metairie, la 70002 504 885 3416
The jefferson gun outlet in metairie louisiana new orleans
History
In the 1720s French settlers became the first Europeans to settle Metairie in the area known then as Tchoupitoulas and now as Metairie Ridge, a natural levee formed by an ancient branch of the Mississippi River which flowed through modern-day River Ridge, Metairie, Gentilly, and New Orleans East. It emptied into Mississippi Sound. The Acolapissa Native Americans used this ridge as a road, and it is the oldest road in the New Orleans area. Paved in the 1920s, it is called Metairie Road. An electric streetcar was installed running along Metairie Road in the late 1910s, opening the area to greater development. Upscale housing tracts were constructed off the road in the 1920s; this area is now known as "Old Metairie." It is today the most prestigious area of Metairie. The areas to the north and northwest of Metairie Road were not developed until after World War II. The land between Metairie Ridge and Lake Pontchartrain, which was cypress swamps and marshlands, was drained with the Wood Pump. With development of this new land for residences, Metairie's population grew in the 1940s as a result of cheaper land, lower taxes, and larger lots than in Orleans Parish.
In 1990, Metairie made history when one of its districts elected white supremacist David Duke to the Louisiana state legislature for a single term. In 2005, Hurricane Katrina caused a new migration from Orleans Parish, because housing was needed to replace what had been destroyed in the flooding of the city. It has been a racially neutral migration, with equal numbers of black and white residents moving to Jefferson Parish. The 2010 Census showed that Metairie has increasingly become more diverse.
Veterans Boulevard was laid out alongside a drainage canal, and became a commercial center of the region. The Central Business District of Metairie is located on Causeway Blvd near Lake Pontchartrain. Metairie also has one of the handful of major malls located in the New Orleans metro area. Lakeside Shopping Center is the highest-grossing mall in the New Orleans metropolitan area. In the 1970s and early 1980s, an area of bars and nightclubs opened in a section of Metairie known as "Fat City." Fat City is now the most racially diverse area in the New Orleans Metropolitan Area and is home to a vibrant restaurant scene. Several New Orleans radio and television stations have transmitter facilities in Metairie and Jefferson Parish; two of them, WGNO-TV and WNOL, now have studios and main offices in Metairie. Metairie has a large Mardi Gras season that touts itself as more family-friendly than the New Orleans Mardi Gras.
Fort Lauderdale Hurricane
The 1947 Fort Lauderdale Hurricane with winds of 125 mph (201 km/h) directly hit Metairie. Much of the community was under six feet of water.
Hurricane Betsy
Hurricane Betsy, a category three storm, hit the area in 1965, causing extensive wind damage and moderate flooding.
Flood of 1995
The May 8th 1995 Louisiana Flood, which dumped upwards of twenty inches of rain into Metairie in a twelve-hour period, flooded some parts of the region, especially areas south and west of Metairie, including Kenner, Harahan, and River Ridge.
Hurricane Katrina
On August 29, 2005, Metairie was hit hard by the devastating effects of Hurricane Katrina, including widespread wind damage and flooding. There were 29 reported deaths related to Katrina in Metairie. According to satellite images and flood maps, upwards of 75% of Metairie was flooded. Initial insured damages in Metairie are between 3 and 5 billion US dollars. The death toll and damage were less in Metairie than in bordering Orleans Parish, largely because the Metairie side of the 17th Street Canal did not breach, and most residents had already evacuated.
Residents were given a mandatory evacuation on August 28, 2005, the first time one has ever been ordered. Residents were not allowed to return until September 4. then residents were allowed to the area only to visit their homes or business between 7AM and 6PM. Residents were not allowed to return for longer until September 15, 2005. This period of over two weeks in exile angered many residents, especially those whose homes flooded. As the owners were unable to empty the houses of water, the structures suffered more damage.
Metairie was used as a staging area to evacuate people from New Orleans. The most organized effort took place where Causeway intersects I-10. There evacuees gathered or were brought to wait for buses.
The flooding in Metairie had three causes:
Lake Pontchartrain backflow into canals: Jefferson Parish President Aaron Broussard evacuated all pumping station operators from their posts to Washington Parish (seventy-five miles away) in anticipation of the hurricane. Normally, the machines would be on, not only preventing the Lake from flowing into the drainage canals, but also pumping the rain waters out. Lack of pumping led to severe flooding of Metairie in most areas north of Interstate 10.
Rain waters: Because almost all of Metairie is between two and seven feet below sea level, all rain water was captured in the Metairie "bowl." Unable to return for nearly two days, the pump operators could not turn the pumps on to pump out any of the rain water or backflow.
17th Street Canal breach: There was no breach on the Metairie side of the canal; however, water crept into Metairie through Airline Highway. The narrow high ground of Metairie Road and some elevated railroad tracks partially contained the area of flooding. This water chiefly caused the flooding in the southern part of Old Metairie. There was a breach alongside the Lake Villa canal located in Metairie, where water poured over the top of the levee alongside the pumping station.
Many Metairie residents are joining a class action lawsuit against Aaron Broussard because of his removal of pump operators. Other residents have attempted to recall and remove Broussard as Parish President for what they see as negligence, but they failed to get the support and signatures needed.
Broussard resigned his position on January 8, 2010 in the face of a grand jury investigation of his staff.
Sports and recreation
Metairie is home to the New Orleans Baby Cakes baseball team. The minor league club formerly played its home games at Privateer Park, home to the University of New Orleans' NCAA baseball team, from 1992 through 1996. Since 1997, they have played their games at Shrine on Airline and are a member of Triple-A (baseball)'s Pacific Coast League.
The training facility of National Football League franchise New Orleans Saints is located in Metairie. As such, many players reside in the area.
Jefferson Parish has created many parks in Metairie. Many of these playgrounds have organized sports leagues such as football, baseball, and basketball. Some of them also have other programs, such as low cost piano lessons.
Lafreniere Park
Delta Playground
Pontiff Playground
Mike Miley Playground
Girard Playground
Doe Playground
Johnny Bright Playground
Lakeshore Playground
LaSalle Park
Jim O'Ryan Playground
Cleary Playground
Primary and secondary schools
Metairie's public schools are operated by the Jefferson Parish Public School System. There are two zoned public high schools in Metairie:
East Jefferson High School
Grace King High School
Some residents are zoned to Alfred Bonnabel High School in Kenner, and some are zoned to Riverdale High School in Jefferson.
Magnet schools:
Haynes Academy for Advanced Studies (grades 6-12) [1]
Patrick F. Taylor Science and Technology Academy
Public middle schools include:
John Q. Adams Middle [2]
Bunche Accelerated Academy for High School Preparation [3] (formerly Ralph J. Bunche Middle)
T.H. Harris Middle School, named for the Louisiana state superintendent of education, 1908-1940 [4]
J.D. Meisler Middle [5]
In regards to the advanced studies academies, some students are zoned to Metairie Academy and some are zoned to Airline Park Academy.
One campus of the charter school network International School of Louisiana (ISL) is in the former Ralph J. Bunche Academy.
Catholic, Private, & ISAS Member elementary, middle, and preparatory schools include:
Archbishop Chapelle High School
Archbishop Rummel High School
Atonement Lutheran School [6]
Crescent City Christian School [7]
Ecole Classique [8]
Heritage Academy
Kehoe-France School [9]
Lutheran High School [10]
Memorial Baptist Christian School [11]
Metairie Park Country Day School
New Orleans Jewish Day School [12]
Our Lady of Divine Providence School [13]
Ridgewood Preparatory School
St. Angela Merici School [14]
St. Ann School [15]
St. Benilde School [16]
St. Catherine of Siena School
St. Christopher School [17]
St. Clement of Rome School [18]
St. Edward the Confessor School [19]
St. Francis Xavier School [20]
St. Louis King of France School [21]
St. Martin's Episcopal School
St. Mary Magdalen School [22]
St. Philip Neri School [23]
Torah Academy [24]
Victory Christian Academy [25]
Public libraries
Jefferson Parish Library operates public libraries. The East Bank Regional Library, which houses the library system's headquarters, is in Metairie. Other public libraries in Metairie include the Lakeshore Library, the Old Metairie Library, and the Wagner Library.
Religion
In Metairie, 56.87% of its citizens identify themselves with some religion. There are 41.47% Roman Catholics, 12.77% Protestants, 0.39% Latter Day Saints, 0.97% of another Christian Faith, 0.64% are Muslim, 0.61% are Jewish, 0.02% are of an Eastern faith.
Metairie is home to Congregation Gates of Prayer, a Reform synagogue, and beside it is Congregation Beth Israel, the oldest Orthodox congregation in the New Orleans region. Beth Israel constructed its new building in Metairie in 2012, several years after its building in Lakeview, New Orleans was destroyed by Hurricane Katrina.
Metairie's Catholic churches are part of the Archdiocese of New Orleans. Metairie is home to 13 Catholic parishes and schools.
Geography
Metairie is located in eastern Jefferson Parish and its boundaries include New Orleans to the east, Kenner to the west, Lake Pontchartrain to the north, and Airline Highway to the south. South of Airline Highway from Metairie are River Ridge, Harahan, Elmwood, and Jefferson.
The 17th Street Canal forms the border between Metairie and New Orleans to the east.
Metairie is located at 29°59′52″N 90°10′39″W (29.997797, −90.177473) and has an elevation of 3 feet (0.9 m). According to the United States Census Bureau, the CDP has a total area of 23.2 sq mi (60.2 km2), all but 0.039 sq mi (0.1 km2) (0.22%) of which is land.
Transportation
The most common method of transportation within Metairie is the automobile. Mass transit is provided by "JeT" (Jefferson Transit), but it does not run on Sundays, holidays, or late at night, unlike many lines of New Orleans' RTA. JeT's coverage is also very limited in terms of usability.
Interstate 10 runs east–west through Metairie.
Major east–west roads (starting from north to south) include West Esplanade Avenue, Veterans Memorial Boulevard, West Napoleon Avenue, West Metairie Avenue, Metairie Road, Airline Drive (which is part of U.S. Route 61) and Jefferson Highway (which is part of U.S. Route 90). The Earhart Expressway, running east–west immediately south of Airline Drive, is the only other freeway entering New Orleans from the west, but it ends as an expressway soon after crossing into Orleans Parish and well before the New Orleans CBD (in Central City.)
For many of the major east–west roadways, the eastbound and westbound lanes are separated by large, open-topped drainage canals. These canals are one of the most distinct characteristics of the Metairie landscape. Similar canals once bisected many streets in neighboring New Orleans, but most were covered over in the mid 20th century.
Multi-line, continuous north–south roads (starting from west to east) include Power Boulevard/David Drive/Hickory Avenue, Transcontinental Drive, Clearview Parkway, Causeway Boulevard, and Bonnabel Boulevard.
The Lake Pontchartrain Causeway's southern end lies in Metairie.
Demographics
As of the 2010 census, there were 138,481 people living in Metairie.
The racial makeup of Metairie is:
75.10% White 12.59% Hispanic or Latino of any race 10.37% African American 3.25% Asian 3.97% from other races 2.01% from two or more races. 0.3% Native American 0.04% Pacific Islander
Other statistics
As of the 2000 Census, there were 39,073 families residing in Metairie. The population density was 6,296.7 people per square mile (2,431.0/km²). There were 67,225 housing units, at an average density of 2,896.6 per square mile (1,118.3/km²). There were 63,741 households out of which 25.3% had children under the age of 18 living with them, 46.1% were married couples living together, 11.4% had a female householder with no husband present, and 38.7% were non-families. 32.9% of all households were made up of individuals and 11.3% had someone living alone who was 65 years of age or older. The average household size was 2.28 and the average family size was 2.93. In Metairie the population is spread out with 20.6% under the age of 18, 8.4% from 18 to 24, 29.6% from 25 to 44, 24.9% from 45 to 64, and 16.4% who were 65 years of age or older. The median age was 40 years. For every 100 females there were 91.4 males. For every 100 females age 18 and over, there were 88.1 males. The median income for a household in Metairie is $41,265, and the median income for a family was $52,555. Males had a median income of $37,371 versus $27,057 for females. The per capita income for Metairie is $24,771. About 6.2% of families and 8.9% of the population were below the poverty line, including 11.2% of those under age 18 and 7.2% of those age 65 or over.
Notable people
Phil Anselmo — former Pantera vocalist
Raymond Arroyo — news director for EWTN; lived in Metairie before Hurricane Katrina hit in 2005
Bryan B. Battaglia — Sergeant Major, U.S. Marine Corps; senior Noncommissioned Officer of the U.S. Armed Forces
Brendan Benson — The Raconteurs guitarist
Jeremy Bleich — professional baseball pitcher
Tom Capella — Jefferson Parish Assessor since 2011; former state representative and Jefferson Parish Council member
Al Copeland — founder of Popeye's Chicken franchises and Copeland's
Roger Dawson — jazz musician, composer, radio personality
Ellen DeGeneres — comedian, talk show host
Eddie Doucet — businessman and state representative for Jefferson Parish, 1972 to 1988
David Duke — politician, Grand Wizard of the Knights of the Ku Klux Klan
James Garvey, Jr. — member of the Louisiana Board of Elementary and Secondary Education since 2012
Johnny Giavotella — professional baseball player, second baseman, Los Angeles Angels
Danny Granger — professional basketball player, forward for the Indiana Pacers
Shelley Hennig — actress and Miss Teen USA 2004
Salman Khan — founder of educational website Khan Academy
Troy Kropog — football player
Charles D. Lancaster, Jr. — attorney and former state representative
Tony Ligi — state representative
Blanche Long — First Lady of Louisiana
Joseph Lopinto — state representative
Carlos Marcello — New Orleans crime boss
Paul Mares — jazz musician
Stanton Moore — jazz musician
Wardell Quezergue — R&B producer, arranger and band leader
Gram Parsons — rock, country rock and alt-country musician, songwriter and producer
Joe Pasternack, head basketball coach at UC Santa Barbara
Louis J. Roussel, Jr. — businessman and political donor
John G. Schwegmann — supermarket pioneer and member of both houses of the Louisiana State Legislature from Jefferson Parish from 1960 to 1972; former member of the Louisiana Public Service Commission
Ashley Scott — actress
Eric F. Skrmetta — Member of the Louisiana Public Service Commission
Candice Stewart — first African-American woman to represent Louisiana in the Miss USA pageant
James St. Raymond — businessman and former state representative in Orleans Parish; former resident of Metairie
Grizzly Smith — professional wrestler, father of WWE Hall of Famer Jake Roberts.
Michael Stutes — relief pitcher for the Philadelphia Phillies
John S. Treen — retired homebuilder and politician
David Vitter — former United States Senator from Louisiana
Lloyd F. Wheat — member of the Louisiana State Senate from Red River and Natchitoches parishes (1948-52)
Tom Willmott — member of the Louisiana House of Representatives
Reese Witherspoon — actress
Madison Wolfe — actress
References
Metairie, Louisiana Wikipedia
(Text) CC BY-SA