Director Frawley won the audience award at the 1977 Avoriaz Fantastic Film Festival.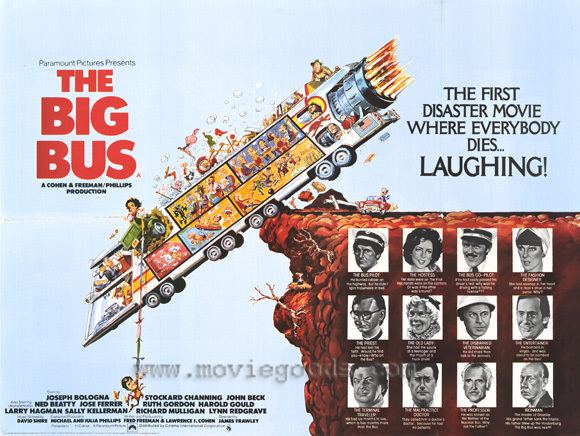 Coyote Bus Lines' scientists and designers work feverishly to complete Cyclops, a state-of-the-art articulated jumbo bus, enabling man to achieve a new milestone in busing: non-stop service between New York City and Denver. Almost immediately after the bus's engine is equipped with nuclear fuel, a bomb goes off, critically injuring Professor Baxter, the scientist in charge of the project. Cyclops itself is undamaged, but Coyote Lines has lost both its driver and co-driver.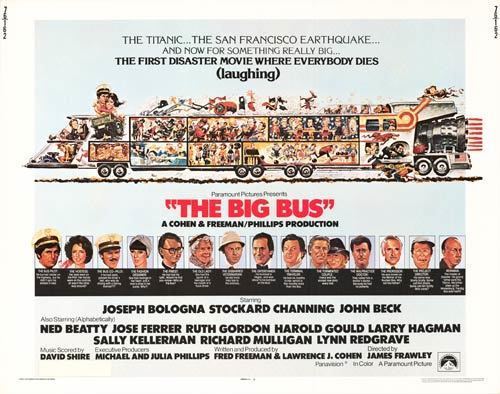 Kitty Baxter, the professor's daughter and the Cyclops designer, is forced to turn to Dan Torrance, an old flame. Once a promising driver, Torrance was disgraced after he crashed his bus atop Mount Diablo, and was accused of saving his own life by eating all of his passengers. (Torrance blamed his co-driver for cannibalism, insisting that he himself survived by eating the seats and the luggage, and only ate part of a passenger's foot by accident.) Narrowly surviving an assault by vindictive fellow drivers with the help of "Shoulders" O'Brien, Torrance is recruited to drive Cyclops.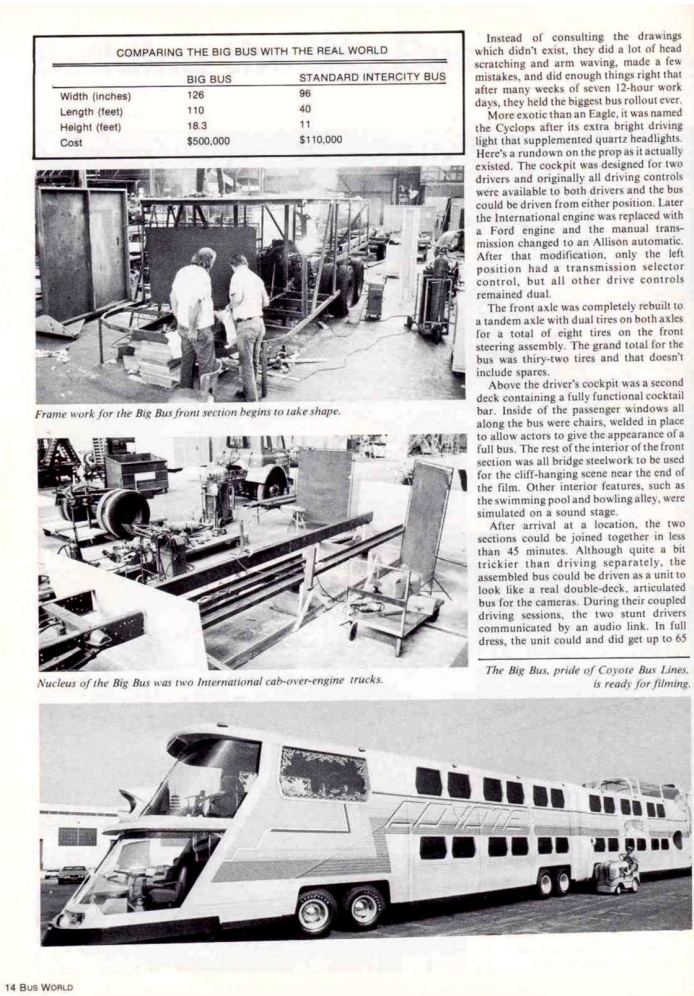 Meanwhile, a sinister tycoon plots with oil sheikhs to destroy the bus. Known as "Iron Man," he is encased in a huge iron lung while directing his brother Alex to sabotage Cyclops using timebombs. Alex would prefer to use a manmade earthquake, but Iron Man insists that the bus be destroyed and discredited. Before its maiden voyage, Alex sneaks aboard and hides a bomb within the bus.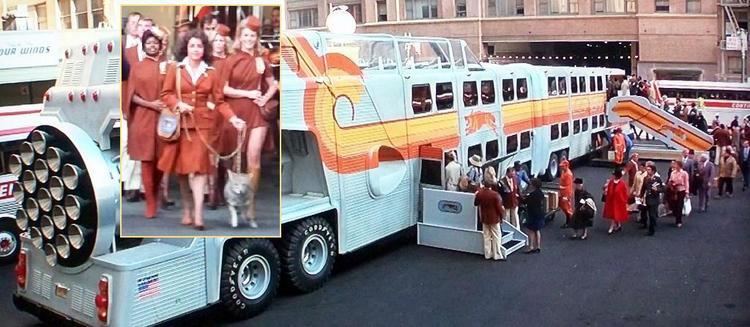 Amid public fanfare, the bus finally leaves New York bound for Denver. Among the passengers are the Cranes, a neurotic married couple waiting for their divorce to finalize; Father Kudos, a priest who has lost his way; Dr. Kurtz, a disgraced veterinarian; Emery Bush, a man with only a few months to live; and Camille Levy, whose father died in the aforementioned Mount Diablo bus crash.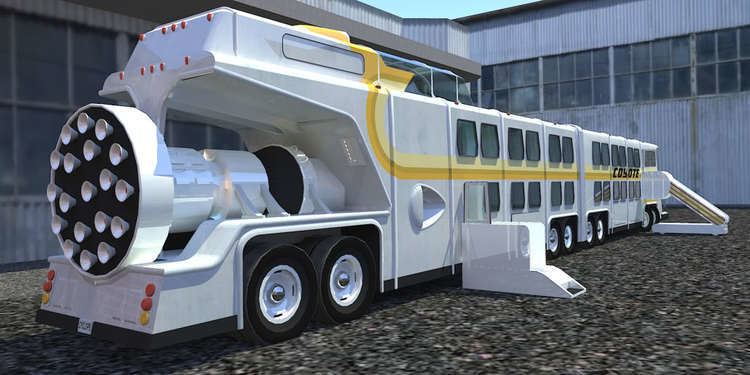 At first, Cyclops' journey is a success, and Torrance triumphantly breaks the 90 mph "wind barrier" (referenced as "breaking wind"). Soon, however, disaster strikes. Investigating a mechanical problem, Dan finds Alex's bomb. He disarms it only before an explosion rips through another part of the bus. Now unable to stop, Cyclops speeds across America. Dan is determined to achieve Cyclops' historic goal of non-stop service to Denver, but he also needs to surpass a treacherously curvy road where his father died. Dan almost succeeds, but not before a truck collides into the upper deck windshield, and the bus runs partially off the road, finding itself teetering over a cliff. To save the bus, Dan and Shoulders shift all weight to the back of the bus by pumping all of the vehicle's storage of carbonated beverages into the opposite end of the bus into the galley, as well as jettisoning all of the passenger luggage.
Knowing he has only one more chance to destroy Cyclops, Iron Man is finally persuaded by Alex to use the earthquake. Unfortunately for Iron Man, Alex has somehow set the coordinates for Iron Man's house instead.
Back on the road, Cyclops is once again headed to its destination, when, only 25 miles outside of Denver, the front and rear halves of the bus split from each other.
Joseph Bologna as Capt. Dan Torrance
Stockard Channing as Kitty Baxter
René Auberjonois as Father Kudos
John Beck as "Shoulders" O'Brien
Ned Beatty as Shorty Scotty
Bob Dishy as Dr. Kurtz
Murphy Dunne as Tommy Joyce
José Ferrer as Ironman
Ruth Gordon as the Old Lady
Harold Gould as Professor Baxter
Larry Hagman as Parking Lot Doctor
Howard Hesseman as Jack
Sally Kellerman as Sybil Crane
Stuart Margolin as Alex
Richard Mulligan as Claude Crane
Lynn Redgrave as Camille Levy
Richard B. Shull as Emery Bush
Vic Tayback as Goldie
Mary Charlotte Wilcox as Mary Jane Beth Sue
Vito Scotti as Barber
The score to the film was created by veteran film composer David Shire. Shire is also credited with composing scores for such films as The Hindenburg, The Conversation, and Short Circuit. Shire's score for The Big Bus was in line with the disaster parody theme of the film that also incorporated elements of disco. In the '90s, Film Score Monthly magazine ran a poll asking which film score its readers would most like to see released. The Big Bus was among the top 20 scores. In 2000, a bootleg CD of the film's soundtrack surfaced as a prized collectable.
In January 2011, a limited edition official release of the score was produced by Film Score Monthly (Catalog No. FSM1401). The compact disc was limited to 2000 copies and contained the film's complete score, including alternate takes and excerpts of classical pieces used in various scenes. The CD also contained comedy music and vocals bits by Murphy Dunne, who portrayed Tommy Joyce, the piano player in the bus' Oriental Lounge. The soundtrack release was sourced from the master tapes. As a result, sound quality was excellent and in stereo.
The film was released to VHS and Betamax in the early 1980s. Copies for those formats are extremely hard to find.
In 2002, Paramount Home Video released the film on DVD in a dual-format edition containing the film in the full-screen or theatrical 2.35:1 aspect ratios, (though there is some slight windowboxing with the widescreen version selected); Dolby 5.1 English Surround Sound stereo/mono mix, or Dolby 2.0 mono in English, French, and Spanish. No other extras are included.
As of September, 2013, the film is available on DVD in the United States from Warner Archive.
Region 4 full-screen DVD releases are somewhat common though.
There have been rumors that Paramount Home Entertainment is planning Blu-ray/DVD combo release containing a new remastered transfer, though no official confirmation has been made.
The film made a television premiere on CBS in May 1980, albeit with edits in some adult content and language to meet broadcast content standards. It has been broadcast only a few times over the past 30 years on various channels, though it had been aired uncut as recently as early 2009 on Turner Classic Movies (TCM) and Showtime.
As of 2009, Warner Bros. Television holds the USA TV broadcast rights while Paramount Pictures retains all other rights, which explains why only the current Warner Bros. logo appears on Showtime's airings (though the original Paramount logo is preserved on TCM's print and the DVD).