The film is based upon the 1954 play of the same name by Maxwell Anderson, which in turn is based upon William March's 1954 novel The Bad Seed. The play was adapted by John Lee Mahin for the screenplay of the film.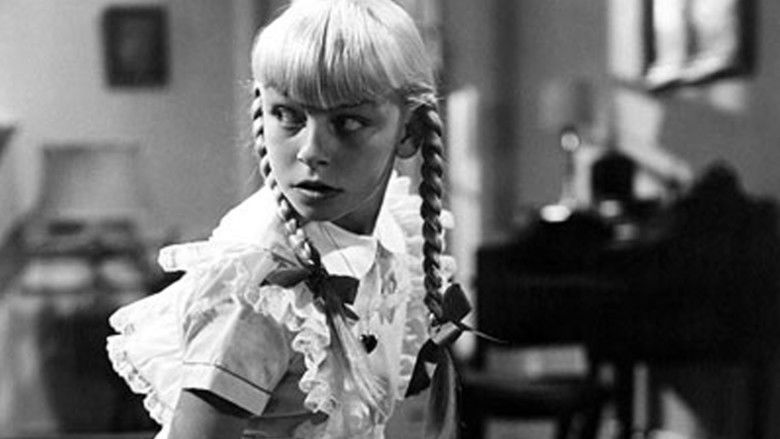 Kenneth and Christine Penmark (William Hopper and Nancy Kelly) dote on their eight-year-old daughter Rhoda (Patty McCormack). They say their farewells before he goes away on military duty. Their neighbor and landlord, Monica Breedlove (Evelyn Varden), comes in with presents for Rhoda – a pair of sunglasses and a locket. Rhoda, pristine and proper in her pinafore dress and long, blonde pigtails, thanks Monica for the gifts. She dances in tap shoes and tells Monica about a penmanship competition that Rhoda lost to her schoolmate, Claude Daigle; Monica speaks of it as a childish disappointment, but Rhoda's face darkens with fury. Christine and Rhoda leave for the school picnic at a nearby lake.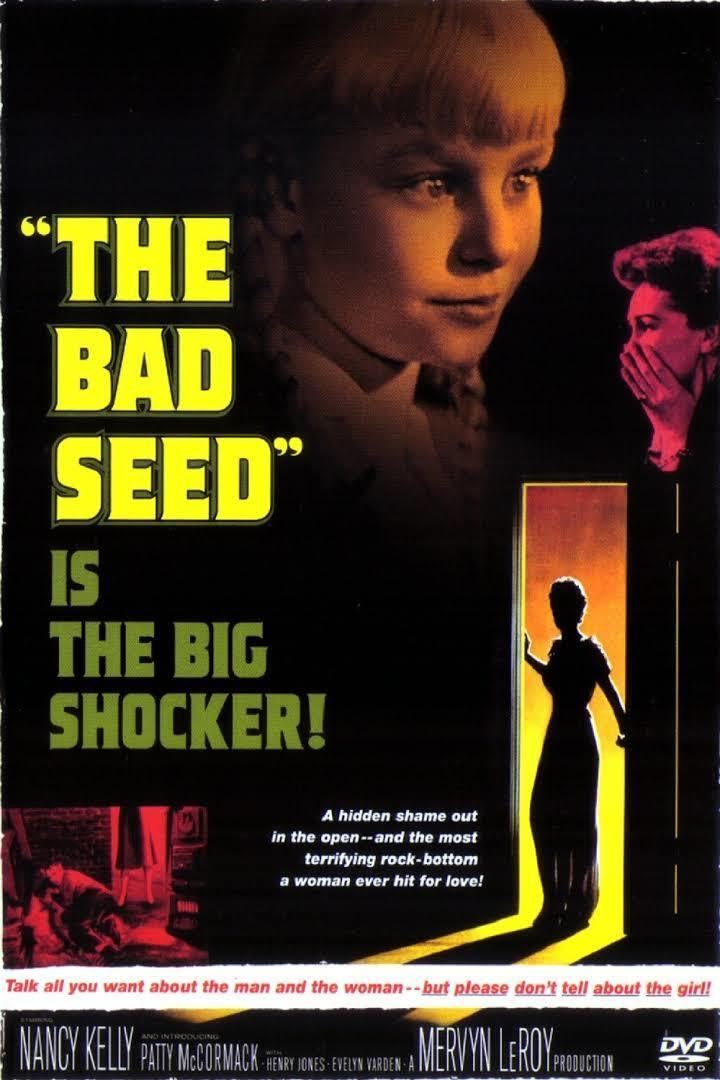 Later, Christine is having lunch with Monica and friends when they learn on the radio that a child has drowned in the lake where Rhoda's school was having their picnic. Christine worries that the drowned child could be her daughter, but a follow-up report indicates that it was Rhoda's schoolmate, Claude, the winner of the penmanship medal. Relieved that Rhoda is alive, Christine worries that her daughter might be traumatized by seeing the boy's corpse. When Rhoda returns, however, she is unfazed by the incident and goes about her daily activities.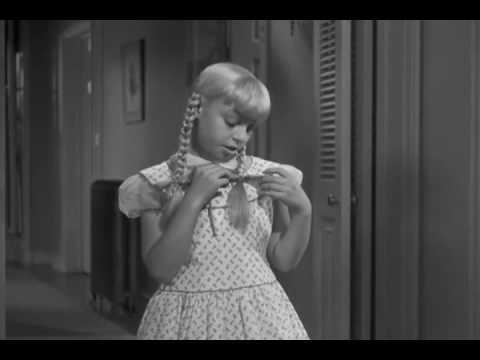 Rhoda's teacher, Mrs. Fern (Joan Croydon), visits Christine, revealing that Rhoda was apparently the last person to see Claude alive and that she was seen grabbing at Claude's medal. Mrs. Fern implies Rhoda might have had some connection to the boy's death and says that Rhoda would not be welcome at the school the following year. As the two women talk, Claude's father and mother, Mr. and Mrs. Daigle (Frank Cady and Eileen Heckart), barge in. Claude's mother is both distraught and drunk. She accuses Rhoda's teacher of knowing something that she is not telling.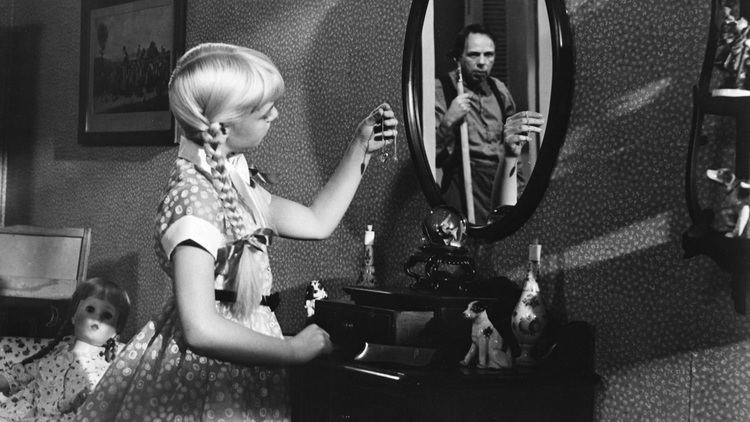 When Christine finds the penmanship medal in Rhoda's room, she demands an explanation. Rhoda lies that Claude let her have the medal after she won a bet. Later, Christine's intuition about having been adopted is confirmed: she is the biological daughter of a notorious serial killer, Bessie Denker, and was adopted at two years of age by her foster father, Richard Bravo (Paul Fix), and his late wife. Christine now worries that Bessie (and therefore Christine herself) is the cause of Rhoda's sociopathy and that her behavior is genetic, not subject to influence or reversal by good parenting or a wholesome environment.
Christine catches Rhoda trying to dispose of her tap shoes in the incinerator and realizes that Rhoda must have hit Claude with the shoes, which explains the shape of the bruises on his forehead and hands. A tearful Rhoda admits that she killed the boy to get the medal and also confirms Christine's suspicion that she murdered a neighbor lady when they lived in Wichita to obtain a trifle the elderly woman had promised Rhoda upon her death. Christine orders Rhoda to burn the shoes in the incinerator.
The next day, as Rhoda is playing in the garden, the caretaker, LeRoy (Henry Jones), tells her that he believes she killed Claude by striking him with her shoes and that he would tell the police, sending her to the electric chair. After Rhoda angrily tells him she burned her shoes, LeRoy opens the incinerator and finds what remains of the shoes. A drunk Mrs. Daigle returns to see Christine and asks to speak with Rhoda, but Monica takes the girl away before she can answer any questions. Mrs. Daigle tells Christine that she believes Rhoda knows what happened to her son.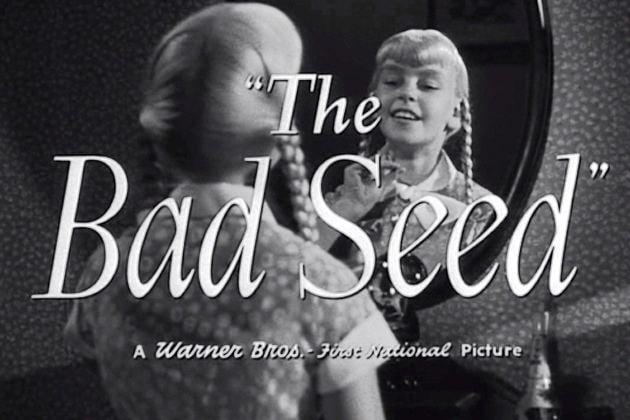 Monica gives Christine vitamins and sleeping pills to help her feel better. Meanwhile, Rhoda sets LeRoy's bedding ablaze in the basement and traps him there; he burns to death. From the apartment window, Christine and Monica watch him die, which makes Christine hysterical. That night, a strangely calm Christine tells Rhoda that she dropped the medal into the lake, and then gives her daughter a lethal dose of sleeping pills, telling her they are new vitamins. She attempts to kill herself with a gunshot to the head. However, the gunshot alerts the neighbors. Rhoda and Christine are found and taken to a hospital. They both survive, though Christine is in a coma.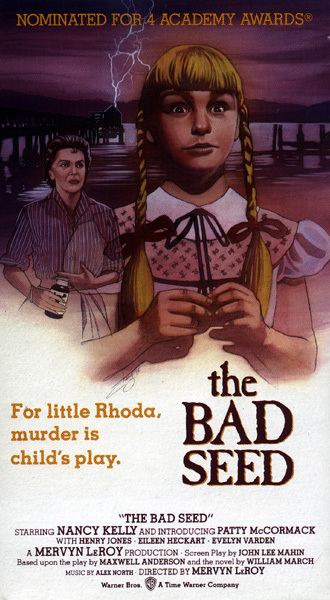 Rhoda's father takes her home from the hospital and puts her to bed, but during a rainstorm in the middle of the night, Rhoda sneaks out of the apartment. Her father is awakened by a call from the hospital, where Christine has regained consciousness. She begs her husband for forgiveness and tells him she loves him. Rhoda arrives at the lake and goes out on the pier in an attempt to retrieve the penmanship medal. A bolt of lightning strikes Rhoda, killing her instantly and putting an end to her evil.
At the end of the film, the cast is introduced in a theatrical-style curtain call. After her credit is read, Nancy Kelly puts Patty McCormack over her knee and gives her a spanking. Both are visibly laughing, perhaps to remind an unnerved audience that the story they have seen is fictional. The spanking continues as the film fades out; a screen card then requests that the audience not divulge the climax.
Although the novel and play had the mother dying and the evil child surviving, the Motion Picture Production Code did not allow for "crime to pay." The ending of the film thus has it the other way around, with Christine's life being saved and Rhoda being struck down by lightning. In another move to appease the censors, Warner Bros. added an "adults only" tag to the film's advertising.
This film was one of Warner Bros' biggest hits of the year, earning $4.1 million in theatrical rentals domestically against a $1 million budget and was also one of the year's top 20 at the box office. Also, The Bad Seed was one of the ten most popular movies at the British box office in 1956. The film received favorable reviews from critics and film review aggregator Rotten Tomatoes reported an approval rating of 68%, based on 25 reviews, with a rating average of 7.3/10.
Nominations
Best Actress: Nancy Kelly
Best Actress in a Supporting Role: Eileen Heckart
Best Actress in a Supporting Role: Patty McCormack
Best Cinematography (Black-and-White): Hal Rosson
The film is recognized by American Film Institute in these lists:
2001: AFI's 100 Years...100 Thrills – Nominated
The Bad Seed was remade for television in 1985, adapted by George Eckstein and directed by Paul Wendkos. It starred Blair Brown, Lynn Redgrave, David Carradine, Carrie Welles, Richard Kiley, Chad Allen, and Christa Denton. This version uses the original ending of the March novel and its subsequent stage production. This remake was panned by critics and poorly received by its television audience. In June 2015 it was announced that Lifetime would be making a remake of The Bad Seed.
The band Nick Cave and the Bad Seeds is named after the novel, play, and film.