Years active

1971-present







Full Name

Bonnie Blair Brown

Born

April 23, 1946 (age 77) (

1946-04-23

)

Washington, D.C., U.S.

Children

Robert Christopher Hand Jordan

Parents

Elizabeth Ann Blair, Milton Henry Brown

Movies and TV shows




Similar People

Jasika Nicole, Lance Reddick, John Noble, Anna Torv, Kirk Acevedo
Blair brown an american theater film and television actress
Bonnie Blair Brown (born April 23, 1946) is an American theater, film and television actress. She has had a number of high-profile roles, including in the play Copenhagen on Broadway, as well as a run as the title character in the television comedy-drama The Days and Nights of Molly Dodd, which ran from 1987 to 1991. Her later roles include Nina Sharp on the Fox television series Fringe and Judy King on the Netflix series Orange Is the New Black.
Contents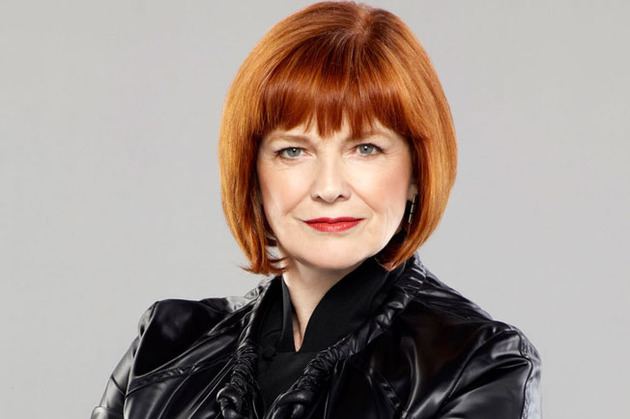 Blair brown wins 2000 tony award for best featured actress in a play
Early life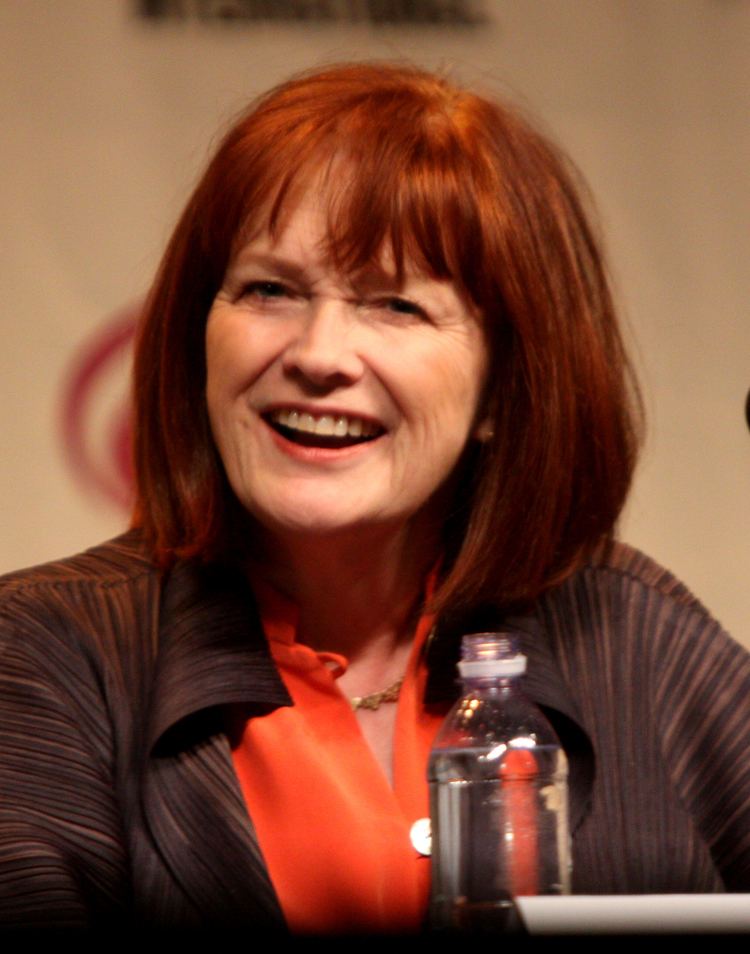 Brown was born in Washington, D.C., the daughter of Elizabeth Ann (née Blair), a teacher, and Milton Henry Brown, a U.S. intelligence agent. She graduated from The Madeira School in McLean, Virginia, before going on to pursue acting at the National Theatre School of Canada, graduating in 1969. She gained notice as a participating actor at the Stratford Shakespeare Festival and spent several years honing her work on the stage.
Film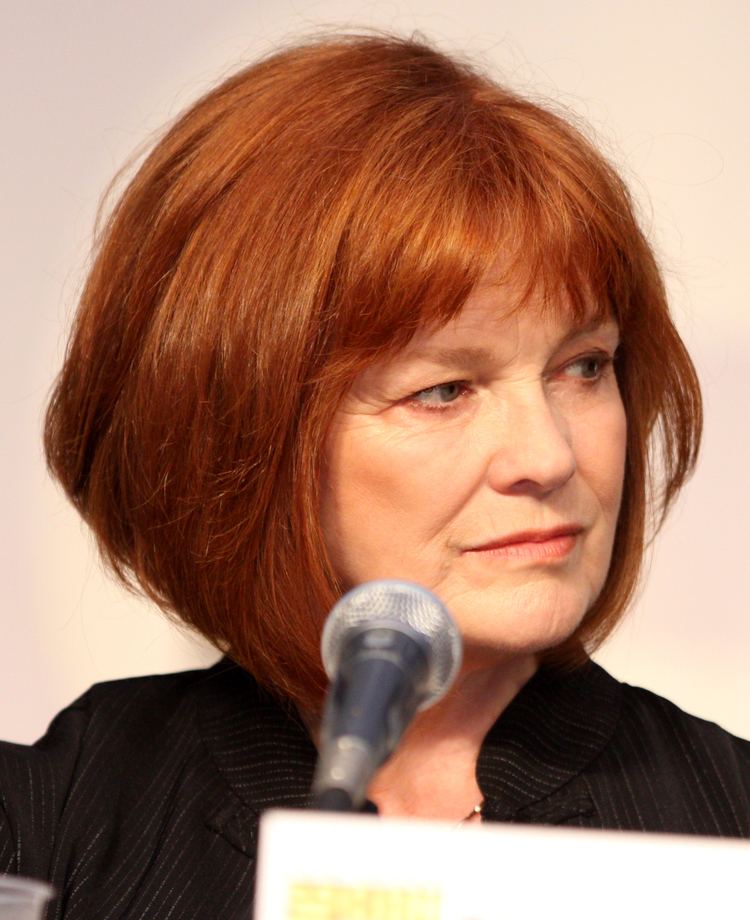 Brown's first feature film role was in the Oscar-winning 1973 film The Paper Chase; her first major starring role was in The Choirboys in 1977. Among her other film credits were Altered States (opposite William Hurt), One Trick Pony (with Paul Simon), the film Stealing Home (opposite Mark Harmon) and A Flash of Green (1984). Her arguably highest profile film role to date was the romantic lead opposite John Belushi in Continental Divide (1981) for which she received her first Golden Globe Award nomination, in the category of Best Motion Picture Actress in a Comedy/Musical.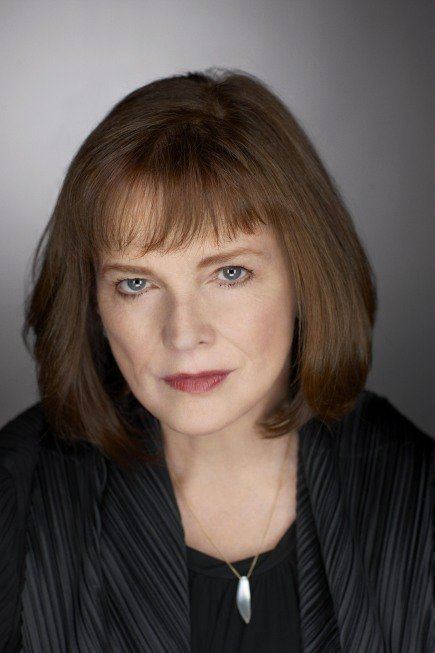 Other film roles include: And I Alone Survived (1978), Strapless (1989), The Astronaut's Wife (1999), Clint Eastwood's Space Cowboys (2000), Lars von Trier's Dogville, the Kevin Bacon-directed Loverboy (2005) and The Sentinel (2006).
Television
Brown appeared in several television movies and miniseries, primarily during the 1980s. A high-profile role as Jacqueline Kennedy in the 1983 TV miniseries Kennedy earned her a second Golden Globe nomination, for Best Actress in a Mini-Series or Motion Picture Made for Television, as well as a BAFTA nomination. She also appeared in several other programs about the Kennedys, including the 1996 miniseries A Season in Purgatory, which was a thinly veiled portrait of the family, as well as an appearance as Anna Roosevelt in a telefilm about Franklin Delano Roosevelt and Eleanor Roosevelt.
Brown is perhaps best known for her five-year run (1987–1991) on the comedy-drama series The Days and Nights of Molly Dodd. Brown played the title role, and she, and the show, earned a small but dedicated following. Brown received five consecutive Emmy Award nominations for each season, in the category of Outstanding Lead Actress in a Comedy Series, but never won. The show spent two years on NBC, then moved to the Lifetime cable channel for the remainder of its run.
Brown also appeared in other prime-time series including The Rockford Files, Kojak, Frasier, Smallville, Touched by an Angel, ER, and Ed. Beginning in 2008, Brown starred as Nina Sharp in the Fox television series Fringe. Since 2015, Brown appears on the Netflix comedy-drama series Orange is the New Black as fictional television personality Judy King, an inmate loosely based on Martha Stewart.
Stage
Brown has been involved with theater since the beginning of her career. She appeared in the 1975 New York Shakespeare Festival production of The Comedy of Errors. Among her earlier roles was a run as Lucy Brown in the 1976 production of The Threepenny Opera, produced by Joe Papp and directed by Richard Foreman. She left the production for film work, but after being away from the production for eight months, Ellen Greene, who was playing the part of Jenny, fell ill. Brown astounded the stage manager of the production by coming in and, with one hour of rehearsal, put on a "brilliant" performance as Jenny. Her first major appearance on Broadway came in 1989, in the play Secret Rapture, written by David Hare.
Once "Molly Dodd" concluded, Brown became a prolific Broadway actress, appearing in, among other productions, Tom Stoppard's 1995 Lincoln Center Theater production of Arcadia and two separate runs as Frau Schneider in the revival of Cabaret (1998 and 2003). She played Margrethe, the wife of physicist Niels Bohr, in the play Copenhagen, a role for which she won a 2000 Tony Award in the category of Best Featured Actress in a Play. Brown played the lead role in Sarah Ruhl's 2006 play The Clean House at Lincoln Center.
Voice
In the 1990s, Brown expanded her career into voiceover work, narrating both audiobooks and films and documentaries. Her audiobooks projects include John Grisham's The Client, Lois Lowry's Number the Stars, Stephen King's Rose Madder, Kevin Henkes' Olive's Ocean, Sue Miller's 2005 novel Lost in the Forest, and Isabel Allende's Inés of My Soul.
Her voiceovers are heard on a number of documentaries, including PBS's American Experience series and the 2007 PBS series The Mysterious Human Heart. Other documentary narrations include the scientific series The Secret Life of the Brain, a documentary on Aimee Semple McPherson, which aired in April 2007, and a 2006 PBS documentary about Marie Antoinette. In April, 2010, she co-narrated the PBS special The Buddha with Richard Gere.
Personal life
Brown was in a relationship with now deceased actor Richard Jordan, whom she met while filming the miniseries Captains and the Kings in 1976. The couple lived together from 1976 to 1985; their son Robert Anson Jordan III was born in 1983.
Filmography
Actress
2019
Wolverine (Podcast Series)
as
Bonnie Roach
- Deal with the Devil (2019) - Bonnie Roach
- Greenhaven is Everywhere (2019) - Bonnie Roach
- The Proposition (2019) - Bonnie Roach
- Welcome to Greenhaven (2019) - Bonnie Roach
- Blood on the Bayou (2019) - Bonnie Roach
- Riverboat Revival (2019) - Bonnie Roach
- Into the Swamp (2019) - Bonnie Roach
- The Cold Blooded (2019) - Bonnie Roach
- The Forgotten (2019) - Bonnie Roach
- Among the Missing (2019) - Bonnie Roach
2015
Orange Is the New Black (TV Series)
as
Judy King
- Here's Where We Get Off (2019) - Judy King
- Tied to the Tracks (2017) - Judy King
- F*ck, Marry, Frieda (2017) - Judy King
- Sing It, White Effie (2017) - Judy King
- Pissters! (2017) - Judy King
- Litchfield's Got Talent (2017) - Judy King
- Riot FOMO (2017) - Judy King
- Bunny, Skull, Bunny, Skull (2016) - Judy King
- Friends in Low Places (2016) - Judy King
- Turn Table Turn (2016) - Judy King
- Toast Can't Never Be Bread Again (2016) - Judy King
- The Animals (2016) - Judy King
- People Persons (2016) - Judy King
- It Sounded Nicer in My Head (2016) - Judy King
- Piece of Sh*t (2016) - Judy King
- Doctor Psycho (2016) - Judy King
- (Don't) Say Anything (2016) - Judy King
- Power Suit (2016) - Judy King
- Work That Body for Me (2016) - Judy King
- A Tittin' and a Hairin' (2015) - Judy King
- Trust No Bitch (2015) - Judy King
- Ching Chong Chang (2015) - Judy King
- Where My Dreidel At (2015) - Judy King
- Finger in the Dyke (2015) - Judy King
2018
Jack Ryan (TV Series)
as
Director Sue Joyce
- The Boy (2018) - Director Sue Joyce
- French Connection (2018) - Director Sue Joyce
2017
Elementary (TV Series)
as
Kate Durning
- Fidelity (2017) - Kate Durning
- Wrong Side of the Road (2017) - Kate Durning
2015
Limitless (TV Series)
as
Marie Finch
- Bezgranichnyy (2016) - Marie Finch
- Close Encounters (2016) - Marie Finch
- Fundamentals of Naked Portraiture (2016) - Marie Finch (uncredited)
- The Assassination of Eddie Morra (2016) - Marie Finch
- Headquarters! (2015) - Marie Finch
- The Legend of Marcos Ramos (2015) - Marie Finch (uncredited)
- Badge! Gun! (2015) - Marie Finch
- Pilot (2015) - Marie Finch
2015
Person of Interest (TV Series)
as
Emma Blake
- Guilty (2015) - Emma Blake
2014
The Affair (TV Series)
as
Dr. Gunderson
- Episode #1.8 (2014) - Dr. Gunderson
2014
Forever (TV Series)
as
Fawn Mahoney Ames
- The Man in the Killer Suit (2014) - Fawn Mahoney Ames
2008
Fringe (TV Series)
as
Nina Sharp / Alternate Nina Sharp
- Anomaly XB-6783746 (2012) - Nina Sharp
- Black Blotter (2012) - Nina Sharp
- Five-Twenty-Ten (2012) - Nina Sharp
- Brave New World: Part 2 (2012) - Nina Sharp
- Brave New World: Part 1 (2012) - Nina Sharp
- Worlds Apart (2012) - Nina Sharp (credit only)
- Letters of Transit (2012) - Nina Sharp
- The Consultant (2012) - Alternate Nina Sharp
- Everything in Its Right Place (2012) - Alternate Nina Sharp
- Nothing As It Seems (2012) - Nina Sharp
- A Short Story About Love (2012) - Nina Sharp
- The End of All Things (2012) - Nina Sharp / Alternate Nina Sharp
- A Better Human Being (2012) - Nina Sharp / Alternate Nina Sharp
- Welcome to Westfield (2012) - Nina Sharp (credit only)
- Making Angels (2012) - Nina Sharp (credit only)
- Forced Perspective (2012) - Nina Sharp
- Enemy of My Enemy (2012) - Alternate Nina Sharp
- Back to Where You've Never Been (2012) - Nina Sharp (credit only)
- Wallflower (2011) - Nina Sharp / Alternate Nina Sharp
- And Those We've Left Behind (2011) - Nina Sharp (credit only)
- Novation (2011) - Nina Sharp
- Subject 9 (2011) - Nina Sharp
- Alone in the World (2011) - Nina Sharp (credit only)
- One Night in October (2011) - Nina Sharp (credit only)
- Neither Here Nor There (2011) - Nina Sharp (credit only)
- The Day We Died (2011) - Nina Sharp
- The Last Sam Weiss (2011) - Nina Sharp (credit only)
- 6:02 AM EST (2011) - Nina Sharp
- Lysergic Acid Diethylamide (2011) - Nina Sharp
- Bloodline (2011) - Nina Sharp (credit only)
- Stowaway (2011) - Nina Sharp (credit only)
- Os (2011) - Nina Sharp
- Subject 13 (2011) - Nina Sharp (credit only)
- 6B (2011) - Nina Sharp
- Immortality (2011) - Nina Sharp (credit only)
- Concentrate and Ask Again (2011) - Nina Sharp
- Reciprocity (2011) - Nina Sharp
- The Firefly (2011) - Nina Sharp (credit only)
- Marionette (2010) - Nina Sharp (credit only)
- Entrada (2010) - Nina Sharp (credit only)
- The Abducted (2010) - Nina Sharp (credit only)
- 6955 kHz (2010) - Nina Sharp
- Amber 31422 (2010) - Nina Sharp (credit only)
- Do Shapeshifters Dream of Electric Sheep? (2010) - Nina Sharp
- The Plateau (2010) - Nina Sharp (credit only)
- The Box (2010) - Nina Sharp
- Olivia (2010) - Nina Sharp (credit only)
- Over There: Part 2 (2010) - Nina Sharp (credit only)
- Over There: Part 1 (2010) - Nina Sharp
- Northwest Passage (2010) - Nina Sharp (credit only)
- Brown Betty (2010) - Nina Sharp
- The Man from the Other Side (2010) - Nina Sharp (credit only)
- White Tulip (2010) - Nina Sharp (credit only)
- Olivia. In the Lab. With the Revolver (2010) - Nina Sharp
- Peter (2010) - Nina Sharp
- Jacksonville (2010) - Nina Sharp
- The Bishop Revival (2010) - Nina Sharp (credit only)
- What Lies Below (2010) - Nina Sharp (credit only)
- Johari Window (2010) - Nina Sharp (credit only)
- Unearthed (2010) - Nina Sharp (credit only)
- Grey Matters (2009) - Nina Sharp (credit only)
- Snakehead (2009) - Nina Sharp (credit only)
- August (2009) - Nina Sharp (credit only)
- Of Human Action (2009) - Nina Sharp
- Earthling (2009) - Nina Sharp (credit only)
- Dream Logic (2009) - Nina Sharp
- Momentum Deferred (2009) - Nina Sharp
- Fracture (2009) - Nina Sharp (credit only)
- Night of Desirable Objects (2009) - Nina Sharp
- A New Day in the Old Town (2009) - Nina Sharp
- There's More Than One of Everything (2009) - Nina Sharp
- The Road Not Taken (2009) - Nina Sharp
- Midnight (2009) - Nina Sharp (credit only)
- Bad Dreams (2009) - Nina Sharp (credit only)
- Unleashed (2009) - Nina Sharp (credit only)
- Inner Child (2009) - Nina Sharp (credit only)
- Ability (2009) - Nina Sharp
- The Transformation (2009) - Nina Sharp
- The No-Brainer (2009) - Nina Sharp (credit only)
- Bound (2009) - Nina Sharp (credit only)
- Safe (2008) - Nina Sharp
- The Dreamscape (2008) - Nina Sharp
- The Equation (2008) - Nina Sharp (credit only)
- In Which We Meet Mr. Jones (2008) - Nina Sharp (credit only)
- The Cure (2008) - Nina Sharp
- Power Hungry (2008) - Nina Sharp (credit only)
- The Arrival (2008) - Nina Sharp (credit only)
- The Ghost Network (2008) - Nina Sharp
- The Same Old Story (2008) - Nina Sharp
- Pilot (2008) - Nina Sharp
2012
Political Animals (TV Mini Series)
as
Mrs. Berg
- 16 Hours (2012) - Mrs. Berg
2011
Falling Skies (TV Series)
as
Sonya Rankin
- What Hides Beneath (2011) - Sonya Rankin
2011
The Speed of Thought
as
Bridger
2009
Behind the Real Science of 'Fringe Season 1' (Video short)
as
Nina Sharp
2009
Evolution: The Genesis of 'Fringe Season 1' (Video short)
as
Nina Sharp
2009
Fringe Season 1 Visual Effects (Video short)
as
Nina Sharp
2007
First Born
as
Laura's Mother
2006
The Treatment
as
Miss Callucci
2006
The Sentinel
as
National Security Advisor
2005
Dark Shadows (TV Movie)
as
Elizabeth Collins Stoddard
2005
1-800-Missing (TV Series)
as
Emma Roderick
- Off the Grid (2005) - Emma Roderick
2005
Loverboy
as
Jeanette Rawley
2004
Law & Order: Special Victims Unit (TV Series)
as
Attorney Lynne Riff
- Outcry (2004) - Attorney Lynne Riff
- Mean (2004) - Attorney Lynne Riff
2004
Copshop (TV Movie)
as
Frances Harding
2004
ER (TV Series)
as
Dr. Vicki Ford
- Midnight (2004) - Dr. Vicki Ford
2003
Ed (TV Series)
as
Mary Burton
- Pressure Points (2004) - Mary Burton
- The Proposal (2003) - Mary Burton
2003
Law & Order (TV Series)
as
Virginia Masters
- Seer (2003) - Virginia Masters
2002
Benjamin Franklin (TV Mini Series documentary)
as
Jane Franklin Mecom
- The Chess Master (2002) - Jane Franklin Mecom
- The Making of a Revolutionary (2002) - Jane Franklin Mecom
- Let the Experiment Be Made (2002) - Jane Franklin Mecom
2002
CSI: Miami (TV Series)
as
Margie Winters
- Camp Fear (2002) - Margie Winters
2002
Smallville (TV Series)
as
Rachel Dunleavy
- Lineage (2002) - Rachel Dunleavy
2002
Grasp (Short)
as
Jean Malcheck
2001
Touched by an Angel (TV Series)
as
Mayor Victoria Lewis
- A Winter Carol (2001) - Mayor Victoria Lewis
2001
Follow the Stars Home (TV Movie)
as
Hannah Parker
2000
Hamlet (TV Movie)
as
Gertrude
2000
In His Life: The John Lennon Story (TV Movie)
as
Mimi Smith
2000
Space Cowboys
as
Dr. Anne Caruthers
1999
The Astronaut's Wife
as
Shelly McLaren
1997
Convictions (TV Movie)
as
Zalinda Dorcheus
1997
Feds (TV Series)
as
Erica Stanton
- Smoking Gun (1997) - Erica Stanton
- Somebody's Lyin (1997) - Erica Stanton
- Missing Pieces (1997) - Erica Stanton
- The War Against Crime (1997) - Erica Stanton
- Do No Harm (1997) - Erica Stanton
- Crash and Burn (1997) - Erica Stanton
1996
A Season in Purgatory (TV Mini Series)
as
Grace Bradley
1996
The Ultimate Lie (TV Movie)
as
Joan 'Joanie' McGrath
1995
American Experience (TV Series documentary)
as
Evelyn Nesbit
- Murder of the Century (1995) - Evelyn Nesbit (voice)
1995
Frasier (TV Series)
as
Jill
- Shrink Rap (1995) - Jill (voice)
1994
The Gift of Love (TV Movie)
as
Helen Porter
1994
Moment of Truth: To Walk Again (TV Movie)
as
Carol Keating
1993
The Good Policeman (TV Movie)
as
Mayor Rebecca Karp
1993
The Day My Parents Ran Away (TV Movie)
as
Mrs. Judy Miller
1993
Rio Shannon (TV Movie)
as
Elizabeth Cleary
1992
Majority Rule (TV Movie)
as
Gen. Katherine Taylor
1992
Passed Away
as
Amy Scanlan
1992
Those Secrets (TV Movie)
as
Neille Banesh
1991
Lethal Innocence (TV Movie)
as
Sally Hatch
1991
Sesame Street (TV Series)
as
Jane
- Floyd the Fluter-tooter needs a new home (1991) - Jane
1987
The Days and Nights of Molly Dodd (TV Series)
as
Molly Dodd / Lorna LaSalle
- Here's a Little Touch of Harry in the Night (1991) - Molly Dodd
- Here's When Life Begins at (1991) - Molly Dodd
- Here's Why You Shouldn't Talk to Strangers in the Park (1991) - Molly Dodd
- Here's How to Put an Egg in Your Shoe and Beat It (1991) - Molly Dodd
- Here's How to Break the Other Leg (1991) - Molly Dodd
- Here's a High Dive Into a Shallow Pool (1991) - Molly Dodd
- Here's One Way to Fill Every Waking Moment (1991) - Molly Dodd
- Here's a Good Excuse for Missing the Party (1991) - Molly Dodd
- Here's a Pregnant Pause (1991) - Molly Dodd
- Here Are Some Overnight Lows (1991) - Molly Dodd
- Here's When the Fat Lady Sings (1991) - Molly Dodd
- Here's a New Way of Looking at Cappuccino (1991) - Molly Dodd
- Here's a Neat Way to Tie Up the Loose Ends (1991) - Molly Dodd
- Here's a Good Reason to Check Your Answering Machine on a Regular Basis (1990) - Molly Dodd
- Here's a Quick and Easy Recipe for Leftovers (1990) - Molly Dodd
- Here Are Some Things That Go Bump in the Night (1990) - Molly Dodd
- Here's an Expensive Item with No Returns, Refunds or Exchanges (1990) - Molly Dodd
- Here's a Rare Photo Opportunity (1990) - Molly Dodd
- Here Are a Couple of Games You've Probably Played (1990) - Molly Dodd
- Here's Another Lost Weekend (1990) - Molly Dodd
- Here's Why Restaurants Have a Minimum (1990) - Molly Dodd
- Here's Something I Forgot to Mention (1990) - Molly Dodd
- Here's a Perilous Research Project (1990) - Molly Dodd
- Here's Why You Can Never Have Too Much Petty Cash (1990) - Molly Dodd
- Here Are Just a Few Things That Could Possibly Go Wrong (1990) - Molly Dodd
- Here's Why Pink Isn't Necessarily a Girl's Favorite Color (1990) - Molly Dodd
- Here's a Leisurely Stroll Through the Park (1989) - Molly Dodd
- Here's an Unexpected Twist on the Old Biological Clock (1989) - Molly Dodd
- Here's a Shot in the Dark (1989) - Molly Dodd
- Here's a Major Organ Interlude (1989) - Molly Dodd
- Here's Some Ducks All in a Row (1989) - Molly Dodd
- Here's a Rough Way to Learn a Foreign Language (1989) - Molly Dodd
- Here's Why You Should Always Make Your Bed in the Morning (1989) - Molly Dodd
- Here's a Clever Yet Practical Gift Idea (1989) - Molly Dodd
- Here's Why You Should Lock Your Bathroom Door (1989) - Molly Dodd
- Here's a Little Night Music (1989) - Molly Dodd
- Here's Why You Order from the Spanish Side of the Menu (1989) - Molly Dodd
- Here's a Cute Way to Wrap up the Holiday Season (1989) - Molly Dodd
- Here's That Old Shadow on the Wall (1989) - Molly Dodd
- Here's Another Cryptic Message from Upstate (1988) - Molly Dodd
- Here's Talkin' to Yourself (1988) - Molly Dodd
- Here's a Reason to Keep Your Goats in the Barn (1988) - Molly Dodd
- Here's What Happened to That Earring You Lost (1988) - Molly Dodd
- Here's Who Ordered the Pizza (1988) - Molly Dodd / Lorna LaSalle
- Here's a Little Known Ingrid Bergman Incident (1988) - Molly Dodd
- Here's a Message from Your Local Bag Lady (1988) - Molly Dodd
- Here's a Side Effect of Serious Moonlight (1988) - Molly Dodd
- Here's a Bunch of Photos from an Old Album (1988) - Molly Dodd
- Here Comes That Cold Wind Off the River (1988) - Molly Dodd
- Here Are a Few Variations on a Sexual Theme (1988) - Molly Dodd
- Here's Why You Shouldn't Get Too Attached to Your Cat (1988) - Molly Dodd
- Here's Why Good Guys Sometimes Wear Black (1987) - Molly Dodd
- Here's Why You've Gotta Bake a Batch of Cookies Every Once in a While (1987) - Molly Dodd
- Here's Why Henry David Thoreau Chose the Pond (1987) - Molly Dodd
- Here's Why It's Good to Have a Cake Burning in the Refrigerator (1987) - Molly Dodd
- Here's Another Bedtime Story (1987) - Molly Dodd
- Here's Why They Call the Little One a Jingle and the Big One the Blues (1987) - Molly Dodd
- Here's Why a Torch Is Too Heavy to Carry in a Purse (1987) - Molly Dodd
- Here's Why It's Tough to Sell Watermelons After Midnight (1987) - Molly Dodd
- Here's Why It's Not Good to Stare at People in Restaurants (1987) - Molly Dodd
- Here's Why You Should Never Wear High Heels to the Bank (1987) - Molly Dodd
- Here's Why You Should Stay Out of Coffee Shops If You Don't Drink Coffee (1987) - Molly Dodd
- Here's Why There Are Instances When Vegetables Aren't Necessarily Good for You (1987) - Molly Dodd
- Here's Why Cosmetics Should Come in Unbreakable Bottles (1987) - Molly Dodd
1990
Extreme Close-Up (TV Movie)
as
Margaret Toll
1989
Strapless
as
Dr. Lillian Hempel
1988
Stealing Home
as
Ginny Wyatt
1987
Hands of a Stranger (TV Movie)
as
Diane Benton
1986
Comedy Factory (TV Series)
as
Valerie Arnold
- The Faculty (1986) - Valerie Arnold
1985
ABC Afterschool Specials (TV Series)
as
Joan Stewart
- Don't Touch (1985) - Joan Stewart
1985
Space (TV Mini Series)
as
Penny Hardesty Pope
- Part V (1985) - Penny Hardesty Pope
- Part IV (1985) - Penny Hardesty Pope
- Part III (1985) - Penny Hardesty Pope
- Part II (1985) - Penny Hardesty Pope
- Part I (1985) - Penny Hardesty Pope
1985
The Bad Seed (TV Movie)
as
Christine Penmark
1984
A Flash of Green
as
Kat Hubble
1983
Kennedy (TV Mini Series)
as
Jacqueline Kennedy
- Episode #1.3 (1983) - Jacqueline Kennedy
- Episode #1.2 (1983) - Jacqueline Kennedy
- Episode #1.1 (1983) - Jacqueline Kennedy
1983
American Playhouse (TV Series)
as
Sabina
- The Skin of Our Teeth (1983) - Sabina
1981
Continental Divide
as
Nell Porter
1980
Altered States
as
Emily Jessup
1979
The Child Stealer (TV Movie)
as
Jan Rodman
1978
And I Alone Survived (TV Movie)
as
Lauren Elder
1978
Wheels (TV Mini Series)
as
Barbara Lipton
- Episode #1.1 (1978) - Barbara Lipton
1977
The Choirboys
as
Kimberly Lyles
1977
Family (TV Series)
as
Miss Jessup
- We Love You, Miss Jessup (1977) - Miss Jessup
1977
The Quinns (TV Movie)
as
Millicent Priestley
1977
The 3, 000 Mile Chase (TV Movie)
as
Rachel Kane
1977
Charlie Cobb: Nice Night for a Hanging (TV Movie)
as
Charity
1977
Eleanor and Franklin: The White House Years (TV Movie)
as
Anna Roosevelt
1976
Kojak (TV Series)
as
Stella
- Where Do You Go When You Have Nowhere to Go? (1976) - Stella
1976
Captains and the Kings (TV Mini Series)
as
Elizabeth Healey Hennessey / Elizabeth Healey
- Chapter VIII (1976) - Elizabeth Healey Hennessey
- Chapter VI (1976) - Elizabeth Healey Hennessey
- Chapter V (1976) - Elizabeth Healey Hennessey
- Chapter IV (1976) - Elizabeth Healey Hennessey
- Chapter III (1976) - Elizabeth Healey
- Chapter II (1976) - Elizabeth Healey
1976
The Adams Chronicles (TV Mini Series)
as
Susan B. Clark
- Chapter IX: John Quincy Adams, President (1976) - Susan B. Clark
1976
The Oregon Trail (TV Series)
as
Jessica Thorpe
- Pilot (1976) - Jessica Thorpe
1975
The Rockford Files (TV Series)
as
Kate Flanders / Dep. DA Kate Doyle
- The Girl in the Bay City Boys Club (1975) - Kate Flanders / Dep. DA Kate Doyle
1975
Marcus Welby, M.D. (TV Series)
as
Dr. Lillian Prescott
- The One Face in the World (1975) - Dr. Lillian Prescott
1975
Great Performances (TV Series)
as
Lady Teazle
- The School for Scandal (1975) - Lady Teazle
1972
The Whiteoaks of Jalna (TV Series)
as
Pheasant Vaughan / Pheasan Vaughan
- Episode #1.5 (1975) - Pheasan Vaughan
- Episode #1.3 (1972) - Pheasant Vaughan
- Episode #1.4 (1972) - Pheasant Vaughan
- Episode #1.2 (1972) - Pheasant Vaughan
- Episode #1.1 (1972) - Pheasant Vaughan
1973
The Paper Chase
as
Miss Farranti
1973
Purple Playhouse (TV Series)
as
Mina
- Dracula (1973) - Mina
1972
L'obsédée sexuelle (Brutalités amoureuses)
as
Jo-jo
1971
Police Surgeon (TV Series)
as
Dulcy
- Lies - Dulcy
Director
1991
The Days and Nights of Molly Dodd (TV Series) (2 episodes)
- Here's How to Put an Egg in Your Shoe and Beat It (1991)
- Here's a Good Excuse for Missing the Party (1991)
Producer
1994
Moment of Truth: To Walk Again (TV Movie) (co-producer)
Soundtrack
1987
The Days and Nights of Molly Dodd (TV Series) (performer - 11 episodes)
- Here's a Rare Photo Opportunity (1990) - (performer: "It Never Entered My Mind")
- Here's Some Ducks All in a Row (1989) - (performer: "The End of a Love Affair")
- Here's Why You Should Always Make Your Bed in the Morning (1989) - (performer: "Tammy")
- Here's Another Cryptic Message from Upstate (1988) - (performer: "Lullaby of the Leaves")
- Here's a Little Known Ingrid Bergman Incident (1988) - (performer: "They Can't Take That Away From Me")
- Here's a Bunch of Photos from an Old Album (1988) - (performer: "Peg O' My Heart")
- Here's Why Good Guys Sometimes Wear Black (1987) - (performer: "Let's Call the Whole Thing Off")
- Here's Why It's Good to Have a Cake Burning in the Refrigerator (1987) - (performer: "Dream a Little Dream of Me")
- Here's Why They Call the Little One a Jingle and the Big One the Blues (1987) - (performer: "When Sunny Gets Blue")
- Here's Why You Should Stay Out of Coffee Shops If You Don't Drink Coffee (1987) - (performer: "I Got It Bad (And That Ain't Good)")
- Here's Why Cosmetics Should Come in Unbreakable Bottles (1987) - (performer: "Love Is Just Around The Corner")
Thanks
2014
Showrunners: The Art of Running a TV Show (Documentary) (thanks)
2005
Manderlay (the production wishes to thank)
2003
Dogville Confessions (Documentary) (thanks)
Self
2021
The Broadway Show with Tamsen Fadal (TV Series)
as
Self
- November 12, 2021 (2021) - Self
1992
Good Morning America (TV Series)
as
Self - Guest
- Episode dated 20 June 2016 (2016) - Self - Guest
- Episode dated 27 October 1992 (1992) - Self - Guest
2013
Celebrity Ghost Stories (TV Series documentary)
as
Self
- Shar Jackson/Blair Brown/Esai Morales/John Hensley (2013) - Self
2010
Biography (TV Series documentary)
as
Self
- John Belushi (2010) - Self
2010
MindFlux (Documentary)
as
Self
2010
John Belushi: Dancing on the Edge (Documentary)
as
Self
2010
The Buddha (TV Movie documentary)
as
Self - Narrator
2008
Entertainment Tonight (TV Series)
as
Self
- Episode dated 31 July 2008 (2008) - Self
2008
The Jewish Americans (TV Mini Series documentary)
as
Self
- The Best of Times, the Worst of Times (2008) - Self (voice)
- They Came to Stay/A World of Their Own (2008) - Self (voice)
2002
American Experience (TV Series documentary)
as
Self - Narrator
- Sister Aimee (2007) - Self - Narrator (voice)
- Test Tube Babies (2006) - Self - Narrator (voice)
- The Massie Affair (2005) - Self - Narrator (voice)
- RFK (2004) - Self - Narrator (voice)
- Emma Goldman: An Exceedingly Dangerous Woman (2004) - Self - Narrator (voice)
- The Pill (2003) - Self - Narrator (voice)
- Woodrow Wilson: Episode One - A Passionate Man (2002) - Self - Narrator (voice)
1989
Working in the Theatre (TV Series documentary)
as
Self
- Leading Ladies (2006) - Self
- Performance (1989) - Self
2006
Marie Antoinette (TV Movie documentary)
as
Self - Narrator (voice)
2005
Destination America (TV Mini Series documentary)
as
Self - Narrator
- The Golden Door (2005) - Self - Narrator
- The Earth Is the Lord's (2005) - Self - Narrator
- The Art of Departure (2005) - Self - Narrator
- Breaking Free: A Woman's Journey (2005) - Self - Narrator
2004
R.F.K. (TV Movie documentary)
as
Self - Narrator
2003
Dogville Confessions (Documentary)
as
Self
2002
Brilliant But Cancelled (TV Movie documentary)
as
Self
2002
The Perfect Pitch (TV Movie documentary)
as
Self
2002
Young Dr. Freud (TV Movie documentary)
as
Self - Narrator
2002
The Secret Life of the Brain (TV Mini Series documentary)
as
Self - Narrator
- The Aging Brain: Through Many Lives (2002) - Self - Narrator (voice)
- The Adult Brain: To Think by Feeling (2002) - Self - Narrator (voice)
- The Teenage Brain: A World of Their Own (2002) - Self - Narrator (voice)
- The Child's Brain: Syllable from Sound (2002) - Self - Narrator (voice)
- The Baby's Brain: Wider Than the Sky (2002) - Self - Narrator (voice)
2002
Woodrow Wilson and the Birth of the American Century (TV Movie documentary)
as
Ellen Wilson (voice)
2000
The Fall of Newt Gingrich (Documentary)
as
Self - Narrator (voice)
2000
The 54th Annual Tony Awards (TV Special)
as
Self - Winner
1997
The Rosie O'Donnell Show (TV Series)
as
Self - Guest
- Episode dated 19 April 2000 (2000) - Self - Guest
- Episode #1.161 (1997) - Self - Guest
1999
Margaret Sanger (TV Movie documentary)
as
Self - Narrator (voice)
1998
The Homes of FDR (Video documentary)
as
Self - Narrator (voice)
1997
The Daily Show (TV Series)
as
Self - Guest
- Blair Brown (1997) - Self - Guest
1996
Frontline (TV Series documentary)
as
Self - Narrator
- The Choice '96 (1996) - Self - Narrator
1995
Susan B. Anthony Slept Here (TV Movie)
as
Self
1995
Nobody's Girls: Five Women of the West (Documentary)
as
Self - Narrator
1994
Late Night with Conan O'Brien (TV Series)
as
Self - Guest
- Blair Brown/Peter Travers/Beausoleil (1994) - Self - Guest
1993
Intimate Portrait (TV Series documentary)
as
Self - Narrator / Narrator
- Lee Grant (1993) - Self - Narrator (voice)
- Gloria Vanderbilt - Narrator
1992
The Tonight Show with Jay Leno (TV Series)
as
Self - Guest
- Episode #1.109 (1992) - Self - Guest
1991
The Secrets of Dick Smith (TV Movie documentary)
as
Self - Discussing Altered States
1991
The 43rd Annual Primetime Emmy Awards (TV Special)
as
Self - Nominee
1989
Late Night with David Letterman (TV Series)
as
Self - Guest
- Episode dated 9 October 1990 (1990) - Self - Guest
- Episode dated 15 May 1990 (1990) - Self - Guest
- Episode dated 25 May 1989 (1989) - Self - Guest
1990
The 42nd Annual Primetime Emmy Awards (TV Special)
as
Self - Nominee & Presenter
1979
The Tonight Show Starring Johnny Carson (TV Series)
as
Self - Guest
- Episode #28.285 (1990) - Self - Guest
- Robert Klein/Blair Brown/Teddy Andrews (1989) - Self - Guest
- Episode #27.42 (1988) - Self - Guest
- Charlton Heston/Johnny Yune/Jack Douglas/Blair Brown (1979) - Self - Guest
- Episode dated 17 January 1979 (1979) - Self - Guest
1990
Quiet on the Set: Behind the Scenes of Molly Dodd (TV Movie documentary)
as
Self / Molly Dodd
1989
Live with Kelly and Mark (TV Series)
as
Self - Guest
- Episode dated 12 May 1989 (1989) - Self - Guest
1989
The 10th Annual National CableACE Awards (TV Special)
as
Self
1987
The 39th Annual Primetime Emmy Awards (TV Special)
as
Self - Nominee
1984
The 41st Annual Golden Globe Awards (TV Special)
as
Self - Nominee
1979
The Mike Douglas Show (TV Series)
as
Self - Guest
- Episode #18.97 (1979) - Self - Guest
1975
Performance (TV Series)
as
Self
- Six War Years (1975) - Self
Archive Footage
2018
The Best of Hollywood (TV Series documentary)
as
Self - Interviewee
- Episode dated 4 July 2018 (2018) - Self - Interviewee
2014
Welcome to the Basement (TV Series)
as
Emily Jessup
- Altered States (2014) - Emily Jessup
2012
Too Young to Die (TV Series documentary)
as
Nell Porter
- John Belushi - Ein Leben über dem Limit (2012) - Nell Porter (uncredited)
References
Blair Brown Wikipedia
(Text) CC BY-SA