3.6

/

10

Alchetron

3.6

Rate This





Release date

October 26, 2012 (India)




Screenplay

Christopher B. Landon




Country

United States







Genre

Horror




Film series

Paranormal Activity




Duration




Language

English







Director

Henry JoostAriel Schulman




Release date

October 19, 2012 (2012-10-19)




Based on

Paranormal Activity by Oren Peli


Writer

Christopher Landon (screenplay), Chad Feehan (story), Oren Peli (film "Paranormal Activity")




Directors

Ariel Schulman, Henry Joost


Cast

Katie Featherston (Katie), Kathryn Newton (Alex), Matt Shively (Ben),

Brady Allen

(Robbie),

Sprague Grayden

(Kristi), Stephen Dunham (Doug)


Similar movies

The Ring

,

The Ring Two

,

Demon Hunter




Tagline

It's closer than you think
Paranormal activity 4 official trailer 2 2012 horror movie hd
Paranormal Activity 4 is a 2012 American found footage supernatural horror film, directed by Ariel Schulman and Henry Joost and written by Christopher B. Landon from a story by Chad Feehan. The film features Katie Featherston, who starred in the first film, and had cameos in the other two. The film was released in theaters and IMAX on October 17, 2012 in the United Kingdom and was released on October 18, 2012 in the United States, by Paramount Pictures. It is the fourth installment in the Paranormal Activity series, and a sequel to Paranormal Activity 2, set several years later.
Contents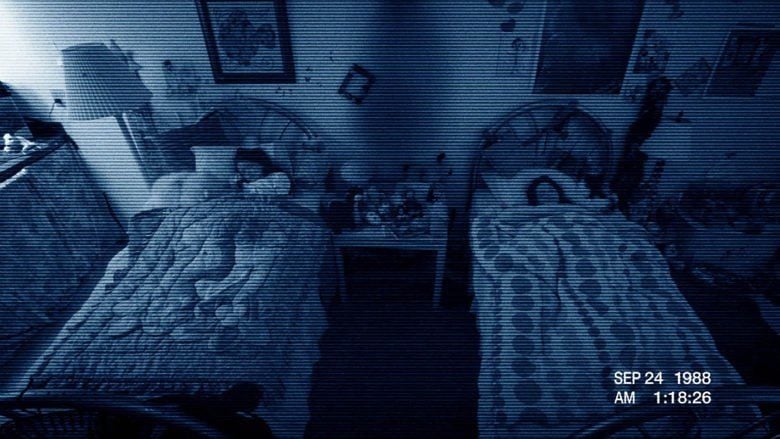 Paranormal activity 4 official trailer 1 2012 horror movie hd
Plot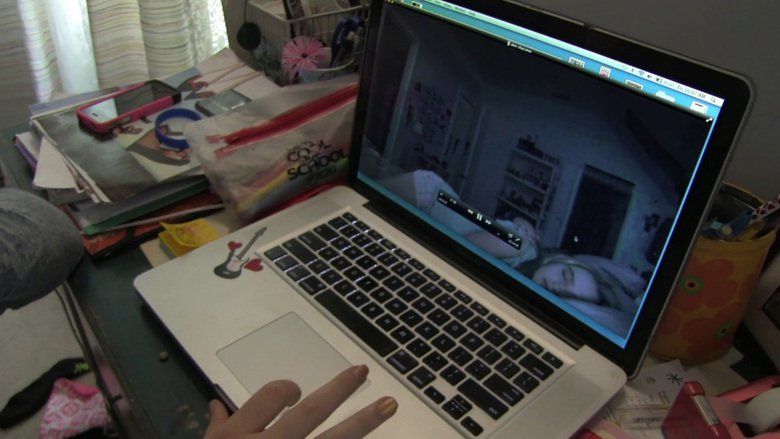 On October 9, 2006, Kristi Rey and her husband Daniel are killed by her demon-possessed sister Katie, who then abducts Kristi's one-year-old son, Hunter. Text states that Katie and Hunter's whereabouts remained unknown.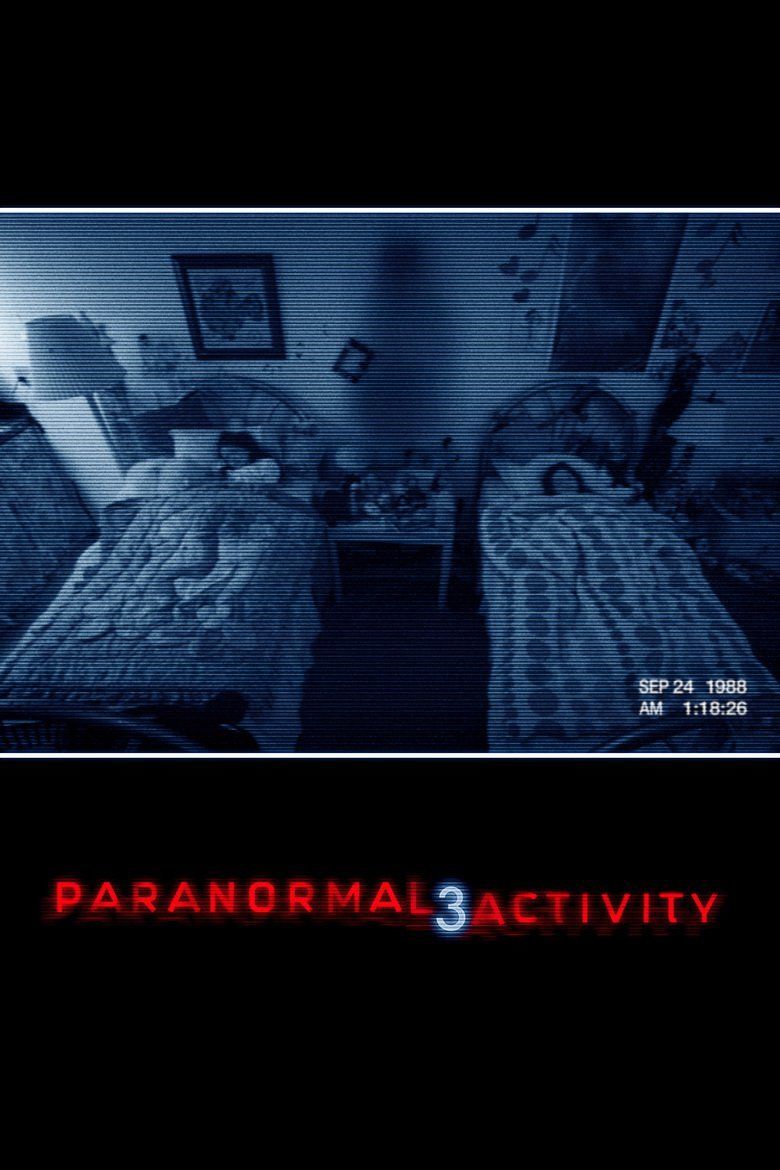 5 years later, in November 2011, Alex Nelson lives in suburban Henderson, Nevada with her father Doug, mother Holly, and little brother Wyatt. When their new neighbor falls ill and is taken to the hospital, her son, Robbie, is left in the care of the family.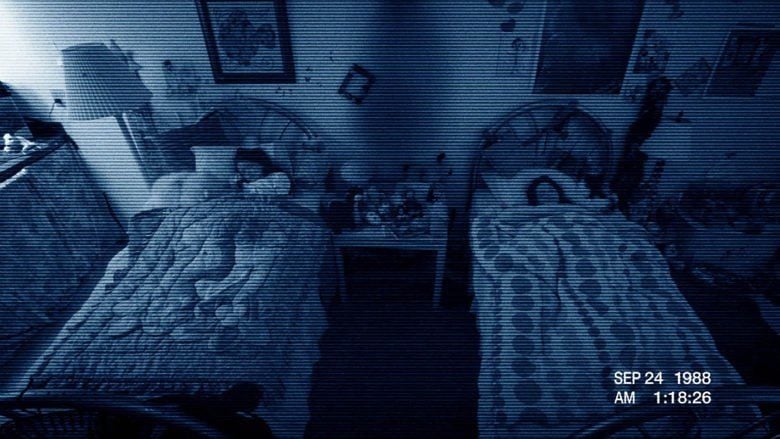 One night while Alex is sleeping, her boyfriend Ben's computer starts recording her laptop webcam, and he sees Robbie getting into the bed with her. The next day, Wyatt tells Alex about Robbie's friend, Toby. After strange events happen, Alex and Ben set up cameras all over the house. On the third night, The strange happenings escalate until one day, Alex finds a trail of toys that leads to a closet. She finds Robbie, who says, "He doesn't like you watching us," as a chandelier falls and almost kills her.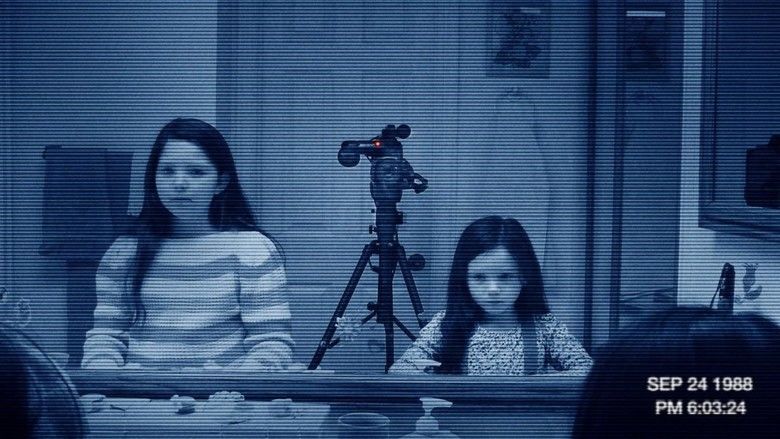 On the sixth night, Alex sees many cars parked outside Robbie's house, and goes to check it out, but runs back home after being caught by a strange woman in a black gown. The next day, Wyatt has an encounter with an invisible force. Wyatt later reveals a green symbol on his back to Alex and Ben and tells them, "I had to meet him." Alex and Ben learn the symbol is from a witches' coven, one that would unleash a demon to possess a young boy. They learn that to complete the possession ritual, Wyatt would need to spill the blood of a virgin - Alex is revealed to be a virgin. The next day, the boys go to Robbie's house. Alex follows them; Katie (from the original film), presumably Robbie's mother, has returned from the hospital. Wyatt explains to Alex that Katie knew he and Robbie were both adopted, and that Wyatt's real name is "Hunter". Katie told Wyatt his old family wants him back. The next night, Wyatt argues with Toby about his real name. While Wyatt is taking a bath, he gets pulled underwater by Toby. When he rises, he appears to be in a trance. That night, while Alex is asleep, Wyatt makes the blanket fly off the bed and levitates her in mid-air.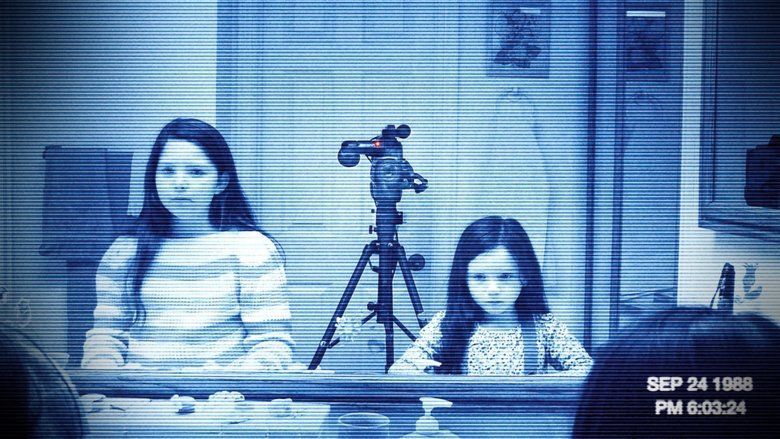 On the twelfth night, a possessed Katie is seen sneaking around. Alex hears the garage door open, so she goes to close it. It opens again and the door crashes down, almost killing her. Katie enters the house and goes to Wyatt's room, where she tells him that she'll wait until he is "ready". The family's car turns on by itself and begins spewing exhaust. Alex escapes the garage and attempts to show her parents the footage of this incident, but the footage has been mysteriously erased. Her parents think she's gone crazy.
The next night, Doug hears a creak in the kitchen. He investigates and starts believing Alex when a kitchen knife falls right in between him and the camera. The two go to dinner to talk about the strange events. While they are gone, Holly is violently thrown against the ceiling, dying upon impact. Katie drags her body away. Ben comes over to meet Alex, but no one is home. He attempts to leave a message on Alex's laptop but Katie appears and kills Ben by snapping his neck.
Alex and Doug arrive home and Doug goes next door, believing he saw Holly and Wyatt. Alex finds Ben's body and is suddenly knocked down by a force, presumably Toby. She flees to Katie's home, and finds Doug being dragged out of sight. She searches for him when she hears Wyatt's voice. Suddenly, Katie runs towards the camera, shrieking demonically. Alex escapes from Katie by jumping through a window and finds Wyatt in the yard. Wyatt looks behind Alex and she sees dozens of witches running towards her. As she turns around, Katie lunges at her. The camera falls to the ground and the screen cuts to black.
An epilogue text states that Alex was found dead, Doug's body was discovered in the house, and Katie's and Wyatt's whereabouts remain unknown.
Cast
Kathryn Newton as Alex Nelson
Matt Shively as Ben
Aiden Lovekamp as Wyatt Nelson / Hunter Rey
Brady Allen as Robbie
Stephen Dunham as Doug Nelson
Alexondra Lee as Holly Nelson
Katie Featherston as Katie
Alisha Boe as Tara
Frank Welker as vocal effects
Development
Paramount Pictures announced on January 2, 2012 that Paranormal Activity 4 was in the works. Information on the characters had been scarce, stating that Brady Allen was set to play a character named Robbie. Katie Featherston reprised her role as Katie, who was still possessed from the ending of the first two films, but other cast and characters that appeared in the film were kept under wraps. Henry Joost and Ariel Schulman returned to direct the film.
Filming
On June 23, 2012, it was confirmed that the fourth film had begun filming. A trailer debuted on August 3 in front of Total Recall. The first theatrical trailer was released for the film on August 1, 2012. The trailer showed that the film is a sequel to Paranormal Activity 2, following the story of possessed Katie and Hunter after their disappearance at the end of the second film. The movie also featured a new scare technique, of footage being shown from a laptop in a video chat, that the directors felt would rival the 'fan cam' from the previous movie and that because of it being familiar technology it was "built for a horror movie". The movie also featured an Xbox Kinect, a MacBook Pro, smartphones and a Canon XA10.
Dedication
The end credits of the film include a dedication to actor Stephen Dunham, who played Alex's father Doug. Dunham died shortly after filming was completed, suffering a heart attack on September 14, 2012, which was his forty-eighth birthday.
Box office
As of December 23, 2012, the film has grossed $53,851,000 in North America and $86,855,358 in other countries, for a worldwide total of $140,706,358.
Paranormal Activity 4 did not perform as well as Paranormal Activity 2 or Paranormal Activity 3 as it debuted with $4.8 million in midnight showings. That made it the third highest in midnight grosses for a horror film behind only its predecessors, Paranormal Activity 3 ($8 million) and Paranormal Activity 2 ($6.3 million). It then grossed $15 million in its opening day, also lower than the third film ($26.2 million) and second film ($20.1 million), bringing its total to $29 million in its opening weekend.
A movie theatre chain in the United Kingdom, Cineworld, showed screenings of the film, Paranormal Activity 4 rather than the DreamWorks animated film, Madagascar 3: Europe's Most Wanted, leaving children traumatized. A similar event happened in the US in 2007, with screenings of The Hills Have Eyes 2 instead of The Last Mimzy, in 2010 with screenings of Saw 3D instead of Megamind and in 2015 with an accidental screening of Insidious: Chapter 3 instead of Inside Out.
Critical reception
The film received mixed to negative reviews. At Rotten Tomatoes the film holds an approval rating of 24% based upon 103 reviews with an average rating of 4.3/10, indicating negative reviews. The website's consensus stated that "While it does manage to wring a few more screams out of the franchise's surprisingly durable premise, Paranormal Activity 4 provides fans of the series with dismayingly diminishing returns." At Metacritic the film has a score of 40 out of 100 based on 22 reviews, indicating "mixed or average" reviews.
Drew McWeeny gave the film a C+, saying that while he felt that the film "played it safe", he still found the film to be shameful. Shaun Munro also reacted negatively, saying that he felt that the film would only be enjoyed by the "die-hard" fans of the previous films in the franchise. Ryan Lambie reacted negatively, giving the film a rating of 2/5, and saying that the film did not introduce any new ideas. Scott Weinberg gave a positive review, saying that there was "some fun" to be had in the film, however also felt that the film would likely only be enjoyed by fans of the previous films. Fred Topel also gave a positive review, saying that the film included iconography from some classic horror films.
Home media
The film was released on DVD and Blu-ray Disc on January 29, 2013.
The post-credits scene teases Paranormal Activity: The Marked Ones, which is a Latino spin-off of the Paranormal Activity series released on January 3, 2014. The post-credits scene was taken out of the film when the DVD was released.
Spin-off and sequel
A spinoff of the franchise called Paranormal Activity: The Marked Ones was released on January 3, 2014.
A sequel to Paranormal Activity 4 and the last installment in the series: Paranormal Activity: The Ghost Dimension, was released on October 23, 2015 and in 3-D.
References
Paranormal Activity 4 Wikipedia
(Text) CC BY-SA
Paranormal Activity 4 IMDb
Paranormal Activity 4 Rotten Tomatoes
Paranormal Activity 4 Metacritic
Paranormal Activity 4 themoviedb.org