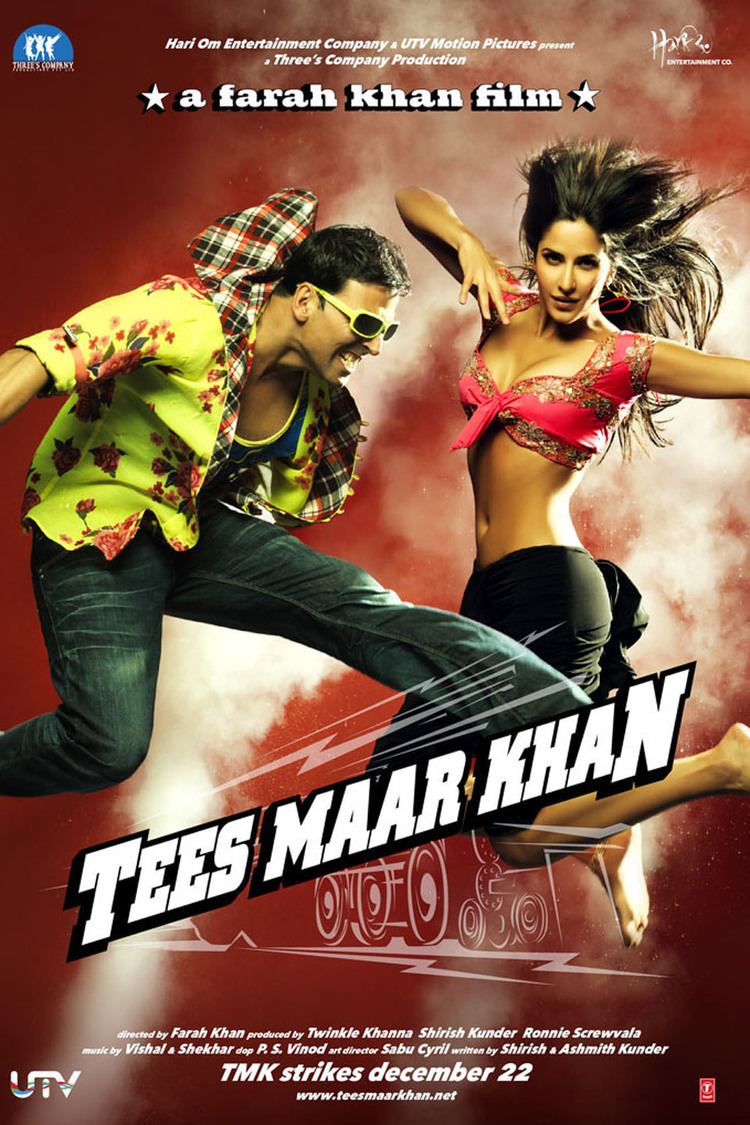 Tees Maar Khan mainly revolves around conman Tabrez Khan (Akshay Kumar) who has been a criminal since he was young. He was caught in France and deported back to India. Two police officers Chatterjee (Aman Verma) and Mukherjee (Murli Sharma) escorted him but he escaped.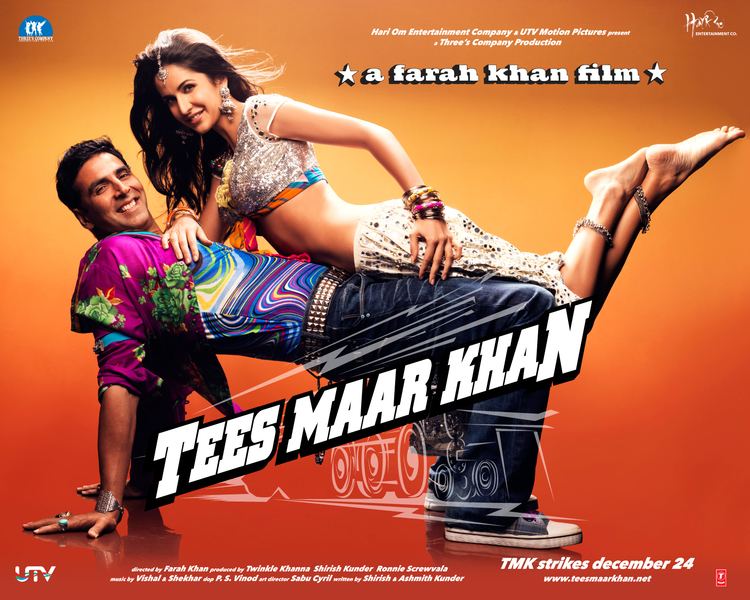 His girlfriend is struggling actress Anya Khan (Katrina Kaif). Tabrez takes a job from the Johri brothers (Raghu Ram and Rajiv Laxman) to rob a non-stop train loaded with precious antiques. He cons the people of Dhulia village into helping him by saying that he will make a historical film about their village. He approaches the greedy but popular actor Aatish Kapoor (Akshaye Khanna), who is eager to get the Oscar award and fools him into working in his "film". While shooting in the village Tabrez gets the news that train will reach the village side after a week and hence shortage of the equipments for resume shooting occurs. To overcome this problem the group plans to rob the bank and buy the equipments, but people of dhulia comes to know about financial problem of Tabrez and decides to help him. While they are following Tabrez to help him he misunstands that they know about their robbery and true identity and are willing to expose him and giving him to police. Accidentally Tabrez runs into the forest exposing a child abduction ring and thus helping many villagers find their long-lost children, after knowing the intention of the villagers Tabrez feels guilty about conning the villagers and swears that he will give them a share of the treasure. The robbery goes well but he and all the villagers get arrested while the Johri brothers make off with the treasure. Tabrez claims that he is innocent, but gets imprisoned.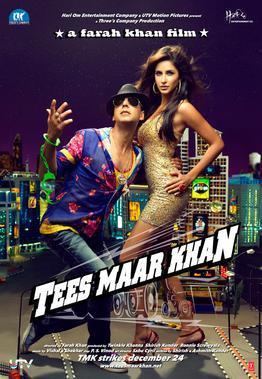 The movie is completed and, at the premiere, Aatish, Anya, Tabrez's mother, his accomplices and the villagers walk the red carpet with him and the police. After the film, Tabrez escapes. Later, on their private jet, the Johri brothers enjoy what they got until Tabrez and his gang throw them out of the plane. The film ends with Tabrez and his mother becoming rich, Aatish receiving an Oscar from actor Anil Kapoor, Anya becoming an actress and has shot for hair removal cream and the whole Dhulia village opening their own saloons, party halls and the village inspector opening a poster signing stall to all the people from America. The crew of the film are seen receiving the Oscar awards in the song "Happy Ending".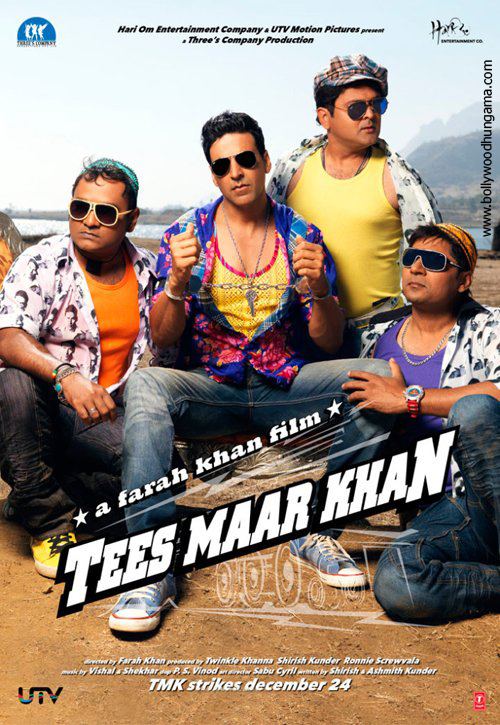 Akshay Kumar as Tabrez Mirza Khan/Tees Maar Khan/TMK
Akshaye Khanna as Aatish Kapoor
Katrina Kaif as Anya Khan
Raghu Ram and Rajiv Laxman as Johri Brothers
Arya Babbar as Inspector Dhurinder
Sachin Khedekar as Commissioner Khadhak Singh
Vijay Patkar as Inspector Jagtap
Murli Sharma as Mukherjee
Aman Verma as Chatterjee
Shashank Vyas as a villager
Ali Asgar as Burger
Dharampal as Dollar
Vijay Maurya as Soda
Mia Uyeda as the wealthy Girl With Dog
Apara Mehta as Tabrez's Mother
Anjan Srivastav as Nana Ganphule
Shashi Kiran as a Villager
Avtar Gill as Subedaar
Sudhir Pandey as Bunty Baweja
Anvita Dutt Guptan as a Press Reporter
Viju Khote as a Judge
Vishal Dadlani as a Film Director in "Sheila Ki Jawani"
Manish Paul as Master India
Anil Kapoor in a Special Appearance
Twinkle Khanna in a Special Appearance in Climax
Salman Khan as Special Appearance in Song "Wallah Re Wallah"
Chunky Pandey as Himself in Special Appearance
Komal Nahta as Critic
Charlotte Yates as The Shocked English Airport Girl
Maxwell Harding as The Shocked English Backing Dancer
Sanjay Dutt as The Narrator
George Allen as Shocked White Guy in Cream Coloured Suit
Matthew Valenzia as Shocked White Guy in Cream Coloured Suit
Benedict Tatham as Shocked White Guy in Cream Coloured Suit
Ian Haan as Shocked White Guy in Cream Coloured Suit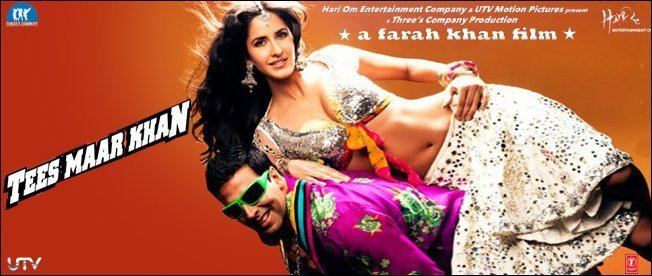 Priyanka Chopra was earlier rumoured to play the part of Anya, but that rumour was later dropped after Katrina Kaif was chosen to play the female lead.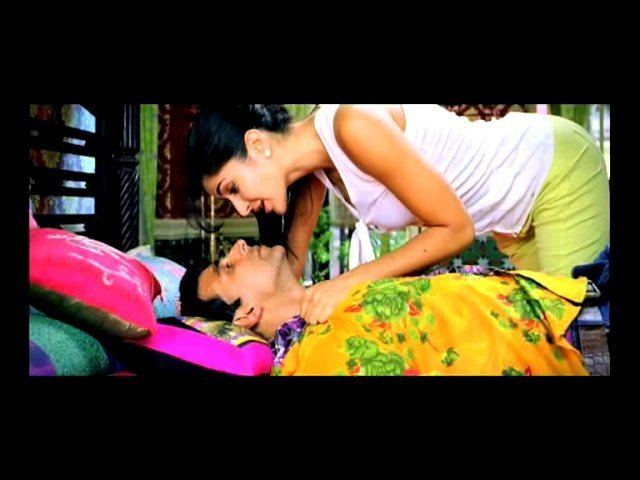 The script is penned by director Farah Khan's husband Shirish Kunder. Sanjay Dutt was confirmed to play the role of Sutradhaar (narrator) for the film. Farah stated in an interview that she wanted someone with a voice which people can even recognise in their sleep.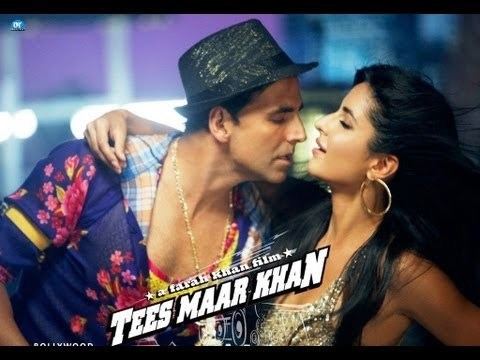 An entire train was made and 500m track laid for Rs. 7.5 million to shoot the climax scenes. Dharmesh Yelande choreographed in this film.
Tees Maar Khan premiered in the UK on 22 December 2010, in Fiji on 22 December 2010 and in Canada on 23 December 2010.
Tees Maar Khan received negative reviews from critics. Anupama Chopra of NDTV wrote, "Tees Maar Khan, adapted from After the Fox, by writers Shrish and Ashmit Kunder, is disappointingly limp and insistently low IQ. The film has little of the effervescence and flair of a typical Farah Khan film" giving it 2/5 stars. Aseem Chhabra of Rediff.com, who rated the film 1.5/5, stated, "Even at two hours, the film feels like one long and tedious exercise in bad humour. Some people laughed during the screening I attended in New York City. However, most sat with glum faces, in a sense of disbelief ..... How could a talented(..?) person like Khan make such an unfunny film?" Behindwoods review board gave the film a two out of five star rating and quoted "So is Tees Maar Khan watchable? Good Question. Very good question. The answer is 'Yes' if you are in the mood to celebrate. But watch it in theatres as the fun is only when there is a crowd laughing along with you. The second half can have you in splits." Taran Adarsh of Bollywood Hungama gave a modest rating of 3/5 in his review and said, "Farah Khan's brand new outing Tees Maar Khan will make the most absurd, bizarre and wacky cinema of yore pale in comparison. Not just your cell phone, even your brain needs to be put on 'switched off' mode at the commencement of this film." Nikhat Kazmi of the Times of India awarded 2.5/5 stars while commenting, "Sadly, Tees Maar Khan begins as a spoof and remains a spoof, till the very end. All the characters end up as mere caricatures and completely fail to build up an emotional quotient in the film." Yahoo! Movies gave the film 1.5/5 stars. Komal Nahta of Koimoi.com gave it a rating of 2/5 and stated, "Too much of farcical comedy; lack of emotions; over-the-top characters; unbelievable script ..... Tees Maar Khan is definitely a disappointment; but it will bring back the invested money and a bit more." Aniruddha Guha of Daily News and Analysis gave the film 2 stars and remarked, "Even Sheila can't make Tees Maar Khan watchable ... Though the story is interesting (Neil Simon of After The Fox should ideally get the credit), the writing is so pedestrian and Farah Khan's presentation so lacklustre that you wonder how the film was greenlighted at all." Gaurav Malani of The Economic Times gave 2 stars saying, "To sum up in Tees Maar Khan's trademark style of dialogue delivery, Akshay Kumar se zara hatke comedy expect karna aur Akshaye Khanna se kuch bhi expect karna bekaar hain. Tees Maar Khan doesn't even guarantee thirty good laughs in its three-hour runtime." Kaveree Bamzai of India Today rated it 2½/5 saying, "It's an oddly half-hearted film from a woman [Farah Khan] who is never known to do anything in half measure." Rajeev Masand of CNN-IBN rated the movie 2/5 suggesting, "If you're outraged by such low-brow humor, 'Tees Maar Khan' is going to be a long, hard slog for you."
Tees Maar Khan took a 100% opening at most multiplexes across India. The film collected ₹130.6 million (US$2.0 million) on its first day of business, becoming the second biggest opening day grosser of all time across India for Hindi movies after Dabangg. On the second day of its release, the film netted ₹135 million (US$2.1 million), taking the two-day total to ₹265 million (US$4.1 million) nett. Tees Maar Khan collected about ₹380 million (US$5.9 million) nett at the end of its first weekend, thus becoming the second biggest opening weekend net grosser of all time across India for Hindi movies. Despite its initial huge run at the box office, there had been many negative reports about the film. Box Office India reported, "Tees Maar Khan has not matched the expectations from the film prior to release but it is not that bad either as it is not as if the film just collapsed. The opening weekend collections are around 15% lower than sensible expectations." Tees Maar Khan underwent a heavy 65% fall on Monday, its fourth day of business, as it collected ₹45 million (US$700,000). The film further suffered a big drop on Tuesday, its fifth day of business, collecting around ₹32.5 million (US$510,000) nett, taking the five-day business to ₹455 million (US$7.1 million) nett. Tees Maar Khan went on to collect ₹490.4 million (US$7.6 million) nett in its first week of release. The film showed an 85% decline in the second week, on its eight-day of business, as compared to its first day. In its second weekend, the film collected around ₹80 million (US$1.2 million) nett, taking the ten days collections to ₹565 million (US$8.8 million) nett. The film collected about ₹105 million (US$1.6 million) nett in second week, taking the total collections in two weeks to ₹595 million (US$9.3 million) nett. The film collected ₹12.5 million (US$190,000) nett in its third week, taking the total domestic collections ₹610 million (US$9.5 million) nett.
In the overseas market, the film grossed around $2.5 million from its extended weekend, which, according to Box Office India, "is below par for a big film". The breakdown included £320,000 from United Kingdom in 5 days, $750,000 from North America in 5 days, $500,000 from United Arab Emirates in 3 days and $175,000 from Pakistan in 3 days. The nett collections till the end of the second weekend e were: £625,000 from United Kingdom, $1,030,000 from North America, $775,000 from UAE, and $265,000 from Australia.
IIFA Awards
IIFA Best Female Playback - Sunidhi Chauhan for Sheila Ki Jawani
Zee Cine Awards
Zee Cine Award for Best Choreography Award - Farah Khan for "Sheila Ki Jawani"
Zee Cine Award for Best Track of the Year - "Sheila Ki Jawani"
Zee Cine Award for Best Music Director - Vishal / Shekhar
Zee Cine Award for Best Playback Singer - Male - Sonu Nigam for "Tees Maar Khan"
Zee Cine Award for Best Playback Singer - Female - Sunidhi Chauhan for "Sheila Ki Jawani"
Zee Cine Award for Best Lyricist - Vishal Dadlani for "Sheila Ki Jawani"
Zee Cine Award for Best Actor in a Supporting Role – Male - Akshaye Khanna
Zee Cine Award for Best Cinematography - P.S. Vinod
Filmfare Awards
Filmfare Best Playback Singer - Female - Sunidhi Chauhan for Sheila Ki Jawani
Filmfare Best Choreography Award - Farah Khan for Sheila Ki Jawani
Star Screen Awards
Best Actress (Popular Choice) - Katrina Kaif
Screen Best Female Playback for Sheila Ki Jawani (Sunidhi Chauhan)
Apsara Film & Television Producers Guild Awards
Best Female Playback for Sheila Ki Jawani Sunidhi Chauhan
Stardust Awards
Star of the Year – Male - Akshay Kumar
Other Awards
GIMA award Best Female playback for Sheila Ki Jawani
Airtel Dancing Super Star for Sheila Ki Jawani - Katrina Kaif
The music of the film is composed by the music duo of Vishal-Shekhar and one song from debutant music composer Shirish Kunder for title track. Lyrics are penned by Vishal Dadlani, Anvita Dutt Guptan and Shirish Kunder. The music was launched on 14 November 2010. The entire cast and crew travelled on a train booked from Mumbai to Lonavala for the music launch. Sonu Nigam has given 54 voices for the title track of the film. The song 'Sheila Ki Jawani' became a chartbuster and fetched Sunidhi Chauhan a Filmfare Award and many other awards.
Even before the release of the film, the director Farah Khan and her husband Shirish Kunder planned to turn 'Tees Maar Khan! into a franchise by making a sequel to the film. Thus they are currently working on the script and shooting will commence towards the end of 2012 with Akshay Kumar, who has agreed to star in the sequel and will once again play the lead character of the film. But after that, nothing of the sequel was spoken.