Philippines




NSCB


1,087.40 km2


Autonomous Region in Muslim Mindanao




Panglima SugalaBongao




September 11, 1973




Liberal Party



Tawi-Tawi (Chavacano: Provincia de Tawi-Tawi; Tagalog: Lalawigan ng Tawi-Tawi) is an island province of the Philippines located in the Autonomous Region in Muslim Mindanao (ARMM). The capitals of Tawi-Tawi are Bongao and Panglima Sugala. It is the southernmost province of the country, sharing sea borders with the Malaysian state of Sabah and the Indonesian North Kalimantan province, both on the island of Borneo to the west. To the northeast lies the province of Sulu. Tawi-Tawi also covers some islands in the Sulu Sea to the northwest, the Cagayan de Tawi-Tawi Island and the Turtle Islands, just 20 kilometres (12 mi) away from Sabah.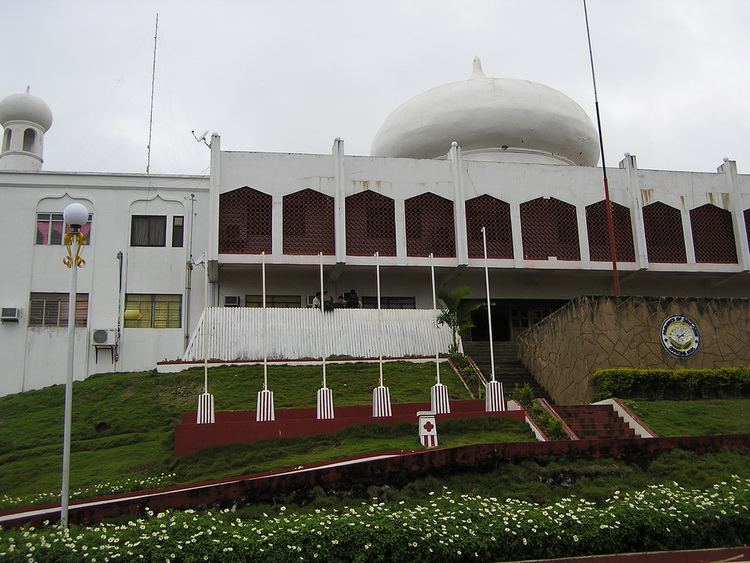 Sibutu remained under Spanish rule until 1900.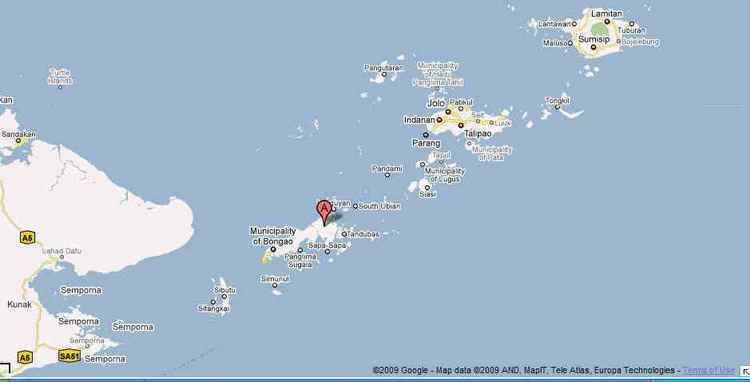 Tawi-Tawi was previously part of the province of Sulu. On September 11, 1973, pursuant to Presidential Decree No. 302, the new province of Tawi-Tawi was officially created, separate from Sulu. The seat of the provincial government was established in Bongao.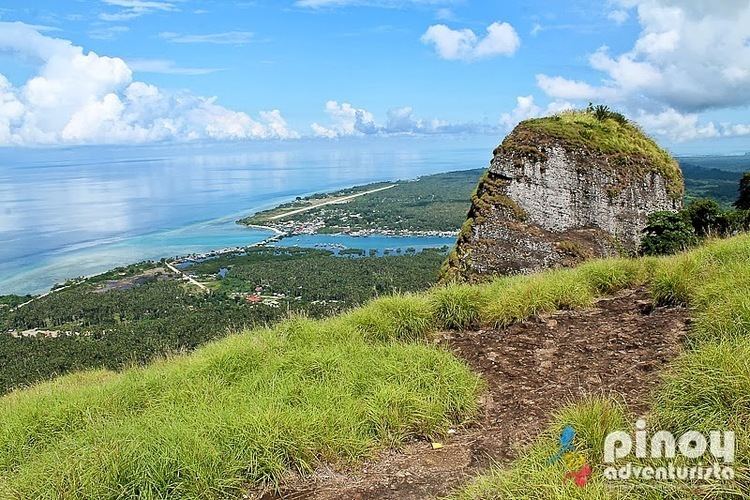 The province lies at the southwestern tip of the country, and consists of Tawitawi Island and 106 surrounding islands and islets with a combined land area of 1,087.4 km2 (419.8 sq mi). Tawitawi Island itself has an area of 580.5 square kilometres (224.1 sq mi).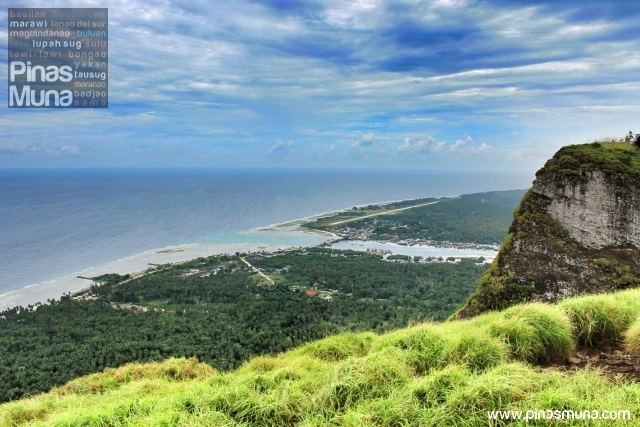 The province has two seasons: dry and wet. The climate is generally moderate. The wettest months are from August to November. The other months of the year are generally dry with occasional rain showers.
Agriculture, fishing, and agar-agar farming are the leading source of livelihood of the people of Tawi-Tawi, with quite a number engaged in the barter trade business. Copra is the top agricultural product, followed by root crops, fruits, and vegetables.
Tawi-Tawi Wikipedia
(,)http://www.zamboanga.com/z/images/e/e8/Tawi_tawi_provincial_capitol_01.jpg(,)http://www.zamboanga.com/z/images/7/73/Tawi-tawi_map.jpg(,)http://upload.wikimedia.org/wikipedia/commons/2/23/Isabela_Basilan_1901.jpg(,)http://www.zamboanga.com/z/images/d/d3/Tawi_tawi_backyard_swimming_pool_01.jpg(,)http://i187.photobucket.com/albums/x281/csethi2/315417_1523259497211_1790026501_n_zps6c0115aa.jpg(,)http://3.bp.blogspot.com/-7QDXeZtWFNk/T0jXi4ydZwI/AAAAAAAAGRk/CzjvQZutcPs/s1600/DSCN3214.JPG(,)http://upload.wikimedia.org/wikipedia/commons/9/94/View_of_Jammu_city_and_the_Tawi_River.jpg(,)http://upload.wikimedia.org/wikipedia/commons/thumb/0/08/Puerto_Isabella,_Basilan.jpg/500px-Puerto_Isabella,_Basilan.jpg(,)http://pangalaydance.com/wordpress/wp-content/uploads/2012/10/Nannette-Mariel-Ligaya-at-Bongao-2012.jpg
(,)http://1.bp.blogspot.com/-lYm1dINumzI/Uu9GgLtIcDI/AAAAAAAAUmE/J2fWOreNuX8/s1600/Bud-Bongao-Tawi-Tawi%2B(1).jpg(,)http://2.bp.blogspot.com/-H13kTSnh2r0/Uf6l9BW225I/AAAAAAAAGoQ/RwcOC6kGizI/s640/View%2Bfrom%2BBud%2BBongao%2BTawi-Tawi.jpg(,)http://1.bp.blogspot.com/-2u-ifOJC6BE/Uu9GlObzmaI/AAAAAAAAUmo/sQVhN-DHVs4/s1600/Bud-Bongao-Tawi-Tawi%2B(14).jpg(,)http://3.bp.blogspot.com/-PMXI1SEpeCw/Uu9Gk2FDdnI/AAAAAAAAUmk/3FsT4B6ip6Q/s1600/Bud-Bongao-Tawi-Tawi%2B(13).jpg(,)https://kuyaedel.files.wordpress.com/2013/08/tw1.jpg(,)http://3.bp.blogspot.com/-w17_tbNFs1Q/Uf6l_KQf9sI/AAAAAAAAGoY/PQMd6ObcFsc/s640/Bud%2BBongao%2BTawi-Tawi.jpg(,)http://farm9.staticflickr.com/8204/8233447103_15f8499b99_b.jpg(,)http://www.traveling-up.com/wp-content/uploads/2013/03/01.-bongao-peak-tawi-tawi-view.jpg(,)http://mw2.google.com/mw-panoramio/photos/medium/15464049.jpg(,)http://www.lakwatsero.com/wp-content/uploads/2013/12/P7200185.jpg(,)http://mw2.google.com/mw-panoramio/photos/medium/79219279.jpg(,)http://mw2.google.com/mw-panoramio/photos/medium/405402.jpg(,)http://mw2.google.com/mw-panoramio/photos/medium/14050231.jpg(,)http://mw2.google.com/mw-panoramio/photos/medium/33668573.jpg
(,)http://www.traveling-up.com/wp-content/uploads/2013/03/01.-tawitawi-food-crabs-tiyula-itum.jpg(,)http://www.traveling-up.com/wp-content/uploads/2013/03/02.-tawitawi-food-seaweed.jpg(,)http://1.bp.blogspot.com/-fytgpPycpUU/Uwhj6CSbX8I/AAAAAAAAU1E/8uR_G21THB8/s1600/where-to-eat-in-tawi-tawi%2B(3).jpg(,)http://www.traveling-up.com/wp-content/uploads/2013/03/10.-tawitawi-food-pastil.jpg(,)http://www.traveling-up.com/wp-content/uploads/2013/03/09.-tawitawi-food-junay.jpg(,)http://farm4.static.flickr.com/3132/3169868595_96250f6d37_m.jpg(,)https://media.zenfs.com/en/blogs/pinaysolobackpacker/8569639697_4f628ce177_z.jpg(,)http://4.bp.blogspot.com/-Nqaj1P5luWA/Uwhj4UrmlUI/AAAAAAAAU04/sDkO0TGSxMQ/s1600/where-to-eat-in-tawi-tawi%2B(1).jpg(,)http://3c9bl93o71m619w9kn2rfwinkdh.wpengine.netdna-cdn.com/wp-content/uploads/2014/10/Tiyula-Itum-from-Tawi-Tawi-Philippines.jpg(,)http://thumbs.ifood.tv/files/image/5d/4f/77330-tawitawi-shrimps-philippines.jpg(,)http://3.bp.blogspot.com/-mn52p67qwPg/Uwhj6P8FI/AAAAAAAAU1A/_N0eyyC6pvc/s1600/where-to-eat-in-tawi-tawi%2B(2).jpg(,)http://journeyingjames.com/wp-content/uploads/2012/11/muslim-food.jpg(,)http://1.bp.blogspot.com/-_Htum7ndlng/TcEaoBJYkJI/AAAAAAAAAPk/Fbc6nDN9jVk/s1600/sarang%2Bbulan%2Bbongao%2Btawitawi3.jpg(,)http://4.bp.blogspot.com/-P2xlR4sdGvI/TcEam95AJ_I/AAAAAAAAAPc/4-z1BujhHXE/s1600/sarang%2Bbulan%2B-%2Bbongao%2Btawitawi.jpg