Other names

Sydney Jay Mead




Occupation

Industrial designer





Name

Syd Mead




Role

Futurist







Born

July 18, 1933 (age 82) (

1933-07-18

) Saint Paul, Minnesota, U.S.


Education

Art Center College of Design




Books

Kronovecta: Concept Designs of Syd Mead




Awards

Spectrum Grand Master, London Critics Circle Film Award for Special Achievement




Similar People

Daniel Simon, Jean Giraud, Ralph McQuarrie, Ridley Scott, Ryan Church
Visual futurist the art life of syd mead
Sydney Jay Mead, commonly Syd Mead (born July 18, 1933), is a prolific and influential American "visual futurist", industrial designer and a neofuturistic concept artist. He is best known for his designs for science-fiction films such as Blade Runner, Aliens and Tron. Of his work, Mead was once moved to comment: "I've called science fiction 'reality ahead of schedule.'" His works, many of which are critically acclaimed and highly regarded, have led to Mead being called "the artist who illustrates the future".
Contents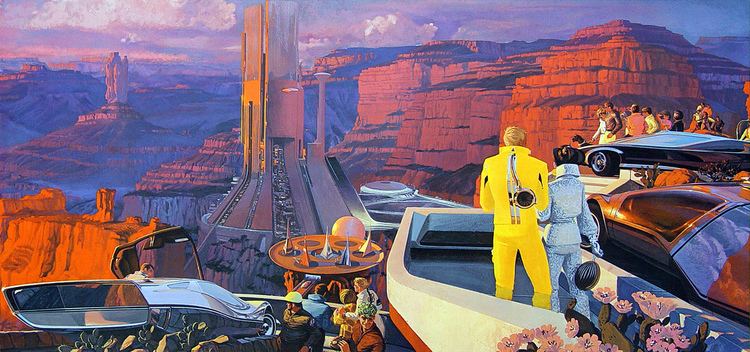 The real blade runner a conversation with futurist syd mead autoline this week 1732
Biography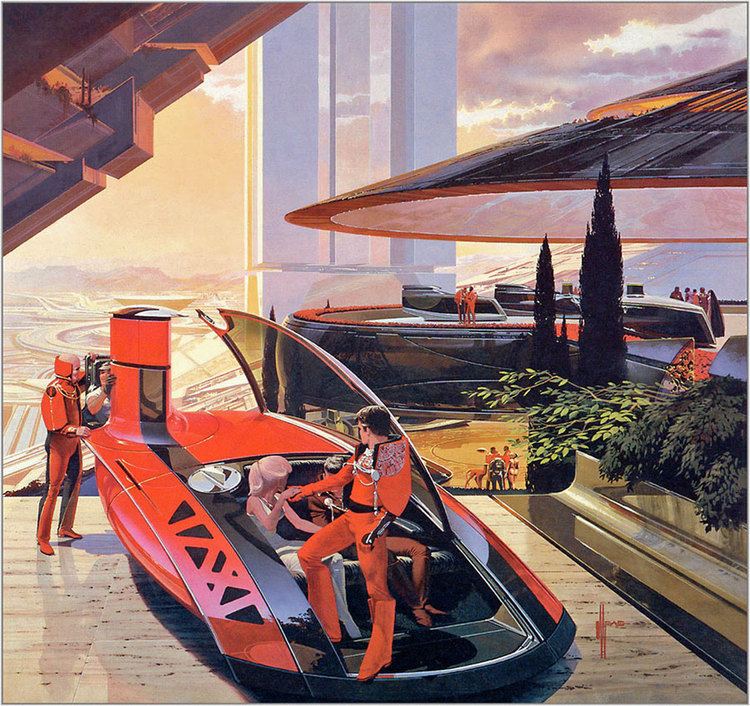 Syd Mead was born on July 18, 1933 in Saint Paul, Minnesota, but spent only a few years there before moving to what would be the second of many homes throughout the western United States prior to graduating from high school in Colorado Springs, Colorado in 1951. After serving a three-year enlistment in the U.S. Army, Mead continued on to the Art Center School in Los Angeles (now the Art Center College of Design, Pasadena), where he graduated in June 1959. He was recruited by the Ford Motor Company's Advanced Styling Studio under the management of Elwood Engel. Mead left the studio after two years to accept a variety of assignments to illustrate books and catalogues for large corporate entities such as United States Steel, Celanese, Allis-Chalmers and Atlas Cement. In 1970, he launched Syd Mead, Inc. in Detroit, Michigan to accommodate the offers he received, most notably from Philips Electronics.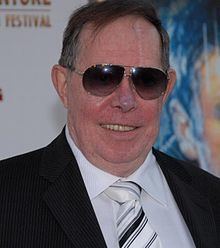 As the principal of his newly formed corporation in the 1970s, Mead spent about a third of his time in Europe, primarily to provide designs and illustrations for Philips of Holland. His work for international clients continues to this day. Throughout the 1970s and 1980s, Syd Mead, Inc. provided architectural renderings both interior and exterior for such clients as Intercontinental Hotels, 3D International, Harwood Taylor & Associates, Don Ghia, and Gresham & Smith. His architectural clients have recently expanded to include the New York firm of Philip Koether Architects, for which he designed the interior of a Manhattan eatery. Design activity accelerated after the corporate and personal move to California in 1975.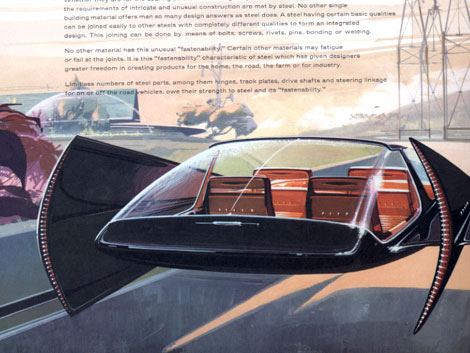 In 1979, projects began to include work with most major studios, on such feature films as Star Trek: The Motion Picture, followed by Blade Runner, Tron, 2010, Short Circuit, Aliens, Timecop, Johnny Mnemonic and Mission: Impossible III.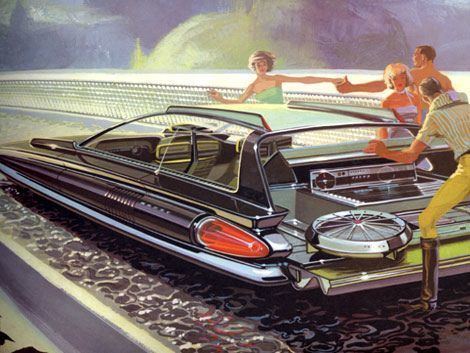 Beginning in 1983, Mead began to develop working relationships with Japanese corporate clients, including Sony, Minolta, Dentsu, Dyflex, Tiger Corporation, Seibu, Mitsukoshi, Bandai, NHK and Honda as well as contributing to the Japanese film Solar Crisis. In the 1990s, Mead supplied designs for two Japanese anime icons, Yamato 2520 and Turn A Gundam.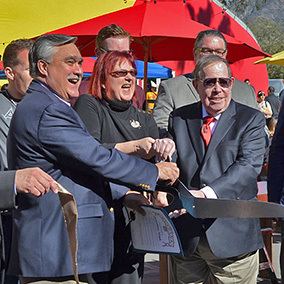 Mead continues an active schedule of one-man shows, which started with an invitation to exhibit at Documenta 6, Kassel, West Germany in 1973. His work has since been exhibited in Japan, Italy, California, and Spain. In 1983, in response to an invitation from Chrysler Corporation to be a guest speaker to their design staff, Mead assembled a selection of slides to visually enhance his lecture. The resulting presentation was a success and since has been expanded and enhanced with computer-generated imagery specifically assembled at the requests of such clients as Disney, Carnegie Mellon University, Purdue, Pratt University, the Society of Illustrators and many others, both academic and corporate, around the world. In March 2010, Mead completed a four-city tour in Australia.
In 1993, a digital gallery consisting of 50 examples of his art with interface screens designed by him became one of the first CD-ROMs released in Japan. In 2004, Mead cooperated with Gnomon School of Visual Effects to produce a four-volume "how-to" DVD series titled "Techniques of Syd Mead."
His one-man show, "Cavalcade to the Crimson Castle," consisting of 114 original paintings and illustrations, enjoyed a three-month showing at the Center for the Arts in San Francisco in the fall of 1996. The highlight of the show was Mead's presentation and lecture, which attracted an audience that exceeded the auditorium's capacity. Subsequent personal appearances at schools across the country have also drawn large crowds. A touring exhibition of his work, titled PROGRESSIONS, has attracted record numbers in Southern California, Detroit, Grand Rapids, New York, Fort Collins, and Myrtle Beach, South Carolina.
In June 1981, he was joined by Roger Servick, who became the Manager of Business Affairs for Syd Mead Inc. in 1991. Together they established their home, as well as Syd Mead Inc. and a publishing extension, OBLAGON, Inc., in Hollywood, California. They relocated in February 1998 to Pasadena, California, where Mead continues to be involved in a variety of design projects.
In May 2007 he completed work on a documentary of his career with director Joaquin Montalvan entitled Visual Futurist.
Mead attributes success in a range of creative activities to the premise that imagination —the idea — supersedes technique.
Career history
Mead has worked on or for the following:
1959: Ford Motor Company's Advanced Styling Center in Dearborn, Michigan
1960–1961: Ford Motor Company Styling in Detroit, Michigan
1961: Futuristic paintings for a U.S. Steel booklet
1970: Started own company, Syd Mead, Inc
1976: Book of designs Sentinel published
1978: Production illustrator for the film Star Trek: The Motion Picture (V'Ger design)
1980: Began his work as "visual futurist" on Blade Runner, designing city backgrounds and vehicles (see Spinner). Also worked as a conceptual artist of the electronic world in Tron, designing lightcycles, tanks, solar sailers and carriers.
1983: Worked for the film 2010 as visual futurist, designing the Leonov spaceship
1985: Conceptual artist for Aliens (Sulaco spaceship design). Consultant and designer of the "Johnny 5" robot in the film Short Circuit. Book Oblagon published.
1987: Designed space cruisers, fighters, props, and costumes for the Japanese animation Yamato 2520
1988: Conceptual futurist for UFO Cover-Up?: Live!
1988: Artist for L.A. 2013 article in the Los Angeles Times Magazine.
1990: Conceptual artist of the future depicted in Solar Crisis
1990: Involved in The Spirit of '76
1991: Kronolog design book (compilation of Kronovecta, Kronoteco and Kronovid books) published
1991: Designed backgrounds and spacecraft for the video game Terraforming (1992, PC-Engine DUO, Japan), also known as Syd Mead's Terraforming (1993, TurboDuo, North America).
Production designer for the future Paris in From Time to Time (1992)
1993: Futuristic concept consultant for The Fire Next Time (TV)
1993: Designed vehicles for the computer game CyberRace.
1993: Kronolog II (Macintosh CD-ROM, developed as AARX) published.
1994: Worked as visual consultant on designs for Timecop (guns, time machine). For Strange Days, designed "sim-stim" playback deck and headgear electrodes known as "trodes"
1995: Visual consultant for Johnny Mnemonic
1995: Designed vehicles for the Sega Saturn game Gran Chaser (known as Cyber Speedway in Western markets) (sequel to CyberRace').
1997: Alien conceptual artist on the computer game Wing Commander: Prophecy.
1998: Designs several mobile suit mecha for the anime Turn A Gundam. Credited as main concept designer and mechanical designer.
2000: Works on Mission to Mars (conceptual artist) (vehicle design).
2000: Production designer in Software
2001: Sentury published.
2003: Contributes a new Light Cycle design to the PC game Tron 2.0.
2004: Gnomon Workshop educational DVDs.
2005: Worked on Mission: Impossible III (Mask Maker machine design).
2008: Worked with Gearbox Software on Aliens: Colonial Marines
2008: Was awarded the Grand Master Award in Ballistic Publishing's 'EXPOSÉ 6' Digital Art Annual.
2010: Sentury II published.
2013: Concept art for the movies Elysium and Tomorrowland
2016: Created a weapon finish for the game Counter-Strike Global Offensive, the AUG | Syd Mead.
About Mead
Documentary films about Mead and his work include:
Visual Futurist: The Art & Life of Syd Mead (2006), 107 min
2019: A Future Imagined (2008), 8 min
Mead also appears in movie documentaries such as Dangerous Days: Making Blade Runner and Mark Kermode's On the Edge of Blade Runner, and promotional materials such as the DVD extra for Aliens and a promotional short film about the making of 2010.
References
Syd Mead Wikipedia
(Text) CC BY-SA