Written by

Shinji Wada


Demographic

Shōjo


Published by

Hakusensha


Volumes

22




Magazine

Hana to Yume





Original run

January 1976 – December 1982




Directed by

Tarō Sakamoto, Hideo Tanaka, Michio Konishi, Morio Maejima


Adaptations

sukeban Deka The Movie (1987)


Genres

Action fiction, Detective fiction




Similar

Hana no Asuka‑gumi!, Haikara‑san ga Tōru, A Gentle Breeze in the Village, Eight Clouds Rising, Hanasakeru Seishōnen
Sukeban Deka (スケバン刑事, translated Delinquent Girl Detective) is a Japanese detective action shōjo manga series written and illustrated by Shinji Wada and serialized on Hana to Yume. Sukeban Deka has been adapted into three live-action television series, an original video animation series and three feature films, the latest of which was released in 2006 as Yo-Yo Girl Cop.
Contents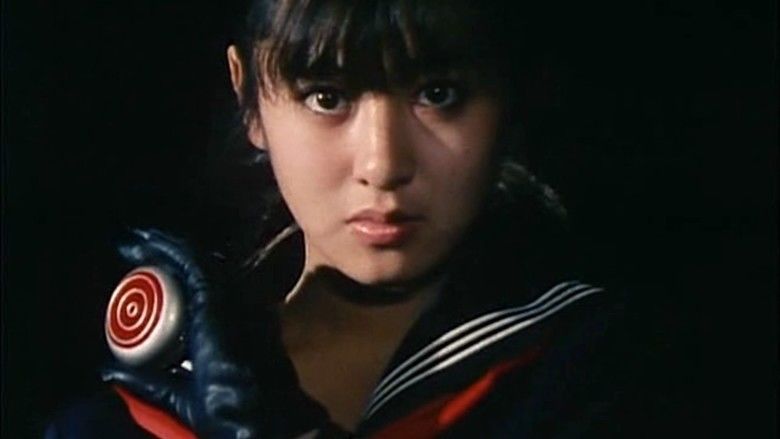 Plot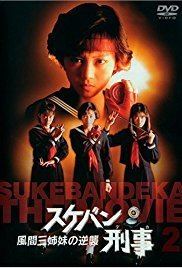 A 16 years old delinquent schoolgirl named Saki Asamiya is offered by the police to become an undercover detective to escape prison. She initially refuses, so the police blackmail her by offering to pardon her mother, who is on death row for killing her abusive husband, eventually forcing her to accept. Put under the tutelage of officer Kyouichiro Jin, she is given a metal yo-yo that doubled as a weapon as well as a police badge and made to infiltrate high schools around Japan to investigate and stop criminal activities. Her first destination is her very former school, Takanoha High School, where Saki's place has been taken by the three Mizuchi sisters and their ring of illegal activities.
Characters
Saki Asamiya (

麻宮 サキ

,

Asamiya Saki)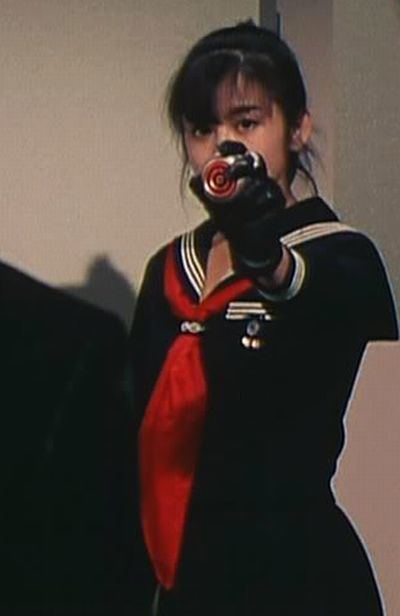 The bitter heroine of the story, a natural born fighter who enjoys getting into scuffles with various people. Saki forced to becoming a secret investigator. She never backs down and is very stubborn. Her main weapon is a steel loaded yo-yo capable to function as a weapon.
Kyoichiro Jin (

神恭一郎

,

Jin Kyōichirō)
Saki's mentor in the police, a long-haired, English-Japanese man who worked for Scotland Yard. He is cold blooded and protective of Saki.
Dark Director (

暗闇警視

,

Kurayami Keishi)
The man who recruited Saki, a shady police officer who is in charge of the Sukeban Deka program.
Sanpei Nowaki (

野分 三平

,

Nowaki Sanpei)
Saki's ardent admirer, who calls her "his goddess" and follows her all over the school campus.
Junko Yuina (

唯名 純子

,

Yuina Junko)
Saki's best friend. A shy, quiet girl, Junko is a talented artist and she is seen as a threat by Emi Mizuchi who vows to sabotage her. In the OVA after Emi finds her beautiful painting, she has it stolen. Junko is kidnapped, forcefully drugged and then left dead on train tracks. Her death makes Saki's mission personal.
Agura (

アグラ

,

Agura)
Saki's rival in prison. Agura is a tough, masculine looking woman who dislikes Saki at first but then begins to respect her. She only appeared in the manga.
Chie (

チイ

,

Chii)
Saki's kind friend in prison. She only appeared in the manga. She has a pleasant demeanor and is less aggressive than the other girls.
Kaoru (

カオル

,

Kaoru)
Saki's hyper friend who is also very vulnerable and ends up being attacked a lot by the other girls in the prison. To help Saki escape from prison, she ends up seducing the prison warden who is a lesbian. She only appeared in the manga.
Mio Kaido (

海堂 美尾

,

Kaidō Mio)
Jin's partner. She only appeared in the manga.
Hikuidori
A scheming, sly cell mate of Saki's. She has a mole under one eye. Hikuidori becomes friends with Saki at first but then betrays her and turns out to be an informant of Remi's. She only appeared in the manga.
Gozo Mizuchi (

海槌 剛三

,

Mizuchi Gōzō)
The patriarch of the antagonist Mizuchi crime family. Gozo uses his influence to control his family's power over Takanoha High school.
Emi Mizuchi (

海槌 詠巳

,

Mizuchi Emi)
The youngest sister who is an artist. Emi is an egomaniac who sees herself as a great artist when at best her talent is borderline, which leads her to use her father's influence to bribe judges and copy the works of other artists. Emi steals Junko's work and copies from it to win an art contest. In the OVA she is killed along with her father by a brainwashed assassin sent by Remi. In the manga, Emi is shot by an assassin sent by Remi but survives and is taken to the hospital.
Ayumi Mizuchi (

海槌 亜悠巳

,

Mizuchi Ayumi)
The dark haired middle child of the Mizuchi family. She has four hulking bodyguards who follow her around for protection. Ayumi is a drug addict and dealer, and is extremely greedy. However, she is the least evil out of the Mizuchi sisters. Despite her cold demeanor, she is loyal to her father and sisters. In the OVA she is betrayed and killed by Remi, who gives her a malfunctioning shotgun that backfires, and steals all her money. In the manga, Ayumi rides a motorcycle and controls her own biker gang.
Remi Mizuchi (

海槌 麗巳

,

Mizuchi Remi)
The eldest daughter, a beautiful blonde who is completely ruthless and sociopathic. When Remi first arrives at the high school, many of the students admire her because of her striking beauty. She is a former friend to Saki, but she serves as a deadly antagonist to her. She seems to be the least dangerous of the three sisters but in fact is the most. She is responsible for Junko's death, setting up Ayumi's death with a malfunctioning shotgun to fight Saki, and a brainwashed assassin to kill her father Gozo and sister Emi. She refers to Saki about their "blood of madness" but drama version views it more expander by using Saki's mother's past. Throughout the manga series, Remi goes as far to impersonate Saki's sister Miyuki. She even cruelly murders Sanpei to get revenge on Saki as well.
Four Devas
Ayumi's four bodyguards. Only one does all the talking. He is the tallest and his weapon is a wooden sword. Another bodyguard uses brass knuckles. The third uses a bike chain. And the fourth bodyguard uses a pair of nunchucks. They appear in the OVA only.
Ayumi's Followers
In the manga, Ayumi's followers are two girls, one named Chibi and the other one's name is not mentioned. Chibi is small and thin with dark hair while the other girl has feathered blonde hair and is obese. These two girls are very skilled fighters.
Remi's Followers
In OVA, Remi's control method explained as computer programs and drugs.
Blue Wolf League (

海槌 麗巳

,

Seiroukai)
A sinister organization bent on controlling the schools of the country.
Publication
The creation of Sukeban Deka was the result of a misunderstanding between the author Shinji Wada and the editors at Hakusensha. Wada was developing a highschool drama, but the publisher expected detective story starring a high school student. At an impasse, Wada decided to combine the two concepts.
Sukeban Deka was published from January 1976 to December 1982, making Shinji Wada a popular manga artist during the late 1980s and the early 1990s. The manga had contributed to the creation of the Sukeban Deka series before it faded into obscurity for a short time from the late 1990s to 2006, when Sukeban Deka: Codename = Asamiya Saki was shown in theaters on September 30, 2006.
As of 2007, the manga has been reprinted by Media Factory, who acquired the rights from Hakusensha. Media Factory collected them into 12 volumes; the original edition was 22 volumes.
Television series
The television series, though technically one series made up of three seasons, are essentially self-contained and separate, aside from sharing the same basic themes and premise, and starring popular Japanese idol singers in the main roles, each one replacing the previous as the new Asamiya Saki, taking on her cover identity and yo-yo weapon.
Sukeban Deka, the first series from 1985, starred Yuki Saito as the titular character Asamiya Saki. Saito's song Shiroi Honō was used as the theme song. The series deviated slightly from the manga, and ended with Saki seemingly dying in a burning building along with her enemy Remi Mizuchi.
Sukeban Deka II in 1985-1986 starred Yoko Minamino as an original main character, as Saito chose not to return in order to focus in her singing career. Minamino portrayed Yoko Godai, a mysterious girl from Kansai who forced to wear an iron mask for most of her childhood who was freed from it by a man named Nishiwaki. He revealed himself as part of the police Sukeban Deja project, and Yoko was recruited for it in exchange for help to find her disappeared dad. In the process, she would be given the name of her presumably dead predecessor, Saki Asamiya, and a similar yo-yo weapon. She would be accompanied by other two delinquent girls, the street-wise Osaka born Kyoko "Marble Okyo" Nakamura (Haruko Sagara) and the refined, Kyoto socialite Yukino Yajima (Akie Yoshizawa). Despite the change of characters, the series actually surpassed the first in popularity and gained a feature film which would connect it with a third series.
Sukeban Deka III in 1986-1987 starred Yui Asaka as another original character after Minamino declined to return. The series also abandoned the urban crime drama formula and adopted a fantasy approach in story arcs inspired from Star Wars. Asaka played Yui Kazama, a country girl from Kyushu who was recruited by the Dark Director and given the role of the third Saki Asamiya (though she rarely used the name) to solve the menace of a supernatural terroris known as the Emperor. She was sent to Tokyo to meet up with her long lost sisters, Yuka (Yuka Onishi) and Yuma (Yuma Nakamura), and they became a trio of kunoichi to battle the villain and his army; they would be helped by the wise Yoda (Nagare Hagiwara) and the bodyguard Leia (Satomi Fukunaga). At the end, it would be discovered that the Emperor was the sisters's own father, a powerful psychic, and that Yui had a twin sister whom her father had brainwashed. The series didn't do well, and was cancelled after a feature film which featured the sisters in a more traditional plot.
Original video animation
Released in 1991, it follows closely the events of the first volumes of the manga. It pertains animation bearing similarities to the style of the 70's manga, particularly in the character designs. One such example is the style of the Mizuchi sisters eyes, an example being Reimi Mizuchi, whose eyes would often shift to show off a more villainous appearance, or would narrow like a snake's.
Saki Asamiya is given a chance to delay her mother's execution by working as an undercover cop and infiltrating Takanoha High School to investigate some mysterious deaths among the student body. Once there, she comes face-to-face with the powerful Mizuchi sisters, who moved in and have taken control after her previous expulsion.
Feature films
Three feature films have been produced.
Sukeban Deka The Movie was released in 1987, and closely followed the second TV series. The movie also included the same actress, Yoko Minamino, and introduced Yui Asaka, who played the new Saki Asamiya in the third series.
Sukeban Deka the Movie 2: Counter-Attack from the Kazama Sisters (1988). The movie starred Yui Asaka and served as the third series's finale.
Sukeban Deka III: Asamiya Saki, was released in 2006. It was directed by Kenta Fukasaku and starred Aya Matsuura as the new Saki. Her fellow Hello! Project members Rika Ishikawa, Erika Miyoshi and Yui Okada from Biyuden, and Masae Ootani from Melon Kinenbi also starred in the movie. Yuki Saito from the original Sukeban Deka TV series made a cameo appearance in the film, implying to be the original Saki Asamiya. Out of all three movies, this title is most known and is more accessible, due to it being released on DVD in the U.S. by Magnolia, and in the UK by 4Digital Asia. For its American and UK distribution, the movie was retitled, Yo-Yo Girl Cop.
Reception
Carlos Ross writing for THEM Anime Reviews about the OVA stated that "Sukeban Deka is Asian action drama faithfully translated into the cel medium, and done well, to boot.". Chris Beveridge, writing for Mania Entertainment, felt the OVA was "a middle of the road release". Helen McCarthy in 500 Essential Anime Movies states that the characters "are nicely drawn", the blossoming relationship between Saki and Sanpei "is handled convincingly", and that "teenagers will relate to the story's themes of betrayal, powerlessness, and being an outsider".
References
Sukeban Deka Wikipedia
(Text) CC BY-SA