Years active

1970–present





Name

Steve Hackett






Birth name

Stephen Richard Hackett




Born

12 February 1950 (age 65) Pimlico, London, England (

1950-02-12

)


Genres

Progressive rock, blues, classical music, worldbeat, pop rock




Occupation(s)

Musician, songwriter, producer




Instruments

Guitar, vocals, keyboards, bass




Labels

Charisma, Camino, Chrysalis (US), Epic (US), Gramy, Lamborghini, Start, Wolfwork, Blue Plate/Caroline (US), InsideOut




Role

Guitarist · hackettsongs.com




Spouse

Jo Lehmann (m. 2011), Kim Poor (m. 1981–2007)




Music groups

Genesis, GTR (1984 – 1986), Gordian Knot




Albums

Genesis Revisited, Genesis Revisited II, Voyage of the Acolyte, Please Don't Touch, Spectral Mornings




Profiles




Twitter

Myspace
Darktown by steve hackett
Stephen Richard "Steve" Hackett (born 12 February 1950) is an English musician, songwriter, singer and producer who gained prominence as the guitarist of the English progressive rock band Genesis from 1971 to 1977. Hackett contributed to six Genesis studio albums, three live albums and seven singles before leaving to pursue a solo career. He was inducted into the Rock and Roll Hall of Fame as a member of Genesis in 2010.
Contents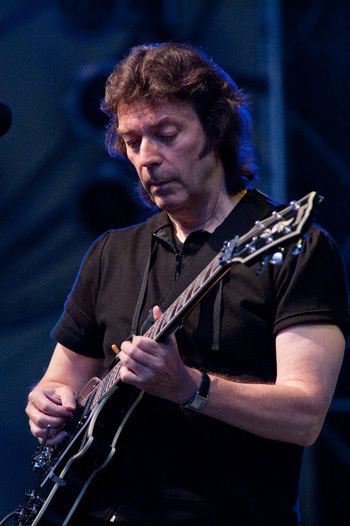 Hackett released his first solo album, Voyage of the Acolyte, while still a member of Genesis in 1975. After a series of further solo albums beginning in 1978, Hackett co-founded the supergroup GTR with another progressive guitarist, Steve Howe of Yes and Asia, in 1986. The group released the self-titled album GTR, which peaked at No. 11 on the Billboard 200 in the United States and spawned the Top 20 single "When the Heart Rules the Mind". When Hackett left GTR in 1987, the group disbanded. Hackett then resumed his solo career. He has released albums and toured worldwide on a regular basis since.
Hackett's body of work encompasses many styles; in addition to his work in progressive rock, he has explored pop, blues, world music and classical music on his solo recordings. According to Guitar World: "Hackett's early explorations of two-handed tapping and sweep picking were far ahead of their time, and influenced Eddie Van Halen and Brian May." Other guitarists influenced by Hackett include Alex Lifeson and Steve Rothery.
Steve hackett s guitar techniques
Early life
Stephen Richard Hackett was born on 12 February 1950 in Pimlico, London, to Peter and June Hackett. He has a younger brother, John Hackett. He attended the Sloane Grammar School in Chelsea. He was born one day before his future Genesis bandmate, singer Peter Gabriel.
Hackett grew up having access to various musical instruments, such as the harmonica (which he would later play on some of his albums) and recorder, but did not develop an interest in the guitar until the age of 12, when he started playing single notes. By 14, he was learning chords and experimenting with chord progressions, although he never received any formal instruction.
Hackett's earliest musical influences were classical (Johann Sebastian Bach) and opera (Mario Lanza). He has said that his compositions are still influenced by them. Hackett also has cited numerous British blues artists as influences, namely Danny Kirwan, Peter Green, and various guitarists in John Mayall & the Bluesbreakers, as well as Jimi Hendrix, The Beatles, and King Crimson.
Early career
Hackett's first professional playing experience came as a member of three rock bands, Canterbury Glass, Heel Pier and Sarabande, all of whom performed rock with progressive elements. He then joined Quiet World in 1970 which featured his brother John on flute. He did not write any material with the group as the band's founders directed what the other members played, which did not bother Hackett as he wished to get more experience in a recording studio since the band had secured a contract with a label. Hackett played on the band's only studio album, The Road (1970), released on Dawn Records, and left them soon after.
Genesis
Seeking a new band, Hackett placed an advertisement in Melody Maker stating that he was looking for musicians "determined to strive beyond existing stagnant music forms". The advert was responded to by Genesis lead vocalist Peter Gabriel. Genesis, which also featured keyboardist Tony Banks, bassist Mike Rutherford, and drummer Phil Collins, had recently lost founding guitarist Anthony Phillips and, after seeing them perform, Hackett auditioned for the group. He joined in December 1970. Hackett had little on stage playing experience when he joined Genesis, but he soon settled into his role, and his unique stage image of wearing glasses and seated in a hunched position over his guitar, served as a counter to Gabriel's extravagant costumes and theatrics.
Hackett's first recording with Genesis was Nursery Cryme, released in November 1971. He helped shape the group's sound and encouraged the group to incorporate a Mellotron into the music. His guitar work is prominently featured on "The Musical Box", "The Return of the Giant Hogweed", and "The Fountain of Salmacis". He became one of the first guitarists to experiment with the tapping technique normally attributed to Eddie Van Halen. Hackett has claimed Van Halen had told him that he learned the technique after attending a Genesis concert in the mid-1970s. The continuo part in the latter song sounds like a synthesiser because of distortion and because of his legato tapping technique as well as Banks's simultaneous Hohner Pianet continuo.
Genesis followed Nursery Cryme with Foxtrot (1972), which included Hackett's classical guitar solo "Horizons", which became one of his signature pieces. The next album, Selling England by the Pound (1973), features Hackett continuing the tapping technique and sweep picking, which was later popularised in 1984 by Yngwie Malmsteen. Both techniques are used on "Dancing with the Moonlit Knight". One of Hackett's best known guitar solos is performed on "Firth of Fifth" and has remained a favourite in concert, even after Hackett's departure. Hackett's role in the group was reduced from what he had contributed on Selling England by the Pound during the recording of The Lamb Lies Down on Broadway (1974). He attributed this to not being able to come to grips with the material presented, and his failing marriage. Another factor was that Hackett had injured his left hand after he accidentally crushed a wine glass in his hand which severed a nerve and a tendon, causing the album's tour to be delayed and seven shows cancelled. This also reflected the tension within the band during this time as Gabriel was to leave the group at its conclusion.
In October 1975, Hackett released his first solo album, Voyage of the Acolyte. The album features Collins and Rutherford on drums and bass, respectively, and reached No. 26 in the UK and was certified silver. Hackett enjoyed the freedom he had when writing and recording his own album. Hackett said that some of the tracks on his album, particularly "Shadow of the Hierophant", were rehearsed by Genesis during the writing and recording of Foxtrot.
Hackett reconvened with Genesis in mid-1975 to write and rehearse for A Trick of the Tail (1976), their first with Collins on lead vocals after no other singer could be found. Hackett joined the writing sessions for the album late due to working on Voyage of the Acolyte, and was low on musical ideas but is credited on "Dance on a Volcano", "Entangled", and "Los Endos". He began to feel frustrated over the group's more democratic approach to songwriting and selecting material for their albums.
The final Genesis album to feature Hackett was Wind & Wuthering (1976). He felt constricted by his lack of freedom and level of input and was insistent that more of his material be included on the album, but was rebuffed. Of the nine tracks, he was credited with four: "Eleventh Earl of Mar" (which he co-wrote with Banks and Rutherford), "Blood on the Rooftops" (co-written by Collins), "Unquiet Slumbers for the Sleepers... (co-written by Rutherford) and "...In That Quiet Earth" (credited to the entire band). Another track of Hackett's, "Please Don't Touch" was rehearsed but rejected and replaced with "Wot Gorilla?". Another, "Inside and Out" (credited to the entire band), was relegated to the band's first extended play release, Spot the Pigeon (1977). A third song, "Hoping Love will Last", was rehearsed with Collins on vocals, but Hackett wanted to bring in a female to sing the lead. The band were hesitant on bringing in outsiders and failed to reach a compromise, causing the song to be dropped.
After the Wind & Wuthering tour, Hackett left the band during the mixing stage of the Genesis live album, Seconds Out. His departure was announced in the press during the promotion of the album on 8 October 1977.
Reunions
Since Hackett's departure, the 1970–75 line-up of Genesis has reunited a handful of times. On 2 October 1982, the group gathered for "Six of the Best", a one-off performance held to raise money for Peter Gabriel's WOMAD festival. This event has been the only one to feature a performance by this line-up since 1975.
Hackett reunited with Gabriel and Rutherford for a series of concerts at the Guildford Civic Hall in 1983. The three performed with Hackett's live band at the time. The setlist included a mix of Genesis songs, cover songs from other artists, and solo songs from the three artists.
In 1996, Hackett had discussions with Tony Banks about working together on an album. Banks was interested in the idea, but talks broke down and nothing came of it.
In 1998, the group gathered for a photo session and dinner to celebrate the release of Genesis Archive 1967–75, a box set for which Hackett re-recorded some of his guitar parts. He also participated in the re-recording of 1974's "The Carpet Crawlers" for inclusion on the 1999 Genesis greatest hits album Turn It On Again: The Hits; the other members of the group also recorded some new parts, but not in the same studio at the same time. After Trevor Horn and The Art of Noise had mixed the song, however, Gabriel's and Collins's vocals were the only major new contributions to make the final release.
In an April 2006 radio interview, Phil Collins discussed a band meeting that took place in November 2005. During that meeting, the group discussed the possibility of reuniting the classic early-mid 1970s roster for a limited run of shows, including a complete performance of The Lamb Lies Down on Broadway, the group's 1974 double album. On 18 October 2006 it was announced, however, that the post-Hackett line-up of Rutherford, Banks, and Collins was instead reforming.
In March 2010, Phish guitarist Trey Anastasio was asked to pay tribute to Genesis, one of his favourite bands, upon their induction into the Rock and Roll Hall of Fame. In addition to Anastasio's speech, Phish appeared and performed two Genesis songs: "Watcher of the Skies" and "No Reply at All". Even though Hackett and his Genesis bandmates (minus Peter Gabriel) attended the ceremony, they did not perform.
In late September 2014 the three-CD compilation set R-Kive was released and got to no. 7 in the UK album chart. The box set contains, besides Genesis material, tracks from each member's solo career from the classic MK3 line-up (Hackett's contributions are "Ace of Wands", "Every Day" and "Nomads"). In connection to R-Kive the BBC documentary Genesis: Together and Apart was broadcast in the UK in October 2014. It was the first time Collins, Gabriel, Banks, Rutherford and Hackett had reunited since Gabriel's departure from Genesis in 1975, but following its broadcast Hackett expressed his displeasure with the programme, which he described as a "biased account of Genesis history" which "totally ignores" his solo work.
1970s
Hackett's first post-Genesis album was Please Don't Touch, released in 1978. As with Voyage of the Acolyte (1975), much of the material on the album was in the style of progressive rock. It did contain, however, much more vocal work. Hackett, who had never sung lead or backing vocals on a Genesis song, turned over most of the vocals to a number of singers, including folk singer Richie Havens, R&B singer Randy Crawford, and Steve Walsh of American progressive rock group Kansas. He did provide lead vocals for "Carry On Up the Vicarage", but they were processed using a "laughing gnome" vocal effect. The album peaked at no. 38 on the UK chart, and no. 103 on the Billboard pop Albums chart in the United States.
A pair of progressive rock albums followed: 1979's Spectral Mornings (no. 22 in the UK and no. 138 in the USA) and 1980's Defector (no. 9 in the UK and no. 144 in the USA). Hackett toured Europe for the first time as a solo act in 1978, and in August 1979 performed at the Reading Festival. The Defector tour brought him to the United States for the first time since his final tour with Genesis.
1980s
Hackett's first major shift in musical style came with 1981's Cured. Although the album contained some of the progressive and classical pieces for which Hackett was known, it also showcased a much more pop approach. The album was recorded without any of the musicians who had appeared on Hackett's solo albums since Spectral Mornings (Hackett handled all lead vocal duties), apart from longtime collaborators Nick Magnus and John Hackett. While Cured did not chart highly in the US, it peaked at no. 15 in the UK. Several of his first solo albums also charted in Europe – especially in Scandinavian countries, where his first four post-Genesis solo albums all entered Top 30 on the album charts.
In the 1980s, Hackett released his first classical guitar albums, Bay of Kings (1983, no. 70 in the UK album chart) and Momentum (1988). The tour for Momentum drew large crowds in Europe, considered unusual for a classical guitarist. On the rock production side, Hackett's work in the 1980s also involved the LPs Highly Strung (1983, no. 16 in the UK album chart) and Till We Have Faces (1984, no. 54 in the UK album chart). Highly Strung contained the semi-hit "Cell 151", while Till We Have Faces merged Hackett-style sounds with world music and Brazilian percussion.
In 1986, Hackett formed the supergroup GTR with veteran Yes and Asia guitarist Steve Howe. The group released a gold-selling album, produced by Yes/Asia keyboardist Geoff Downes. The album included "When the Heart Rules the Mind", which hit number 14 on the Billboard Hot 100, the highest charting US single in Hackett's career. Hackett soon left GTR over financial and management squabbles. In addition to Howe and Downes, Hackett has also worked with Yes drummer Bill Bruford in both Genesis and solo, Yes bassist Chris Squire (Chris Squire's Swiss Choir, 2007 and Squackett - A Life Within a Day, 2012) and briefly Yes vocalist Trevor Horn (who produced the 1999 reunion version of Genesis-classic "The Carpet Crawlers"). He also performed alongside former Yes keyboard player Rick Wakeman on the latter's TV Show Gastank in the mid 1980s. Hackett's long-time keyboardist, Julian Colbeck, played live with Yes spin-off Anderson Bruford Wakeman Howe. The painter and designer Roger Dean, the creator of Yes logo and most of their albumcovers, also did the cover for Hackett's boxset Premonitions (2015).
In 1986 Hackett also participated with former Yardbirds members Chris Dreja, Paul Samwell-Smith and Jim McCarty on their Box of Frogs project second album Strange Land together with Jimmy Page, Ian Dury and Graham Parker on tracks, "I Keep Calling", "20/20 Vision" and "Average". In 1989 Hackett took the initiative for the charity project Rock Against Repatriation and did a cover of Rod Stewart's 1975 hit "Sailing". Along with Hackett, Brian May, Bonnie Tyler, Phil Manzanera, Mark King, Steve Rothery, Curt Smith, Howard Jones, Fish, Paul Carrack, Justin Hayward and Simon Phillips among others participated.
1990s
Hackett's solo career continued, releasing a plethora of both electric, classical and acoustic based albums throughout the 1990s to the present day. In 1996 the first of the well received Genesis Revisited albums was released (no. 95 in the UK album chart). The track, "Déjà Vu" was co-written with Peter Gabriel in 1973 during the Selling England by the Pound sessions but not finished, and Hackett completed the song for this album. In April 1997 he released the neo-classical influenced album A Midsummer Night's Dream, accompanied by the Royal Philharmonic Orchestra, and the album spent several weeks in the Top 10 of the UK classical charts. From this period and next progressive rockalbum Darktown (1999, no. 156 UK album chart) and forward, producer, keyboardist and arranger Roger King has become an important role in Hackett's studio and live works.
2000s
In June 2009, Hackett announced a new solo album featuring contributions of many artists, including former Genesis guitarist Anthony Phillips and Chris Squire of Yes. The album, which was due for release mid October 2009 and called Out of the Tunnel's Mouth, was delayed due to legal reasons, but was eventually on sale from November 2009, and some songs were performed on the European tour.
In 2005, the first Steve Hackett biography, The Defector by journalist Mario Giammetti, was published in Italy (Edizioni Segno).
In August 2009, the official, authorised biography Sketches of Hackett by Alan Hewitt was published by Wymer Publishing. The first edition hardback includes a bonus DVD with a 90-minute interview filmed early in the year at Steve's home.
2010s
On 15 March 2010, Genesis was inducted into the Rock and Roll Hall of Fame with Hackett making a rare appearance alongside Collins, Banks and Rutherford at the ceremony, though they did not perform together. Hackett, in recent years, has put on record his willingness to participate in a reunion. A planned reunion of the classic 1970s Genesis line-up fell apart in 2007 when Peter Gabriel expressed reservations, and subsequently Hackett dropped out in deference to the Genesis 'trio' line-up, as opposed to the four-piece. With Phil Collins's announcement of his retirement in 2011, any possibility of another reunion is very slim.
In 2011 Hackett released his 24th studio album Beyond the Shrouded Horizon (no. 133 in the UK album chart). In 2012 he went on tour to promote the album in the UK.
Later in 2012, Hackett and Chris Squire again collaborated to release the album A Life Within a Day under the name of Squackett.
Hackett released Genesis Revisited II (no. 24 in the UK album chart) in late October 2012. The album also charted in Germany, Italy, France and Netherlands among others and was warmly received just as the following world tours. In June 2013 both Genesis Revisited (1996) and Genesis Revisited II were awarded a Japanese Gold Sales Award. Genesis Revisited II also featured former Genesis Singer Ray Wilson.
Hackett won the Event of the Year award at the 2013 Progressive Music Awards for Genesis Revisited at Hammersmith Apollo. In October 2013 the show was released as a five CD/DVD box set: Live at Hammersmith (no. 58 in the UK album chart), and in June 2014 another CD/DVD box set from the Genesis Revisited II-tour was released: Live at the Royal Albert Hall (no. 80 in the UK album chart). Both boxes entered several European charts as well as breaking through the German Top 20 album chart.
In March 2015, Hackett released Wolflight his first album in four years with newly-written solo material. It reached No. 31 in the UK. Wolflight also contain Chris Squires last studio recording with the track "Love Song to a Vampire".In September 2015, the independent music company Wienerworld released The Man, The Music, a documentary on Hackett's career that went to No. 5 on the UK DVD chart. That October, Universal/Virgin released Premonitions: The Charisma Years 1975–1983, a 14-disc box set of his first six studio albums with extra material including live recordings and new remixes by Steven Wilson.
Hackett's solo album The Night Siren (no. 28 UK album chart) was released in March 2017 and entered top 40 in six international album charts. The album continues the exploration of world music/progressive rock, and also contains influences from the Beatles' psychedelia period and classic science fiction.
Personal life
Hackett has been married three times. His first, brief, marriage was to Ellen Busse and the couple had a son, Oliver. The union broke down at about the time of the recording of The Lamb Lies Down on Broadway (1974). He then married Brazilian painter and jewellery artist Kim Poor on 14 August 1981. They divorced on 18 May 2007. He married author Jo Lehmann on 4 June 2011 and has collaborated musically with his sister-in-law Amanda since 2009 on several records and tours.
Steve's younger brother John was involved as flute player and second guitarist in his 1970s bands. John has often appeared as musician and collaborator on his more recent work, particularly on Sketches of Satie (2000), arranged for flute and guitar.
Discography
Studio albums
References
Steve Hackett Wikipedia
(Text) CC BY-SA