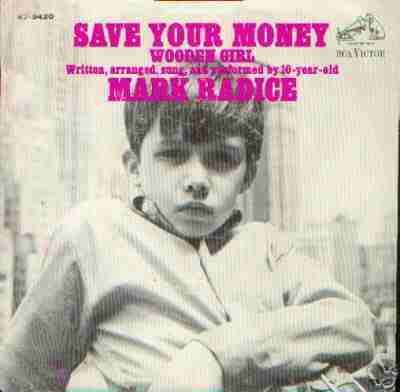 Mark Radice is a professional musician and songwriter since 1964. From a very young age, he has provided keyboards, vocals, guitars, production and songs for himself as well as many well-known artists. With well over 5,500 original songs to his credit, he is one of the most prolific songwriters alive.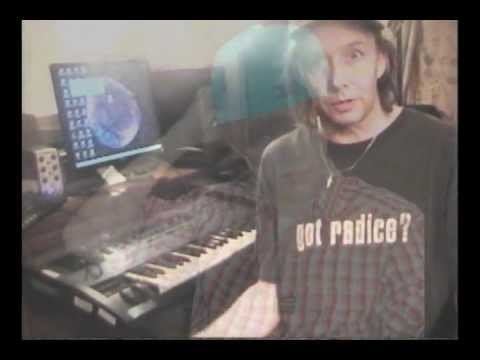 Radice's father, Gene Radice, was a well-known recording engineer who worked with artists such as Jimi Hendrix, Velvet Underground, Lovin' Spoonful, Janis Ian, the Four Seasons, Cowsills, Mamas & the Papas, The Tokens, Vanilla Fudge and many more.
In 1964, at age of seven, Radice was signed to RCA Records. His single "Natural Morning" was later covered by Frankie Valli. In 1967 while signed to Decca Records he released "10,000 Year Old Blues", which featured 20-year-old Steven Tyler. Radice later toured and recorded with Aerosmith in 1978. He released his first full-length LP in 1971 with Paramount Records. The song "Hey My Love" was later covered by Dion. In 1973 Radice was asked to back Donovan on his "7 Tease" tour.
In 1976, through United Artists Records, he released Ain't Nothin' But A Party which featured Brass Construction and included the hit single "If You Can't Beat 'Em Join 'Em."
As a writer for EMI Publishing he collaborated with artists such as Michael Bolton, Eddie Money, Dave Edmunds, Barbra Streisand, Barry Manilow, Johnny Mathis, Helix, Cheap Trick, Aldo Nova, Deodato, Phyllis Hyman, Jetboy, Box of Frogs, Gene Simmons, Shark Island, Jennifer Rush, and The Muppets. He toured with Aerosmith playing keyboards and performing backing vocals in 1978.
After touring with Cheap Trick in 1985, Radice was introduced to Jim Henson and collaborated on many songs for The Muppets. Radice collaborated with the group Vesica Piscis (band) and producer Jack Douglas and Engineer Jay Messina (Aerosmith, John Lennon, Kiss, etc.).
Radice has self-produced several albums which include a variety of previously unreleased material. https://store.cdbaby.com/cd/markradice4
With a catalog of over 3000 songs that are still unreleased, you can expect to see more of such albums. http://users.skynet.be/rockofages/Markradicedisco/
From 2005 to 2011 Radice wrote 160 songs for Sesame Street, including rearranging the Theme in 2008 to reflect a more urban, current sound.
"I basically channeled Stevie Wonder's "I Wish" he says about the rearrangement.
He was nominated for three Emmy Awards for his work "on the street" as Radice puts it. [1].
In 2012 Radice moved to Tennessee and took two years to write 27 songs, one for each letter of the alphabet plus a "new" alphabet
song, for the Sing And Spell Learning Letters project http://www.singandspell.com/
In 2016 Radice won 100 free CDs from Discmakers so taking that cue, he released his first CD in 12 years since "Generation Why"
was released in 2004 https://store.cdbaby.com/cd/markradice3
called "Audio Quicksand" (sampler here)
The CD comes with a 12x12 20 page booklet, there are only 100 of them, and there are about 5 left.
Radice sold 70 of them the first week directly from Facebook.
The "Audio Quicksand" cover depicts Radice playing a guitar, as all the notes fly out of his head and into a toilet bowl that has
the YouTube logo on it. The record spans 37 years of recordings in 15 songs.
in November 2016 Radice was approached to write an all instrumental "Chill" CD and eventually named it ICEPAK29_TRANCEFUSION
ICEPAK being half Radice (ICE) and half Bill Packard (PAK) and is due for release on July 15th 2017.
Mark Radice (1971) Paramount PAS 6033 (re-issued on CD 2004 with different cover)
Ain't Nothin' but a Party (1976) United Artists UA-LA629-G
Intense (1977) United Artists RS-LA 788-G
Store in a Cool Dry Place (1993) Bottom Up Records 122593-2
Generation Why (2004) Self Produced
Stay Tuned (2007) Self Produced
Generation Why (2008) MER International Self Produced
Sing and Spell Learning Letters (2013) Children;s CD/Animated DVD
Audio Quicksand (2016) MER International
"Natural morning" / "You Took the Words Right Out of My Mouth" (1968) Decca 32349
"10,000 Year Old Blues" / "Three Cheers (for the Sad Man)" (1968) Decca 32411
"Richest Man in the World" / "Girl by the Meter" (1969) Decca 32525
"Save Your Money" / "Wooden Girl" (1972) RCA 47-9420
"Your Love is Like Fire" / "Hey My Love" (1972) Paramount 0170
"Hey My Love" / "Your Love is Like Fire" (1972) Paramount PARA 3024 (UK)
"New Day" / "Take Me to the Park" (1972) Paramount PARA 3025 (UK)
"If You Can't Beat 'em, Join 'em" / "The Whole Wide World Ain't Nothin' But a Party" (1976) United Artists UA-XW840
"The Answer is You" / "Monkey See Monkey Do" (1976) United Artists UA-XW897-Y
"It's You My Love" / "Love is Free" (1977) United Artists 5C 006-60377 (Holland)
Aerosmith Live Bootleg! (1976) Columbia Records