A sugar-refinery worker (Steve Cochran) flees his Northern Italy town after a woman (Alida Valli) refuses his marriage proposal.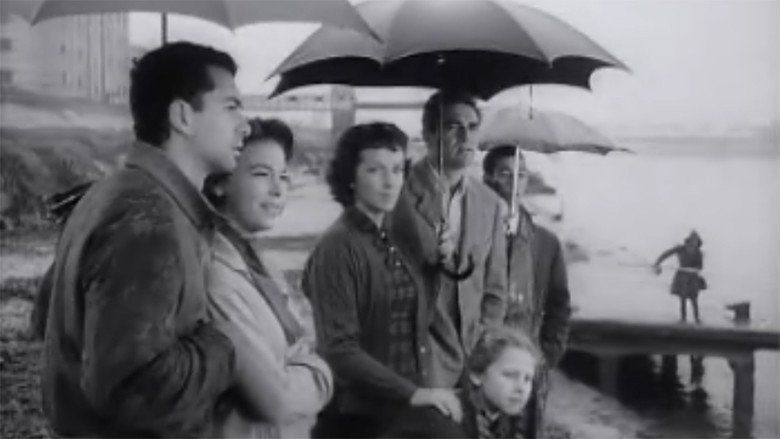 Il grido (English: The Cry) is a 1957 Italian black-and-white drama film directed by Michelangelo Antonioni and starring Steve Cochran, Alida Valli, Betsy Blair, and Dorian Gray. Based on a story by Antonioni, the film is about a man who wanders aimlessly, away from his town, away from the woman he loved, and becomes emotionally and socially inactive. Il Grido won the Locarno International Film Festival Golden Leopard Award in 1957, and the Italian National Syndicate of Film Journalists Silver Ribbon Award for Best Cinematography (Gianni di Venanzo) in 1958.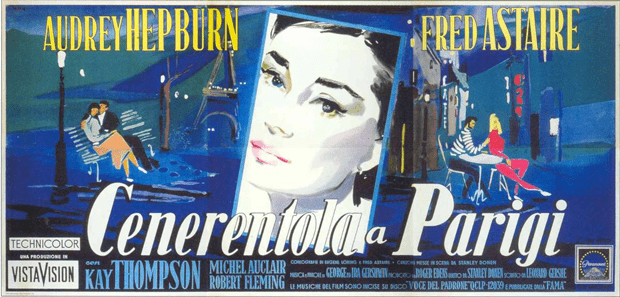 After living seven years with the mechanic Aldo, having a daughter with him, the simple woman Irma is informed that her absent husband had just died in Sydney. She becomes upset when Aldo proposes to marry her and she tells him that she is going to leave him. Unable to explain how much he loves her, Aldo takes their daughter Rosina and travels with her, meeting different women in different places, trying to establish a new relationship and fill the emptiness of his sentimental life. He visits his former lover Elvia; he meets and lives with the widow Virginia, who owns a gas station; he lives with the prostitute Andreina. But these relationships never complete the needy Aldo.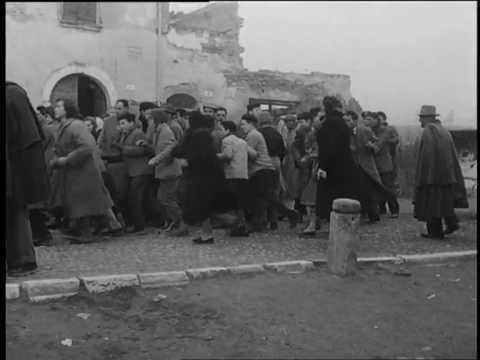 Aldo (Steve Cochran) has worked at the sugar refinery in Goriano for seven years. His long-time mistress, Irma (Alida Valli), learns that her husband, who left for Australia years ago in search of a job, recently died there. Irma goes to the sugar refinery and drops off Aldos lunch, but does not stay to talk with him. Concerned about her behavior, Aldo goes back to the house where they discuss her husbands death. Aldo suggests that after seven years they can finally get married and legitimize their daughter, Rosina (Mirna Girardi). The next day, Irma reveals that she loves someone else. Aldo can hardly believe her words, saying, "All these years, nothing was true." In the coming days he tries desperately to change her mind but it is no use, and the relationship ends with him slapping her in public.
Distraught and disillusioned, Aldo leaves Goriano with their daughter Rosina and the two start wandering throughout the Po valley. They stop at the house of his former girlfriend, Elvia (Betsy Blair), a forlorn seamstress who still loves him. He flatters her and helps repair a racing boat owned by the boyfriend of Elvias younger sister, Edera (Gabriella Pallotta). Later he spends time with Elvia and his daughter watching the river race, with Elvia holding Aldos arm, but Aldo cannot hide his depression for long. Irma shows up at Elvias house to deliver Aldos valise. Elvia has little sympathy for Irma, believing she will regret throwing away her relationship with Aldo. That night Elvia and Aldo go to a dance and have a good time, but Elvia asks to leave early so she can talk with him. Upset that Aldo returned to her only after Irma broke off their relationship, she tells him she received his valise from Irma (but not mentioning Irmas visit). After Aldo explodes in anger at Irmas actions, they both realize his visit was a mistake. Later that evening, Edera returns from the dance a little drunk and flirtatous, and they kiss, but Aldo can only think about Irma. Aldo and his daughter leave early the next morning. Elvia tells her younger sister she is sad to see him go.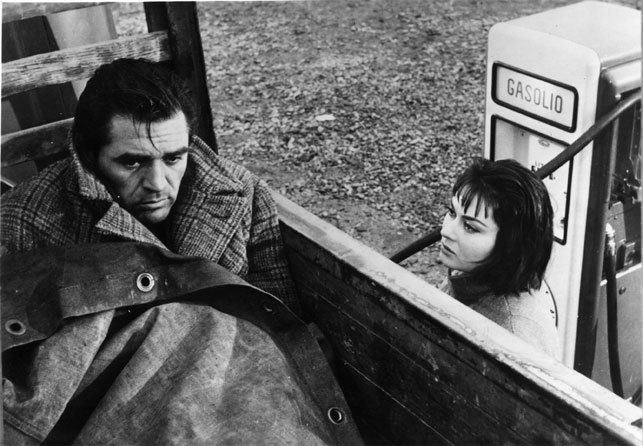 Aldo is unsuccessful in finding work along to Po valley. When Rosina is almost hit by a car, Aldo slaps her face in front of a school yard of children, humiliating her. She runs off and walks among a group of men from the insane asylum. Her father retrieves her and they get a ride atop a petrol truck, but are forced to disembark near a police check point near a bpm service station. The truck driver tells Aldo that hell pick him up the following day when the police are not around. Aldo meets Virginia (Dorian Gray), the beautiful widow who runs the roadside service station, and asks if he and his daughter can stay until he can get a ride. Virginia offers him the shack next to the station and he accepts. The next morning Virginia offers Aldo a job. The truck from the previous day approaches and the driver asks if Aldo still wants the ride, but he declides, choosing to stay. That night their mutual attraction is undeniable and they consummate their desires.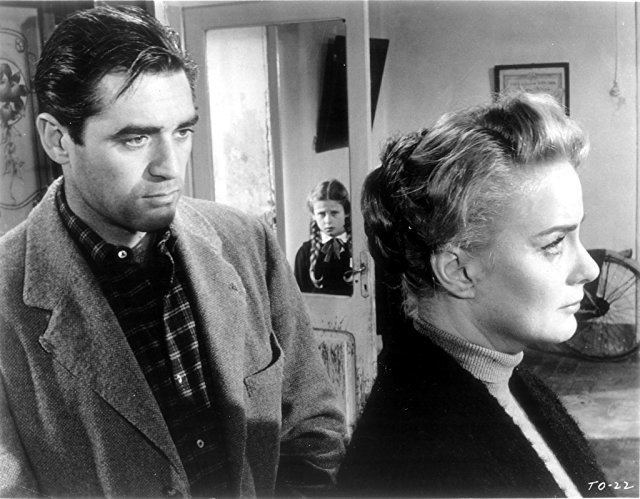 The next morning while Aldo and Virginia continue their lovemaking, Rosina goes off with Virginias father who harasses the new owner of his farm which Virginia recently sold. The new owner complains to Virginia about her fathers behavior. Frustrated by her fathers erratic behavior, Virginia decides to put him in a retirement home. Later that day Aldo and Virginia make love in an open field partially hidden by large wooden cable spools while Rosina plays nearby. When Rosina discovers them in their passion, she runs off upset. Back at the house, Virginia suggests they can no longer take care of Rosina, and soon Aldo puts her on a bus back to her mother. As the bus pulls away Aldo runs after her saying, "I wont forget you ... remember that I love you. Ill always love you."
Sometime later, after leaving Virginia, Aldo finds work as a mechanic with a dredge crew. Listening to his boss tales of travel, Aldo begins planning a trip to Venezuela, but eventually loses interest. While walking along the river, Aldo meets Andreina (Lynn Shaw), a prostitute living in a riverside shack. Andreina begins flirting with Aldo, who rushes off when he thinks he sees police approaching. Sometime later, Andreina finds Aldos shack and returns his coat. They go for walk along a wide expanse of rivershore as desolate as their future. Aldo tells her about a time when a group of his friends wanted to go to a dance, and a woman named Irma asked him to go to a museum instead. Andreina gets annoyed at the pointless story, despite its importance to Aldo all these years later. He remembers his old refinery job and how, from the tower, he could see his house, the river, and his daughters school. Andreina remembers being pregnant once, and how it almost got her a man of her own, but the pregnancy "went wrong".
In the coming days the rain falls heavy over the Po valley and the river rises. The roof on Andreinas shack leaks and neither of them have any food. Andreina goes to the local restaurant where she intends to sleep with the owner for food. Aldo follows and tries to get her to come back, but she refuses. Aldo leaves dejected. The next day Aldo decides to return to Goriano, getting a ride in the back of a truck that stops at Virginias service station. Virginia gives him the valise he left behind and tells him about a postcard that arrived from Irma that she misplaced.
Arriving in Goriano, Aldo sees the town is about to be demolished to make way for a jet airfield. In town the citizens are protesting the government takeover. Aldo goes to Irmas house and sees that she is content with a new baby and living a better life. As he turns to go, Irma notices him at the window and follows him to the old refinery. Filled with despair, Aldo climbs to the top of the refinery tower where he once worked. From the ground Irma calls up to him, and he turns and sees her down below. Appearing weak and disoriented, Aldo plunges to his death as Irma cries out in despair. She kneels over his dead body and touches him gently.
Steve Cochran as Aldo
Alida Valli as Irma
Betsy Blair as Elvia
Gabriella Pallotta as Edera, her sister
Dorian Gray as Virginia
Lynn Shaw as Andreina
Mirna Girardi as Rosina
Pina Boldrini as Lina
Guerrino Campanilli as Virginias father
Pietro Corvelatti as Fisherman
Lilia Landi
Gaetano Matteucci as Ederas fiance
Elli Parvo as Donna Matilda
Critics disagree about whether Aldos death at the end is intentional or not. Seymour Chatman argues that Aldo is overcome with vertigo as he stands atop the tower, causing him to fall to his death. Chatman finds support in the original screenplay, which mentions that Aldo attempts to resist a sudden onset of vertigo as he looks down on the ground.
Francolino, Ferrara, Ferrara, Emilia-Romagna, Italy
Po Valley, Italy
Pontelagoscuro, Ferrara, Ferrara, Emilia-Romagna, Italy
Ravenna, Emilia-Romagna, Italy
Saline, Strada Statale 254, Cervia, Ravenna, Emilia-Romagna, Italy (gasoline pump where Aldo meets Virginia)
Stienta, Rovigo, Veneto, Italy
In his review in The New York Times, A.H. Weiler noted the filmmakers "elliptical, mystifying but often engrossing approach" to filmmaking and saw Il Grido as a predecessor to LAvventura and La Notte. Weiler writes:
This tragic search of a man for a lost love is as realistically bereft of hope as its predecessors. But gray and cheerless as the lower Po Valley in which it was filmed, Il grido is nevertheless a fairly lucid story that puts no undue strain on a viewers imagination or intellect. This is not mere happenstance, since Il grido was filmed in 1957, long before the director had developed the somewhat vague, labyrinthine techniques notable in LAvventura. Unlike the later films, Mr. Antonioni is focusing on the lower classes in Il grido, but he is again seeing life through a glass darkly, and his outlook is dismal and depressed. One is made to feel that Mr. Antonioni is not interested in explanations so much as in character and situations. In Il Grido there is no dearth of either. With the aid of Gianni de Venanzo, his cinematographer, Mr. Antonioni has captured fog-filled landscapes that underline the somber mood of his tale.
In her review in The Village Voice, Leslie Camhi wrote that the film "provides a missing link between Italian neorealism and the directors later work." Camhi praised Antonionis skill at using landscape to reflect the inner emotions of the factory mechanic and his child who "drift aimlessly through a nearly empty, semi-industrial landscape. The cameras spare, stunning compositions and the tone of loss and disaffection anticipate Antonionis later, brilliant explorations of bourgeois anomie."
In his review for the A.V. Club, Keith Phipps saw the film as an important transitional work between Antonionis neo-realism roots and his later masterpieces.
Released in 1957, the formative Il Grido finds Antonioni, like Fellini at the time, still shaking off the influence of neo-realism by making a film that looks toward both his influences and his future. ... If Antonionis assuredness isnt yet in place, Il grido remains a key transitional work, with remarkable photography, fluid camerawork, and a typically unforgettable finale ranking among its most notable virtues. Important in establishing Antonionis Italian reputation, Il grido arrived shortly before the director found international acclaim with LAvventura.
On the review aggregator website Rotten Tomatoes, the film holds an 80% positive rating among film critics based on 10 reviews, and an 81% positive audience rating based on 1,211 user ratings.
1957 Locarno International Film Festival: Golden Leopard Award (Michelangelo Antonioni) Won
1958 Italian National Syndicate of Film Journalists Silver Ribbon Award for Best Cinematography (Gianni di Venanzo) Won