7.2

/

10

Alchetron

Rate This





Created by

Eric Fogel




Country of origin

United States Canada




Final episode date

9 February 2007




Program creator

Eric Fogel






Genre

Claymation




Directed by

Andrew Horne




First episode date

5 January 2007




Network

E!




Cast

Noah Starr






Written by

Eric Fogel John T. Reynolds Eric Scott




Starring

Tia Dionne Hodge Ben Schwartz Kathy Searle Noah Starr




Similar

Celebrity Deathmatch, E! True Hollywood Story, The Soup, The Comment Section, The Wrong Coast
Starveillance is an American/Canadian claymation television series created by Celebrity Deathmatch creator Eric Fogel that debuted on January 5, 2007 on E!. The show is produced by Toronto-based Cuppa Coffee Studios. Fogel chose not to work on his revived MTV hit Celebrity Deathmatch in order to spend more time working on this show.
Contents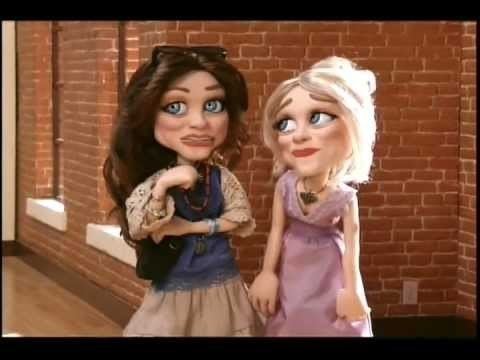 Show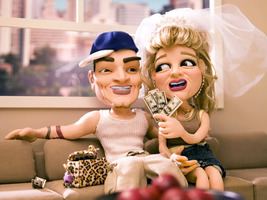 The show parodies celebrity situations through stop-motion animation. The show is hosted by Glen and Corey, who hide video cameras all over the world to tape celebrities in their private moments.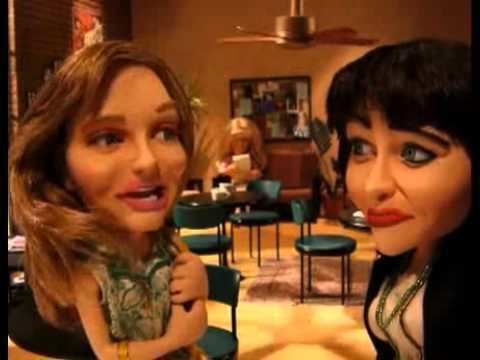 The first episode, which aired on January 5, 2007, depicted The Olsen Twins and their real estate agent who appears ready to tear his hair out due to the outrageous demands and obnoxious nature of the twins. The next sketch showed a hyper-active Vince Vaughn asking Jennifer Aniston to go out with him. They then show Britney Spears and Kevin Federline's meeting with a wedding planner, where Kevin proceeds to film Britney's rear end and speaks in a tone synonymous with "gangstas". When asked about her gown, Britney says that she would prefer a sweatsuit, Kevin agreed, demanding that said sweatsuit must double as pajamas, "'cause his baby gots to be comfortable". The couple demanded corndogs at their reception. The next skit depicted the aftermath of the birth of Tom Cruise's baby. Tom was very loud and hyper, prancing around and making Katie Holmes miserable by suggesting they name their baby girl L. Ron. Surprisingly, Katie is not shown in a negative light, but simply as an overstressed woman trying to cope with her extremely annoying husband. Later in the skit, Brooke Shields makes an appearance. In the next skit, Bobby Brown and Whitney Houston are filming the reality show Being Bobby Brown where we see that in reality they are nothing like the people shown on their reality show. In the final skit, Brad Pitt and Angelina Jolie are having a meeting with the leaders of two African nations in order to decide which of the countries will host the birth of their baby.
Response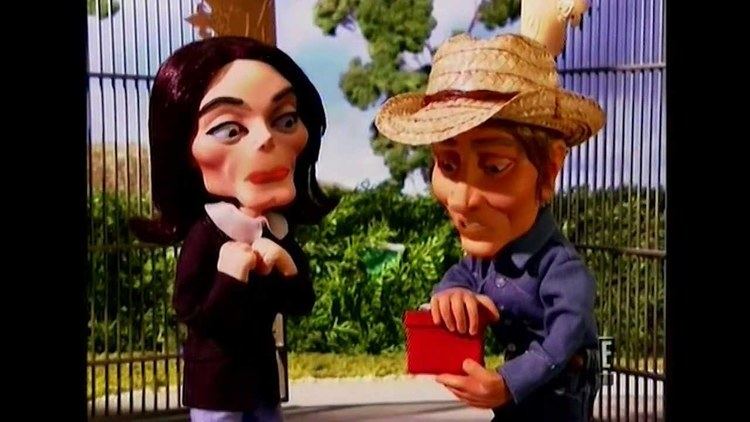 The show got a lot of publicity from E! and was promoted in such shows as The Soup and E! News.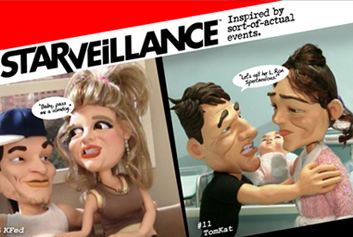 Some skits from the show were shown around the internet months before the show premiered. The skits caused a mixed reaction from the fans of Eric's previous TV series Celebrity Deathmatch, which he left to work on this show.
The response from critics was mostly positive. For example, Variety said: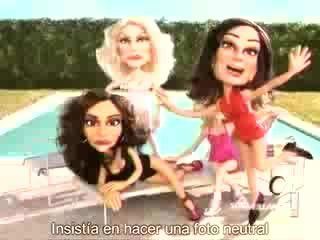 "Starveillance isn't the kind of concept likely to have significant staying power, but it feels like a logical step for E! as the channel seeks to branch out beyond its limited reality-TV profile into somewhat more ambitious fare -- the kind of show whose best moments are tailor-made to be sliced, diced and repurposed on YouTube." - Brian Lowry, Variety
Syndication
Teen channel The N aired the episodes from April 11, 2009 to May 16, 2009.
References
Starveillance Wikipedia
(Text) CC BY-SA