Celebrity deathmatch madonna vs michael jackson
Celebrity Deathmatch is a claymation parody TV show which depicts randomly chosen celebrities fighting each other in a wrestling ring, ending in the loser's gruesome murder knockout and getting humiliated in front of a large crowd of people observing them. It is known for its various power-ups, different abilities, various stats, all amounts of different weapons, the brutality and fatality of the different attacks, excessive amounts of blood, large amounts of blood losses and exaggerated physical injuries (e.g., one person cuts off a participant's foot, living through decapitations, impalement, etc.) used and permitted in every match.
Contents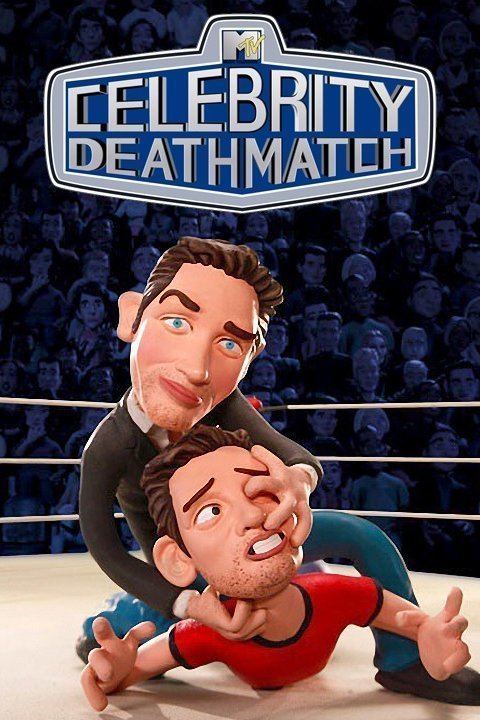 The series was created by Eric Fogel, with the pilots airing on MTV on January 1 and 25 1998. The initial series ran from May 14, 1998 to October 20, 2002, and lasted for a 75-episode run. There was one special that did not contribute to the final episode total, entitled "Celebrity Deathmatch Hits Germany", which aired on June 21, 2001. Professional wrestler Stone Cold Steve Austin gave voice to his animated form as the guest commentator. Early in 2003, a film based on the series was announced by MTV to be in the making, but the project was canceled by the end of that year.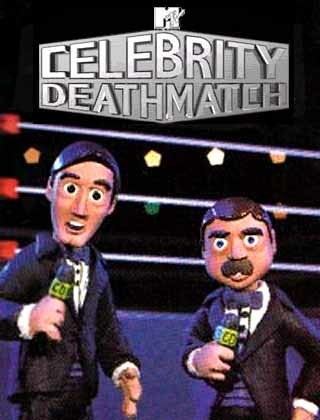 For a brief period in 2001, episodes of Celebrity Deathmatch aired on broadcast network UPN, immediately following episodes of fellow stop motion series Gary & Mike.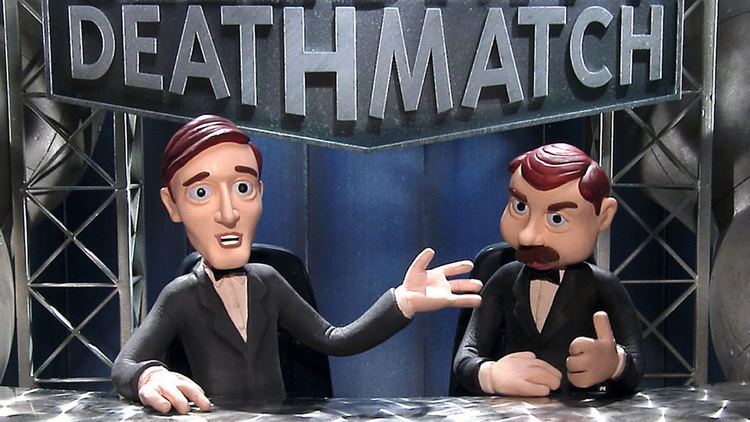 In 2005, MTV2 announced the revival of the show as part of their "Sic 'Em Friday" programming block. Originally set to return in November 2005, the premiere was pushed back to June 10, 2006 as part of a new "Sic'emation" block with two other animated shows, Where My Dogs At? and The Adventures of Chico and Guapo. The show's fourth and fifth season was produced by Cuppa Coffee Studios and the premiere drew over 2.5 million viewers, becoming MTV2's highest rated season premiere ever. It was canceled again in 2007.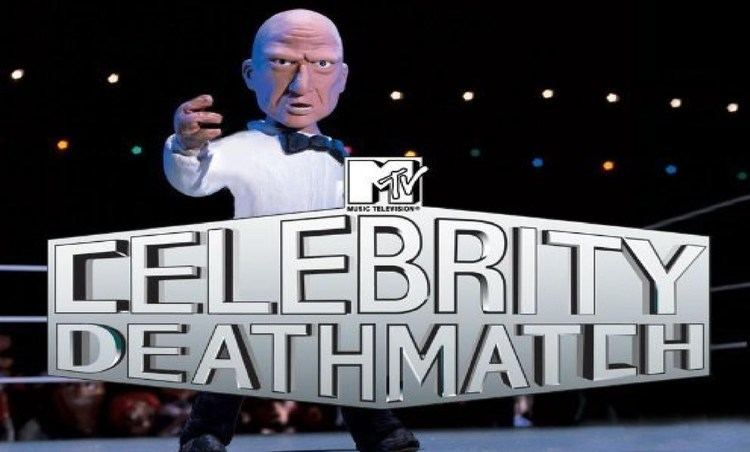 In April 2015, MTV2 announced a reboot of the show. On November 3, 2016, Eric Fogel confirmed via Twitter that MTV had ceased production on the re-boot for unknown reasons.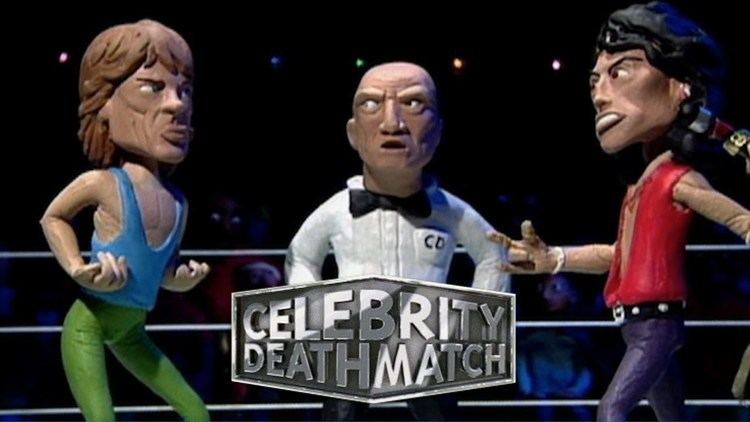 Main characters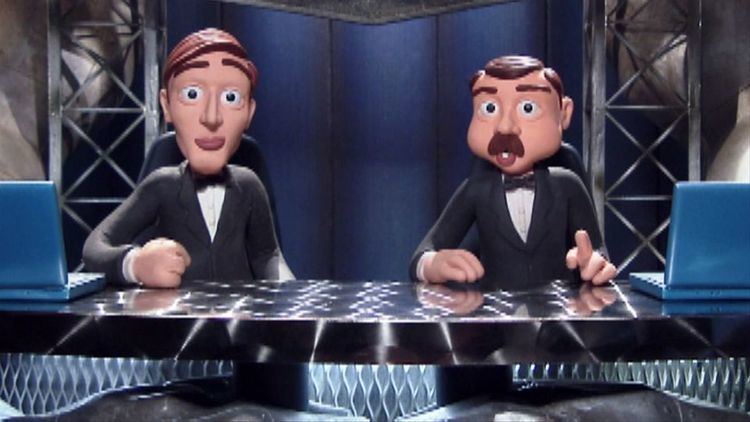 Johnny Gomez (Maurice Schlafer, 1998–2002), (Jim Thornton, 2006): One of the two joint commentators on the Celebrity Deathmatches, Johnny is the more professional one, and a loyal friend of Nick's despite his constant blunders. He only lost his professionalism once to Lenny Stanton, the producer's son and nearly lost it a 2nd time concerning interviewer Tally Wong. Johnny's hair has noticeably changed from black to brown in the new season. Judging by a comment made by Tally during one episode, he may be wearing a hairpiece. Johnny harbors an intense hatred for her akin to Nick and Debbie, but tries to maintain being a professional. He was born in Illinois. Johnny bears a striking resemblance to Johnny C., the host of the last few seasons of Gorgeous Ladies of Wrestling.
Nick Diamond (Len Maxwell, 1998–2002), (Chris Edgerly, 2006): Johnny Gomez's co-host, a perceived alcoholic and divorced father of one, he is always screwing up. He harbors an intense hatred for interviewer Debbie Matenopoulos, and has also participated in, and won, several matches by himself. Nick is apparently so hopeless that when he mentions having an uneventful weekend, Johnny spends the show preparing for the inevitable disaster to befall his co-commentator. He was born in Virginia. Nick bears a striking resemblance to Mean Gene Okerlund, longtime announcer for the WWF(later renamed WWE), only with a hairpiece.
Mills Lane (himself, 1998–2002), (Chris Edgerly, 2006): The official referee of the Deathmatch ring; he always starts matches by saying "Let's get it on!" and shows that this is one ref you cannot knock down with one hit. Another catch phrase is when there is a disputable move by either fighter, like using foreign objects, and he says "I'll allow it!" implying that just about anything is legal in the ring. Biting and guns are his only reservation as well as having a dirty fighting ring. After he suffered a stroke in 2002, the real Mills stopped providing the voice of his own character but gave Edgerly his blessing.
Minor regular characters
Stone Cold Steve Austin (himself): World Wrestling Entertainment (WWE) wrestler and guest commentator on Celebrity Deathmatch. Also the scientist, doctor and weapons expert on the show. He also fought and won a match against Vince McMahon (voiced by McMahon himself, and whom Austin would actually wrestle with on several WWE events in real life). Austin did not show up in the later seasons, for Nick has once stated that he was too expensive to bring back.
Stacey Cornbred, (Mz. L): The first interviewer on Celebrity Deathmatch, Stacey maintained a more professional air than Tally, Debbie and Marv. She kept her interviewing job until her untimely demise from spontaneous human combustion. Though she had exploded, she briefly returned in a Halloween episode as a demon to challenge Debbie in the ring only to be soundly (and messily) defeated.
Debbie Matenopoulos (herself): The interviewer that succeeded Stacey Cornbred after her death. She hates Nick and doesn't prepare for any interviews, usually just asking whatever she feels like. Debbie often believes herself to be smarter than she really is, but is really self-centered and unprofessional. Left the show late in the 4th season on maternity leave. Debbie is similar to Tally in the way they act and behave during interviews.
Tally Wong (Masasa Moyo): The new interviewer from Season 5 onward. Before most of the matches, she interviews the combatants in a segment called "Tally's Korner". Like Debbie, Tally is very self-centered and unprofessional. She usually spends most of her interviews insulting the celebrities rather than asking questions. The only time Tally does ask questions, she often asks whatever she feels like asking and when they refuse to answer, she makes rude remarks about them. At times, she makes rude remarks about Nick and Johnny during matches, earning her their ire, including making remarks about them wearing hairpieces. Whenever Nick or Johnny gets mad at her for it, she taunts them by daring them to "bring back Stacey Cornbred." Tally harbors an intense hatred toward Johnny Gomez, which proves to be mutual. Ironically though, this was the inverse in the previous show with Nick Diamond hating on Debbie Matenopoulos.
Marv Albert (Buck Lee): CDM's first guest commentator. He only appeared in the pilot episode and was best recognized for wasting the whole show watching the slow-motion replay of Pamela Anderson's implant-laden breasts jiggling repeatedly. Because of this, Johnny and Nick had Marv replaced with the more professional Stacey Cornbred until her untimely death.
Phil the popcorn guy (Jim Conroy): A running gag; usually among the first victims in the audience when a Deathmatch gets too brutal to stay in the ring. Since his second season appearance, the vendor has been burned, chopped up, and even possessed by a demon at various points, only to come back again healthy in his next appearance.
Nicky Diamond Jr., (Brendan Muller): Nick's son, who appeared in several episodes. In one episode he was possessed by a demon called "Captain Doody," but was delivered when The Undertaker executed a Tombstone Piledriver on the possessed Nicky during their bout, causing the demon to leave Nicky and enter the hapless popcorn salesman.
Temporary co-hosts
Lenny Stanton: The producer's son with an intense knowledge of celebrities and was a temporary co-host. Johnny harbors an intense dislike for Lenny because of his obnoxious behavior and constant disrespect towards Nick, which proves to be mutual. He later paid the price for his disrespectful behavior, when an furious Nick rendered Lenny unconscious with a head butt. It was implied the laser pointing hooligan harassing Nick was Lenny trying to seek revenge against him and Johnny for his humiliation, but this was unconfirmed.
Jack Nicholson: Temporary Co-host in "Nick in a Coma". He proved to be more professional and had a minor crush on Cindy Crawford. He lost his professionalism when he admitted he was annoyed with the fan girls being around Leonardo DiCaprio, that lead to an eventual match between them.
Gilbert Gotfried: temporary interviewer and co-host. Very professional, though at times selfish.
Sam Donaldson: One of the producer's friends from ABC who harbored an intense hatred for Johnny and Nick for stealing the hosting position from him. He lied on the TV claiming the men were dead to avenge himself and take his rightful place as CDM's host. Sam later paid for his arrogance when Johnny and Nick returned to the hospital to fight him.
History
Celebrity Deathmatch started on MTV's Cartoon Sushi as a short that featured convicted murderer Charles Manson and shock rocker Marilyn Manson fighting to the death. Deathmatch was brought back in 1998 for MTV's Super Bowl XXXII halftime special. Just three months later, Celebrity Deathmatch had entered MTV's main lineup. The show was popular enough for show creator Eric Fogel to be named one of the most creative people in the TV industry by Entertainment Weekly.
During the next four seasons, Celebrity Deathmatch became more popular in other countries and gained viewers from all over the world, but four seasons and 75 episodes later in 2002, MTV decided to cancel the show.
Video game
A video game based on the series was released for the PlayStation, PlayStation 2, Xbox, and Microsoft Windows on October 14, 2003 by Gotham Games.
Revival
New episodes of the show, which began production in 2005, were produced by Cuppa Coffee Studio as opposed to MTV's now-defunct animation department. The show featured an all-new voice cast and a new look. Johnny, Nick, and Mills Lane returned, albeit with new voices. Mills Lane, who used to be played by himself, was played by Chris Edgerly due to the real Mills Lane's 2002 stroke. Debbie Matenopoulos was replaced by Tally Wong. Eric Fogel chose not to get very involved with the new seasons due to his involvement on his show Starveillance for the E! network. The show was directed by Jack Fletcher and Dave "Canadian" Thomas. During the 2006 season, fans were able to vote on MTV2.com for future matches by choosing one of three matches and by sending a write-in request. However, due to the second cancellation of the show, these matches would not come to fruition.
In April 2015, MTV2 announced a reboot of the show on their Twitter. As of May 2016, no dates have been said yet, but the pilot has been green lit. On November 2, 2016, Eric Fogel confirmed via twitter that production on the re-boot had been stopped for unknown reasons and the pilot would not be going forward.
Soundtrack
MTV asked Marilyn Manson to compose a song for the show. Ultimately, the song conveyed the public's obsession with violence and sadistic acts, which were portrayed on television. Manson believed that was the show's satirical take regarding society as a whole. "Astonishing Panorama of the Endtimes" became the only single off the Celebrity Deathmatch soundtrack. It was nominated in 2001 for the Best Metal Performance Grammy Award, and later included on Manson's album The Last Tour on Earth.
References
Celebrity Deathmatch Wikipedia
(Text) CC BY-SA