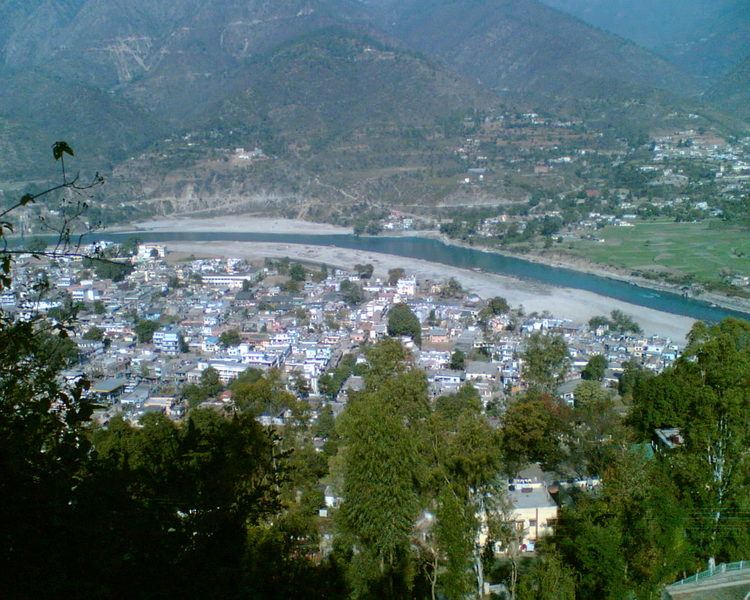 Srinagar is located at 30.22°N 78.78°E / 30.22; 78.78. at the left bank of Alaknanda river. It has an average elevation of 560 metres (1,837 feet). It is the largest town in the Garhwal Hills. It is reached by national highway NH58 from Rishikesh, Srinagar is about 100 km from Rishikesh which is the last city on the plains of Uttarakhand and from where the mountains start. Srinagar can also be reached via Kotdwara, from Kotdwara it takes maximum 5 hours to reach there.
At the 2007 India census, Srinagar had a population of 80,000. Males constitute of the population 55% and females 45%. Srinagar has an average literacy rate of 83%, higher than the national average of 59.5%: male literacy is 86%, and female literacy is 79%. In Srinagar, 18% of the population is under 6 years. At the 2012 census Srinagar had a population of 1,50,000. Males constituted of the population 52% and females 48%. Srinagar is the largest city in the Garhwal hills and now Srinagar is included in the largest cities in Uttarakhand. Srinagar is also an educational city in Uttarakhand.
Srinagar city mainly rests over the quaternary fluvial terraces of boulders and sand deposited by Alaknanda river. The hard rock under these boulder-sand terraces is the proterozoic phyllite called Pauri Phyllite. This highly fractured Pauri Phyllite of Chandpur Formation (Jaunsar Group) is separated from the quartzite and lime stone of Rudraprayag Formation by the North Almora Thrust (NAT), sometimes also called Srinagar Thrust.
Srinagar came into limelight after becoming the capital of Garhwal Kinghdom. King Ajay Pal with unifying the various chiefdoms and garhis (small counties) of this region during 1506-1512 CE founded the Garhwal kingdom and shifted the capital to Srinagar place from Chandpur Garhi.
The Gorkhas defeated the Nepali king and occupied Kathmandu. This emboldened them and they turned westward and attacked Kumaon and Garhwal in 1803. Raja Pradyuman Shah of Garhwal was defeated and killed in January 1804. Srinagar was under Gorkha rule from 1806 to 1815 CE. After the Gorkhas were defeated by the British, Srinagar became a part of British Garhwal.
The old Srinagar city was destroyed in the Gohna Lake dam-burst which destroyed all the old relics of the town.
Today the town is an important cultural and educational centre. Being placed in central Garhwal at a moderate height, it is an important Valley Bazar in the hills. It has a number of temples and monuments and places for tourists to stay.
Srinagar is the hottest place in the Garhwal Hills in summers as it is at low elevation of just 560 m. and the temperature reaches 45 °C on some days from May to July. It has chilly winters and the temperature can fall to 2 °C in December and January.
Hemwati Nandan Bahuguna Garhwal University (renamed after Hemvati Nandan Bahuguna in 1989), established in 1973, is situated at Srinagar. The University has jurisdiction over seven districts of the region. It was made a Central University in 2009 by the Central Universities Act, 2009. It has two other teaching campuses at Pauri and Tehri towns. It is a residential cum affiliating institution of higher learning with more than 180 affiliated colleges.
National Institute of Technology Uttarakhand opened in 2010.
Srinagar Base Hospital Medical college with MBBS and MS courses having more than 500 students, is also situated at Srikot about 5 km from Srinagar towards Joshimath.
One ITI and one Polytechnic along with one B Ed college are other educational institutes in Srinagar. Sashastra Seema Bal (SSB) Cadets Training Academy is also operating here for long.
Many pre university schools in the town provide a versatile education system for all round development.
Srinagar has a medical college (better known as Vir Chandra Singh Garhwali Govt. Medical College) established in 2008. It was the first medical college established by the state government. It has a 450 bed super-specialty hospital. Srinagar has another government hospital called Combined Hospital. There are a few private nursing homes and clinics.
The nearest airport is the Jolly Grant Airport, Dehradun 150 km (93 mi) away.
The nearest railway stations are at Rishikesh and Kotdwar. However, Rishikesh is a small railway station not connected by fast trains. Kotdwara is connected by only a few trains. Haridwar railway junction, 24 km farther from Rishikesh, has train connections to most of the major cities in India and is, therefore, the railhead for Srinagar. It has been planned to lay a railway line from Rishikesh to Karnaprayag via Srinagar but the project may take over a decade to complete if the slow progress of Kashmir railway project is taken as an indicator.
Srinagar lies on national highway NH58 that connects Delhi with Badrinath and Mana Pass in Uttarakhand near Indo-Tibet border. Therefore all the buses and vehicles that carry pilgrims from New Delhi to Badrinath via Haridwar and Rishikesh in pilgrim season of summer months pass through Srinagar on the way to Rudraprayag, Karnaprayag, Chamoli, Joshimath and further north. Rishikesh is the major starting point for road journey to Srinagar. Regular buses operate from Rishikesh bus station to Srinagar. The road distance from Srinagar to Rishikesh is 108 km (67 mi) via Devprayag.
Haridwar to Rishikesh 24 km
Rishikesh to Devprayag 71 km
Devprayag to Srinagar 32 km
Srinagar to Rudraprayag 33 km
Devprayag to Sabdharkhal 18 km
Sabdharkhal to Pauri 23 km
Srinagar is also accessible from Pauri that, in turn, is reached from Kotdwar by national highway NH119. The road distance from Kotdwara railway station is 138 km (86 mi) via Pauri.
Srinagar is the last night stop towards the holy Hindu temples of "Badrinath" and "Kedarnath". Srinagar also has its own share of temples.
Kamleshwar Mahadev—Kamleshwar is the most popular temple in the town. The temple is about 150 m from the national highway toward the river Alaknanda near SGRR public school.
Kilkileshwar Mahadev is a Shiva temple located in the banks of river Alaknanda, Kilkileshwar Mahadev was established by Adi Shankaracharya. It is situated in Chauras (Tehri Garhwal district).
Shankaramath temple located near lower Bhaktiyana is dedicated to lord Vishnu.
Chopra Mandir located near Koteshwar Dam is dedicated to Chopra Narsingh and Bhairon Nath.
Dhari Devi temple is 16 km from Srinagar.
Rajrajeshwari and Gaura Devi temple is 19 km from srinagar near village Devalgarh.
Astavakra Mahadev is a temple dedicated to lord shiva and is situated on the southern hill of srinagar.This is near village Khola about 9km(by road) from srinagar.
There are various other temples dedicated to lord shiva - Alkeshwar mahadev, Nageshwar mahadev,Ghashiya mahadev.
Alaknanda Hydro Electric Power Project 4 x 82.5 MW built by GVK Group is located at Madhi Chauras area of Srinagar. Civil constructions were carried out by L&T company whereas E&M works of Power House and switchyard were done by BHEL a Maharatna PSU of Government of India. Power production from this power plant was delayed from schedule but it started producing rated power from 16 June'2015 the date on which all 4 units were loaded to full load .i.e. 330 MW.