7.2

/

10

Alchetron

7.2

Rate This






Release date

1985 (India)




Release date

11 November 1985

Songs

Mahaganapathim




Similar movies

Naduvula Konjam Pakkatha Kaanom (2012)



Sindhu Bhairavi is a 1985 Indian Tamil drama film directed and produced by K. Balachander starring Sivakumar, Suhasini, Sulakshana, Delhi Ganesh and Janagaraj. The film's score and soundtrack are composed by Ilaiyaraaja. The songs in the film were sung by K. J. Yesudas and K. S. Chithra. The film was a blockbuster and won three National Awards for Best Actress, Best Music Direction and Best Female Playback Singer.
Contents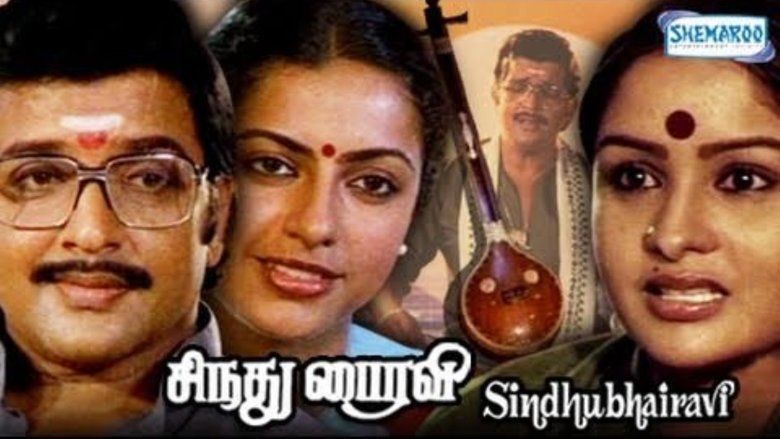 The plot of the film revolves around the three lead characters J. K. Balaganapathi (JKB), Sindhamani aka Sindhu and Bhairavi. A Carnatic singer (JKB) at the peak of his career loses his credibility as he gets addicted to alcohol due to the loss of an intimate companion (Sindhu). Bhairavi (JKB's wife) tries to help him get rid of the addiction and fails. As a last resort she requests Sindhu's help and succeeds. The status of relationship between the three after his makeover is the climax of the film.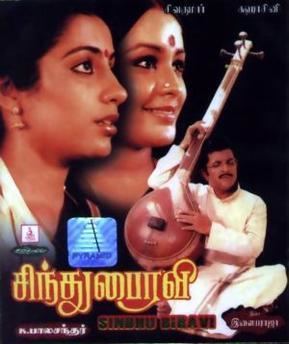 This film has a sequel in the format of a television series named Sahana produced by K. Balachander. The film ended with Sindhu leaving her son with JKB and Bhairavi. Sahana starts 19 years later. Sindhu's son Surya is now 19 years old. Bhairavi has given birth to a daughter, but they have no clue where Sindhu is.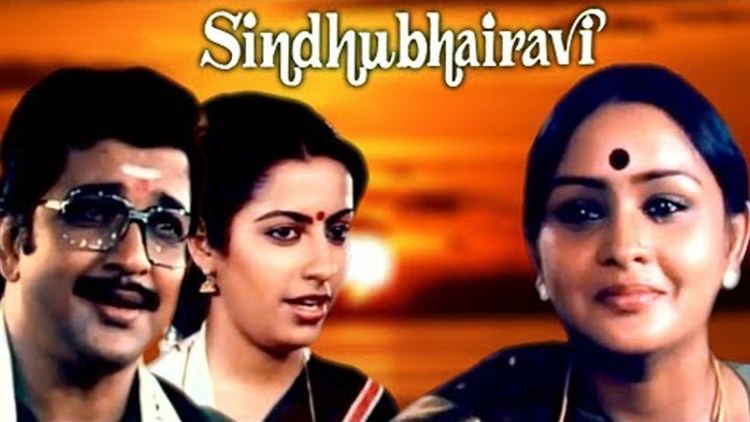 Plot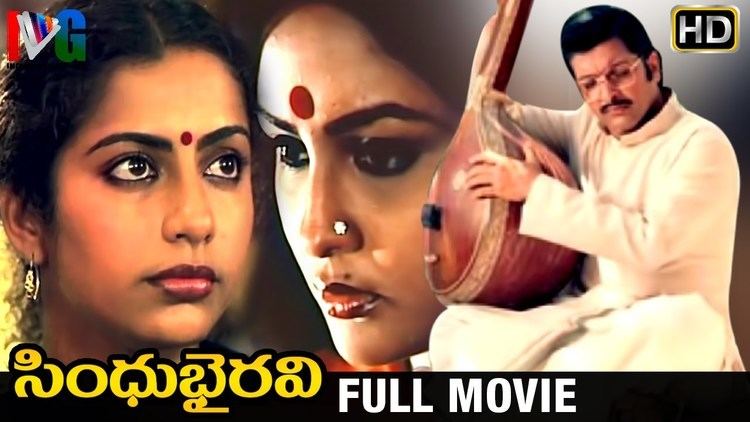 J.K. Balaganapathy (Sivakumar), popularly known as JKB, is a gifted carnatic musician but his wife Bhairavi (Sulakshana), despite her love and loyalty, fails to satisfy or challenge him intellectually. For JKB, this, and her inability to have children, is a problem. Gajapathi (Janagaraj) works for JKB as a tambura musician, and he is a compulsive liar. The film starts with an introduction of all characters of the film followed by JKB going to a concert where he finds Gurumoorthy (Delhi Ganesh), who works for JKB as a Mridangam musician, drunk. He instructs Gurumoorthy to leave the premises and performs in the concert without the use of Mridangam which is considered a basic/compulsory instrument to perform a carnatic concert. When Gurumoorthy is asked to permanently leave the band, he promises not to drink again. While Bhairavi's grandfather is going to receive his pension, which he does on the first of every month, Gajapathi lies to him that his pension has been cancelled. The old man starts crying and JKB intervenes to confirm that his pension is not canceled and that he can go and collect it. JKB then scolds Gajapathi for it and tells him the old man could have died on hearing such a lies, as he is very particular about his pension. Following this, when JKB finds out that Gajapathi has lied to him too and others causing problems he asks him to promise to speak the truth.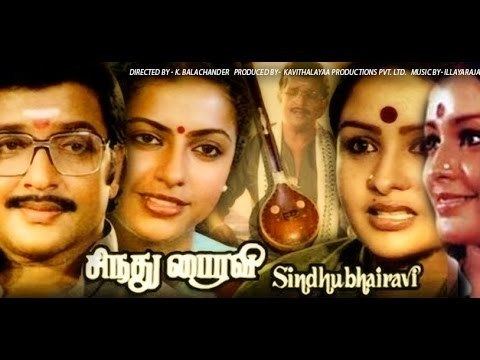 Sindhu (Suhasini), working as a music teacher in a school, attends one of the concerts of JKB, where he is performing a Tyagaraja keerthanam which is in Telugu Language and she finds some the audience speaking to each other instead of listening to the music. Hence, she asks JKB to translate the song he is singing into Tamil, which everybody in the audience can understand. He then gets angry and challenges her to demonstrate. She successfully demonstrates it and is applauded by the audience. In a few days, Sindhu apologizes to JKB and he finds out that she is an intellectual equal and admires her knowledge of music. However this intellectual attraction is misunderstood based on the cultural limitations. Gajapathi, who has promised not to lie, informs Bhairavi that her husband is going out with Sindhu.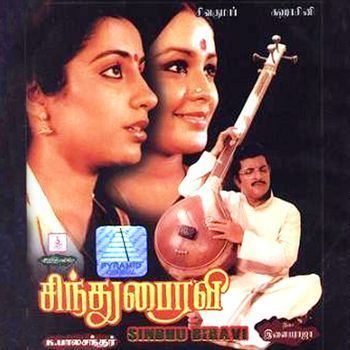 Meanwhile, Sindhu really has fallen for JKB and both of them get intimate with each other. One day, JKB is caught coming out of Sindhu's apartment by Bhairavi. Sindhu is seen as the home wrecker and is forced to quit her association with JKB. He pines for her and leans on alcohol for support, which sadly leads to his downward spiral ending in an embarrassing barter of his musical knowledge for a drink. He even steals money from Bhairavi's grandfather, which leads to his death. Sindhu reenters his life and brings him around, however she has a secret of her own, the secret of her pregnancy. After Sindhu brings back JKB from his alcoholic state, JKB's friends pressurize Sindhu to leave the town and to never come back, which she does the very next day. Both Bhairavi and JKB are distraught as Bhairavi had agreed to marry Sindhu to JKB.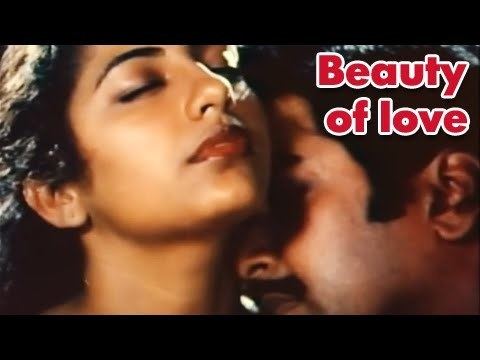 A couple of months later, during one of JKB's concerts, Sindhu is seen coming back and sitting down to listen to his music. However, she refuses to marry JKB saying that she wouldn't deny Bhairavi her rights. Instead she leaves them with a "present"; Sindhu gives up her child to be brought up by Bhairavi in a classic act of defiance to society's rules and leaves town to pursue and share her knowledge of music with the less fortunate.
Cast
Sivakumar as J. K. Balaganapathi. JKB is a popular Carnatic singer who is known for his knowledge of music.
Suhasini as Sindhu. Sindhu works as a music teacher in a school and is a fan of JKB
Sulakshana as Bhairavi. Bhairavi is the wife of popular singer JKB
Delhi Ganesh as Gurumoorthy. Works as a Mridangam musician for JKB
Janagaraj as Gajapathi. Works as a tambura musician for JKB
Prathap Pothan as Sanjeevi
T. S. Raghavendra as Sindhu's father
Manimala as Sindhu's mother
Production
Sivakumar recalled the instance when he had to grapple with high tides when he sat on the rocks at the Visakhapatnam beach during the shoot. He recalled "Nothing would deter KB [Balachander] from extracting the best out of the actors. He would ask us to get ready for a retake even if he finds a slightest slip in our performance".
Awards
The film has won the following awards since its release:
1986 National Film Awards (India)
Silver Lotus Award — Best Actress - Suhasini
Silver Lotus Award — Best Music Direction - Ilaiyaraaja
Silver Lotus Award — Best Female Playback Singer - K. S. Chithra
Sahana
Sahana is an Indian Tamil language teleserial produced by K. Balachander. It is a sequel of the popular film Sindhu Bhairavi which K. Balachander also directed and produced. The first episode was aired on "Jaya TV" on 24 February 2003. The characters of the film are now much older in the serial. Balachandar usually names his female lead characters after Carnatic music ragas — Srividya was called "Bhairavi" and Jayasudha as "Ranjani" in Apoorva Raagangal, Sulakshana was "Bhairavi" in Sindhu Bhairavi and Khusboo was "Sriranjani" in Jathi Malli and now comes Sahana. Though Balachander had been toying with the idea of making a sequel to Sindhu Bhairavi for the last 10 years, something stopped him from doing so. "I feared people would compare the two and say the sequel was not as good. I didn't want to take such a big commercial risk" he once said. He has been producing television serials through Minbimbangal, the television offshoot of his movie production outfit Kavithalaya. Towards the end of his successful series Anni, he went through his old files looking for an idea for his next serial and chanced on the rough sequel to the film he had written 10 years ago.
Balachander wanted the same artistes to reprise their roles on television. Unfortunately, Sivakumar was committed to a daily soap. Suhasini was willing to play Sindhu but Balachander decided to have a different face—he felt if Suhasini played Sindhu, viewers would expect Sivakumar to play JKB. "You cannot separate JKB and Sindhu. Sir (Balachander) felt if we are going to have a different JKB, let's have a different Sindhu too," says Subha. This is when Y. Gee. Mahendra, a well-known theater and film personality was selected to play JKB. "It is a challenge for a comedy artist like me to do a character role like JKB. I am enjoying both the challenge and the role," he said. He, who has acted in more than 300 films, said it is a kind of homecoming for him. "I acted in a Balachander film 26 years ago!". He was not worried about the fact that JKB was once successfully portrayed by Sivakumar. "Had it been done by Sivaji (Sivaji Ganesan), I would not have accepted the role. Only two people inspire me, and they are K. Balachander and Sivaji . When I have KB on the sets to guide me, why should I worry? I also have my other guru Sivaji in mind".
Balachander and his unit could not trace Sulakshana who disappeared from the film scene 12 years ago. So they decided to kill Bhairavi's character and keep her as a photograph in the serial. As it transpired, Sulakshana found out about the sequel from the newspapers and contacted Balachander. To his delight, she told him she would play Bhairavi. "They were so happy to see me," she said. "The script was rewritten and Bhairavi was alive again. I am happy to act as Bhairavi. She is still the same soft person. The only difference is she is older and the mother of two children. There is more understanding between JKB and Bhairavi now -- she doesn't fight with him". Carnatic singer Anuradha Krishnamoorthy, who has never acted before, will play Sindhu. When contacted by Minbimangal, a surprised Anuradha was reluctant to accept the offer. "My initial reaction was I am not interested in acting. I am a professional singer. I had absolutely no plans to act. I told them I needed time to think. It was my husband's gentle persuasion that made me meet K Balachander. Once I met him, I was struck by his simplicity. When he told me they would see to it that my kacheris (concerts) would not get affected because of the shooting, I said yes". "That Suhasini acted in the original film does not bother me at all," she says. "I am a student as far as acting is concerned. My only concern is I shouldn't disappoint Balachander". Rajhesh Vaidhya, who is composing the songs for the serial, faces a tough challenge; the songs composed by Ilaiyaraaja for the film are considered masterpieces. Carnatic stalwarts Dr M Balamurali Krishna and Sudha Ragunathan will render the songs.
Themes and influences
The film's theme is based on extra-marital affairs intervowen with carnatic music.
Ajayan Bala stated: "most compatible minds in Sindhu Bhairavi, the singer and his fan, were not allowed to live together, even after the wife reconciled herself to that". Kandhasamy, Balachander's son-in-law stated that: "Sindhu Bhairavi established the sanctity of the institution of marriage and the dignity of the concubine".
Soundtrack
The film's score and soundtrack were composed by Ilaiyaraaja and lyrics written by Vairamuthu. The songs of the film were sung by K. J. Yesudas and K. S. Chithra. This film marked the grand entry of the eminent playback singer K. S. Chithra to Tamil film music. It is to be noted that she fetched her first National Award for her prolific singing in the song "Padariyen Padippariyen". Ilaiyaraaja won National Film Award for Best Music Direction. The song "Naanoru Sindhu" is based on Sindhubhairavi Raga, "Kalaivaniye" is based on Kalyani Raga, "Poomaalai" is based on Kaanada Raga, "Paadariyen" is based on Saramati Raga while "Aanantha Nadanam" is based on Rathipatipriya Raga.
Sindhu Bhairavi was Balachander's first collaboration with Ilaiyaraaja. Balachander recalled that for the film he wanted a different composer, so he approached Ilayaraja after seeking permission from Vishwanathan. When the song 'Padariyein Padipariyein' was to be set to tune, Raja asked Balachander for a day's time. The next day he was ready with the tune.
This was a film where Balachander was considered successful in reflecting the thoughts of Ilayaraaja. Innovatively there is no use of Mridangam in the song "Mahaganapathim". This is picturized in the film as a scene where Gurumoorthy (Mridangam musician) arrives drunk to a concert and is asked to leave the orchestra and hence, the day's concert performance has to happen without Mridangam.
The way the folk song "Paadariyen" merges with the Carnatic song "Mari Mari" is admirable. This is picturized in the film as a scene where Sindhu challenges JKB at a carnatic concert. Ilayaraaja is said to have believed that all the emotions, feelings and depth found in the carnatic songs are adequately, if not, equally available in the folk tunes. When Balachander is said to have narrated the situation to him that Sindhu sings a folk song and most unexpectedly switches to a carnatic tune. Within 24 hours he came with up the song which became the biggest controversy in his career, he faced staunch opposition from certain classical musicians for having changed the original raga from Khamboji to Saramati
Telugu version
All the lyrics were penned by Rajashri. This film songs marked the debut of the eminent singer K.S.Chitra. All the songs are sung by K. J. Yesudas , K.S.Chitra and P. Susheela.
References
Sindhu Bhairavi (film) Wikipedia
(Text) CC BY-SA
Sindhu Bhairavi (film) IMDb
Sindhu Bhairavi (film) themoviedb.org