Name

Janagaraj Janagaraj




Role

Film actor




Parents

Vadivelu, Muthulakshmii






Movies

Annamalai, Agni Natchathiram, Nayakan, Pandian, Aan Paavam



Born

1955 (age 66), Tamil Nadu




Similar

Delhi Ganesh, Venniradai Moorthy, Pandiarajan
When did you last meet kamal hassan janagaraj exclusive interview
Janagaraj is an Indian actor. He has acted in over 200 predominantly in Tamil cinema as a comedian or in supporting roles. He also starred in few Malayalam, Telugu and Hindi films.
Contents
Aanpavam janagaraj hotel opening comedy scene
Early life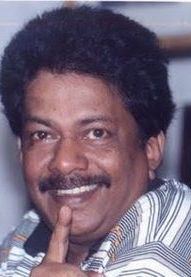 Janagaraj was born to Vadivelu and Muthulakshmi in Chennai Tamil Nadu. He joined the Auditor Generals Office as a Junior Division Clerk in 1976 and worked part-time as a Theatre artist and a stage artist due to his desire to act and perform. He was friendly with Delhi Ganesh, another AGS employee who remains his closest friend to date.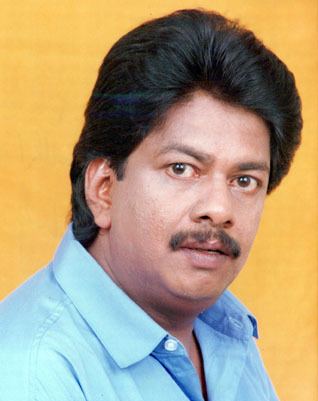 Janagaraj found his break in 1980 in Nizhalgal after several insignificant roles and by the middle 1980s was among the most wanted comedians, having roles with major film stars like Sivakumar, Rajinikanth, Kamal Hassan, Ramki and with major film directors like Mani Ratnam, K Balachander and Suresh Krishna.
Beginning
In 1971, Janagaraj began to aspire for a movie career. Director K Balachander offered him a chance to perform in very minor roles in several Tamil films from 1972 until 1977. It was in 1977 that he landed his first speaking role in Sevuppu Villu, a Tamil film starring actor Ravichandran. He continued minor roles through the late 1970s.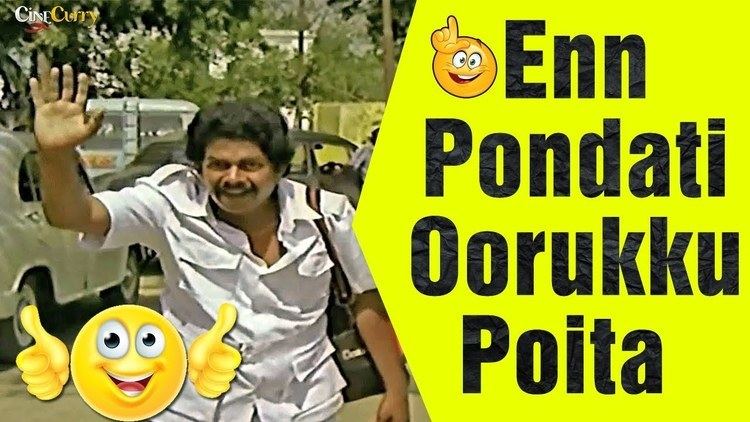 Janagaraj's career however spun silver in the 1980s. Starting with Nizhalgal (1980), and continuing in Sindhu Bhairavi (1985), Palaivana Rojakkal (1986), Muthal Vasantham (1986), Agni Natchathiram (1988), Rajadhi Raja (1989) and Apoorva Sagodharargal (1989). Janagaraj became a popular comedian in Tamil. He is known for his peculiar voice and face expression. He has also acted in supporting roles in films like Nayakan (1987), Annamalai (1992), and Baashha (1995). He was main sidekick for Kamal Haasan and Rajinikanth in 80s and early 90s films. Suruli Rajan's untimely death pushed him to forefront for roles that demanded comedy as well as character support.
Later years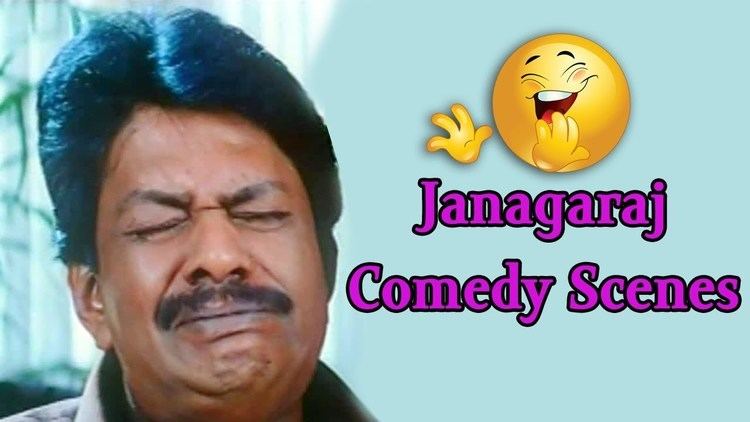 Janagaraj has also acted in character roles in films like Nayagan (1987), Kizhakku Vasal (1990) Annamalai (1992) and Baashha (1995). His latest roles were in King (2002), Aayutha Ezhuthu (2004), and M. Kumaran S/O Mahalakshmi (2004) in supporting roles.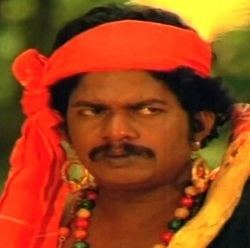 Songs
Naan AutokaaranBaasha · 1995
En Jodi Manja KuruviVikram · 1986
Velli KizhamaSiva · 1989

Filmography
Actor
2019
Dha Dha 87 (as Janagaraj)
2018
96
as
'Kaval Deivam', the school watchman (as Janagaraj)
2014
Vennira Iravugal (as Janagaraj)
2006
Kaivantha Kalai (as Janagaraj)
2006
Kalinga (as Janagaraj)
2005
Aayudham (as Janagaraj)
2004
M. Kumaran S/O Mahalakshmi
as
Policeman (as Janagaraj)
2004
Ayitha Ezhuthu
as
Esha's Uncle (as Janagaraj)
2002
Raajjiyam (as Janagaraj)
2001
Piriyatha Varam Vendum (as Janagaraj)
1999
Suyamvaram
as
Judge (as Janagaraj)
1998
Kumbakonam Gopalu (as Janagaraj)
1998
Udhavikku Varalaamaa (as Janagaraj)
1998
Harichandra (as Janagaraj)
1998
Ulavuthurai (as Janagaraj)
1997
Devathai
as
Keerthi's Father
1997
Arunachalam
as
Kaathavaraiyan (as Janagaraj)
1996
Gopala Gopala (as Janagaraj)
1995
En Pondatti Nallave (as Janagaraj)
1995
Nandhavana Theru (as Janagaraj)
1995
Oru Oorla Oru Rajakumari
as
Accountant Ekambaraeshwarar (as Janagaraj)
1995
Paattu Paadava
as
Rangarajan the Director of a mental hospital (as Janagaraj)
1995
Rajavin Parvaiyile
as
Pannaiyar (as Janagaraj)
1995
Indira (as Janagaraj)
1995
Baasha
as
Gurumurthy (as Janagaraj)
1994
Oru Vasantha Geetham (as Janagaraj)
1994
Sevvanthi (as Janagaraj)
1994
May Madham (as Janagaraj)
1994
Captain
as
Lakshmi Narayanan
1994
Veera
as
Ruba's Father (as Janagaraj)
1993
Idhaya Nayagan (as Janagaraj)
1993
Parvathi Ennai Paaradi
as
Venkatraman a College Professor of Tamil (as Janagaraj)
1993
Thanga Kili (as Janagaraj)
1993
Kizhakke Varum Paattu (as Janagaraj)
1993
Pass Mark (as Janagaraj)
1993
Pathini Penn (as Janagaraj)
1992
Naangal
as
Sundaram (as Janagaraj)
1992
Nadodi Thendral (as Janagaraj)
1992
Snehasagaram
as
Pazhaniyappa Gounder
1992
Unna Nenachen Paattu Padicchen (as Janagaraj)
1992
Brahmachari (as Janagaraj)
1992
Roja
as
Chajoo Maharaj (as Janakraj)
1992
Annamalai (as Janagaraj)
1992
Unakkaga Piranthen (as Janagaraj)
1992
Nangal
as
Sundaram (as Janagaraj)
1991
Gopura Vasalile (as Janagaraj)
1991
Kurumbukkaran (as Janagaraj)
1991
Thanga Thaamaraigal (as Janagaraj)
1991
Nattukku Oru Nallavan (as Janagaraj)
1991
Idhayam (as Janagaraj)
1991
Veetle Eli Veliyale Puli
1990
Nilapennay (as Janagaraj)
1990
Seeta
as
Father of Boopathy (as Janagaraj)
1990
Vaigasi Poranthachu
as
Chinnarasu
1990
Keladi Kanmani
as
Adaikkalam (as Janagaraj)
1990
Kizhakku Vasal (as Janagaraj)
1990
Jagadeka Veerudu Athiloka Sundari
as
Police Inspector (as Janagaraj)
1990
Arangetra Velai
as
Naidu (as Janagaraj)
1990
No: 20 Madras Mail
as
Murukesan (as Janagaraj)
1990
Idhaya Thamarai (as Janagaraj)
1990
Pachai Kodi (as Janagaraj)
1990
Panakkaran (as Janagaraj)
1989
Manidhan Marivittan (as Janagaraj)
1989
Nethiyadi (as Janagaraj)
1989
Pudhu Pudhu Arthangal (as Janagaraj)
1989
Vetri Vizha (as Janagaraj)
1989
Apoorva Sagodharargal
as
Police Inspector (as Janagaraj)
1989
En Rathathin Rathame (as Janagaraj)
1989
Rajathi Raja (as Janagaraj)
1989
Vaai Kozhuppu (as Janagaraj)
1989
Varusham Padhinaaru (as Janagaraj)
1989
Thaai Naadu (as Janagaraj)
1989
Nalaya Manithan (as Janagaraj)
1988
Annanagar Mudhal Theru (as Janagaraj)
1988
Kaliyugam (as Janagaraj)
1988
Pudhiya Vanam (as Janagaraj)
1988
Paravaigal Palavitham (as Janagaraj)
1988
Kodiparakkudu
as
Chinna Dhadha (as Janagaraj)
1988
Unnal Mudiyum Thambi (as Janagaraj)
1988
Soora Samhaaram (as Janagaraj)
1988
Jeeva
as
Dilli (as Janagaraj)
1988
Kalicharan 1988 (as Janagaraj)
1988
Urimai Geetham 1988 (as Janagaraj)
1988
Sathyaa
as
Naidu (as Janagaraj)
1987
Jallikkattu
as
Janagaraj (as Janagaraj)
1987
Kudumbam Oru Koyil (as Janagaraj)
1987
Vedam Puthithu
as
Vaidehi's Suitor (as Janagaraj)
1987
Nayakan
as
Selva (as Janagaraj)
1987
Theertha Karayinile (as Janagaraj)
1987
Oor Kavalan
as
Dorai (as Janagaraj)
1987
Raja Mariyathai (as Janagaraj)
1986
Aananda Kanner (as Janagaraj)
1986
Kadolara Kavithaigal (as Janagaraj)
1986
Palaivana Rojakkal (as Janagaraj)
1986
Vikram (as Janagaraj)
1985
Aan Paavam (as Janagaraj)
1985
Anbin Mugavari
as
Tribal (as Janagaraj)
1985
Sindhu Bhairavi (as Janagaraj)
1985
Thiramai (as Janagaraj)
1985
Sri Raghavendra
as
A disciple of Sri Sudeendrar (as Janagaraj)
1985
Uyarntha Ullam
as
Mani (as Janagaraj)
1985
Oru Kaidhiyin Diary
as
Velappan (as Janagaraj)
1985
Paayum Puli
as
Chinnasamy (as Janagaraj)
1984
Ambigai Neyril Vandhaal
as
Butler (as Janagaraj)
1984
Iru Methaigal (as Janagaraj)
1984
Janavari Onnu (as Janagaraj)
1984
Thambikku Entha Ooru (as Janagaraj)
1984
Shanti Muhurtam 1984
as
Mohan's friend. (as Janagaraj)
1983
Pudumai Penn (as Janagaraj)
1983
Dhooram Adhighamillai (as Janagaraj)
1983
Thoongathey Tambi Thoongathey
as
Doctor (as Janagaraj)
1982
Pakkathu Veetu Roja (as Janagaraj)
1980
Ilamai Kolam
as
Suresh's friend (as Janagaraj)
1980
Red Rose (as Janak Raj)
1978
Kizhake Pogum Rail (as Janagaraj)
References
Janagaraj Wikipedia
(Text) CC BY-SA