Shivkumar Sharma & Hariprasad Chaurasia In Search of Peace,Love & Harmony
Pandit Shivkumar Sharma (born 13 January 1938) is an Indian santoor player from the state of Jammu and Kashmir. The santoor is a folk instrument.
Contents
Shivkumar sharma and shri shri ravi shankar at sitar concert
Early life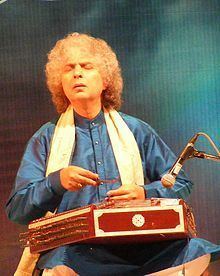 He was born in Jammu to the singer Uma Dutt Sharma and his mother tongue is Dogri. His father started teaching him vocals and tabla when he was just five. Uma Dutt Sharma did "extensive research" on the santoor, and decided that Sharma should be the first musician to play Indian classical music on the santoor. So he started learning santoor at the age of thirteen, and made his father's dream come true. He gave his first public performance in Bombay in 1955.
Career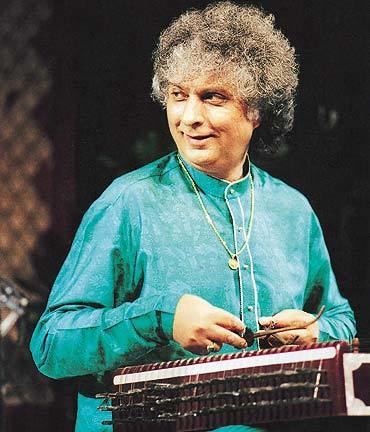 Shivkumar Sharma is the master instrumentalist of the santoor, after some years as a vocalist. He is credited with making the santoor a popular Classical Instrument. In a 1999 interview to rediff.com, Shivkumar said that it was his father who decided that he should play the santoor and that he never thought he would be choosing it when he started learning music. He composed the background music for one of the scenes in Shantaram's Jhanak Jhanak Payal Baje in 1956. He recorded his first solo album in 1960.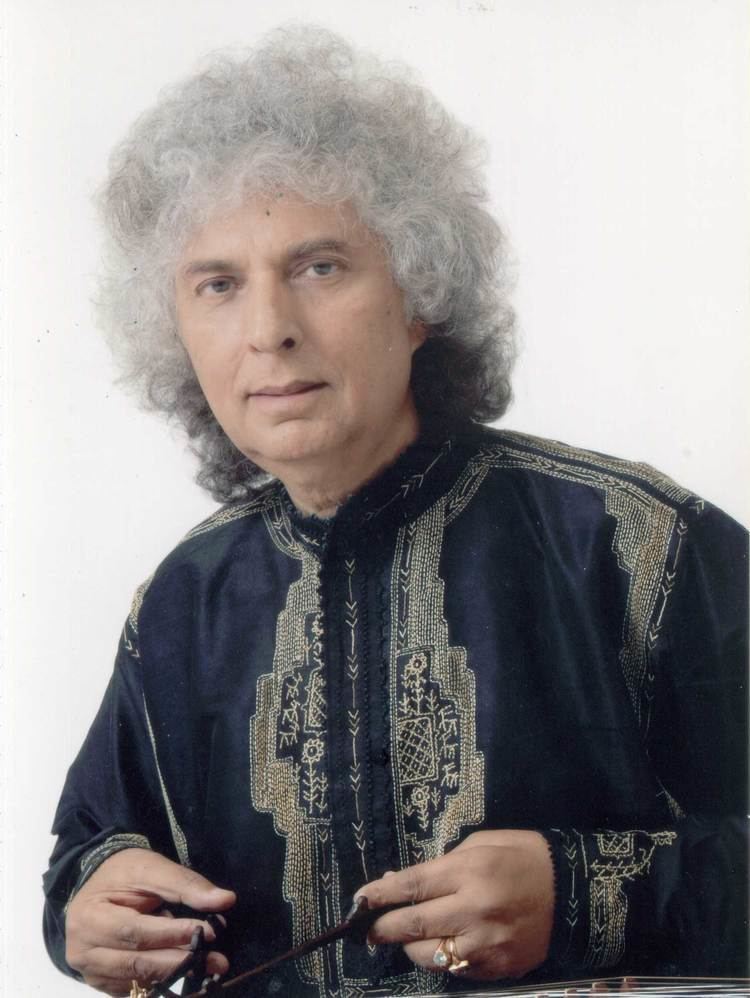 In 1967, he teamed up with flautist Hariprasad Chaurasia and Brij Bhushan Kabra to produce a concept album, Call of the Valley (1967) which turned out to be one of the greatest hits in Indian Classical Music. He has composed music for many Hindi films in collaboration with Hariprasad Chaurasia starting with Silsila (1980). They came to be known as the 'Shiv-Hari' music duo. Some of the movies they composed music for that were big musical hits are Faasle (1985), Chandni (1989), Lamhe (1991) and Darr (1993).
Fascinatingly, he has played tabla in the song Mose Chhal Kiye Jaye Haay Re Haay Dekho Saiyan Beimaan.While he started his career playing the tabla, Shiva Kumar Sharma had given up the instrument to focus on the santoor. It was R.D. Burman who convinced him to play the tabla for this song. He did not play the tabla again for any other Hindi film song.
Personal life
Sharma married Manorama and has two sons. His son, Rahul, is also a santoor player and they have performed together since 1996. In a 1999 interview to rediff.com, Shivkumar stated that he chose Rahul as his shishya because he thought he had the "gift of God".
Awards
Shivkumar is the recipient of national and international awards, including an honorary citizenship of the city of Baltimore, USA, in 1985, the Sangeet Natak Akademi Award in 1986, the Padma Shri in 1991, and the Padma Vibhushan in 2001.
Platinum Disc for Call of the Valley
Platinum Disc for music of film Silsila
Gold Disc for music of film Faasle
Platinum Disc for music of film Chandni
Pandit Chatur Lal Excellence Award - 2015
Discography
Albums
Santoor & Guitar, with Brij Bhushan Kabra (1964)
Shivkumar Sharma (1967) - (re-released 2005 as "First LP Record of Pandit Shivkumar Sharma")
Call of the Valley, with Brij Bhushan Kabra and Hariprasad Chaurasia (1967)
...When Time Stood Still!, with Zakir Hussain (Live in Bombay) (1982)
Rag Madhuvanti & Rag Misra Tilang, with Zakir Hussain (1987)
Hypnotic Santoor (1988)
Maestro's Choice, Series One (1991)
A Sublime Trance (1991)
The Glory of Strings (1991)
Raga Purya Kalyan, with Zakir Hussain (1991)
Rag Rageshri, with Zakir Hussain (1993)
Raga Bhopali vol I (1993)
Raga Kedari vol II (1993)
Varshā – A Homage to the Rain Gods (1993)
Sound Scapes, Music of the Mountains (1994)
Hundred Strings of Santoor (1994)
The Pioneer of Santoor (1994)
Raag Bilaskhani Todi (1994)
A Morning Raga Gurjari Todi (1994)
Feelings (1994)
The Valley Recalls - In Search of Peace, Love & Harmony, with Hariprasad Chaurasia (1996)
The Valley Recalls - Raga Bhoopali, with Hariprasad Chaurasia (1996)
Yugal Bandi, with Hariprasad Chaurasia (1996)
Maestro's Choice, Series Two (1999)
Sampradaya (1999)
Rasdhara, with Hariprasad Chaurasia (1999)
Ananda Bliss, with Zakir Hussain (2002)
The Flow of Time, with Zakir Hussain (2002)
Sangeet Sartaj (2002)
Vibrant Music for Reiki (2003)
Sympatico (Charukeshi – Santoor)(2004)
The Inner Path (Kirvani – Santoor) (2004)
Essential Evening Chants, with Hariprasad Chaurasia (2007)
Contributing artist
References
Shivkumar Sharma Wikipedia
(Text) CC BY-SA