Directed by

Yash Chopra




Music by

Shiv-Hari




Release date

24 December 1993 (India)






Produced by

Yash Chopra




Cinematography

Manmohan Singh




Director

Yash Chopra






Written by

Honey Irani Javed Siddiqui




Starring

Sunny Deol Juhi Chawla Shah Rukh Khan Annu Kapoor Tanvi Azmi Dilip Tahil Anupam Kher




Awards

National Film Award for Best Popular Film Providing Wholesome Entertainment




Cast

Shah Rukh Khan, Juhi Chawla, Sunny Deol, Anupam Kher, Tanvi Azmi
Darr: A Violent Love Story (Hindi: डर, "Fear") is a 1993 Indian psychological thriller directed by Yash Chopra under the banner of Yash Raj Films. It stars Shah Rukh Khan, Sunny Deol & Juhi Chawla in the pivotal roles. In the film Shah Rukh Khan played the role of an obsessive lover.
Contents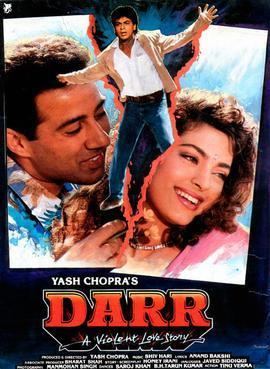 The film was well received by critics and audiences, earning the film and its actors accolades. It has attained classic status over the years and is regarded as one of Chopra's best. Darr was later remade in Kannada as Preethse.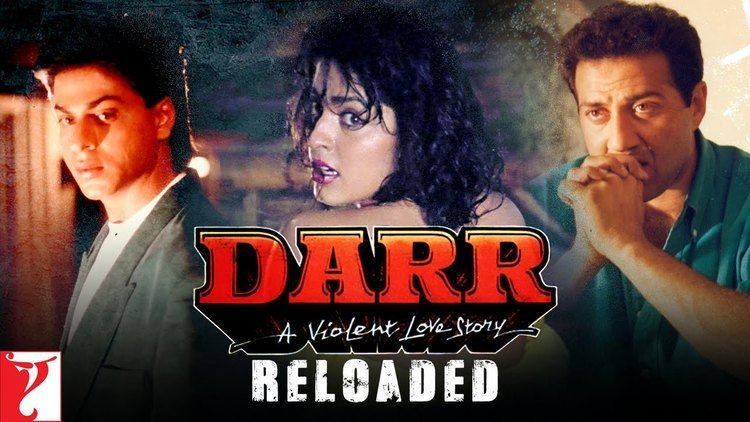 Plot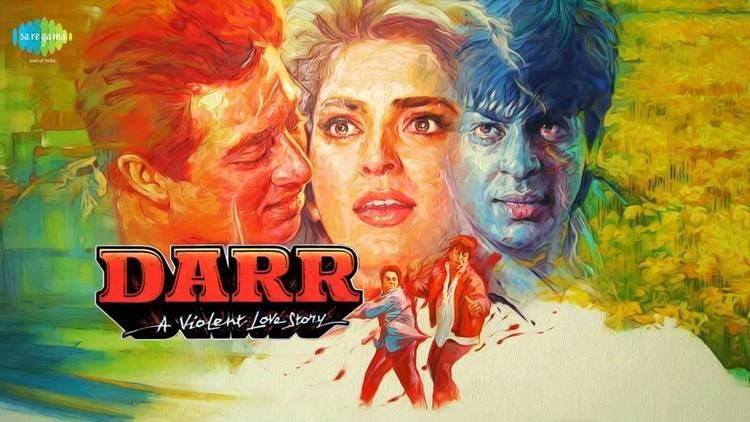 The film begins with Kiran (Juhi Chawla), a college student, returning home for Holi celebrations and being obsessively stalked along the way by Rahul (Shah Rukh Khan), her classmate who has a crush on her. Kiran's boyfriend Sunil (Sunny Deol) is a Navy Marine Commando officer, and is on a mission to free a child hostage from some terrorists on the high seas. Sunil saves child hostage. Sunil's Captain Mehra (Dilip Tahil) is also the father of Rahul. Rahul tries to be friendly with Sunil in order to be closer to Kiran.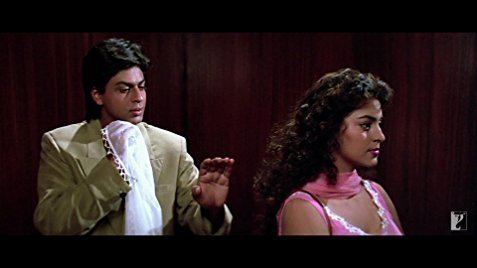 When Kiran reaches her brother Vijay's (Anupam Kher) home, she is continually stalked by Rahul on the phone. This causes much stress to herself and her family. He crashes Kiran's family's Holi celebrations incognito as a member of the band. Sunil asks Kiran to offer the band some money for their performance, where Rahul, veiled in Holi colours, whispers "I love you, K-K-K-Kiran" to Kiran, which disturbs her greatly and a foot chase ensues to find the hooligan who's invaded their house, but Rahul soon disappears into the crowd.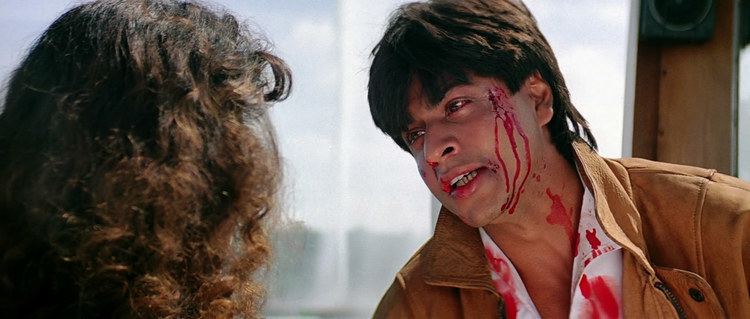 When Rahul receives the news of Kiran and Sunil's engagement, he tries to shoot and kill Sunil when the couple are out shopping for a wedding ring. He misses his aim and Sunil begins to chase him, from which Rahul narrowly escapes being recognised by Sunil.
Kiran and Sunil get married but Rahul still refuses to give up on Kiran. He defaces the newly married couple's home with graffiti declaring his love, causing more distress to them. To get away from the stalker, Sunil takes Kiran on a surprise honeymoon to Switzerland. Learning their location through devious means, Rahul turns up at their hotel in the Alps. Kiran recognizes him from college and the couple welcome him to be part of their festivities. That very evening, Sunil finds out from Kiran's brother Vijay that Rahul is the one who has been Kiran's stalker all along. He sends Kiran away on a boat and confronts Rahul. Rahul tries to run but Sunil catches up with him in a forest where they have a fight. Rahul stabs Sunil with knife after feigning surrender, and leaves him for dead. He then goes to the boat and tries to forcefully abduct Kiran, He wants to marry Kiran without her consent. But Sunil comes back and brutally beats him before shooting and killing him. Kiran and Sunil then return to India and reunite with their family.
Cast
Sunny Deol as Sunil Malhotra
Juhi Chawla as Kiran Awasthi Malhotra
Shah Rukh Khan as Rahul Mehra
Anupam Kher as Vijay Awasthi, Kiran's brother
Tanvi Azmi as Poonam Awasthi, Vijay's wife
Dalip Tahil as Captain Mehra, Rahul's father
Production
Sunny Deol was the first lead actor to be cast. Rishi Kapoor and Ajit's son Arbaaz Ali Khan were offered Sunil's role before him, but they rejected it. Yash Chopra offered Deol the choice between playing the roles of Rahul and Sunil, and he chose the latter believing it would be an asset to his career. However, this did not occur.
Sanjay Dutt was the original choice of the role of lead antagonist Rahul but Chopra was unable to finalise him because of his jail sentence due to illegal possession of arms. Sudesh Berry was then considered for the role but was rejected after a screen test. Ajay Devgan was offered the role of Rahul but he couldn't accept due to other commitments. Later on, Aamir Khan (who had worked on Chopra's Parampara) was cast as Rahul. Khan was unhappy with Divya Bharti's casting as Kiran and wanted Juhi Chawla. Chopra gave in to Khan's request and signed Chawla. Khan later had other issues with the filming as he was not happy with the way Deol's character repeatedly punched his character in a fight sequence. He was further discontented when Chopra refused to give him and Deol a joint narration of the script. Therefore, he ultimately opted out of the film altogether after which Shah Rukh Khan was cast as Rahul. After Aamir Khan's departure, the casting of Chawla was retained. Darr helped bring Shah Rukh Khan to stardom and he went onto feature in Chopra's every directorial venture after this film.
Yash Chopra's first choice for Kiran was Raveena Tandon. He had previously enjoyed working with her in Parampara (1992). However, she turned down the part.
Soundtrack
The soundtrack for Darr was composed by Shiv Kumar Sharma and Hariprasad Chaurasia. It was the second best selling Bollywood soundtrack of the year. The film also features the song, Ooops Up by Snap! and various versions of Right Here Waiting, originally recorded by Richard Marx.
All lyrics written by Anand Bakshi.
Box office
Darr was the third highest grossing Indian film of 1993 after Aankhen and Khalnayak and was declared a "Block buster " at the box office. It was released on 190 screens, it's Net Gross in India was 10.73cr and had 1.99cr footfalls.
Remakes
Darr was remade in Kannada as Preethse, starring Upendra as Chandu (Rahul) Shiva Rajkumar as Surya (Sunil) and Bollywood actress Sonali Bendre playing Kiran.
The teaser trailer of five-part webseries Darr 2.0 was released on YouTube on August 30, 2016. It is to be a retelling of the film in a contemporary setting, portraying cyber-stalking and digital crimes. The webseries is produced by Ashish Chopra under the banner of Y-Films and is directed by Vikash Chandra. Screenplay and dialogues are by Nikhil Taneja and Shubham Yogi.
Songs
1Meri Maa Ne Laga DiyeLata Mangeshkar - Kavita Krishnamurthy - Pamela Chopra
2Darwaza Band Kar LoLata Mangeshkar - Abhijeet Bhattacharya6:06
3Ishq Da Rog BuraLata Mangeshkar - Vinod Rathod

References
Darr Wikipedia
(Text) CC BY-SA