Years active

1921–1987




Died

October 30, 1990, Mumbai




Role

Filmmaker





Name

V. Shantaram




Religion

Jainism




Spouse

Jayashree







Full Name

Shantaram Rajaram Vankudre




Born

18 November 1901 (

1901-11-18

)

Kolhapur, Maharashtra, British India




Occupation

Film director, producer, actor, screenwriter




Awards

Best Director 1957 Jhanak Jhanak Payal Baaje Best Film 1958 Do Aankhen Barah Haath Dadasaheb Phalke Award 1985 Padma Vibhushan 1992




Children

Rajshree, Kiran Shantaram, Madhura Shantaram




Grandchildren

Siddharth Ray, Durga Jasraj, Shaarangdev Pandit, Chandrika Chapman




Movies

Navrang, Do Ankhen Barah Haath, Amar Bhoopali, Jhanak Jhanak Payal Ba, Dr Kotnis Ki Amar Kahani




Similar People

Sandhya Shantaram, Rajshree, Kiran Shantaram, Mahipal, Vasant Desai
V. Shantaram | Bollywood Biographies | Indian Filmmaker & Producer
Shantaram Rajaram Vankudre (18 November 1901 – 30 October 1990), referred to as V. Shantaram, was an Indian filmmaker, film producer and actor. He is most known for his films like Dr. Kotnis Ki Amar Kahani (1946), Amar Bhoopali (1951), Jhanak Jhanak Payal Baaje (1955), Do Aankhen Barah Haath (1957), Navrang (1959), Duniya Na Mane (1937), Pinjra (1972), Chani, Iye Marathiche Nagari and Zunj.
Contents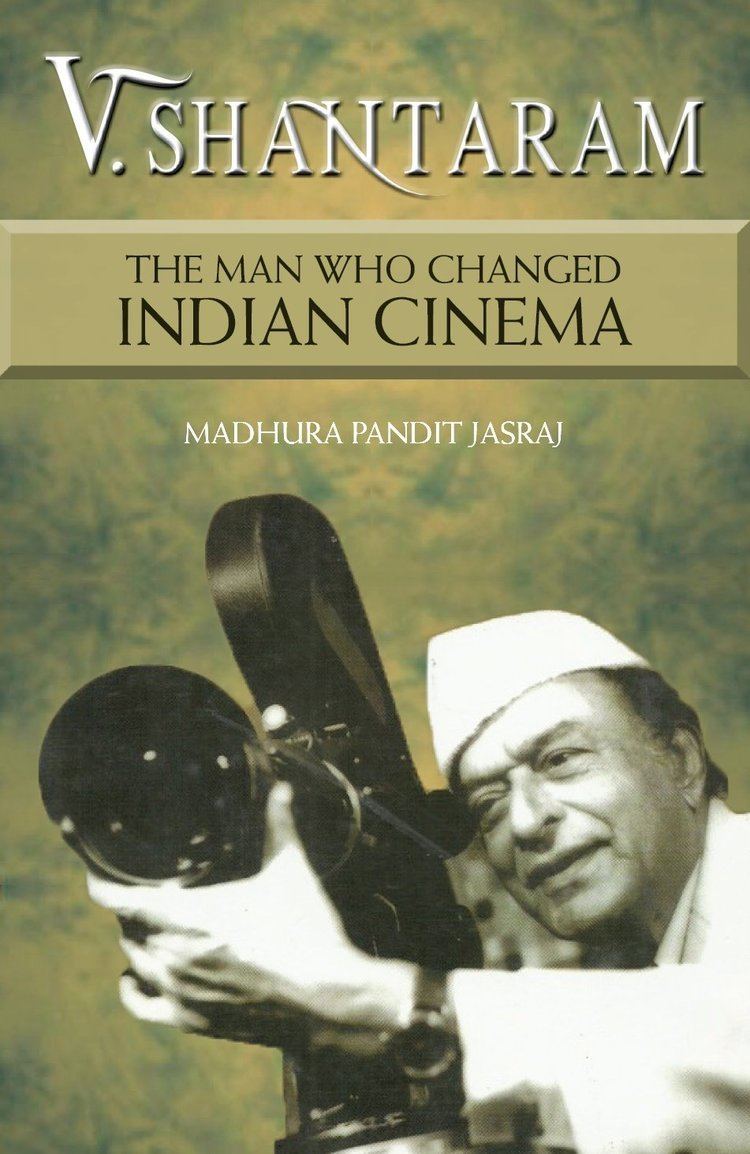 He directed his first film, Netaji Palkar, in 1927. In 1929, he founded the Prabhat Film Company along with Vishnupant Damle, K.R. Dhaiber, S. Fatelal and S.B. Kulkarni, which made Ayodhyecha Raja, the first Marathi language film in 1932 under his direction. He left Prabhat in 1942 to form "Rajkamal Kalamandir" in Mumbai. In time, 'Rajkamal' became one of the most sophisticated studios of the country.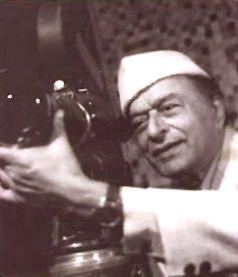 He was praised by Charlie Chaplin for his Marathi film Manoos. Chaplin reportedly liked the film very much.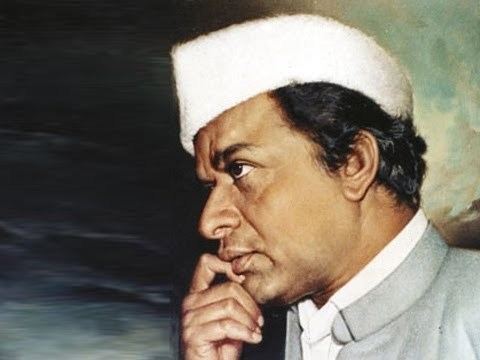 Early life
Shantaram Rajaram Vankudre was born on 18 November 1901 in the erstwhile princely state of Kolhapur (in present-day Maharashtra) into a Maharashtrian family.
Career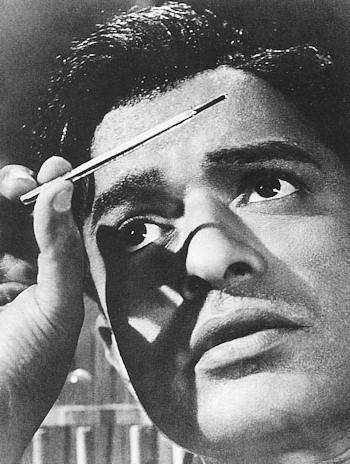 V. Shantaram started his film career doing odd jobs in Maharashtra Film Co. owned by Baburao Painter at Kolhapur. He went on to debut as an actor in the silent film, Surekha Haran in 1921.
Shantaram, fondly known as Annasaheb, had an illustrious career as a filmmaker for almost six decades. He was one of the early filmmakers to realize the efficacy of the film medium as an instrument of social change and used it successfully to advocate humanism on one hand and expose bigotry and injustice on the other. V. Shantaram had a very keen interest in music. It is said that he "ghost wrote" music for many of his music directors, and took a very active part in the creation of music. Some of his songs had to rehearsed several times before which they were approved by V. Shantaram.
The Dadasaheb Phalke Award was conferred on him in 1985. He was awarded the Padma Vibhushan in 1992.
His autobiography Shantarama was published in Hindi and Marathi.
Shantaram died on 30 October 1990 in Mumbai. The V. Shantaram Award was constituted by Central Government and Maharashtra State Government. The V. Shantaram Motion Picture Scientific Research and Cultural Foundation, established in 1993, offers various awards to film makers. The award is presented annually on 18 November. A postage stamp, bearing his face, was released by India Post to honour him on 17 November 2001.
Personal life
Shantaram was born in Kolhapur to a Marathi Jain family and he married thrice. His first marriage was to Vimla, with whom he has three children, son Prabhat Kumar, daughters Saroj and Charusheela, mother of actor Sushant Ray a.k.a. Siddharth Ray.
Shantaram then married actress Jayashree (née Kamulkar), with whom he had three children - Marathi film director and producer Kiran, actress Rajshree and Tejashree.
His third wife, actress Sandhya (née Vijaya Deshmukh), was his co-star in Do Aankhen Barah Haath as well as the heroine of his films like Jhanak Jhanak Payal Baaje, Navrang, Jal Bin Machhli Nritya Bin Bijli, and Sehra. Daughter Madhura(from his first marriage with Vimla) is married to Pandit Jasraj and is the mother of music director Shaarang Dev Pandit and TV presenter Durga Jasraj.
He introduced Rajshree and Jeetendra in the 1964 film Geet Gaya Patharon Ne. He also introduced his second wife Sandhya's niece Ranjana Deshmukh into the Marathi film industry through Chandanachi Choli Ang Ang Jaali, directed by Kiran Shantaram in 1975. Ranjana dominated the Marathi silver screen in 70s and 80s.
Shantaram used to live at Panhala. His daughter Saroj has maintained his house and has converted it into a hotel named Valley View.
Filmography
Source: IMDB
Won
National Film Awards
1955 - All India Certificate of Merit for Best Feature Film - Jhanak Jhanak Payal Baaje
1955 - President's Silver Medal for Best Feature Film in Hindi - Jhanak Jhanak Payal Baaje
1957 - President's Gold Medal for the All India Best Feature Film - Do Aankhen Barah Haath
1957 - President's Silver Medal for Best Feature Film in Hindi - Do Aankhen Barah Haath
1957: Filmfare Award for Best Director: Jhanak Jhanak Payal Baaje
1958: Berlin International Film Festival, OCIC Award: Do Aankhen Barah Haath
1958: Berlin International Film Festival, Silver Bear (Special Prize): Do Aankhen Barah Haath
1985: Dadasaheb Phalke Award
1992: Padma Vibhushan
Nominated
1951: Cannes Film Festival, Grand Prize: Amar Bhoopali (The Immortal Song)
1959: Golden Globe Awards, Samuel Goldwyn Award: Do Aankhen Barah Haath
Biographies
Shantaram, Kiran & Narwekar, Sanjit; V Shantaram: The Legacy of the Royal Lotus, 2003, Rupa & Co., ISBN 978-81-291-0218-8.
Banerjee, Shampa; Profiles, five film-makers from India: V. Shantaram, Raj Kapoor, Mrinal Sen, Guru Dutt, Ritwik Ghatak Directorate of Film Festivals, National Film Development Corp, 1985.
References
V. Shantaram Wikipedia
(Text) CC BY-SA