Shikaripur or Shikaripura is a town in Shimoga district in the Indian state of Karnataka. It is the headquarters of Shikaripur taluk.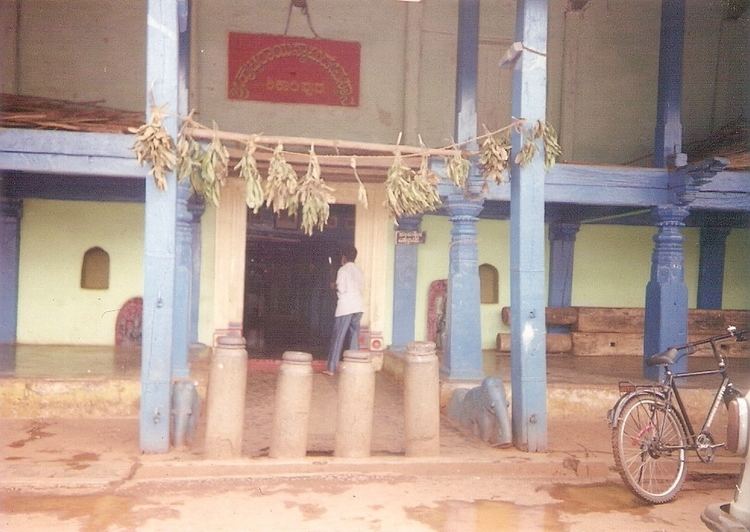 Shikaripur is located at 14.27°N 75.35°E / 14.27; 75.35. It has an average elevation of 603 metres (1978 feet). It lies between plain land of Bayaluseeme and tropical forests of Malenadu.
As of 2001 India census, Shikaripura had a population of 31,508. Males constitute 51% of the population and females 49%. Shikaripura has an average literacy rate of 71%, higher than the national average of 59.5%: male literacy is 75%, and female literacy is 67%. In Shikarpur, 12% of the population is under 6 years of age. The former Chief minister of Karnataka B. S. Yeddyurappa has been a legislator of this town from many years.
Mostly Kurubas, Gudigars, Lingayaths, Lambaanis, havyaks, Muslims, Christianss and others inhabit the town of Shikaripura.
Balligavi is 20 km from Shikaripur and 80 km from Shimoga. This was the capital of Banavasi Nadu during 12th century. Keshareshwara temple, Panchalinga temple. Kaithaleshwara and Thripuramthakeshwara temple are known for the architectural beauty.
Bandalike-Shankrikoppa is 35 km north of Shikaripur. Bandalike was a well known center of Jainism, and Kalamukha sect of Shaivism. It has many temples and Basadies. Four Hindu temples (Trimurti Narayana, Somesvara, Sahasralinga and the Mahanavami Dibba) are scattered over 10 acres of mounds and depressions. The fifth structure located at a short distance from the Bandalike temple complex is the Shantinatha Jaina basadi, also very beautiful.In these temples we find sculptures and writings of Kadambas and Rashtrakutas period. The importance of the place is well established by the lithic records of the Rastrakutas (Circa 7th-8th century A.D.), Kalyani Chalukyas (Circa 11th-12th century A.D.), Kalachuris, Hoysalas (Circa 12th century A.D.), Seunas (Circa 13th century A.D.) and Vijayanagar (Circa 15th-16th century A.D.). It was a prosperous center in the eleventh and twelfth centuries during the period of the Kalyani Chalukyas.
Uduthadi is located about 15 km north-westerly to Shikaripur. Uduthadi is the birthplace of Akkamahadevi, the famous veerashaiva Kannada poet. The ruins of an ancient fort can also be found here.
Thalagunda is at a distance of four km from Belligave. Several inscriptions are found in this are Pranshwara temple is worth to visit. To the east of Thalagunda 'Prabhudeva Gaddige' is situated.