Covid-19
India




Malnad




Karnataka




IST (UTC+5:30)






Uttara Kannada, Shivamogga, Chikmagalur, Hassan, Kodagu, Belagavi, Dakshina Kannada, Udupi district
Malenadu is a region in the state of Karnataka in India. Malenadu covers the western and eastern slopes of the Western Ghats or Sahyadri mountain range, and is roughly 100 kilometers in width. It is situated between Coastal Karnataka and Bayaluseeme regions of Karnataka.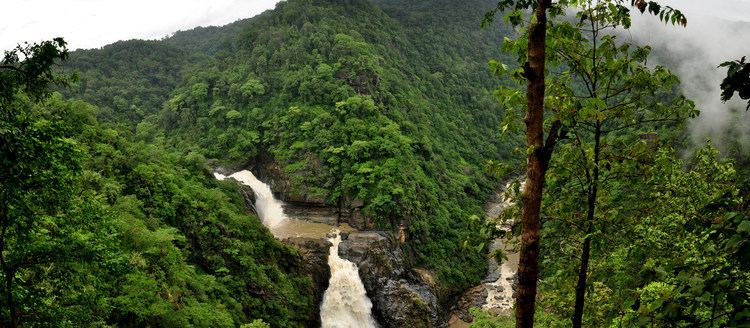 The word Malenadu is derived from [kannada] word 'male' meaning 'rain' and 'nādu' meaning 'land'. Together, they mean 'Land of rain'.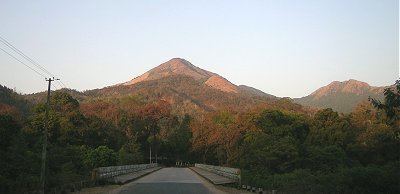 Malenadu covers portions of Belagavi, Shivamogga, Chikkamagaluru, Hassan, Kodagu and parts of Uttara Kannada, Udupi and Dakshina Kannada districts. The hills of Malenadu are richly forested. Coffee and Arecanut are grown in many places. Sirsi, Siddapura, Yellapur, Sagara, Thirthahalli, Koppa, Sringeri, Narasimharajapura, Mudigere, Sakleshpura, Aldur, Balehonnur are major business centres in Malnad part of Karnataka. Madikeri and Somavarapete, Chikkamagaluru are towns in the coffee-growing region. Mullayanagiri, at 6,317 feet (1,925 m), is the highest peak in Karnataka. Kemmangundi at 4,702 feet (1,433 m) above sea level is a popular hill station and was a favorite retreat of Mysore's former Maharaja Krishnaraja Wodeyar IV. Kalhatti Falls, 10 km from Kemmangundi, has a drop of 122 meters. Gangamoola peak, 10 km from the town of Kudremukh, is revered as the source of the Bhadra, Nethravathi and Tunga rivers.
Tunga
Bhadra
Netravathi
Vedavathi
Sharavathi
Varahi
Kumaradhara
Kaveri
Kali
Bedthi
Souparnika
Suvarna
Chakra
Varada
Lakshmana thirtha
Hemavathi
Kempuhole
Shalmala
River Aghanashini
Malaprabha
Ghataprabha River
Markandeya
Payaswini
Aghanashini
Malathi
Yagachi
Sirsi
Siddapura
Yellapur
Dandeli
Banavasi
Sagara
Joida
Londa
Ripponpet
Castle rock
Ulavi
Hulikal
Narasimharajapura (N.R Pura)
Balehonnur
Kalasa
Horanadu
Kottigehara
Shanivarsanthe
Shikaripur
Hosanagar
Agumbe
Kudremukh
Talguppa
Jayapura
Thirthahalli
Sringeri
Shivamoga
Mudigere
Sakleshpur
Sorab
Koppa
Somavarapete
Virajpet
Kodagu
Joga Kargal
Ambika Nagara
Anandapura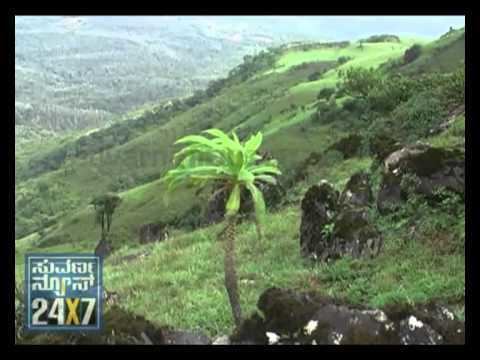 Unchalli Falls also called Lushington Falls perhaps one of the india's most spectacular falls located near sirsi & siddapur.
Yana near sirsi.
Banavasi is an ancient temple town in Sirsi Taluk.
Angadi in Mudigere taluk, Chikkamagaluru district is famous as the birthplace of the Hoysala dynasty.
Horanadu in Chickmagalur District is religious place, with Annapurneswari temple.
Sringeri in Chickmagalur District is religious place with Sharadamba Temple established by Adi Shankaracharya.
Kukke Subrahmanya in Mangalore district is a tourism and religious place.
Kodachadri is a mountain peak in Shimoga District.
Kudremukh is a mountain peak and name of a town situated in mudigere taluk, Chickmagalur district. Kudremukh National Park lies in this region.
Shri Marikamba Temple in Sirsi is a religious place, The Sirsi Marikamba jaatre (chariot procession) of the deity is held every alternate year in the month of February and taken through the town. It is attended by a very large number of devotees.It is said to be the most famous and biggest fair(jaatre) of the state(karnataka).
Sahasralinga in Sirsi Taluk, It is in the river Shalmala and is famous for being the location where around a thousand lingas are carved on rocks in the river and on its banks.
Sathodi Falls and Magod Falls in Yallapur Taluk.
Chorla ghat, Anmod ghat, Yellapura ghat, Devimane ghat, Kogar ghat, Balebare ghat, Hosanagara ghat, Agumbe ghat, Mala ghat, Charmadi ghat, Shiradi ghat and Sampaje ghat are some of the prominent ghat sections in malnad.
Shiradi ghat, Bisle ghat, Charmadi ghat and Sampaje ghat are places for trekking and hiking.
Bhadra wild life sanctuary in Chikkamagaluru Dist
Honnemaradu in Sagara Taluk
Chandragutthi near to Sagara is religious place with Renuka-Yellamma Temple
Jog Falls in Sagara Taluk which is the famous waterfalls in the country.
Siganduru in Sagara Taluk is religious place with Chowdeshwari Devi temple
Ulavi is an important center of pilgrimage for people of the Lingayat faith. The Samadhi of Channabasavanna, one of the most revered saints of the Lingayat faith lies here.
Kavaledurga in Thirthahalli taluk of Shimoga District
Agumbe in Thirthahalli taluk of Shimoga District famous for Sunset view and is home to the largest venomous snake in the world The king cobra. There is a dedicated forest research station in agumbe as well.
Humcha in Hosanagara taluk of Shimoga district is a jain pilgrim center.
Mandagadde in Thirthahalli taluk of Shimoga District is a famous bird sanctuary.
Ninasam in Heggodu, Sagara Taluk, is a famous folk art theatre.
Nagarakodi in Siddapur Taluq, Uttara Kannada Dist.
Sri Rushyashrungeshwara Swamy Temple in Kigga, Sringeri Taluk, is famous as "God of Rain".
Narasimha parvata is near to Kigga [4-5 km from Kigga].
Sirimane and Meghebaile water falls near to Kigga, Sringeri Taluk.
The Malenadu region is humid and has an annual rainfall of 1,000 to 3,800 mm. Agumbe which is in Shimoga district receives the highest rainfall in Karnataka (close to 10,000 mm).
Malenadu Wikipedia