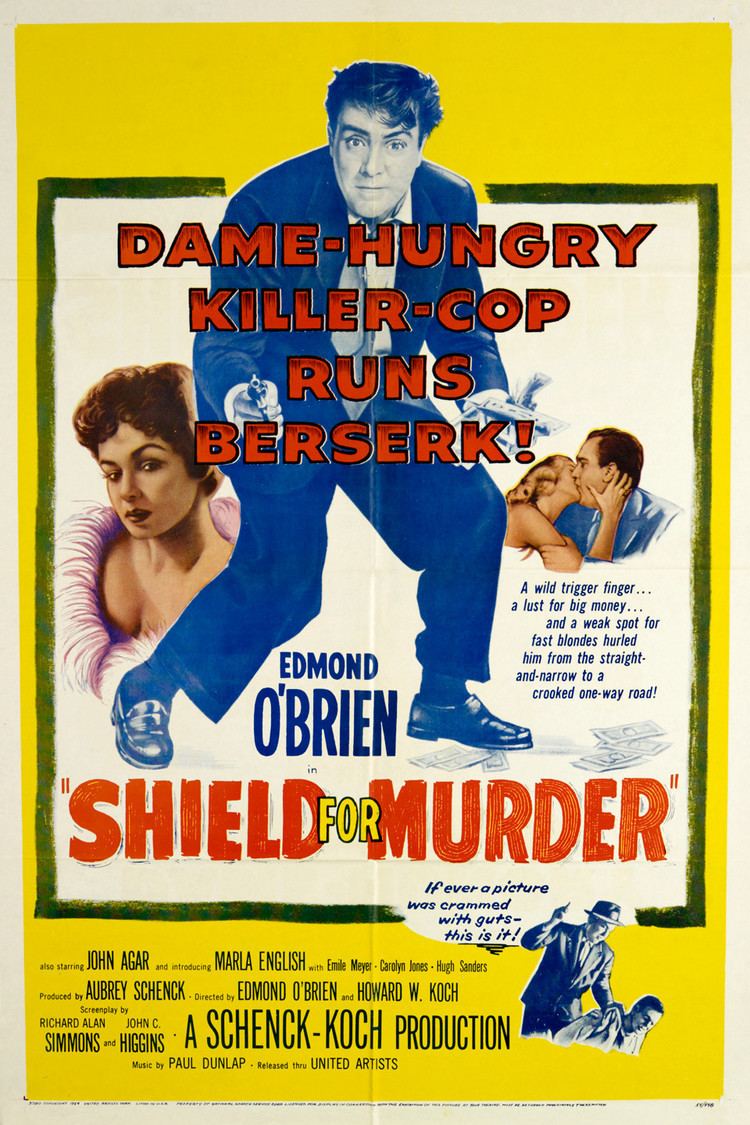 Lieutenant Barney Nolan (Edmond O'Brien), a 16-year veteran of the police force, has had enough. In a secluded alley late one night, he fatally shoots a bookmaker in the back and steals the $25,000 he was carrying. He then claims the man was killed trying to escape custody. Sergeant Mark Brewster (John Agar), his friend and protégé, believes him, as does the Captain of Detectives, Captain Gunnarson (Emile Meyer). However, newspaper reporter Cabot (Herbert Butterfield) suspects otherwise.
Packy Reed (Hugh Sanders), the dead man's boss, sends private investigators Fat Michaels (Claude Akins) and Laddie O'Neil to tell Barney he wants to see him. Packy gives Barney one chance to return the money, but Barney is uncooperative.
Barney takes his girlfriend, Patty Winters (Marla English), to see a house for sale, then slips away to hide the money outside. When he asks Patty to marry him, she accepts.
Deaf-mute Ernst Sternmuller goes to the police station, but gives a note explaining he witnessed the crime to Barney, not recognizing him. Barney goes to his apartment to try to buy his silence, but when Sternmuller turns him down, angrily pushes the old man away. Sternmuller falls, strikes his head, and dies. Barney stages it to look like an accident, unaware the man had written down his account. Mark finds it and takes it to Gunnarson, who initiates a manhunt for Barney.
Meanwhile, Barney runs into Michaels and O'Neil at a restaurant. Furious that the pair had harassed Patty, he savagely beats them both into unconsciousness with the butt of his revolver.
When Barney finds out he is a wanted man, he persuades Patty to pack up and start a new life with him (without telling her he is on the run). Mark tries to take him in, but is knocked out. Barney changes into his old police uniform and goes into hiding. He arranges for passage to Buenos Aires, but when he goes to pick up the ticket at a crowded high school pool, finds he has been set up. He and a bandaged Michaels shoot it out, while panicked swimmers dive for cover. Barney manages to kill Michaels and heads to the house to retrieve the money. Mark learns from Patty (now aware her boyfriend is a fugitive) the only place the $25,000 could have been hidden. The police converge on the house. When Barney starts shooting, they have no choice but to kill him.
Edmond O'Brien as Lieutenant Barney Nolan
Marla English as Patty Winters
John Agar as Sergeant Mark Brewster
Emile Meyer as Captain Gunnarson
Carolyn Jones as Girl at Bar (Beth)
Claude Akins as Fat Michaels
Lawrence Ryle as Laddie O'Neil (as Larry Ryle)
Herbert Butterfield as Cabot (reporter)
Hugh Sanders as Packy Reed
William Schallert as Assistant District Attorney Andy Tucker
According to producer Aubrey Schenck the film "grossed a lot of money, you wouldn't believe how much; on television it's made a fortune."
Film critic Dennis Schwartz liked the film, writing, "It was a well-executed, action-packed film noir, co-directed and acted by Edmond O'Brien. It punctures a lot of the idyllic dreams about living in suburbia, as the cop's middle-class goals are made dirty. His downfall is seen as choosing violence over love and greed over a sense of duty. He's a bad cop and a bad person who has hid behind his police shield, which he used to protect himself from the law. All the good he might have had in him is wasted."