Covid-19
Satyawati Rana




Vijay Singh






Phoolan Devi, Prithviraj Chauhan, Maharana Pratap, Sher Singh Ghubaya, Seema Parihar
Sher Singh Rana, occasionally referring to himself as Pankaj Singh, is an Indian author, politician and convicted murderer responsible for the 2001 assassination of Indian parliamentarian Phoolan Devi. He managed to escape from Tihar Jail in 2004, but was arrested by the Special Cell of the Delhi Police at Dharamtalla in Kolkata in 2006. He penned a book Jail Diary: Tihar Se Kabul-Kandhar Tak.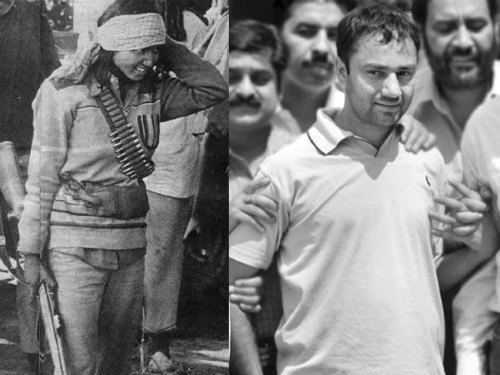 In August 2014, Rana was sentenced to life imprisonment and a fine of 100,000 rupees (approximately US$1,600) for Devi's assassination, as well as charges of conspiracy, after a 10-year trial.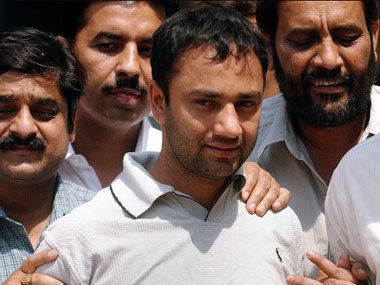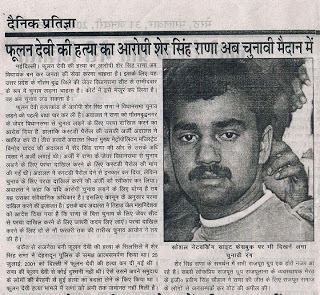 Rana, along with two other men, murdered Phoolan Devi outside her home in New Delhi. At the time of her assassination, Phoolan Devi was a sitting Member of Parliament in the 13th Lok Sabha. Rana claims he was motivated to take revenge upon her for her actions as a leader of a bandit gang that acted primarily against the higher castes in the late 1970s and early 1980s and considered a hero for rising against the atrocities of upper caste.
Rana reportedly said that after escaping from the jail on February 17, 2004 with the help of a friend Sandeep, who in the guise of a police man pretended to take Rana to a Hardwar court. he went to Moradabad and checked into a hotel. He then contacted relatives who sent him Rs. 1 lakh through Sandeep. From Ranchi he applied for a passport in the name of Sanjay Gupta.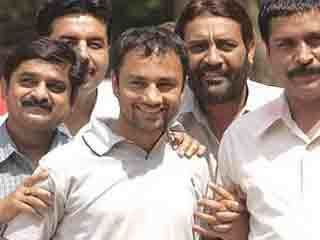 During the two-month wait for the passport, he visited Gaya and Benaras, where he met his "financer" Subhash Thakur, who was then lodged in a local jail. Rana then went to Kolkata, where he obtained a three-month Bangladesh visa. Rana claimed that he took a house for rent at Khulna and lived there, posing as Sanjay. After he fled to Bangladesh, he bought a satellite phone for Rs. 16,500 so that he could contact his relatives and friends without being tracked. Throughout his journey — from Moradabad to Ranchi, Kolkata, Bangladesh and Dubai to Afghanistan, — he kept getting about Rs. 15,000 to Rs. 20,000 per month as personal expense allegedly from the accomplices of an Uttar Pradesh-based criminal Subhash Thakur. He visited Kolkata often to get his visa extended. At times, he did this in Dhaka.
Later, Sher Singh Rana took a flight from Dhaka to Dubai, from where he proceeded to Kabul. He had a national mission in his mind, he wanted to bring back to India the ashes of Hindu king Prithviraj Chauhan which were buried in Afghanistan. Rana said he brought relics and sand from the king's grave at Deak village at the outskirts of Ghazni in Afghanistan. He also had a memorial built in Etawah in Uttar Pradesh. Kanpur Police confirmed that from the remains a memorial was founded which will be a temple of Prithviraj Chauhan. Sher Singh Rana was welcomed by Hindu Kshatriya Sena in Uttar Pradesh for bringing back the relics of Last Hindu Emperor of India Prithviraj Chauhan.Recently Sher Singh Rana also warned Directors Sanjay Leela Bhansali who was slapped by Hindu Karni Sena while shooting for his upcoming film on Rani Padmini
A trial court in January 2012 allowed Sher Singh Rana, to file his nomination papers from Tihar to contest Uttar Pradesh assembly election.
The Delhi High Court has granted bail to Sher Singh Rana and he will be released on October 24, 2016.
In 2013, media reported that actor Nawazuddin Siddiqui is gearing up to work on a second biopic called End of Bandit Queen, based on the life of Sher Singh Rana. Sher Singh Rana is currently lodged at Delhi's Tihar Jail, and Nawazzudin says he will meet him soon. The makers of the biopic based on Sher Singh Rana, the killer of Phoolan Devi, have roped in Boman Irani to play the parallel lead.
Sher Singh Rana Wikipedia