The name Ranchi is derived from the previous name of the Oraon village at the same site, Archi. "Archi" derives from the Oraon word for bamboo grove or stave. According to legend, after an altercation with a spirit, a farmer beat the spirit with his bamboo stave. The spirit shouted archi, archi, archi and vanished. Archi became Rachi, which became Ranchi. One of the historically significant neighbourhoods of Rachi is Doranda (duran "दुरङ" means song and daah "दअः" means water in the Mundari language). Doranda lies between the Hinoo (Bhusur) & Harmoo Rivers, where the civil station, treasury and church established by the British Raj were destroyed by rebel forces during the Sepoy Mutiny.
Ranchi has been selected as one of the hundred Indian cities to be developed as a smart city under PM Narendra Modi's flagship Smart Cities Mission. Ranchi is well known for being the hometown of former Indian cricket captain MS Dhoni.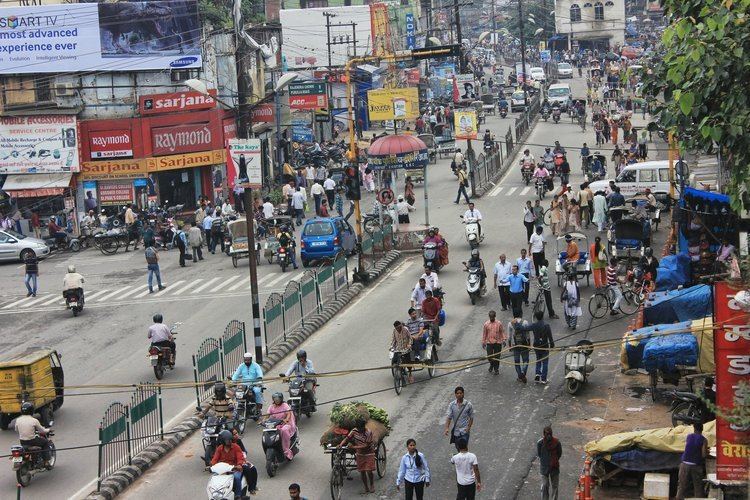 Ranchi lies at 23°22′N 85°20′E near to the Tropic of Cancer . Its municipal area is 175.12 km2 (67.61 sq mi), and its average elevation is 651 m above sea level.
Ranchi is located in the southern part of the Chota Nagpur plateau, which is the eastern section of the Deccan plateau.
Ranchi has a hilly topography and its dense tropical forests a combination that produces a relatively moderate climate compared to the rest of the state. However, due to the uncontrolled deforestation, and development of the city, the average temperature has increased.
Although Ranchi has a humid subtropical climate, its location and the forests surrounding it combine to produce the unusually pleasant climate for which it's known. Summer temperatures range from 20 °C to 42 degrees, winter temperatures from 0 °C to 25 degrees. December and January are the coolest months, with temperatures dipping to the freezing point in some areas. The annual rainfall is about 1430 mm (56.34 inches). From June to September the rainfall is about 1,100 mm. The Köppen Climate Classification subtype for this climate is "Cwa"(Humid Subtropical Climate).
As of 2011 India census, Ranchi municipal corporation has a population of 1,120,374, making it the 46th largest urban city in India. Males constitute 51.3% of the population and females 48.7%. Ranchi city has an average literacy rate of 87.68% (census 2011).
The city witnessed a sudden surge in population after the declaration of the new state of Jharkhand in 2000. Owing to the rising employment opportunities and opening of numerous regional and state level offices, banks, and FMCG companies, the city witnessed a rapid influx of employment seeking migrants. As per a study done by ASSOCHAM in late 2010, Ranchi was one of the highest employment generating Tier-III cities in India with a share of 16.8%, followed by Mangalore and Mysore.
Birsa Munda Airport (IXR) of Ranchi has direct flights from Kolkata, Delhi, Mumbai, Bangalore, Patna, Hyderabad, Bhubaneswar. Few major airlines like Air India, GoAir, Indigo and Air Asia serve this purpose. Plans are underway to connect Ranchi directly with cities like Chennai and Ahemadabad directly. A new domestic terminal is now ready which is spread over 19,676 square metres of land furnished with imported equipment, and has the capacity to handle 500 domestic passengers.
In addition, a state-of-the-art domestic cargo complex at Birsa Munda Airport was inaugurated by Chief Minister Raghubar Das with a daily capacity of 50 MT, catering to 14 flights that operate in and out of Ranchi now.
Ranchi Railway Station is well connected with direct trains from Delhi, Kolkata, Mumbai, Chennai and other major cities. It consists of six platforms with all standard necessities. It is also well connected to Ranchi Airport and Bus Terminals. The Ranchi Railway station cater to 36 halting trains, 27 originating trains and 27 terminating trains.
ICAR Research Complex for Eastern Region (ICAR RCER) Research Centre, Ranchi
Indian Institute of Natural Resins and Gums (IINRG), Namkum]
Indian Institute of Agricultural Biotechnology, Gharkhatanga
Central University of Jharkhand (CUJ), Ranchi.
Ranchi University (RU), Ranchi
Birla Institute of Technology (BIT), Mesra
Indian Institute of Management Ranchi, IIM-R
Institute of Management Studies, Ranchi IMS,RU
National University of Study and Research in Law, Ranchi (NUSRL)
National Institute of Foundry and Forge Technology (NIFFT)
Rajendra Institute of Medical Sciences (RIMS)
Xavier Institute of Social Service (XISS)
Birsa Agricultural University
Sai Nath University, Ranchi
Amity university, Ranchi
The International Library & Cultural Centre
Ranchi is centre for numerous sports activities, including cricket, hockey, football, and many others. The 34th National Games were successfully held in Ranchi in February 2011.
An International Cricket stadium with an indoor stadium and a practice ground has been constructed. So far, this stadium has hosted three One day International matches and one T20 International match. Apart from that, this stadium has hosted two IPL 6 matches for Kolkata Knight Riders, three champions league 2013 matches and Celebrity Cricket League Matches for Bhojpuri Dabanggs. A tennis academy, which was inaugurated by Sania Mirza and Shoaib Malik, also runs besides the cricket stadium.
The Ranchi franchise for Hockey India League was bought by Patel-Uniexcel Group and the team named Ranchi Rhinos.
Ranchi Rays
Ranchi Rhinos
Jaipal Singh Stadium
JSCA International Cricket Stadium
Birsa Munda Hockey Stadium
Birsa Munda Athletics Stadium
Birsa Munda Football Stadium
Ranchi has the following FM radio stations: (Listed in increasing order of frequency)
Radio City: 91.9 FM
Big FM: 92.7 FM
AIR FM Rainbow 100.5 FM
Vividh Bharati (All India Radio): 103.3 FM.
Radio Dhamaal 106.4 FM
BSNL Broadband
Airtel Broadband
RailWire
Rajesh Chauhan, former Indian cricketer, was born in Ranchi
Mahendra Singh Dhoni, Most successful former Indian Cricket team Captain
Carl Haeberlin, German physician, was born in Ranchi
Deepika Kumari, International Level Archer
Peter Mansfield, British journalist and historian, was born in Ranchi
Kariya Munda, Former Deputy Speaker of the 15th Lok Sabha and current Member of Parliament
Vinay Pathak, actor schooled at Vikas Vidyalaya in Ranchi
Pat Reid MBE MC, escapee from Colditz Castle, was born in Ranchi
Telesphore Toppo, Cardinal-Archbishop of Ranchi in the Roman Catholic Church.
Tapen Sen, Former Judge Calcutta High Court, Punjab & Haryana High Court and Jharkhand High Court.