Role

Film actress




Name

Savitri Nissankararao








Full Name

Savitri Nissankararao




Born

6 December 1936 (

1934-12-06

) Chirravuru Village, Tadepalle Mandalam, Guntur district, Andhra Pradesh, India


Other names

Savitri Kommareddy, Savitri Ganesan




Children

Vijaya ChamundeswariSathish kumar




Spouse

Gemini Ganesan (m. 1952–1981)


Movies

Devadasu, Mayabazar, Mooga Manasulu, Missamma, Manchi Manasulu



Native name

కొమ్మారెడ్డి సావిత్రి





Died

26 December 1981 (aged 45) Madras, Tamil Nadu, India


Similar

Gemini Ganesan, Sivaji Ganesan, Akkineni Nageswara Rao
Real life secrets of legendary actress savitri filmyfocus com
Savitri (born Savitri Nissankararao, 6 December 1936 – 26 December 1981) was an Indian film actress, playback singer, dancer, director and producer. She appeared mainly in Telugu and Tamil, as well as Kannada, Malayalam, and Hindi language films. Widely regarded as one of the finest actresses of Telugu cinema, Savitri made her lead role debut with the 1952 Telugu film Pelli Chesi Choodu. In 1960, she received the Rashtrapati Award for her performance in the Telugu film Chivaraku Migiledi. In 1968, she produced and directed the telugu film, Chinnari Papalu for which she received the state Nandi Award for Best Feature Film (Silver). She was honored among "women in cinema" at the 30th International Film Festival of India.
Contents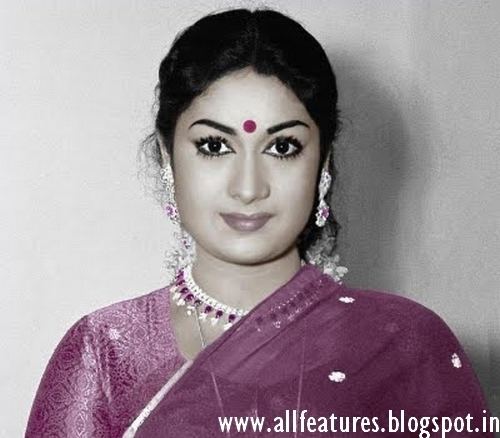 She is best known for her work in award-winning films such as Devadasu (1953), Ardhangi (1955), Missamma (1955), Donga Ramudu (1955), Amara Deepam (1956), Thodi Kodallu (1957), Mayabazaar (1957), Abhimanam (1958), Mangalya Balam (1958), Appu Chesi Pappu Koodu (1959), Sri Venkateswara Mahatyam (1960), Chivaraku Migiledi (1960), Manchi Manasulu (1961), Aradhana (1962), Gundamma Katha (1962), Rakta Tilakam (1963), Mooga Manasulu (1963), Doctor Chakravarthy (1964), Pooja Phalam (1964), Devata (1965), Pandava Vanavasam (1965), Kanya Sulkam, Naadi Aada Janme, Prana Mitrulu (1967), Varakatnam (1968), Maro Prapancham (1970), Manase Mandiram (1966) and Jagan Mohini (1978).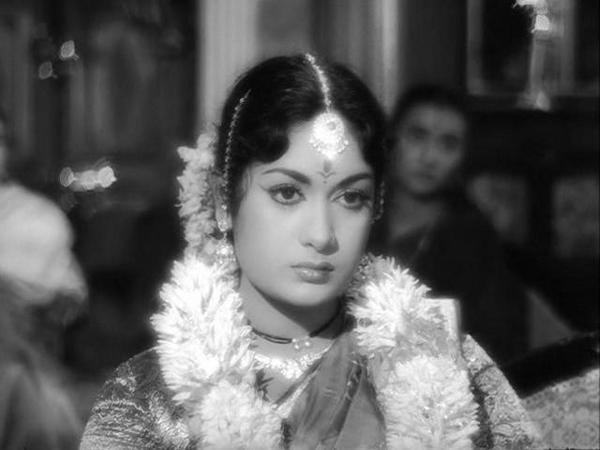 Her Tamil work includes Kalathur Kannamma (1959), Pasamalar (1961), Pava Mannippu (1961), Paarthal Pasi Theerum (1962), Karpagam (1963), Karnan (1963), Kai Kodutha Deivam, Navarathri (1964), and Thiruvilaiyadal (1965).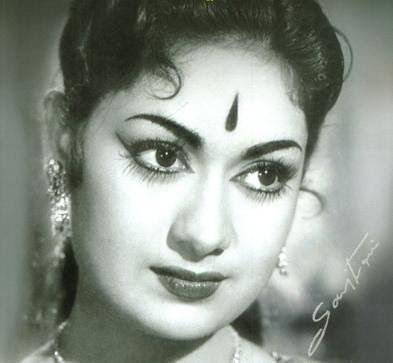 Early life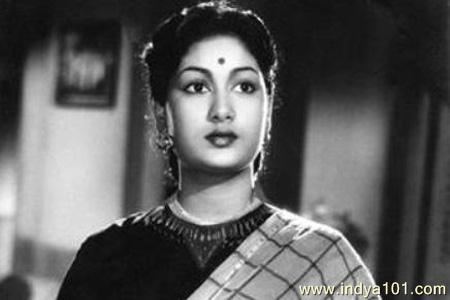 Savitri's parents are Nissankararao Guraviah and Subhadhramma. She was born in Chirravuru Tadepalle Mandalam (near Undavalli) in Guntur, Madras Presidency, now part of Andhra Pradesh in a Telugu speaking family. Her father died when she was 6 months old. She had an elder sister named Maadhuri. Later, her family moved to Chirravuru. She studied in Kasturbhai High School. She learned music and Indian classical dance from Sistla Purnayya Sasthri, starting from the age of 8. She performed stage shows as a child.
Personal life
Savitri married Tamil actor Gemini Ganesan in 1955. Her marriage became public when she signed a photo for a Lux advertisement as Savithri Ganesh three years later. They had two children, Vijaya Chamundeswari and Sathish Kumar.
Career
Savitri gave a few public performances as a child artiste in Vijayawada. Later, she worked in a theatre company run by kongara jaggaiah. She also started her own company, the Navabharata Natya Mandali. Her best stage role was in Atma Vanchana, written by Bucchi Babu. She was offered a role in 'Agni Pariksha' in 1949. However she looked too young (she was 14) in screen tests and so was dropped. Then, she was selected for the lead role in the film Samsaram by the banner 'Sadhana Chitra' in 1950. Because of stage-fright she needed a lot of retakes on the floor so she was dropped again. She was replaced by Pushpavalli and was given a small role, with Nageswara Rao. She performed a dance in Pathala Bhairavi in 1951.
Bollywood
Savitri acted in a few Hindi films such as, Bahut Din Huwe, Ghar Basake Dekho, Balaram Shri Krishna and Ganga Ki Lahren.
Kannada cinema
Savitri starred in a few Kannada films such as Thaayige Thakka Maga, Ravichandra, and Chandanada Gombe.
Playback singing
She is known for play back singing, and some of her works are "Sundari Neevanti" from Mayabazar, "Rangu Rangula Sila" from Navarathri (1966) and Neevevaro from Annapurna (1960) which she gave voice for actress Girija.
Direction
Savitri has directed films such as, Chinnari Papalu, Chiranjeevi, Maathru Devatha,Vintha Samsaram, Kuzhanthai Ullam and Praptham.
Death
Savitri died on 26 December 1981 as a result of substance abuse.
Biographies
"Vendithera Vishaada Raagaalu" by Pasupuleti Rama Rao
"Mahanati Savitri Vendithera Samaragni" by Pallavi
"A Legendary Actress Mahanati Savitri" by VR Murthy and V Soma media
Awards and honors
Rashtrapati Award, Nandi Award, Kalaimamani, Mahanati Savitri, and Nadigayar Thilakam.
Filmography
Actress
1979
Amar Deep
as
Sonu and Kishan's Mother
1979
Chandanada Gombe
as
Sita the mother of Ratna (Lakshmi)
1979
Punadhirallu
as
Sarpanch's wife
1979
Alavuddinum Athbutha Vilakkum
as
Alavuddin's mother (Tamil Version)
1978
Ashwathama
as
Kunjuni's Wife
1978
Devadasu Malli Puttadu
1978
Thayige Takka Maga
as
Vishalakshamma the mother of Kumar (Rajkumar)
1977
Unnai Sutrum Ulagam
as
Dhanabakiyam
1975
Bharatamlo Oka Ammayi
1975
Saraswati Lakshmi Parvati
as
Devi Saraswati
1974
Manushulu Matti Bommalu
1973
Chuzhi
as
Elizabeth the wife of Varghese
1973
Pandav Banvas
as
Draupadi
1970
Kodalu Diddina Kapuram
1970
Thalli Thandrulu
as
Kausalya
1968
Balram Shri Krishna
as
Revati
1968
Bandhavyalu
as
Wife of main character
1967
Thiruvarutselvar
as
Arulmozhi
1967
Kandan Karunai
as
Goddess Parvathi
1966
Bhakta Potana
as
Goddess Saraswathi
1966
Saraswathi Sabatham
as
Goddess Saraswathi
1966
Thattungal Thirakkapadum
as
Meenakshi the wife of Shankar (R. S. Manohar)
1965
Thiruvilayadal
as
Goddess Parvathi / Sati / Kayarkanni
1965
Hello Mister Zamindar
1965
Poojaikku Vandha Malar
1965
Pandava Vanavasam
as
Draupadi
1964
Dr. Chakravarthy
as
Madhavi Devi
1964
Daanveer Karna
as
Bhanumati
1963
Chaduvukunna Ammayilu
as
Sujatha
1963
Narthanasala
as
Draupadi / Malini (Sairandhri)
1963
Ghar Basake Dekho
as
Geeta - Sunder's Wife
1962
Padithal Mattum Podhuma
1962
Vadivukku Valai Kappu
1962
Patha Kannikkai
as
Maladhi
1962
Gundamma Katha
as
Lakshmi
1962
Manchi Manasulu
as
Shanti
1962
Parthal Pasi Theerum
as
Indhra
1961
Ellam Unnakkaga
as
Sarada the daughter of Venkatachalam
1961
Kappalottiya Thamizhan
1961
Kalasivunte Kaladu Sukham
1960
Chivaraku Migiledi
as
Padma
1960
Kalathur Kannamma
as
Kannamma
1960
Sri Venkateswara Mahathyam
as
Padmavathi
1959
Appu Chesi Pappu Koodu
as
Manjari
1958
Kadan Vaangi Kalyanam
1958
Naan Valartha Thangai
1958
Paanai Pidithaval Bhagyashaali
as
Meena
1958
Kaathavaraayan
as
Rajkumari Ariya Mala
1957
Kutumba Gauravam
as
NTR's wife
1955
Gomathiyin Kadhalan
as
Gomathi
1955
Kanyasulkam
as
Madhuravani
1955
Missiamma
as
Mary and then Mahalakshmi
1955
Missamma
as
Mary / Mahalakshmi
1954
Parivartana
as
Sundaramma
1954
Chandraharam
as
Chanchala
1953
Bratuku Theruvu
as
Zamindar's daughter
1952
Pelli Chesi Choodu
as
Savitri
1951
Pathala Bhairavi
as
Dancer (uncredited)
Director
Producer
1985
Ek Chitthi Pyar Bhari (producer)
1971
Vintha Samsaram (producer)
Music Department
1966
Navarathri (playback singer)
Self
1980
Natchatiram
as
Self (Guest Appearance)
References
Savitri (actress) Wikipedia
(Text) CC BY-SA