Since August 20, 2007, several detached human feet have been discovered on the coasts of the Salish Sea in British Columbia, Canada, and Washington, USA. The feet belonged to five men, one woman and three other people of unknown sex. Of the 16 feet found, only two have been left feet; both of those were matched with right feet. As of February 2012, only five feet of four people have been identified; it is not known to whom the rest of the feet belong. In addition, several hoax feet have been planted in the area.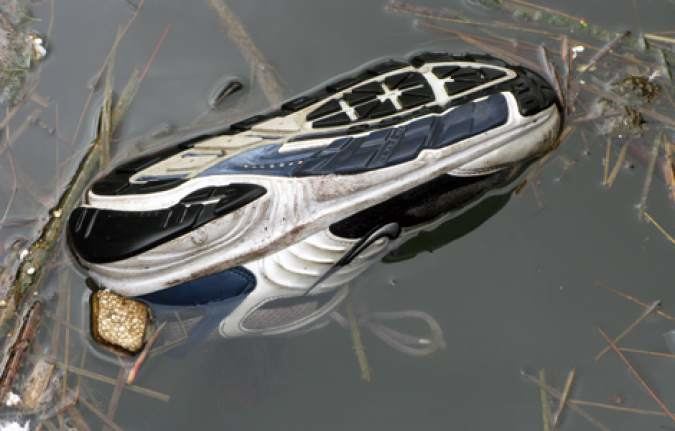 As of February 11, 2016, sixteen feet have been found in the Canadian province of British Columbia, and four in the US state of Washington.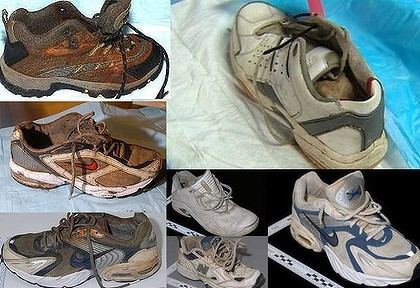 In July 2008 it was announced that one foot had been identified by Vancouver police, using DNA, as belonging to a man who was depressed and probably committed suicide. His identity was withheld on request of his family.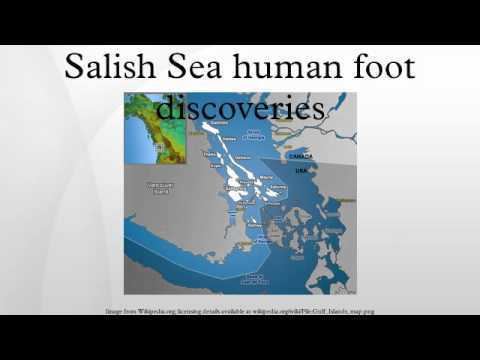 These foot discoveries are not the first ones on British Columbia's coast. On July 30, 1914, the Vancouver Sun reported that recent arrivals from Kimsquit reported a human leg encased in a high boot was found on a beach near the mouth of the Salmon River (a previous name for the Dean River near Kimsquit, near the headwater of Dean Channel). It was thought the remains were from a man who had drowned on the river the previous summer. One was also found in Vancouver in 1887.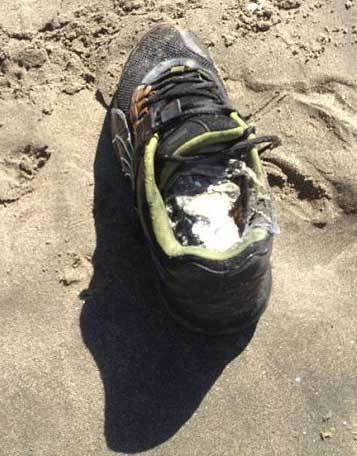 Another "human" foot, discovered on June 18, 2008, on Tyee Spit near Campbell River on Vancouver Island, was a hoax. The hoax was a "skeletonized animal paw" which was put in a sock and shoe and then stuffed with dried seaweed. The Royal Canadian Mounted Police have begun an investigation into the hoax, and an arrest could result in charges of public mischief.
After the eleventh foot was found on August 31, 2011, several running shoes containing what police suspected was raw meat were found washed up on Oak Beach, British Columbia.
The series of discoveries has been called "astounding" and "almost beyond explanation", as no other body parts have turned up. The discoveries have caused speculation that the feet may be those of people who died in a boating accident or a plane crash in the ocean. One explanation is that some of the feet are those of four men who died in a plane crash near Quadra Island in 2005 and whose bodies have not been recovered, though one of the feet has been determined to be from a female. Foul play has also been suggested, although none of the first four feet showed tool marks. This does not rule out foul play, however; it is possible that the bodies could have been weighted down and disposed of, and the feet were separated due to natural decay.
Determining the origin of the feet is complicated because ocean currents may carry floating items long distances, and because currents in the Strait of Georgia are unpredictable. A foot may float as far as 1,000 miles (1,600 km). Also, human feet have a tendency to produce adipocere (a soap-like substance formed from body fat), which makes it hard for forensic scientists to find clues. Under optimal conditions, a human body may remain intact in water for as long as three decades, meaning that the feet may have been floating around for years.
Another theory is that the feet belonged to people who died in the Asian tsunami on December 26, 2004. Richmond-based writer Shane Lambert has advocated this position, pointing to the fact that many of the shoes found were manufactured and sold in 2004 or earlier. Lambert acknowledges that there could be other sources for the shoes or multiple sources. However, besides the dates when the shoes were manufactured, Lambert cites ocean currents and their ultimate northward tendencies up the Pacific Ocean from part of the region that was hit by the 2004 tsunami.
One foot has been identified as belonging to a man who was depressed and was believed to have committed suicide. Another two feet were identified as belonging to a woman who committed suicide by jumping from the Pattullo Bridge (49.207575°N 122.894654°W / 49.207575; -122.894654 (Pattullo Bridge)) in New Westminster, B.C., in 2004. This suggests the feet could belong to other people who have jumped from the bridge.
Decomposition may separate the foot from the body because the ankle is relatively weak, and the buoyancy caused by air either inside or trapped within a shoe would allow it to float away. According to Simon Fraser University entomologist Gail Anderson, extremities such as the hands, feet, and head often detach as a body decomposes in the water, although they rarely float.
However, finding feet and not the rest of the bodies has been deemed unusual. Finding two feet has been given a "million to one odds" and has thus been described as "an anomaly". The finding of the third foot made it the first time three such discoveries had been made so close to each other. The fourth discovery caused speculation about human interference and, statistically, was called "curious".
After the fifth foot was discovered the story had begun to receive increased international media attention. With major headlines from newspapers such as the Melbourne Herald Sun, The Guardian, and the Cape Times in South Africa, the story elicited much speculation about the cause of the mystery, originating from "morbid fascination" with this type of subject, as stated by one scientist who identifies remains of victims. David Letterman also questioned two of his audience members who were Canadian about the mystery during one of his shows.
Jørn Lier Horst, a Norwegian police officer, wrote a novel inspired by the events, called Dregs (Sandstone Press 2011), in which an experienced investigator gives a new explanation for the findings.
The NPR podcast, "How To Do Everything" featured this phenomenon in their May 14, 2014 Episode 157, "Human Feet and Graham Crackers." This was also later covered on the podcast "Stuff You Should Know" in June 2016.