Birth name

Saina Nehwal




Handedness

Right-handed




Height

1.65 m




Weight

60 kg (130 lb)




Role

Player





Residence

Hyderabad, India


Name

Saina Nehwal




Country

India




Coach

Vimal Kumar




Siblings

Abu Chandranshu Nehwal







Born

17 March 1990 (age 28)Hisar, Haryana (

1990-03-17

)


Awards

Rajiv Gandhi Khel Ratna, Padma Shri, Arjuna Award for Badminton, CNN-IBN Indian of the Year in Sports


Olympic medals

Badminton at the 2012 Summer Olympics – Women's singles


Parents

Harvir Singh Nehwal, Usha Nehwal




Similar People

P V Sindhu, Sania Mirza, Jwala Gutta, Carolina Marin, Li Xuerui


Profiles




Facebook

Twitter

Instagram
Saina nehwal won most exciting match in ibl 2013 hyderabad
Victor Far East Malaysia Masters 2017 | Badminton SF M4-WS | Saina Nehwal vs Yip Pui Yin
Saina Nehwal ( pronunciation ; born 17 March 1990) is an Indian professional badminton singles player. Nehwal, the former world no. 1 has won over twenty one international titles, which include ten Superseries titles. Although she reached to the world no. 2 ranking in 2009, it was only in 2015 that she was able to attain the world no. 1 ranking. And thereby becoming the only female player from India and overall the second Indian player – after Prakash Padukone – to achieve this feat. She has represented India three times in the Olympics, winning bronze medal in her second appearance.
Contents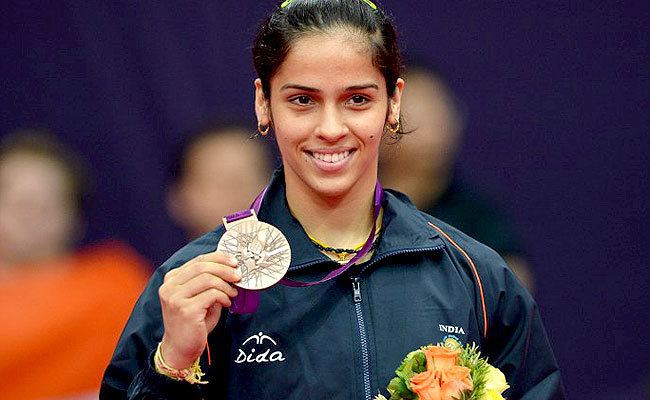 Nehwal has achieved several milestones in badminton for India. She is the only Indian to have won at least a medal in every BWF major individual event, namely the Olympics, the BWF World Championships, and the BWF World Junior Championships. She is the first Indian badminton player to have won an Olympic medal, along with being the only Indian to have won the BWF World Junior Championships or to have reached to the final of the BWF World Championships. In 2006, Nehwal became the first Indian female and the youngest Asian to win a 4-star tournament. She also has the distinction of being the first Indian to win a Super Series title. In the 2014 Uber Cup, she captained the Indian team and remained undefeated, helping India to win bronze medal. It was India's first medal in any BWF major team event. She is a role model to many young badminton players.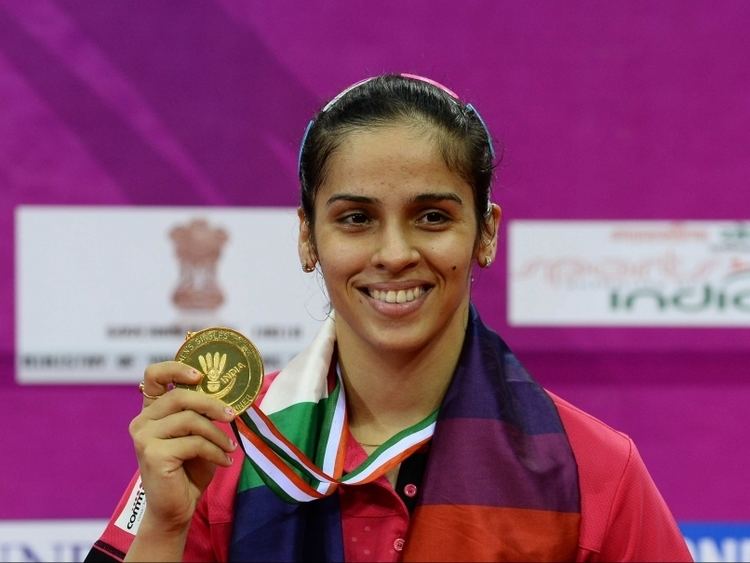 Considered one of the most successful Indian sportspersons, she is credited for increasing the popularity of badminton in India. In 2016, the Government of India (GoI) conferred the Padma Bhushan – India's third highest civilian award – on her. Previously, the nation's top two sporting honours, namely the Rajiv Gandhi Khel Ratna and the Arjuna Award, were also conferred on her by the GoI.
Personal life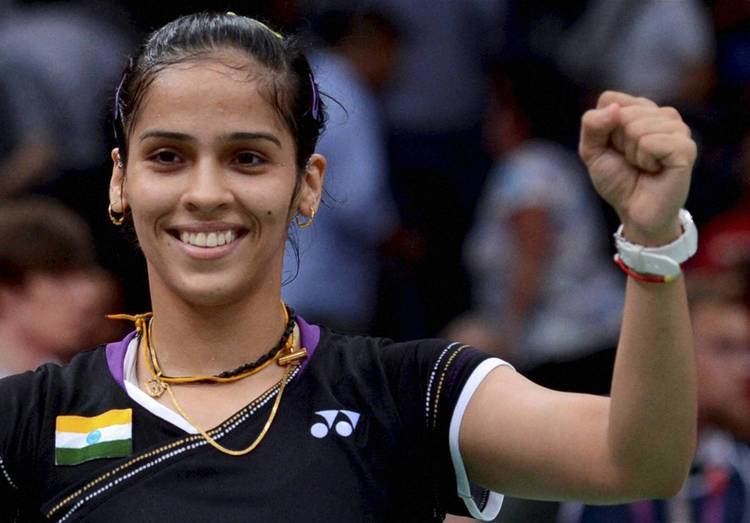 Saina Nehwal, the second daughter of Harvir Singh and Usha Rani, was born in Hindu Jat family in Hisar. Her father worked in CCS HAU. She completed her first few years of schooling at Campus School CCS HAU, Hisar. The family later shifted to Hyderabad. Nehwal also has a brown belt in Karate. Saina did her Xll from St. Ann's College Mehdipatnam Hyderabad.
2006–2009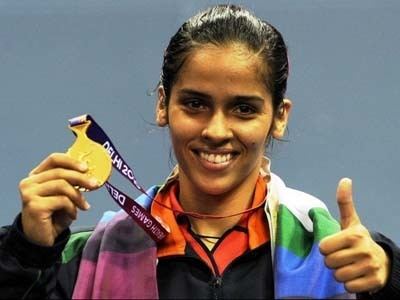 In 2006, Saina became the under-19 national champion and created history by winning the prestigious Asian Satellite Badminton tournament (India Chapter) twice, becoming the first player to do so. In May 2006, the 16-year-old Saina became the first Indian woman and the youngest player from Asia to win a 4-star tournament – the Philippines Open. Entering the tournament as the 86th seed, Saina went on to stun several top seeded players including the then world number four Xu Huaiwen before defeating Julia Wong Pei Xian of Malaysia for the title. The same year Saina was also the runner up at the 2006 BWF World Junior Championships, where she lost a hard fought match against top seed Chinese Wang Yihan. She did one better in the 2008 by becoming the first Indian to win the World Junior Badminton Championships by defeating ninth seeded Japanese Sayaka Sato 21–9, 21–18.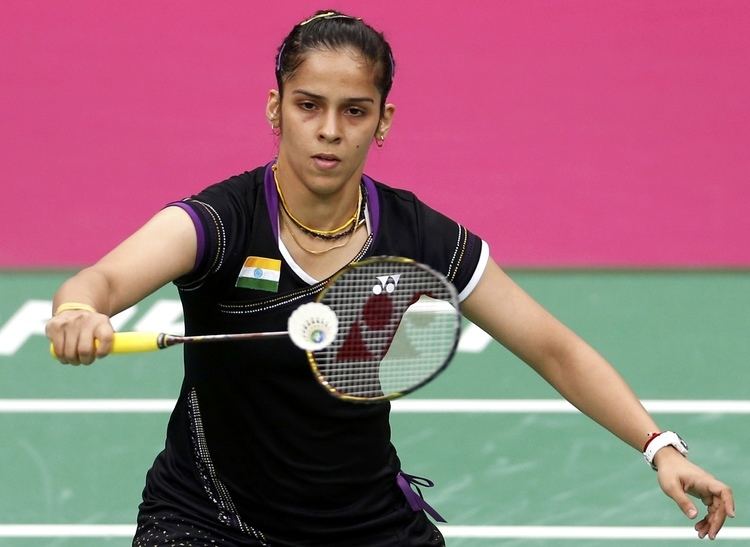 She became the first Indian woman to reach the quarter finals at the Olympic Games when she upset world number five and fourth seed Wang Chen of Hong Kong in a three-game thriller. In the quarter-finals Saina lost a nail biting 3-gamer to world number 16 Maria Kristin Yulianti. In September 2008, she won the Yonex Chinese Taipei Open 2008 beating Lydia Cheah Li Ya of Malaysia 21–8 21–19. Maria Yulianti had earlier lost her quarter-final match to Pia Bernadet, Saina's semi-final opponent, thus denying Saina a rematch. Saina was named "The Most Promising Player" in 2008. She reached the world super series semifinals in the month of December 2008.
In June 2009, she became the first Indian to win a BWF Super Series title, the most prominent badminton series of the world by winning the Indonesia Open. She beat Chinese Wang Lin in the final 12–21, 21–18, 21–9. Saina on winning the tournament said, "I had been longing to win a super series tournament since my quarter final appearance at the Olympics". Saina is on the par with the likes of Prakash Padukone and her mentor Pullela Gopichand who both won the all England championships which are of similar status to the super series. In August 2009, she reached to the quarterfinals of the World Championships, losing to the second seed Wang Lin.
2010
Saina successfully led the Indian Women Team to the Quarter-finals stage of the 2010 Uber Cup finals. Saina became the first Indian Woman to reach the semi finals of 2010 All-England Super Series before losing to eventual champion Tine Rasmussen. Top seeded Saina reached the semifinals of Yonex Sunrise Badminton Asia Championships 2010 losing out to unseeded eventual champion Li Xuerui of China. Saina's Coach Gopichand advised her not exert too much pressure on herself due to the overwhelming home crowd support. Saina wins the 2010 India Open Grand Prix Gold, beating Wong Mew Choo of Malaysia in the final and thus justifying her billing as top seed in the tournament. She won a prize money of $8,280 for winning this BWF Grand Prix Gold tournament. Nehwal, again seeded no.1 in the Singapore Open Super Series 2010, entered the finals defeating World champion Lu Lan of China. Saina won the second Super Series title of her career by beating qualifier Tai Tzu-Ying of Chinese Taipei in the final of the Singapore Open 21–18, 21–15. But the fact that she won the tournament in the absence of all the top 5 ranked players takes a little sheen away from her path breaking victory. Saina won a prize money of $15,000 for winning this BWF Super Series tournament. Saina reached a career high of world no. 3 in the women's singles badminton world rankings on 24 June 2010. Saina defended her Indonesia Open super series title in three tough games against Sayaka Sato of Japan, 21–19, 13–21, 21–11.This is her third super series title and her third successive title following wins at Indian open, Singapore Super series. She again won the top prize money of $18,750 for winning this BWF Super Series tournament. On 15 July 2010, with 64791.26 points Saina Nehwal reached a career high world ranking of No. 2 only behind Wang Yihan of China. 2nd seed Saina, a tournament favourite, crashed out of the 2010 BWF World Championships in Paris after losing to 4th ranked Chinese Wang Shixian in straight sets 8–21, 14–21. She although equalled her tournament best performance, as she was also a losing quarter-finalist in the last edition held in Hyderabad. She subsequently dropped a spot to be No. 3 in the world rankings.
Top seed Saina, won the gold medal in the Women's Singles badminton event in the 2010 Commonwealth Games held in New Delhi. She beat Wong Mew Choo of Malaysia 19–21 23–21 21–13. After her win Saina said, "when I was a match-point down, it was like a shock. It was a big match and winning it means a lot to me. Even many years from now, those present here will always remember how Saina won the gold. It is a proud feeling". In the BWF Super Series ranking for the year 2010 (which only considers the performances of players in the elite world super series tournaments), as on 27 September 2010, Saina has dropped to No. 7 from a high of No. 1 after giving a miss to 2010 China Masters Super Series and 2010 Japan Super Series due to her preparation for the 2010 Commonwealth Games. As on 5 Dec 2010, for the first time in the year Saina Nehwal dropped out of the top 10 best performers in the 2010 BWF Super Series rankings.
Saina Nehwal confirmed her participation for the 2010 Hong Kong Super series to held from 7 to 12 Dec 2010 and is also the penultimate super series tournament of the year. This would be Saina's first super series tournament after a gap of more than 5 months since her win in the 2010 Indonesia Super Series in June 2010. On 12 December 2010, Saina Nehwal defeated Wang Shixian 15–21, 21–16, 21–17 in the final of the 2010 Hong Kong Super Series to win her fourth career Super Series title.
2011
Fourth-seed Saina Nehwal crashed out of the 2011 Korea Open Super Series Premier on 27 January 2011 in the second round. She was defeated by the Japanese Sayaka Sato in a tight three-set match with score 17–21, 21–19 and 21–11. Fifth-seed Saina was disappointed when she was defeated by Eriko Hirose of Japan at 2011 All England Super Series Premier on 11 March 2011. She was defeated in straight sets with a score of 21–11 and 22–20. It was her second early exit of the year after being defeated in Korean Premium Super Series earlier in January. One week later, on 17 March 2011, she met Eriko Hirose again (in the second round of the Wilson Badminton Swiss Open), but managed to win this time in three games 21–15, 17–21 and 21–11 – on her birthday. 2nd seed Saina Nehwal beat Ji Hyun Sung of South Korea 21–13, 21–14 to win the Swiss Open Grand Prix Gold badminton title on 20 March 2011. Saina posed an early exit from the Indian Open Super Series in Delhi. She disappointed the home crowd being defeated by Ai Goto of Japan in straight games, 21–17 and 21–19.
Saina Nehwal faltered after a good start as she lost to the then world number three Wang Xin of China in the finals to finish runner-up in the 2011 Malaysian Open Grand Prix Gold tournament on 8 May 2011. Saina Nehwal participated in the 2011 BWF Double Star Sudirman Cup Mixed team event, she won her first match against Tzu Ying Tai of Chinese Taipei which was a tough three setter 21–10, 12–21 21–17, but India lost the tie 3–2. She was then shocked in her second match by current Junior World Champion and 16-year-old teen sensation Ratchanok Inthanon of Thailand losing in straight sets 21–14, 22–20, but India managed to beat Thailand 3–2 in the tie to book a spot in the quarterfinals of the Elite mixed team event for the first time in the history of the tournament. In the quarterfinals against the mighty Chinese, Saina put up her best performance and beat the then World number two Xin Wang in straight sets 21–15, 21–11, but still the Chinese managed to move into the semi finals with a 3–1 win over India. Saina lost to Li Xuerui of China in the quarterfinals of the Thailand Open GP Gold.
Defending Champion Saina lost to Cheng Shao-chieh of Chinese Taipei in the second round of Singapore Open Super Series. Saina, in her attempt to record a third straight win at the Indonesia Open Super Series Premier, reached the finals where she lost to Wang Yihan of China to finish as runner-up, on 26 June. Nehwal crashed out of World Championship 2011 as she lost 15–21, 10–21 to World Number 3 Wang Xin of China in a lop-sided women's singles match. Saina, who reached the quarterfinals in the last two editions of the event, had to be content with yet another last-eight finish. She lost in the quarter finals of 2011 China Masters Super Series against World No. 1 Wang Yihan of China in straight games, 8–21, 12–21. Saina lost in the semi finals of 2011 Japan Super Series against Juliane Schenk of Germany in straight games 19–21, 10–21. In the 2011 Denmark Super Series Premier, she lost to 17-year-old teen Tai Tzu-ying of Taiwan in straight games 19–21, 13–21 in the second round. Saina repeated her second-round exit in the 2011 French Super Series as she lost to World No. 16 Li Xuerui of China in straight games 18–21, 29–30. Saina lost in quarter finals of 2011 Hong Kong Super Series against World No. 7 Tine Baun of Denmark in straight games 16–21, 15–21.
Saina was defeated in the first round of 2011 China Open Super Series Premier by World No. 8 Bae Youn-joo of South Korea 21–15, 22–24, 15–21. During the season ending tournament in December, Saina Nehwal created history by becoming the first Indian singles player to reach the final of BWF Super Series Masters Finals after defeating World No. 5 Tine Baun of Denmark to cruise 21–17, 21–18 in the semifinals of the 2011 BWF Super Series Masters Finals in Liuzhou (China). She went on to lose the final 21–18, 13–21, 13–21 against the World No. 1 Chinese Wang Yihan in a contest lasting over an hour.
2012–2013
Saina successfully did her Swiss Open Title by defeating World No 2 Wang Shixian of China 21–19 21–16 on 18 March 2012, a day after she turned 22 years old. On 10 June 2012, Saina defeated Thailand's Ratchanok Inthanon 19–21 21–15 21–10, to lift the Thailand Open Grand Prix Gold title.
On 17 June 2012, Saina Nehwal won the Indonesia Open Super Series by defeating World No. 3 Li Xuerui of China 13–21, 22–20 21–19. It was her 3rd Indonesia Open title. On 4 August 2012, she won the bronze medal at the London Olympics when China's Wang Xin retired from the match after an injury with the match at 18–21, 0–1. On 21 October 2012, she won the Denmark Open Super Series Premier after defeating Wang Yihan 21–12 12–7 in the semifinal. Yihan got retired hurt in this match after losing first set and trailing in second set. In the final Saina defeated Juliane Schenk of Germany in two straight sets to lift her first Denmark open trophy.
2014
On 26 January 2014 Saina defeated World Championship bronze medalist P.V. Sindhu 21–14, 21–17 to win the Women's Singles of India Open Grand Prix Gold Tournament. On March,2014 World No. 4 Saina Nehwal, who had a win-loss record of 4–2 against the Chinese ace Wang Shixian, crashed out of the 2014 All England Super Series Premier after losing her quarter-final match. Saina took revenge of All England loss by defeating Wang Shixian in semifinals of 2014 Australian Super Series. In final on June 29, 2014 Saina defeated Spain's Carolina Marin 21–18, 21–11 to win Women's Singles of 2014 Australian Super Series. The win helped her to reach the ranking of World no. 7, climbing two spots.
She became the 1st Indian woman to win the China Open Super Series Premier by beating Japan's Akane Yamaguchi 21–12, 22–20 in the final.
2015
Defending Champion Saina Nehwal won the 2015 India Open Grand Prix Gold by defeating Spain's Carolina Marin in the Final. She became the first Indian woman shuttler to reach the finals of All England Open Badminton Championships, but lost to Carolina in the final. On 29 March 2015, Saina won her maiden women's singles title at the India Open BWF Super Series beating Ratchanok Intanon of Thailand. This assured her of becoming World number 1 when the latest BWF rankings were released on April 2. Thus, she became the first Indian women's player to be World No.1 in badminton. On 16th Aug 2015, Saina went down fighting to Carolina Marin again, in the Final of World Badminton Championships held in Jakarta, settling for the Silver. defending champion Saina Nehwal fought hard before going down to Li Xuerei in the final of china open
2016
Saina dealt with injuries in the starting of 2016 but she eventually recovered. She, the defending champion lost to the reigning Olympic Champion Li Xuerui in a hard fought match at the India Open in the semifinals. She registered semifinal finishes at the India Open and Malaysia Open. She reached the semifinals of the Badminton Asia Championships after defeating the third seed Wang Shixian (21–16 21–19) in the quarterfinals, but lost to Wang Yihan in the semifinals. She settled for bronze, her second in the Asian Championships after 2010. In June 2016, she competed at the Indonesia Open Superseries Premier, she reached the quarterfinals where she lost to the top seed Carolina Marin with the score of 22–24, 11–21.
At the Australian Super Series, after registering victories in straight games against unseeded players, Saina reached to the quarterfinals, where she won a hard-fought match against the second seed Ratchanok Intanon by 28–26, 21–16. After registering victory in the semifinals against the world no. 2 Wang Yihan by 21–8, 21–12, she won her first title of the year after defeating China's Sun Yu in the final by 11–21, 21–14, 21–19.
Making her third appearance at the Olympics, Nehwal, the fifth seed, won her opening match against the unseeded Lohaynny Vicente in straight games. However, she lost her second match against the world no. 61 Marija Ulitina by 18–21, 19–21, thereby making exit at the group stage. Her coach cited the week-old knee injury for her below par performance at the event.
2017
Saina entered 2017 with maiden Malaysia open Grand prix Gold title. In august she seeded 12th in World Badminton Champioships at Glasgow, fit again saina dug deep into her reservoir to eke out a 21-19 18-21 21-15 win over world No. 31 Kristy Gilmour of Scotland, however lost semifinal in tight set by eventually winner Nozomi Okhuhara of Japan hence bagged bronze medal. This is Saina's second consecutive medal at World Badminton Championship and a record breaking 7th consecutive quarterfinal
Honours
Rajiv Gandhi Khel Ratna Award for Badminton
Arjuna Award for Badminton
Individual runners-up (8)
BWF Event
Multi-sport event
Super Series Premier
/
Finals
Super Series
Grand Prix Gold
Grand Prix
International Challenge
Individual Junior titles (3)
BWF Event
Individual Junior runners-up (1)
BWF Event
National Junior/Senior runners-up (1)
||Career overview||
* Statistics were last updated on 4 June 2016.
Singles performance timeline
Key
Record against top ranked players
Record against Super Series finalists, World Championships semifinalists and Olympic quarterfinalists (as of 12 June 2016):
References
Saina Nehwal Wikipedia
(Text) CC BY-SA