Ceremony date

28 August 2016

Category

Sports (Individual)

Awarded by

Government of India




Winners

Ajinkya Rahane, Ajinkya Rahane, Cricket Award, Cricket Award, Raghunath Vokkaliga, Raghunath Vokkaliga, Hockey Award, Hockey Award, Ritu Rani, Ritu Rani, Hockey Award, Hockey Award, Gurpreet Singh, Gurpreet Singh, Shooting Award, Shooting Award, Apurvi Chandela, Apurvi Chandela, Shooting Award, Shooting Award, Lalita Babar, Lalita Babar, Athletics Award, Athletics Award, Shiva Thapa, Shiva Thapa, Boxing Award, Boxing Award, Virender Singh, Virender Singh, Wrestling Award, Wrestling Award, Amit Kumar, Amit Kumar, Wrestling Award, Wrestling Award, Vinesh Phogat, Vinesh Phogat, Wrestling Award, Wrestling Award, Subrata Pal, Subrata Pal, Football Award, Football Award, Rajat Chauhan, Rajat Chauhan, Archery Award, Archery Award, Soumyajit Ghosh, Soumyajit Ghosh, Table Tennis Award, Table Tennis Award, Sourav Kothari, Sourav Kothari, Billiards & Snooker Award, Billiards & Snooker Award, Sandeep Singh Maan, Sandeep Singh Maan, Para Atheletics Award, Para Atheletics Award, Rohit Sharma, Rohit Sharma, Cricket Award, Cricket Award, Srikanth Kidambi, Srikanth Kidambi, Badminton Award, Badminton Award, P R Shreejesh, P R Shreejesh, Hockey Award, Hockey Award, Jitu Rai, Jitu Rai, Shooting Award, Shooting Award, Manjeet Chhillar, Manjeet Chhillar, Kabaddi Award, Kabaddi Award, Abhilasha Shashikant Mhatre, Abhilasha Shashikant Mhatre, Kabaddi Award, Kabaddi Award, Poovamma Raju Machettira, Poovamma Raju Machettira, Athletics Award, Athletics Award, Mandeep Jangra, Mandeep Jangra, Boxing Award, Boxing Award, Bajrang Punia, Bajrang Punia, Wrestling Award, Wrestling Award, Babita Kumari, Babita Kumari, Wrestling Award, Wrestling Award, Sandeep Kumar, Sandeep Kumar, Archery Award, Archery Award, Dipa Karmakar, Dipa Karmakar, Gymnastics Award, Gymnastics Award, Sathish Sivalingam, Sathish Sivalingam, Weightlifting Award, Weightlifting Award, Sawarn Singh, Sawarn Singh, Rowing Award, Rowing Award, Anup Kumar Yama, Anup Kumar Yama, Roller Skating Award, Roller Skating Award, Yumnam Sanathoi Devi, Yumnam Sanathoi Devi, Wushu Award, Wushu Award, Sharath Gayakwad, Sharath Gayakwad, Para-Swimming Award, Para-Swimming Award, Valiyaveetil Diju, Valiyaveetil Diju, Badminton Award, Badminton Award, Heena Sidhu, Heena Sidhu, Shooting Award, Shooting Award, Mamta Pujari, Mamta Pujari, Kabaddi Award, Kabaddi Award, Girisha Hosanagara Nagarajegowda, Girisha Hosanagara Nagarajegowda, Athletics Award, Athletics Award, Tintu Lukka, Tintu Lukka, Athletics Award, Athletics Award, Tom Joseph, Tom Joseph, Volleyball Award, Volleyball Award, Jai Bhagwan, Jai Bhagwan, Boxing Award, Boxing Award, Sunil Kumar Rana, Sunil Kumar Rana, Wrestling Award, Wrestling Award, Abhishek Verma, Abhishek Verma, Archery Award, Archery Award, Renu Bala Chanu, Renu Bala Chanu, Weightlifting Award, Weightlifting Award, Geethu Anna Jose, Geethu Anna Jose, Basketball Award, Basketball Award, Anaka Alankamony, Anaka Alankamony, Squash Award, Squash Award, Saji Thomas, Saji Thomas, Rowing Award, Rowing Award, Anirban Lahiri, Anirban Lahiri, Golf Award, Golf Award, Virat Kohli, Virat Kohli, Cricket Award, Cricket Award, P V Sindhu, P V Sindhu, Badminton Award, Badminton Award, Saba Anjum Karim, Saba Anjum Karim, Hockey Award, Hockey Award, Rajkumari Rathore, Rajkumari Rathore, Shooting Award, Shooting Award, Amit Kumar Saroha, Amit Kumar Saroha, Athletics Award, Athletics Award, Renjith Maheshwary, Renjith Maheshwary, Athletics Award, Athletics Award, Kavita Chahal, Kavita Chahal, Boxing Award, Boxing Award, Dharmendra Dalal, Dharmendra Dalal, Wrestling Award, Wrestling Award, Neha Rathi, Neha Rathi, Wrestling Award, Wrestling Award, Chekrovolu Swuro, Chekrovolu Swuro, Archery Award, Archery Award, Abhijeet Gupta, Abhijeet Gupta, Chess Award, Chess Award, Mouma Das, Mouma Das, Table Tennis Award, Table Tennis Award, Joshna Chinappa, Joshna Chinappa, Squash Award, Squash Award, Rupesh Shah, Rupesh Shah, Billiards & Snooker Award, Billiards & Snooker Award, Gaganjeet Bhullar, Gaganjeet Bhullar, Golf Award, Golf Award, Yuvraj Singh, Yuvraj Singh, Cricket Award, Cricket Award, Parupalli Kashyap, Parupalli Kashyap, Badminton Award, Badminton Award, Ashwini Ponnappa, Ashwini Ponnappa, Badminton Award, Badminton Award, Sardara Singh, Sardara Singh, Hockey Award, Hockey Award, Omkar Singh, Omkar Singh, Shooting Award, Shooting Award, Joydeep Karmakar, Joydeep Karmakar, Shooting Award, Shooting Award, Annu Raj Singh, Annu Raj Singh, Shooting Award, Shooting Award, Anup Kumar, Anup Kumar, Kabaddi Award, Kabaddi Award, Sudha Singh, Sudha Singh, Athletics Award, Athletics Award, Kavita Ramdas Raut, Kavita Ramdas Raut, Athletics Award, Athletics Award, Deepa Malik, Deepa Malik, Athletics Award, Athletics Award, Ramkaran Singh, Ramkaran Singh, Athletics Award, Athletics Award, Vikas Krishan Yadav, Vikas Krishan Yadav, Boxing Award, Boxing Award, Rajinder Kumar, Rajinder Kumar, Wrestling Award, Wrestling Award, Geeta Phogat, Geeta Phogat, Wrestling Award, Wrestling Award, Narsingh Pancham Yadav, Narsingh Pancham Yadav, Wrestling Award, Wrestling Award, Deepika Kumari, Deepika Kumari, Archery Award, Archery Award, Bombayla Devi Laishram, Bombayla Devi Laishram, Archery Award, Archery Award, Ngangbam Soniya Chanu, Ngangbam Soniya Chanu, Weightlifting Award, Weightlifting Award, Sandeep Sejwal, Sandeep Sejwal, Swimming Award, Swimming Award
President confers arjuna awards 2016
The Arjuna Awards are given by the Ministry of Youth Affairs and Sports, government of India to recognize outstanding achievement in National sports. Instituted in 1961, the award carries a cash prize of ₹ 500,000, a bronze statue of Arjuna and a scroll.
Contents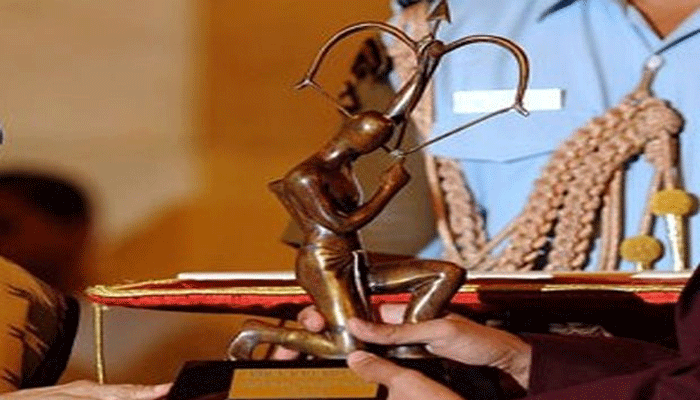 Over the years the scope of the award has been expanded and a large number of sports persons who belonged to the pre-Arjuna Award era were also included in the list. Further, the number of disciplines for which the award is given was increased to include indigenous games and the physically handicapped category.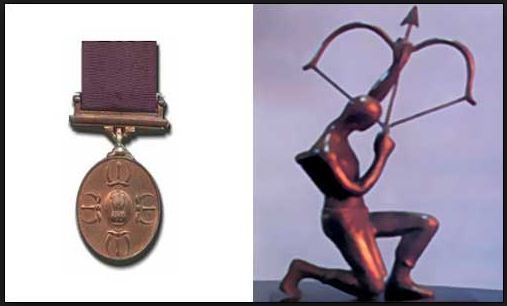 The Government has recently revised the scheme for the Arjuna Award. As per the revised guidelines, to be eligible for the Award, a sportsperson should not only have had good performance consistently for the previous three years at the international level with excellence for the year for which the Award is recommended, but should also have shown qualities of leadership, sportsmanship and a sense of discipline.
From the year 2001, the award is given only in disciplines falling under the following categories:
Olympic Games / Asian Games / Commonwealth Games / World Cup / World Championship Disciplines and Cricket
Indigenous Games
Sports for the Physically Challenged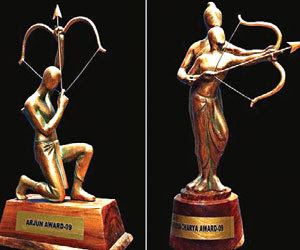 In mid-August 2011, 19 athletes were announced as Arjuna recipients; the high number due to the inclusion of both the 2010 Commonwealth Games and 2010 Asian Games in the Arjuna qualifying year.
In 2012, 25 sports-persons were conferred with the Arjuna awards.
Athletics
‡ - Para Athlete
§ - Lifetime Contribution
Badminton
‡ - Para Athlete
Shooting
‡ - Para Athlete
Swimming
‡ - Para Athlete
References
Arjuna Award Wikipedia
(Text) CC BY-SA